We finally made it to Australia and I was psyched to see the Opera House with my own two eyes.
It did not disappoint, as its architectural sails fit perfectly into the extensive and lively Sydney Harbour.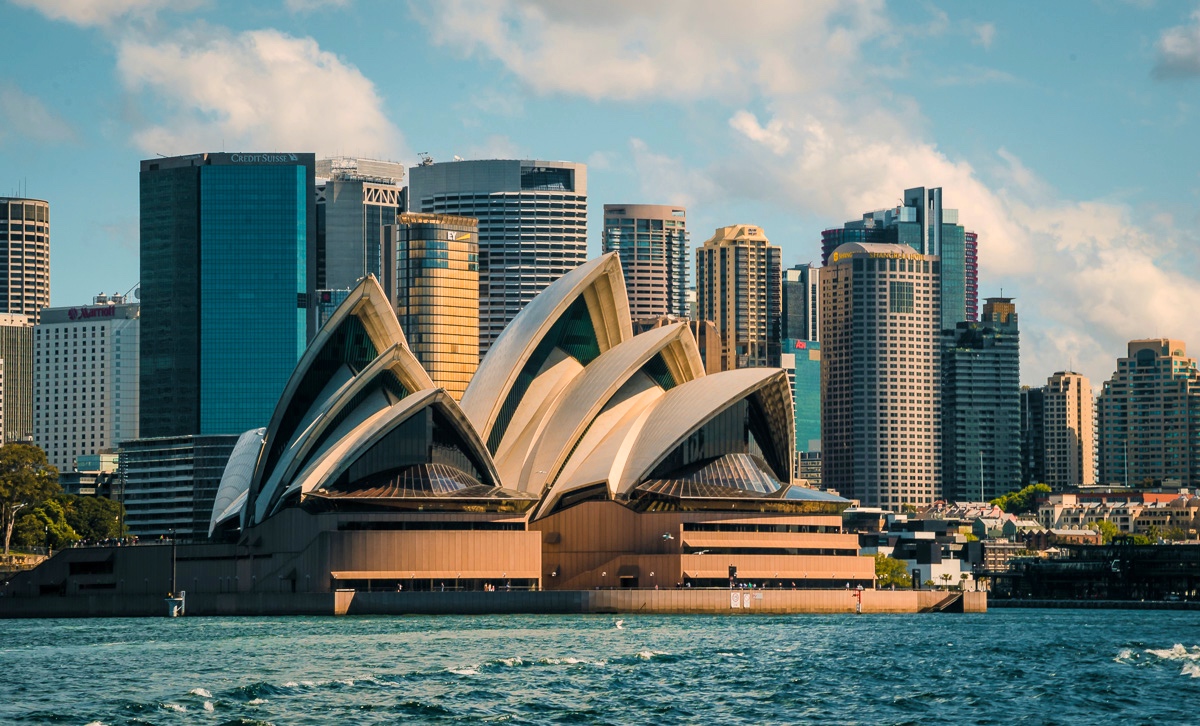 We marveled at the famous steel-arch Harbour Bridge next to it.
Every September day we were there, the temperature was warm, and the skies were clear.
Everyone was enjoying the ideal weather, including the working folk…
…and people enjoying the day off.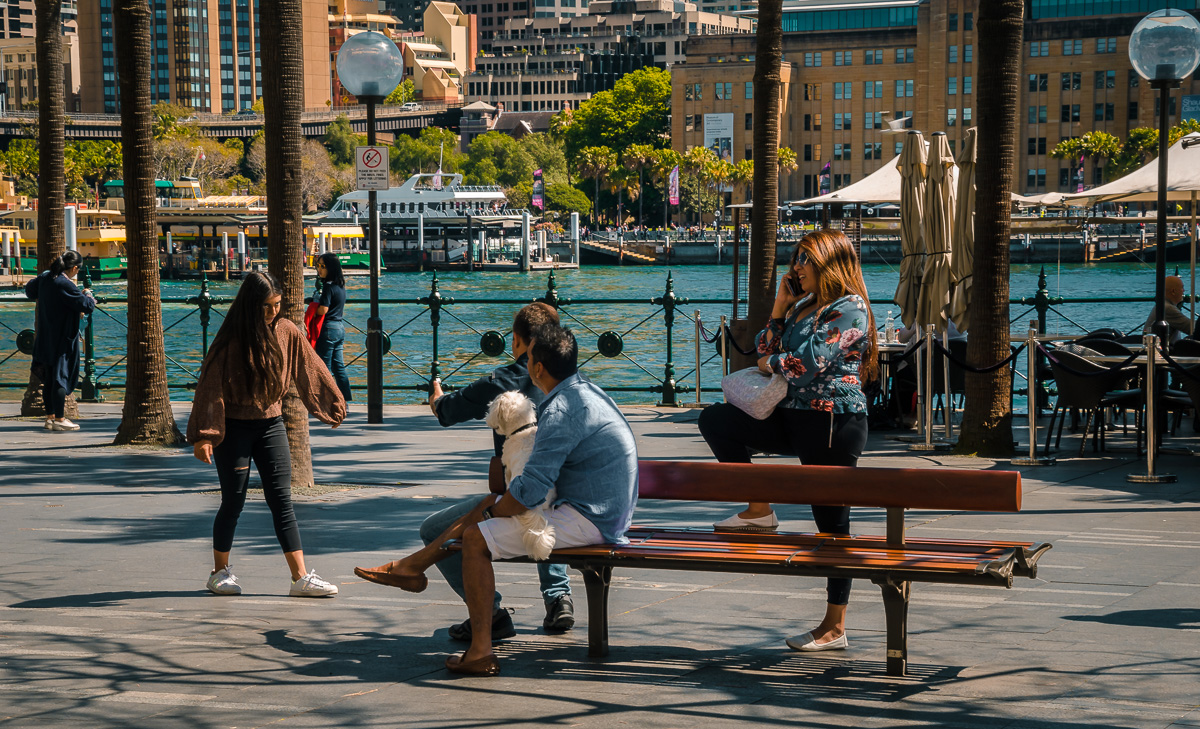 Little did we realize that hundreds of kilometers away, there were raging bush fires that three months later would smother this proud city with smoke.
(picture by CNN, December 19, 2019)
This has been a long-overdue wake-up call for the world about the dangers of climate change. It also reminded me that when you want to go somewhere, go and don't delay. You never know how long it will stay like it is.
Why We Travelled to Sydney
In September and October 2019, my wife Khadija, and our friends Peter and Caitlin, traveled the Pacific region. We started in Vanuatu, then came to Australia. Later we went to the Solomon Islands and Fiji.
For all of us, this was the first time in Australia. Khadija and I now have been to six continents, only Antarctica to go! We wanted to find out how similar this new country was to the U.S. Do they just have a different accent? Or is the culture noticeably different based on its history and geography? Sydney was our starting point, as we couldn't miss the country's largest city and perhaps the most famous harbor in the world.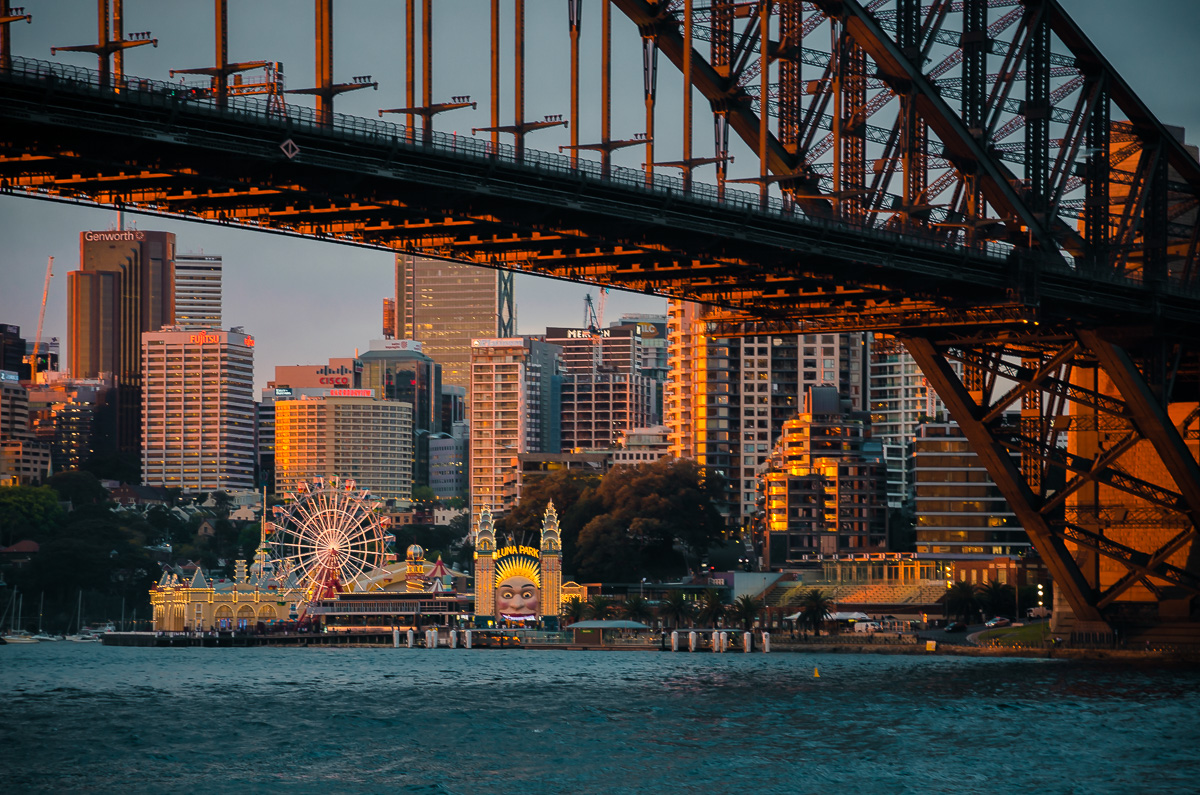 Note, I use U.S. English unless a word is part of a formal name.
Travel Itinerary for Australia and Sydney
We had 18 days to see what we could in Australia, but it is so big, this wasn't nearly enough time to see it all. We decided to go to some of the eastern parts of the country (Sydney for four days, Melbourne for three days and the Great Ocean Road for four days), plus the central Red Centre for four days, where the country's most famous natural feature, Uluru, is located. Three days were for transit, including an overnight in Brisbane.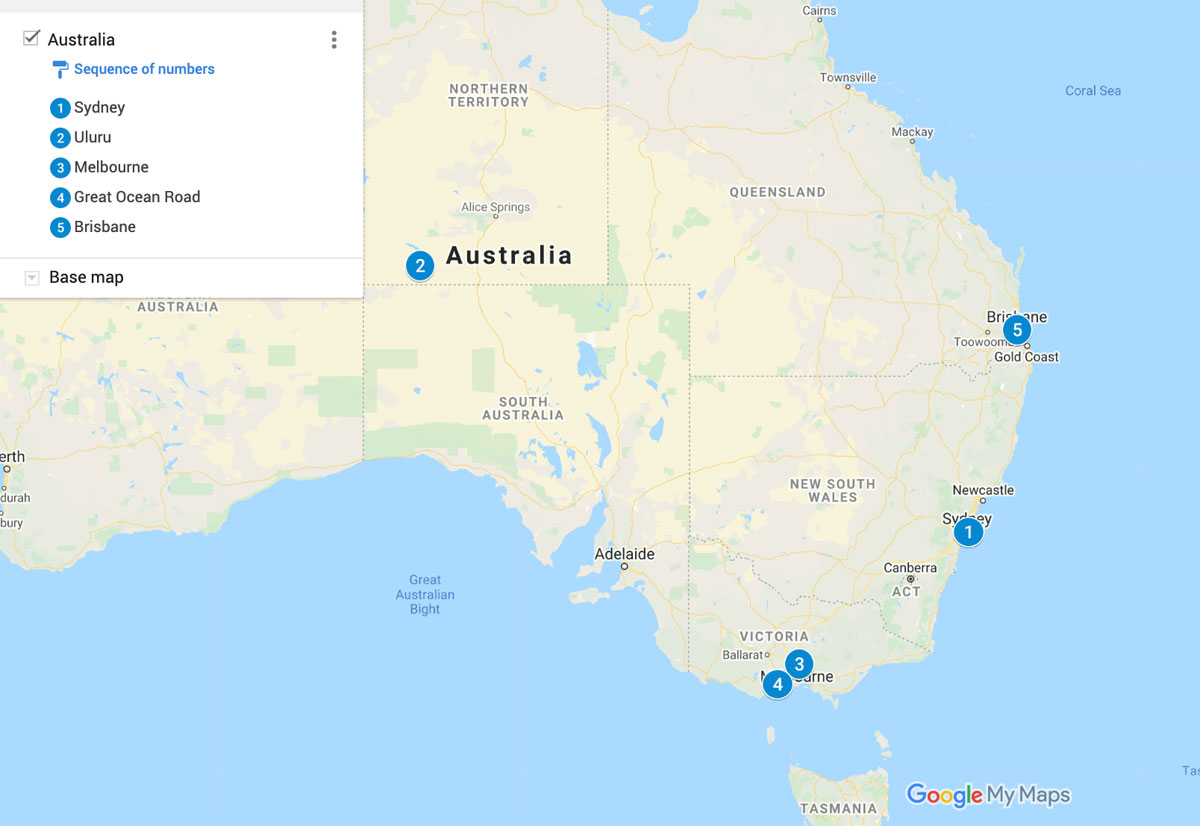 We needed to get to the Red Centre as soon as possible before it became unbearably hot. We came from Vanuatu and flew nonstop to Sydney. Since we were in the country's most populated city, it was practical to visit here, then go to the Red Centre as it was late September and not yet mid-October when the Red Centre is a frying pan. From the Red Centre, we flew to Melbourne, the country's cultural center, then drove to the Great Ocean Road, which has scenic views and hiking. We then drove back to Melbourne and flew to Brisbane, where our non-stop flight to the Solomon Islands departed.
The Sydney area has parks, beaches, and mountains for several outdoor activities, including skydiving, abseiling, scuba diving, hiking, and skiing. Since most of our trip was in places where we could hike and enjoy the ocean, we concentrated on the cultural and entertainment aspects of the city. Here's a map of the places we enjoyed.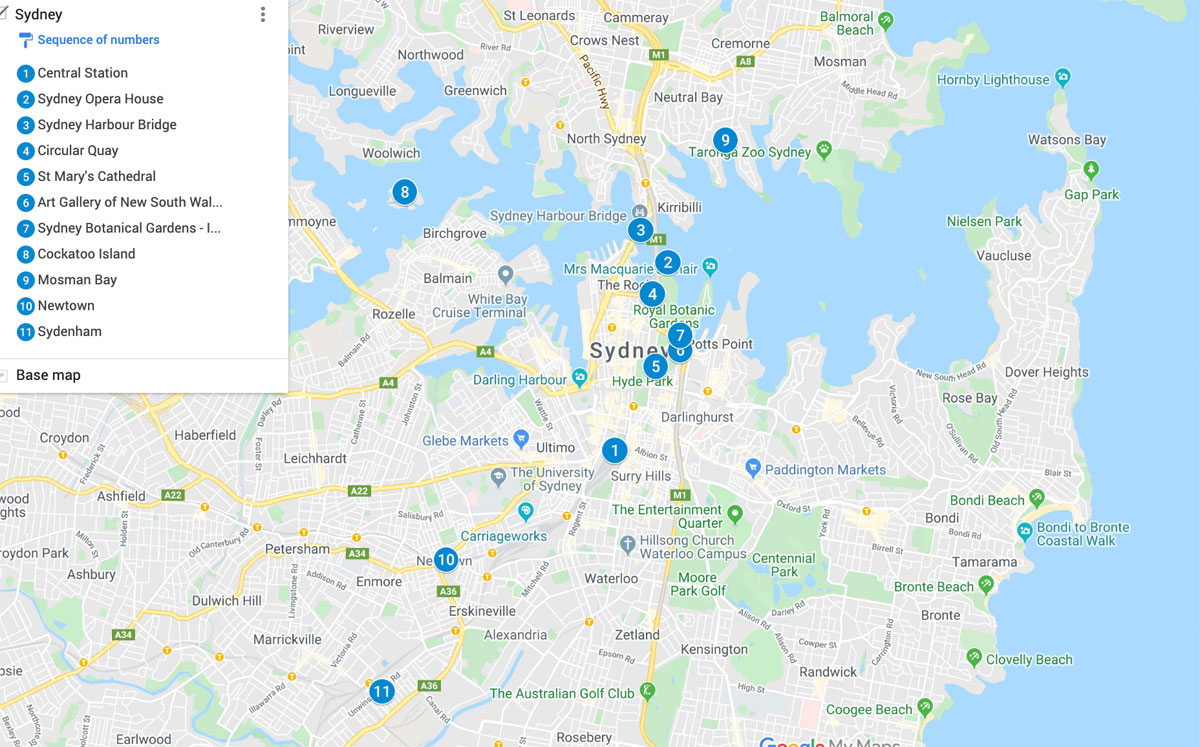 Is Sydney Safe?
Sydney is very safe. I never worried about exposing my camera when I walked, especially as most places were full of people during the day and night. There, as everywhere, I used standard caution, as I didn't know the streets and neighborhoods.
How to Get Around in Sydney
We walked a lot as the main sites were close to our apartment. We also used the Sydney Train daily, which is a combination of urban subway and suburban rail system with double-decker cars.
The fare was A$4.50 (about US$3 when we were there) per ride, though it can be more for longer distances. Children under three are free, and those four to 14 are about half price. We bought an "Opal" card, which is also used for ferries and buses. In retrospect, we should have filled the card with more money for multiple trips so that we wouldn't have waited in the often-long lines at the ticket machines.
We were close to Central Station, so it was easy to get around.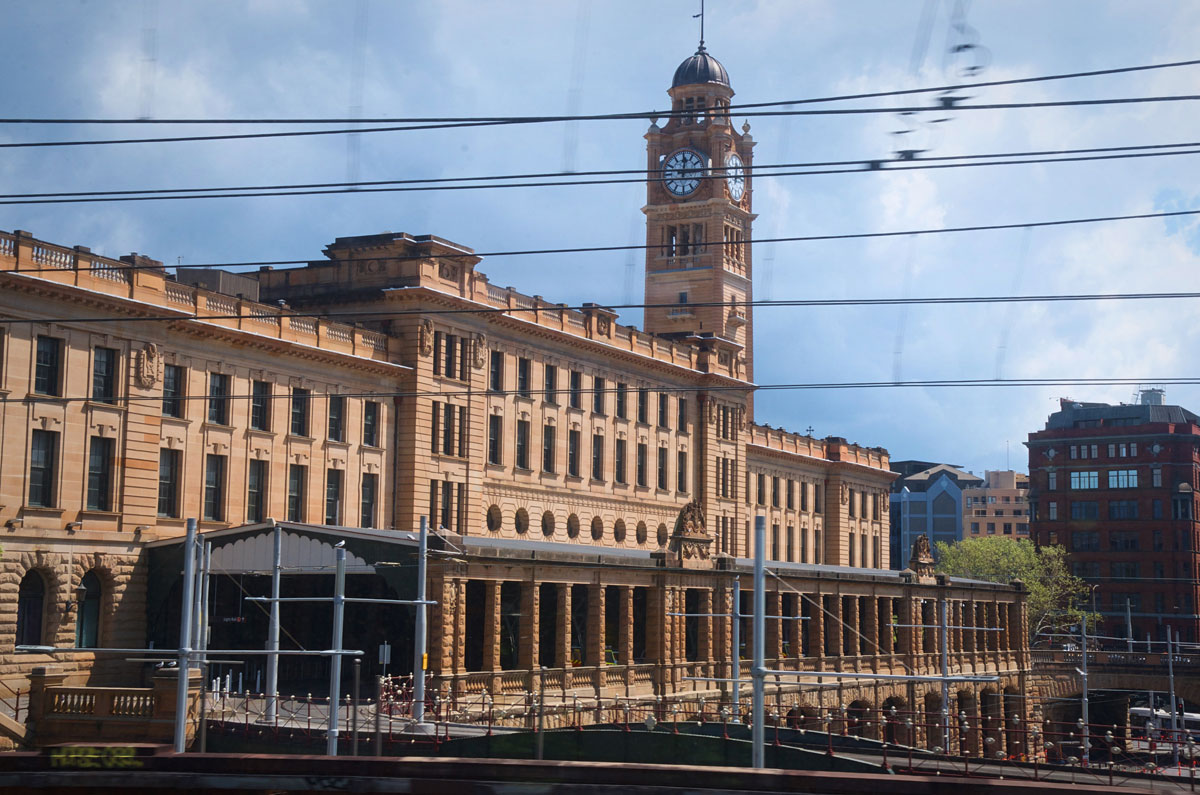 There's a train between Central Station and the airport with a fare of only A$13.80 (US$9.25) / person. We didn't use it as we were four and had luggage. Instead, we took a van to the city and a station wagon to the airport; each way was about A$120 (US$80), including tip, well worth the slight extra charge per person for convenience.
There are taxis, but they are relatively expensive, and we only used them twice. A short 10-minute ride from our hotel to the Opera House cost A$20 (US$13.50).
The Circular Quay, by the Opera House and the Harbour Bridge, is the main place to take ferries. We took a short stroll to Mosman Bay to see the skyline and neighborhoods, as well as to appreciate the size of the harbor.
Brief History of Sydney
Indigenous Australians have lived in the Sydney area for at least 30,000 years. British Lieutenant (later Captain) James Cook in 1770 was the first European to land there and named the inlet after Sir George Jackson Duckett, a naval administrator and a patron of his. Port Jackson Inlet is another name for Sydney Harbour.
Sydney was founded in 1788 by 11 ships of convicts, guards, and sailors. It was named after Lord Sydney, who recommended that Australia become a colony. By 1792, convicts and their jailers were the majority of the population. They were followed by soldiers leaving the military and eventually by free settlers. European settlers decimated the indigenous Australians, especially by disease. The city has expanded dramatically and is the largest in Australia, with almost 5 million people.
Where We Stayed in Sydney – Chinatown Section of Haymarket
We really liked our location in Chinatown, which is part of the Haymarket section of the central business district. The area is convenient as it's next to Central Station and only a 20 to 30-minute walk (or three quick train stops) to Central Quay. It's lively and especially colorful at night.
There are Asian restaurants on almost every block. We found an exceedingly good one in the informal Masuya Suisan Japanese Restaurant, which has a broad menu and is popular with locals.
We stayed at the Meriton Suites Campbell Street across from the Capitol Theatre.
The Meriton Suites Campbell street had high-rise building with a gym, swimming pool, 24-hour reception desk and modern rooms with kitchens. I shopped at a nearby grocery store and cooked breakfast every morning while taking advantage of the excellent Wi-Fi.
Sydney Opera House
The Sydney Opera House is one of the most famous buildings built in the 20th century and is Sydney's main landmark, replacing the Harbour Bridge. The multi-chamber performance art center with sail-like roofs opened in 1973 and became a UNESCO World Heritage Site in 2007.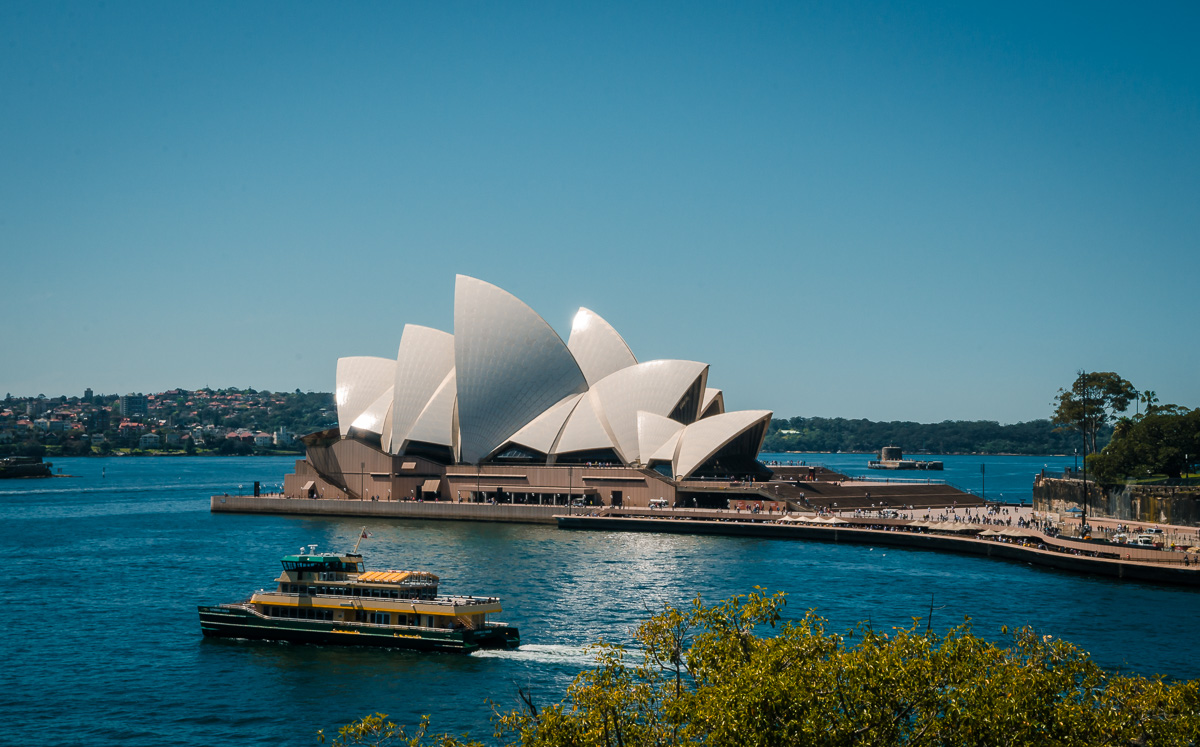 We took the hour-long tour, which highlights the architectural features and the long, difficult building process. In 1957, Danish architect Jorn Utzon's design was chosen from 233 entries. The construction started in 1959 and proceeded slowly because of many technical obstacles, which caused the government to fire Utzon in 1966. He was replaced by Australian architect Peter Hall, who oversaw the interior design, especially ensuring the building was up to code. He was severely criticized by his peers for taking the job they felt should have remained with Utzon. The strain of the vilification contributed to Hall dying destitute and an alcoholic at the relatively young age of 64.
For no good reason, I assumed the roof surfaces were seamless. However, I observed that they were made of thousands of tiles.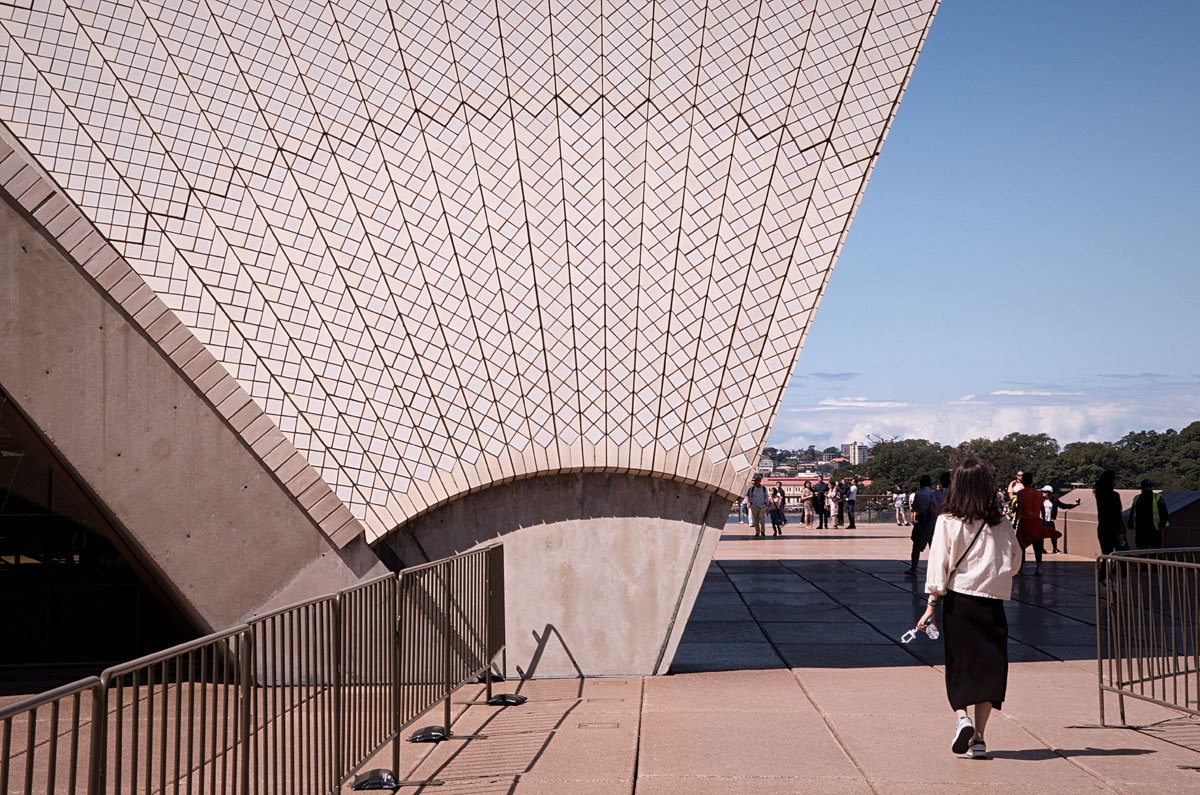 I highly recommend seeing the free light show of indigenous Australians' stories in a seven-minute projection with words and music.
If there's something to admire about current-day Australia, it's the frequent acknowledgment of the culture and history of its indigenous people (also called First Nations), which is more recognition than native Americans receive in the U.S.
Sydney Harbour Bridge
The monumental Harbour Bridge is the biggest steel arch bridge in the world. Affectionally nicknamed the "Coathanger"; it looms prominently over Sydney Harbour. It was built from 1923 to 1930 and was an engineering marvel and an important source of employment during the world-wide depression. It opened in 1932 after extensive load capacity testing.
For decades, immigrants arriving on ships knew they made it to their new home when they saw the bridge, similar to their counterparts' experience when they saw the Statue of Liberty in New York.
Sydney's Royal Botanical Gardens
Next to Bennelong Point, where the Opera House sits, is the Royal Sydney Botanical Garden. The mostly unfenced area is an undulating park overlooking the harbor. There is no admission or special entry gate, just a welcoming expanse of diverse tree groves, beautiful gardens, manicured lawns, fluttering birds, winding paths, well-placed park benches, outdoor art, and a few striking buildings.
We spent less than an hour walking through while waiting for our tour of the Opera House to begin. For those who like botanical gardens, you could dwell for hours looking at the thousands of plant species. While there, we saw a wedding taking place.
Hard to believe, but same-sex marriages have been allowed in Australia only since December 2017.
There was a garden with the provocative "Bite Me" spelled in flowers.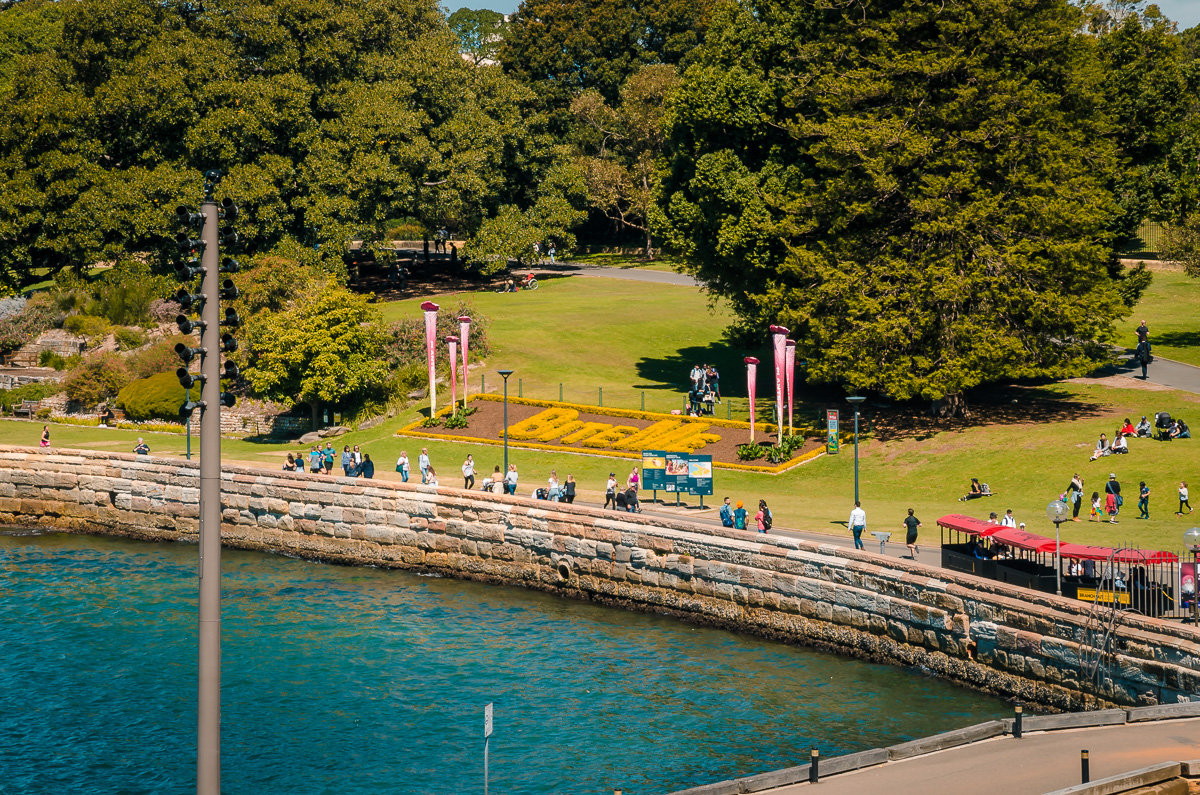 We eventually understood that it referred to a display of carnivorous plants in the Calyx, a recently opened, mostly circular structure emulating the shape of a flower.
St Mary's Cathedral of Sydney
The Roman Catholic St Mary's Cathedral is worth a visit because of its location and architecture. It is surrounded by three parks (Cook & Philip Park, Hyde Park, and the Domain). In front of it, in Hyde Park, is a large fountain with Greek mythological figures including Theseus subduing the Minotaur.
The church is a unique representation of the Gothic Revival style and is made of local sandstone. It's massive and very long, giving an aura of stability and grandeur. The inside is a mixture of bright ornamentation (e.g., stained-glass windows and an altar with white statues) and the dark, foundational elements of sandstone and timber.
Unlike most cruciform churches, it was built in a north-south orientation (rather than east-west) because of the contours of the land. As a result, the early morning and late afternoon sun shines through the side windows, rather than through windows above the altar and the main entrance.
Over twenty percent of Australians are Catholic, reflecting early Irish immigration and then after WWII immigrants from southern and eastern Europe.
Art Gallery of New South Wales
The NSW Art Gallery offers a rich collection of Australian, European, Asian and Aboriginal and Torres Strait Islander art. The last category has works dating back to the 19th century for these two ethnically distinct indigenous groups of Australia.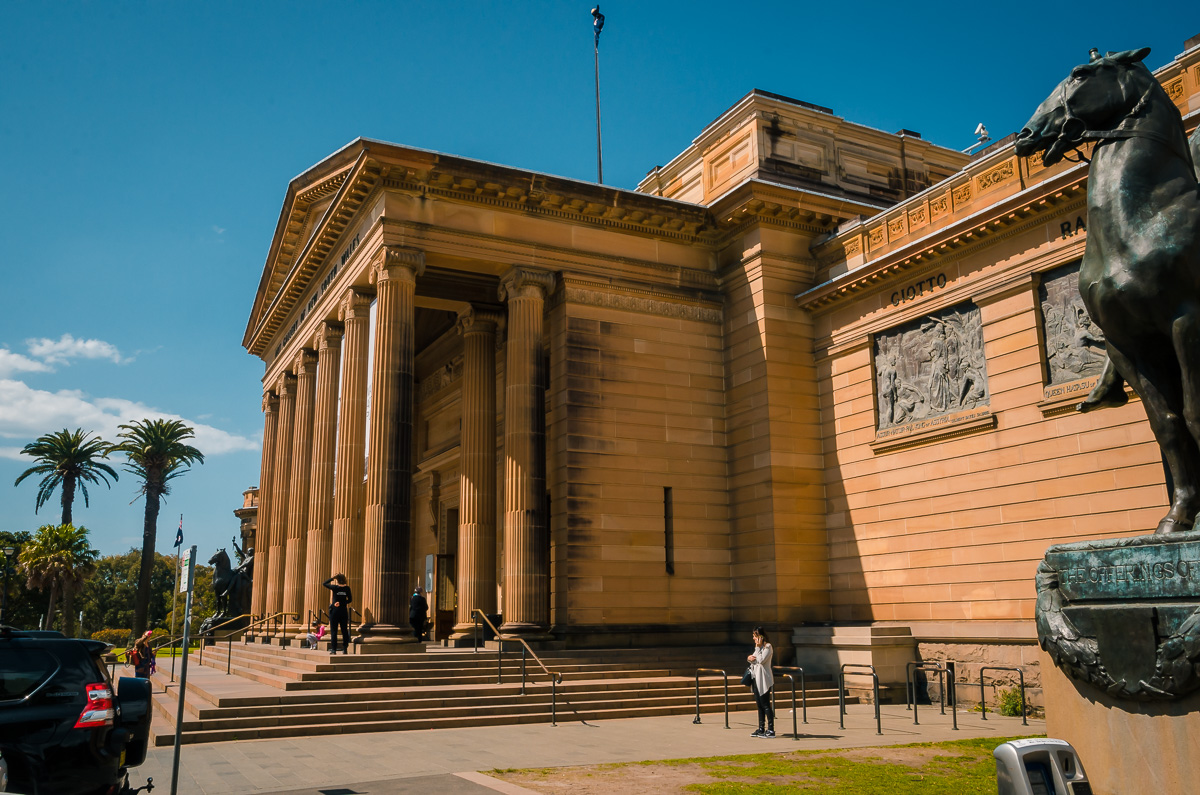 This exterior of this neo-Classical building in the Domain park displays the names of famous European artists, including Caravaggio. I was impressed they would have anything by him as there are fewer than fifty paintings of his in the world. I found out that they don't; the names were purely inspirational and not a reflection of the collection.
Without planning on it, Khadija and I spent a half-day there going through every room. The collection and exhibits provided many insights into the history and culture of Australia. Highlights included a 2000 painting called "Chinaman's Gardens" by Rusty Peters (born 1935), referencing a massacre of Gija people by a garden in northwest Australia. Peter's uncle escaped by hiding in a cave, which is depicted by a black oval in the red mountains.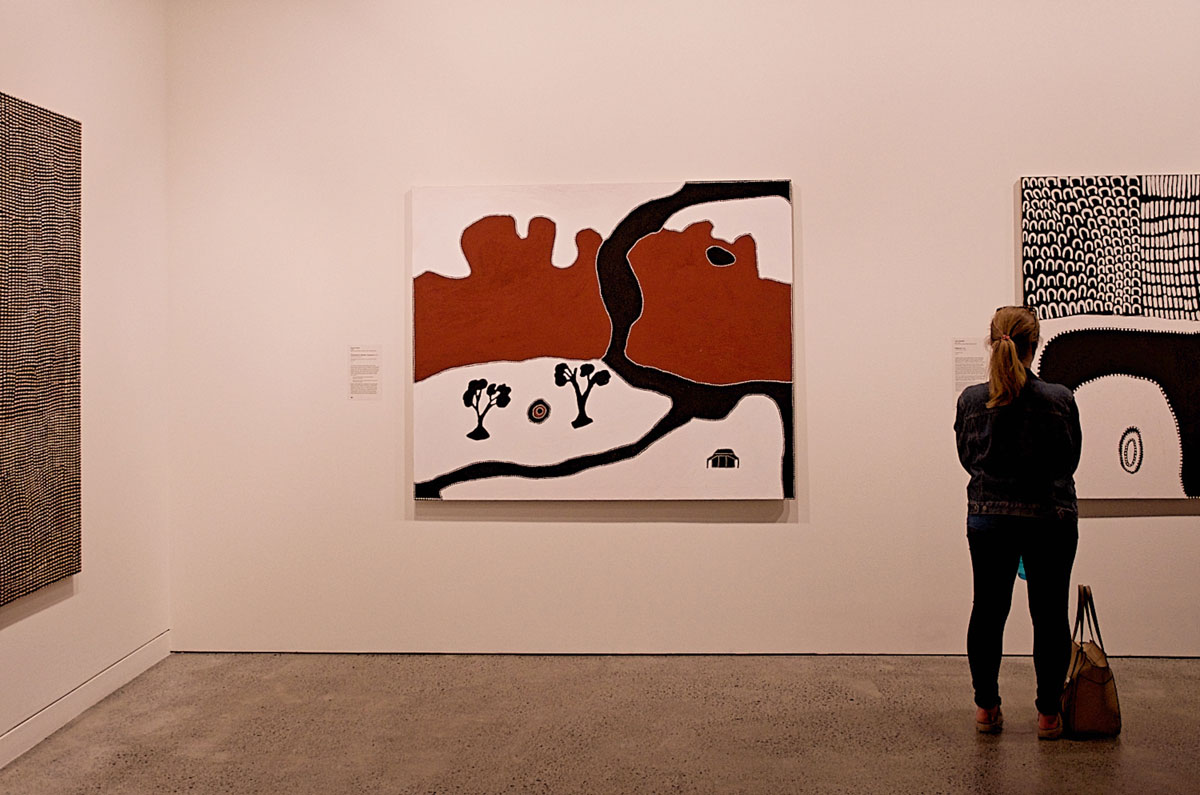 "Sofala" is one of the greatest works by Australian painter Richard Drysdale. Instead of romanticizing a small inland town, he conveys desolation and vulnerability. In some ways, he had an artistic vision similar to Edward Hopper.
Sidney Nolan is one of the greatest 20th-century Australian painters who employed diverse styles and mediums. He is best known for his series of paintings on Australian legend, including the outlaw Ned Kelly. Kelly's story has been told many times, including a 2003 movie with Heath Ledger. Kelly was a "bushranger," a robber who used the Australian bush as a home and hiding place. In 1880, Kelly was captured when engaging in a gunfight with police while wearing armor made from sheets of metals from a farm plow. Kelly became an outlaw icon, a bit like Jesse James.
I found it interesting that Surrealism manifested in Australia. While there was no organized movement and few artists confined themselves to this style, many used it at times. A good example is Albert Tucker's "The Intruder," which expresses the rawness of the Australian landscape.
There was a temporary exhibition called Making Art Public, which surveyed the history of the Kaldor Public Art Projects, an Australian cultural organization that funds international artists to create site-specific art projects in public spaces. One display was a small room where visitors are asked to write about incidents of kindness in their lives. I scribbled the following on a sticky note and put it on the wall with many others.
Central Station
Even if you are not taking a train, it's worth walking through Central Station. This is the third station built on the site, opening in 1906. The Grand Concourse, with its high arched roof, is the most impressive room where people arrange to meet under the clock.
In the food hall, of all places, there are murals of the history of transportation in Australia.
They are made from plaster and polished to look like marble.
Cockatoo Island
Cockatoo Island is an uninhabited island with a remarkable history that can be heard on an audiotape for a self-guided tour.
Not counting tens of thousands of years that the First Nations occupied the area, history essentially started when a prison for repeat criminals operated from 1839 to 1869. While the facilities were meant to accommodate 300, there were 500 squeezed together in rooms with little ventilation and insufficient toilet facilities. The prisoners suffered from fleas, bedbugs, and disease and had to put in backbreaking days excavating sandstone used for new buildings on the island. Left are only walls that housed people in an inhumane way that would not be tolerated today.
From 1871 to 1911, the island was used as a reformatory for women and kept the tradition of subjecting them to squalid conditions.
In 1913, Cockatoo Island became a naval dockyard and, during World War II, was a major warship repair facility.
The island is not really uninhabited, as it is a seagull nesting spot.
Reminiscent of Alfred Hitchcock's "The Birds," seagulls are loud and aggressive when protecting their eggs and young. So much so, we stayed away from them as an attack seemed possible if they became sufficiently agitated.
Camelot Lounge
Camelot Lounge is a live music venue in an industrial section of Marrickville. It is a short train ride from Sydney's Central Station and the three-story building is a five-minute walk from the Sydenham station.
Khadija and I arrived about an hour before the show. We walked into the bar and noticed several senior citizens. We thought they were early birds like us, but then they brought out their drawing pads. We asked the bartender what was going on, and he explained that they were here to draw a live, nude model. This seemed odd before a show, but who knows? Finally, we realized the building has two clubs, and this one is called Django, named after the legendary guitarist.
We then went to the stairway and found a line of people, including Peter and Caitlin, waiting to get into Camelot, which is on the third floor.
We saw Joseph Tawadros, who is a renowned oud (lute-like instrument) player. He was born in Egypt, and his family emigrated to Australia when he was three-years-old. He put on a virtuoso performance with his brother, who played Middle Eastern percussions.
In between songs, he was a non-stop comic, sometimes with biting humor. Most of the packed bar seemed to like his banter, but I found it distracted from the music.
Newtown
Newtown, a few train stops from Central Station, is the Brooklyn (more specifically the Williamsburg – Bushwick) of Sydney. It has all the things that hipsters like, such as thrift shops, ethnic restaurants, cafes, bars, music venues, and indie cinema houses. At night, the streets are crowded with a majority of young people.
In the commotion, I noticed this mural.
The lyrics are from "The Message" by old-school rappers Grandmaster Flash & Furious Five: "It's like a jungle sometimes. It makes me wonder how I keep from goin' under."
A highlight was watching this didgeridoo street musician.
Indigenous tribes from northern Australia developed the instrument, probably about a thousand years ago. It is now used worldwide in a variety of musical genres.
Final Thoughts
A highlight of any trip is making new friends, especially from distant lands. A follower of mine on Instagram direct messaged me when he saw I was coming to Australia. I was excited about meeting Michael (@jazzozmentis) because of his knowledgeable posts on jazz in Australia and around the world. We had lunch at the Museum of Contemporary Art and found we had many common interests and experiences.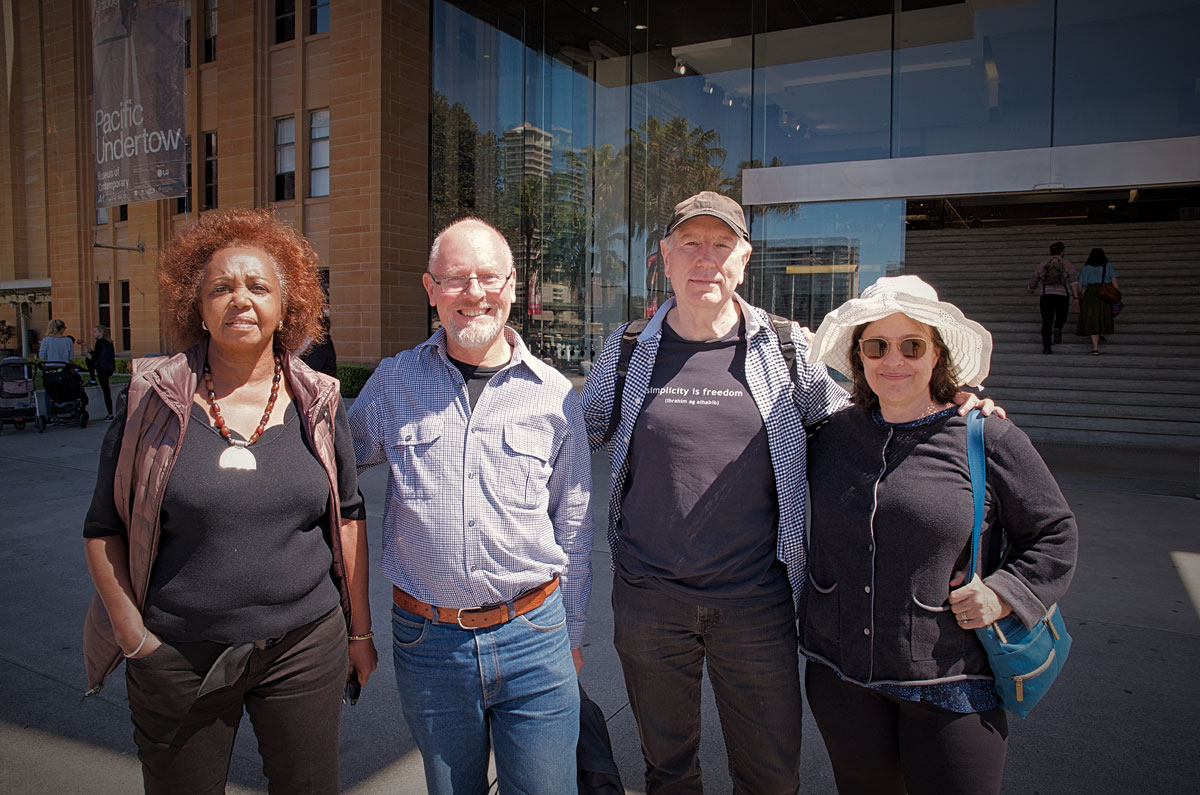 Next stop: The Red Centre and Uluru.

@Gibbot5000 @SueSie72523137 Sydney is truly a magnificent city and the Opera House a credit to its planners. Never… https://t.co/SAQg22JMd6
Opera house
An
opera
house
is a theatre building used for performances of
opera
. It usually includes a stage, an orchestra pit, audience seating, and backstage facilities
https://exploringed.com/station-to-station-exploring-the-new-york-city-subway-photo-book/
https://exploringed.com/gate-of-fortified-wall-in-mdina-malta/