Introduction
This was the first time I was in Colombia. In the capital city of Bogotá, I expected a few things, such as delightful colonial buildings…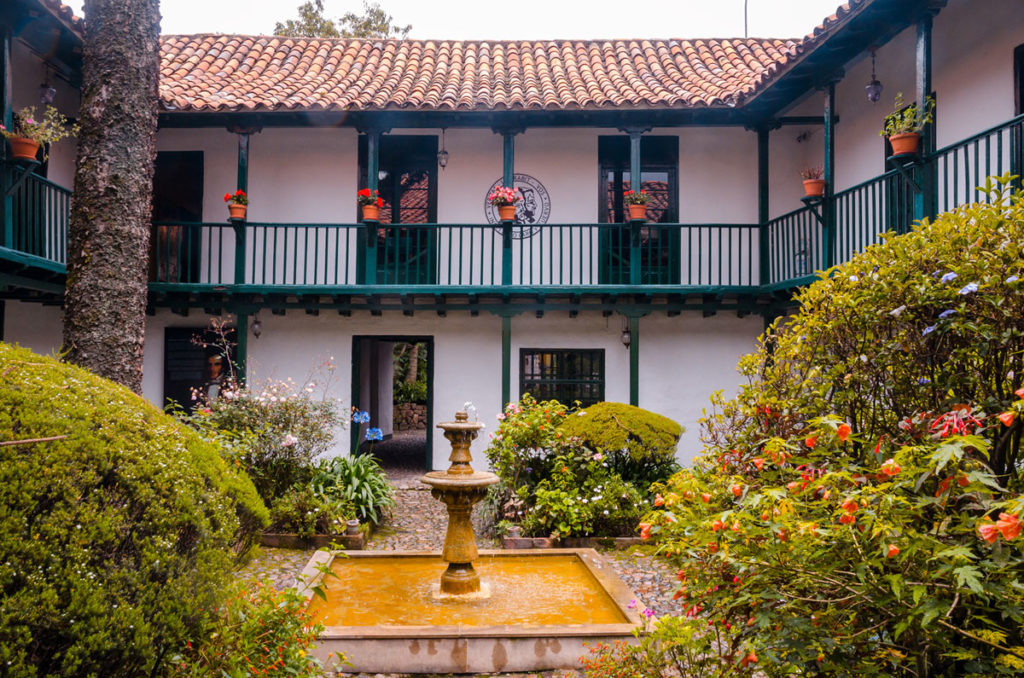 …massive churches in front of mountains…
… friendly and warm people on the street…
…but what I was blown away with was the psychedelic graffiti.
This alone made the city worth visiting.
Our Story
Khadija and I had been traveling for weeks with friends through Bolivia and Peru in April and May 2018. In Colombia, it was just us. We arranged for nine days to visit important cities of Bogotá, Medellín and Cartagena (could not fit in Cali). After transportation time from one to another, we had two full days in each. It was not much, but each day was exciting and informative.
Background
Colombia's recent history has centered around three camps: FARC, drug cartels and right-wing paramilitary groups.
FARC (Fuerzas Armadas Revolucionarias de Colombia) was formed in the 1960s to protect rural populations from being displaced and marginalized. Their struggle gradually became less about the cause and more about getting back at their enemies, the right-wing paramilitary groups which were responsible for at least 70% of political murders in Colombia. The Medellín and Cali cartels (recently featured in the Netflix series Narcos) formed in the 1970s and expanded the drug trafficking business and violence to alarming levels.
Almost everyone in the country was in or benefitting from the drug business. FARC taxed the trade of coca in the areas they controlled. Right-wing paramilitary groups became a major player in trafficking. Government officials were intimidated and bribed. The economy benefited from the huge profits of growing and selling drugs, principally cocaine.
We found the exceptional friendliness and hospitality throughout Colombia difficult to reconcile with the country's recent grim history. However, in the few times our discussions with locals veered into politics, we sensed that Colombia society is still very polarized.
Due to decades of violence, tourism has been extremely low in Colombia. Only recently has it picked up because of peace treaties with FARC and most of the cartels are now centered in Mexico.
I read there are areas of Colombia that are unsafe, but we had no problems walking around central Bogotá during the day. The most popular area of the city is La Candelaria, the historical district and downtown area. This part of the city is made up of many well-preserved colonial houses, churches, and government buildings.
Bolívar Plaza
Like most other tourists, we started in the Plaza de Bolívar. The sky was overcast and there were periodic rain showers (common in May). The concrete plaza slopes downward and has no seating. It is the original town center and holds the first monument of the city, a statue from 1846 of Simón Bolívar in the middle of the square.
The square is ringed with mainly neo-classical buildings.
Other buildings of note are the National Capitol containing both houses of the Colombia Congress…
…and the Cathedral of Bogotá.
Gold Museum
We next visited the Gold Museum (Museo de Oro). The museum highlights the cultural richness of the thirteen Pre-Hispanic cultures.
We were extremely impressed by the collection and the presentation. Later I discovered it is included in many lists of top museums in the world. One of several pieces I especially liked was this jaguar – batman gold piece.
The description stated, "when he is transformed into a bat and a jaguar, man evokes and merges the powers, knowledge and habits of these two animals, and reveals the secrets of life and death".
In addition to gold, there are bones, ceramics, textiles, and stones. I loved this ceramic one of a man sitting in relaxed contemplation, created somewhere between 700BC and 350AD.
This museum is a must-see for any visitor of Bogotá.
Streets
Most of our time was spent walking the streets, where we saw chess games…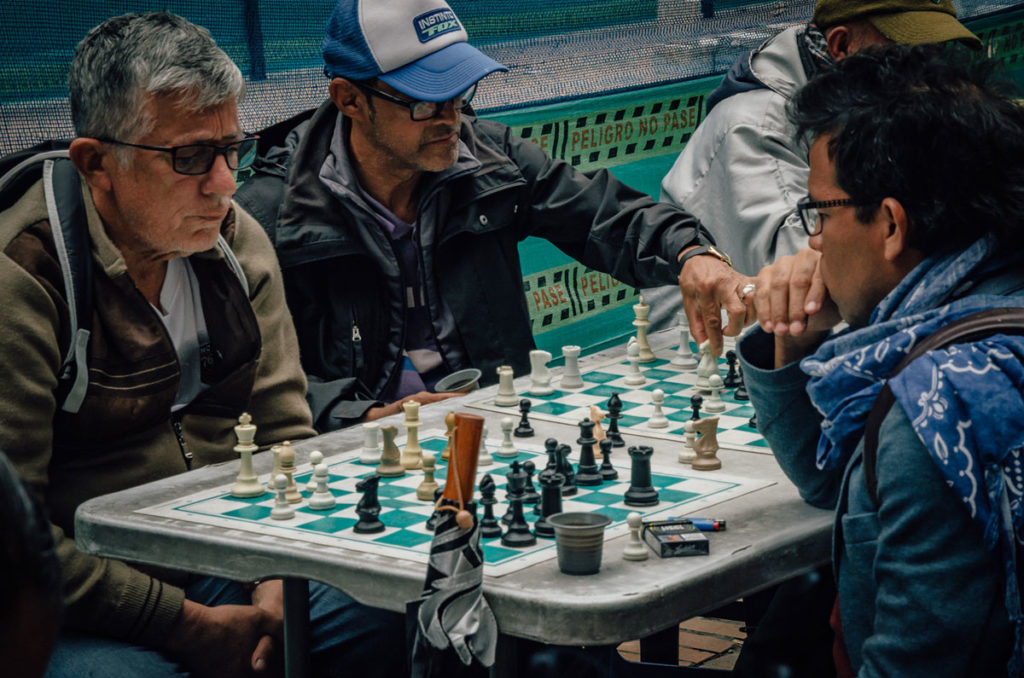 …and a man a Brooklyn T-shirt (can't seem to get away from that place) pushing a wheelbarrow with mangos.
Part of our walks was on the Heroes Tour that focuses on those who positively influenced Colombia's modern history. Our tour guide Markos, who speaks several languages, did an excellent job of using landmarks to explain Bogotá's role in the complicated history of Colombia.
The tour is free but everyone gladly compensated Markos at the end.
We passed a small mural of the Liberal Party presidential candidate, Jorge Eliecer Gaitan, at the spot where he was assassinated in 1948.
Tensions between the Liberal and Conservative parties in Colombia were running high before the assassination, with Conservative politicians and police encouraging citizens to seize land belonging to Liberals. After Gaitan's death, there were ten hours of rioting that resulted in 5,000 deaths. It started La Violencia, a ten-year civil war resulting in over 200,000 deaths. It is a cautionary tale that incendiary rhetoric of political leaders can spin out of control.
We were not always on the street because of the frequent rain shower. Here we ducked into a coffee shop to get a caffeine boost and dry off.
Graffiti
We found out that Bogotá is world-famous for its street art and graffiti.
For a long time, the city viewed graffiti with the same contempt as common criminals. This changed in 2011 after police killed a sixteen-year-old street artist, Diego Felipe Becerra. They tried to cover up the incident by tampering with evidence and calling Becerra a robber, but there were city-wide protests that led to the officers being arrested and the laws being amended. Since then, Bogotá has become one of the most supportive cities of street art.
We took a walking tour, as it would have been time-consuming trying to find the main streets on our own and we would have likely missed some of the important blocks.
The artist often belongs to a crew, such as the APC. The A stands for animal and there are variations of what the P and C refer to, such as Power Culture and Planet Crew. Each crew has their signature or tag.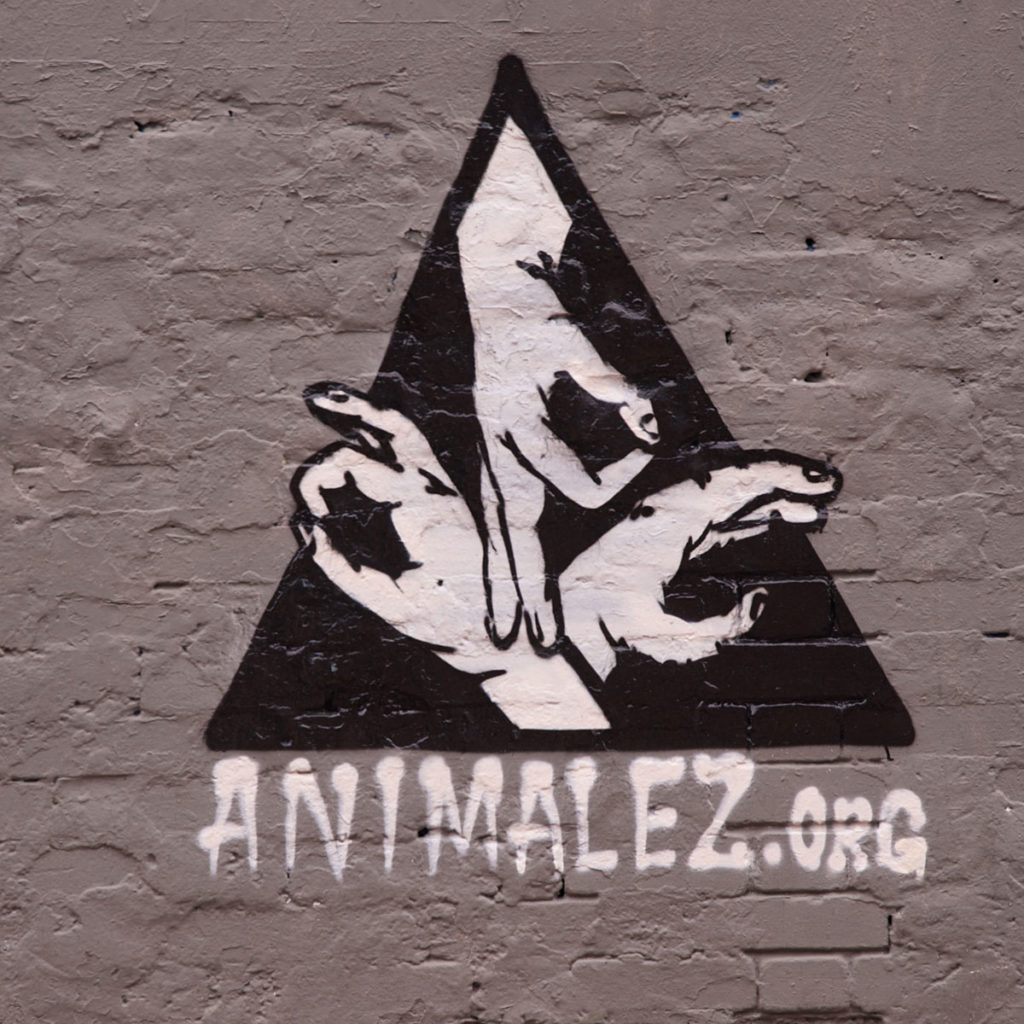 The crews have territories and sometimes are in conflict. Sometimes one artist will tag the work of another. I don't understand this, but some think this is alright as it "evolves" the art.
I liked this one with the cheetah as it complimented the brick and cobblestone.
This one of a hummingbird showed that the murals do not have to be two-dimensional.
Sometimes nearby persons enhanced the graffiti as the man in the red hat and the face in the window…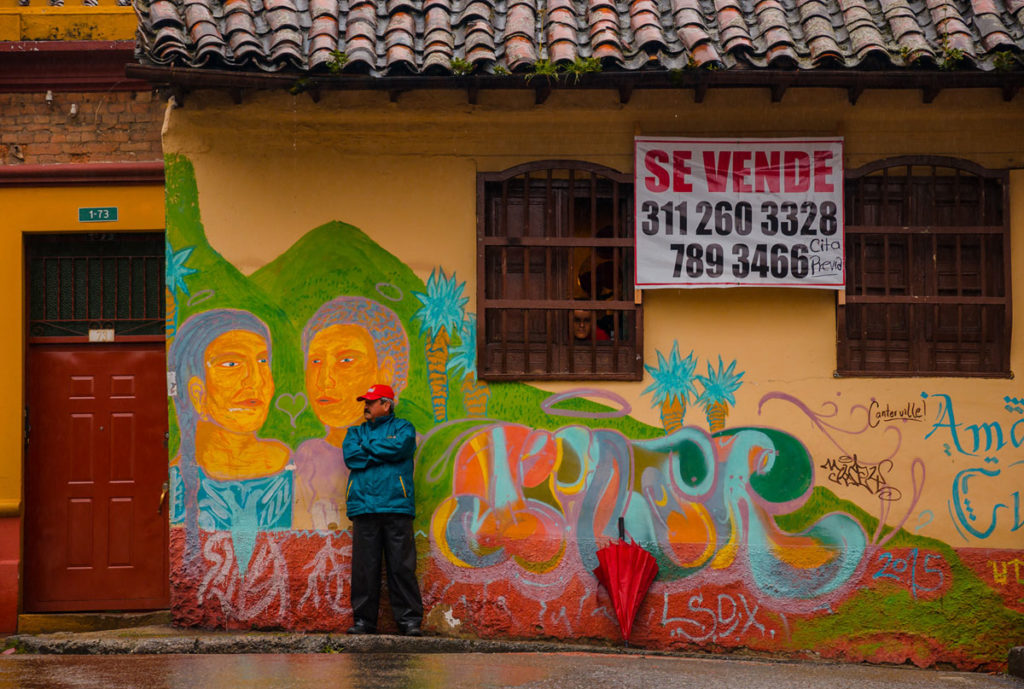 …and the woman in the poncho who was the tour leader.
Other times, objects in front, such as these bags and shoes, combined with the mural to create a new impression.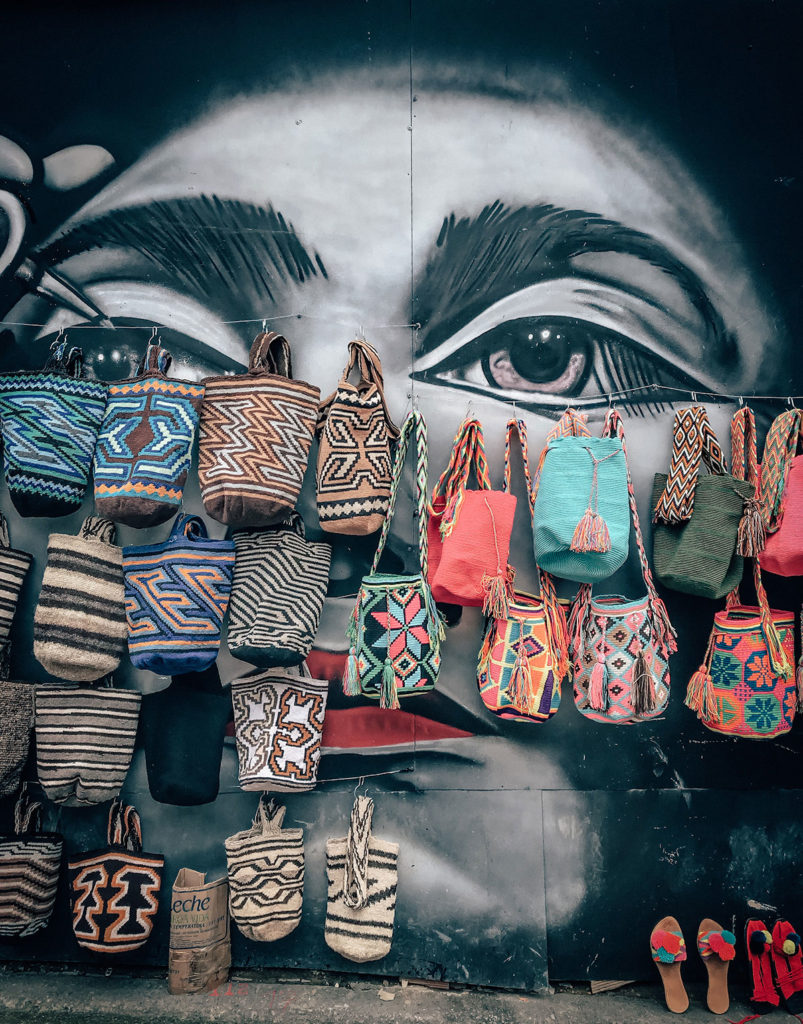 I am not sure why but my favorite one was this one of a woman with a Brownie camera and a man with a mohawk.
Music
We knew that Colombia was famous for its music. I particularly like cumbia, but that is just one of the genres created in the country. Their heritage does not stop them from enjoying music from elsewhere. Here and elsewhere in South America I found that the Rolling Stones and reggae are very popular.
Bogotá is a hub for musicians. There are many venues, street musicians and festivals around the city for them to perform.
Our friend Jessica who is working in Bogotá took us to Gaira Cafe. The cafe started as the place where the television show La Tele began, a talk show that featured a group of actors and musicians. Carlos Vives, famous for singing vallenato, folk music that originated in the Caribbean part of Colombia. Vallenato, meaning "born in the valley" and referring to lower class people, relays tales of romantic love and heartbreak. The restaurant was opened in 1998 by Carlos' brother Guillermo and is a famous place for live music.
It also has an outstanding reputation for its food. Here Jessica was explaining the shrimp, vegetable and our other dishes to us.
Transportation
Many countries I go to, I find advancements that surpass what is back home. In Latin America, there are many such improvements in mass transportation, such as trams in La Paz and escalators in Medellin. Bogotá's Bus Rapid Transit (BRT) system is highly efficient and many cities around the world have evaluated whether they can have their own version. BRT is characterized by three principal traits. First, it runs exclusive lanes, so it's not slowed down by traffic jams. The buses average 20 miles per hour compared to New York City's eight mph. Second, passengers pay upon entering the station, not the bus, speeding up the boarding process. Third, the station is on a platform at the same level as the floor of the bus and all the doors open at once so passengers can board quickly.
The city also employs traditional buses that crawl along in the traffic. While they are not as efficient, they are a good place to see a cross-section of the population.
Final Thoughts
We were at the beginning of the return of tourism in Colombia after drug-related violence kept visitors away for decades. We found the country's history fascinating and the graffiti outstanding. Our next stop was Medellin which not so long ago was the home of Pablo Escobar and the epicenter of the drug cartels.