It's a pleasure to drive through the mountains and wine-growing valleys of Slovakia. On the way, you pass through historic villages and cities and see picturesque castles on hilltops.
Slavic tribes arrived here in the fifth and sixth centuries, eventually becoming part of Moravia, which was the first major Slavic nation in Central Europe. Starting in the 11th century, Hungary ruled over present-day Slovakia. In the 19th century, Slovak emerged as a distinct language. It has been a separate country since 1993 when Czechoslovakia split into the Czech Republic and Slovakia.
Slovakia's mostly mountainous territory spans about 49,000 sq km/19,000 sq mi (about half the size of Kentucky and slightly bigger than Estonia), with a population over 5 million. One of its claims to fame is that it's the geographical center of Europe.
Why We Drove Through Slovakia
In August and September 2021, my wife Khadija and I went on a five-week drive through Eastern Europe and visited many of the great cities of the region. After Kraków, Poland, our next destination was Vienna, Austria to visit close friends. There are various routes with the fastest going through the Czech Republic. We had never been to Slovakia, so we spent two days in order to get a feel for it.
When driving through the country, it's necessary to buy a "vignette", which is a permit to travel on motorways and expressways. Slovakia and other European countries used this instead of having toll booths. It costs €10 for 10 days and is electronic (uses your license plate number, no sticker). They can be purchased online or at vending machines.
The country is bordered by Poland to the north, Ukraine to the east, Hungary to the south, Austria to the southwest, and the Czech Republic to the northwest. Here's the route we took.
After considerable investments by the European Union, roads are in good condition and there are some divided highways for fast driving. We took mainly local roads in order to better appreciate the scenery and small towns.
Slovakia is safe. Here, as everywhere you travel, employ basic safety precautions and use common sense to avoid problems.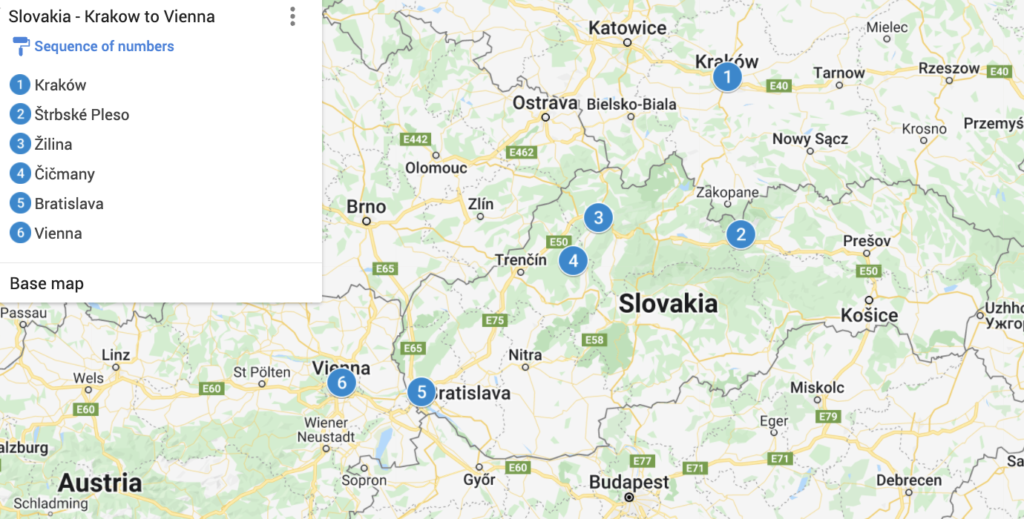 Slovakia is one of the cheapest countries which uses the Euro, but more expensive than those who have their own currencies such as Poland.
Where to Stay in Slovakia
We chose to stay in Žilina for our only overnight stay. Our hotel was Dubna Skala which had sturdy but aged furniture, decent Wi-Fi and a buffet breakfast. Importantly, it had parking and was only a few minutes' walk to the Main Square.
We left Kraków at 10am and drove straight south. The region was mostly farmland with a few cities. The landscape had progressively more and higher hills than we had experienced before driving from Berlin to Wrocław to Kraków (click on links for my posts on these cities). In about three hours, we were at the border of Slovakia, where we encountered the Tatra Mountains.
They are the highest mountain range in the Carpathian Mountains, which arc across Central and Eastern Europe. About half of the range is in Romania.
Once we started crossing the mountains, it felt more like Switzerland. It was obvious that this would be a great place to hike and ski. We stopped in the village of Strbske Pleso (1360 m/4,450 ft in elevation), next to an attractive lake of the same name. Everywhere you looked, people were there for the outdoors. In town there were several places for snacks and lunch.
Perhaps because it was a weekday and during the school year, the majority of the visitors were seniors, many walking and hiking.
The best overview of the area is a billboard with a picture and identification of places of interest.
We thought it was an excellent spot for lunch and to get some fresh air.
We then drove on Motorway E50 for a couple of hours, past Liptovska Lake and following the Vah River, to Žilina. Eventually, the charming landscape had an increasing number of factories and warehouses.
Žilina is a manufacturing city with a central square with many old buildings, a few dating to medieval times. By the time we checked into the hotel, which seemed to be occupied mostly by businessmen, it was dusk. We walked to the square and found a pizza place for dinner. We went to the square the next morning and were impressed with its understated beauty and calm vibe.
I especially liked the fountain in the square.
About an hour drive south from Žilina on Road 64 is the village of Čičmany which has around 200 residents. Remarkably, on each side of the road are black timber houses decorated with intricate, geometric patterns in white paint.
The village is at least 900 years old. About 200 years ago, the villagers applied white lime to preserve damaged wood. The black and white contrast was striking and inspired them to develop decorative designs. Most of the buildings are not original but built in the same traditional style.
Ľudovo Umelecké (Folk Art) is a store selling a variety of clothes and household items with the geometric patterns.
Khadija bought a cape-like shawl and I nabbed a T-shirt, which I found this straw-headed man was wearing.
The Slovakian government has provided funds to maintain this gem of folk architecture and cultural heritage.
While leaving Čičmany, we drove through the lovely countryside until we joined the recently upgraded Highway E75 for our two-hour drive to Bratislava.
Bratislava is the capital of Slovakia and is worth at least a two days visit. We were just passing through and spent only a couple of hours meandering around the Old Town (Staré Mesto), seeing a few of the attractions. We parked our car in the underground parking of the Radisson Blu Carlton Hotel.
Unusually, the capital is on the western border and not as you would expect, in the center of a landlocked country. It's only an hour drive from Vienna. It has a long history under a sequence of foreign rulers and had various names including Pressburg, Pozsony, Prešporok and Posonium. Under the Habsburgs the city was for a time the capital of the Kingdom of Hungary and a number of Hungarian Kings were crowned there. It also was an important fortress against invasions by Mongols and Turks. Based on this history, Bratislava has been and continues to be a multicultural city.
The Old Slovak National Theatre is a striking Renaissance-style building with a fountain in front.
It opened in 1920 and a majority of the original repertoire was performed in Czech because there were not enough Slovak plays, translations, actors, or singers.
Old Town Hall is a complex of buildings on the Main Square (Hlavne Namestie) from the 14th century, anchored by a clock tower.
In the back of the Old Town Hall, is Primate's Palace.
It was built in the late 18th century for the reigning archbishop. In 1805, the fourth Peace of Pressburg was signed here, ending the war between Napoleon's France and allies and the so-called Third Coalition of the United Kingdom, the Holy Roman Empire, the Russian Empire, Naples, Sicily, and Sweden. I liked the vaulted ceiling passageway leading to an equestrian statue.
All around the town are historic buildings and fountains. Here's Roland Fountain:
Among these venerable structures, we saw this gigantic mural of a sleeping fox in Stone Square (Kamenné Námestie). The creator is Fat Heat, a Hungarian street artist.
The most interesting building we saw was the Catholic Church of St. Elizabeth i.e., the Blue Church.
The one-nave, Art Nouveau church was finished in 1913.
Upon a promontory, Bratislava Castle is ensconced.
There has been a fortified structure here since the 11th century. It was modified and added on for the next 700 years. In 1811, a destructive fire gutted the structure and it was a massive ruin for a century and a half. In 1968, a long-term reconstruction project was finished to make the castle what it is today. If we had more time, we would have gone to its Museum of History with a sprawling collection of furniture, paintings, statues, clocks, glassware, porcelain and ceramics, dress accessories, and silver objects.
The Old Town has a number of amusing statues. The most famous is Čumil, a worker resting after cleaning the sewer or involved in some prurient behavior as ladies with skirts pass by.
Another fun statue is the Napoleonic soldier, leaning on a bench and observing what's coming and going.
We walked everywhere but trams and bicycles are also options.
Here's a map of the Bratislava attractions mentioned above.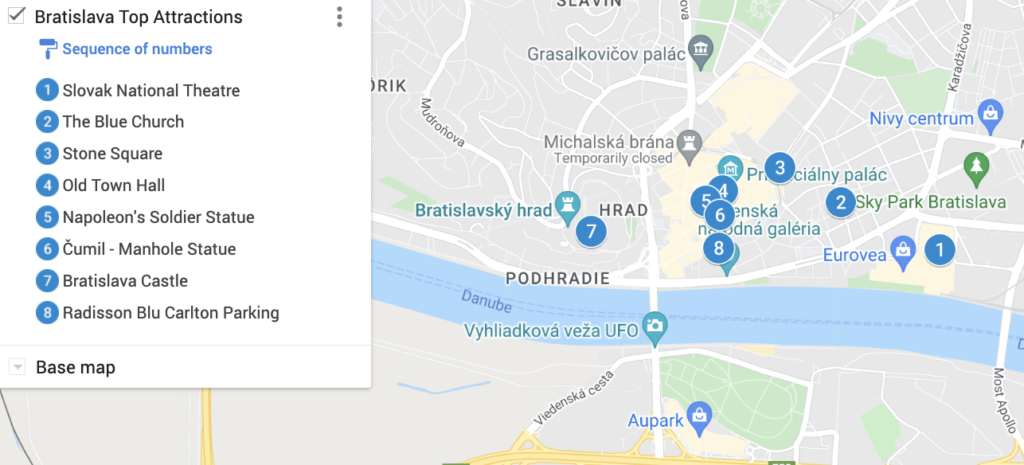 We only drove through this charming country, stopping a few places along the way. It wasn't enough to thoroughly appreciate it, but it did leave lasting impressions. The country seems to have struck a reasonable balance between development and preserving heritage. This feeling is summed up in this image of a Čičmany house with flowers in the windows and a shrine in between.
I hope to return and spend at least a week, seeing all parts of the country, hiking in the mountains and touring the spectacular castles.