Introduction
I finally made it to the Kumbh Mela where I…
…observed thousands of Hindu pilgrims bathing in the Sangam, the confluence of the Ganges, Yamuna and Saraswati Rivers…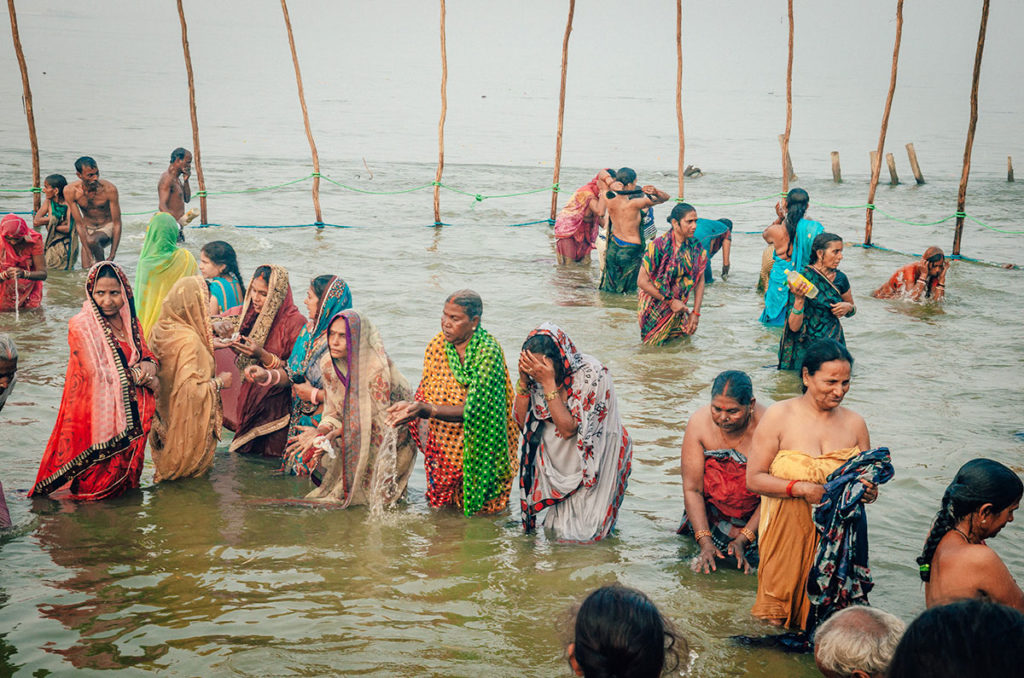 …and talked with Sadhus, the Hindu ascetics who have has renounced the worldly life.
I even had chai (tea) with Rasta-looking Naga Sadhus, who were smoking some mind-expanding substance.
However, my most amusing moments were watching the dancing Sadhus.
I was fortunate to spend two weeks here, where every day was an adventure.
My Story
This trip to the Indian subcontinent was arranged around attending the Kumbh Mela the first two weeks of February 2019. Before I arrived, I spent a few days in Mumbai. After I left the Kumbh Mela, I met Khadija, Peter and Caitlin to tour Sri Lanka, then the Maldives.
What surprised me was how few tourists there were. Of course, they were submerged in the masses, but I went hours without seeing obvious Westerners or non-Indians.
Background
In Hinduism, gods and demons waged a war over a kumbh (pitcher) of amrita, the nectar of immortality. Vishnu in disguise whisked the amrita from the demons, but a few drops fell onto four sacred sites. When the planets align, the rivers on these sites are believed to turn into amrita. This is when the Kumbh Mela (Festival or Fair) occurs. People come to bathe in the rivers of amrita to rejuvenate the mind, body, and soul and pray for a better life and world.
The Kumbh Mela is the largest religious event and probably the largest gathering of people in the world. The total estimate of people to attend for 2019 was 220 million people. There are other festivals which have a large attendance, such as Hajj in Mecca. However, the Kumbh Mela is at least 48 days compared to 5 days for the Hajj, so the former has over nine times the time for attendees to come. The 2019 one was 55 days, from January 15 to March 4.
The pilgrimage is celebrated four times over twelve years. There are four separate locations that are rotated through every cycle, each at a sacred river. The locations are Allahabad (recently renamed Prayagraj), Ujjain, Nashik, and Haridwar.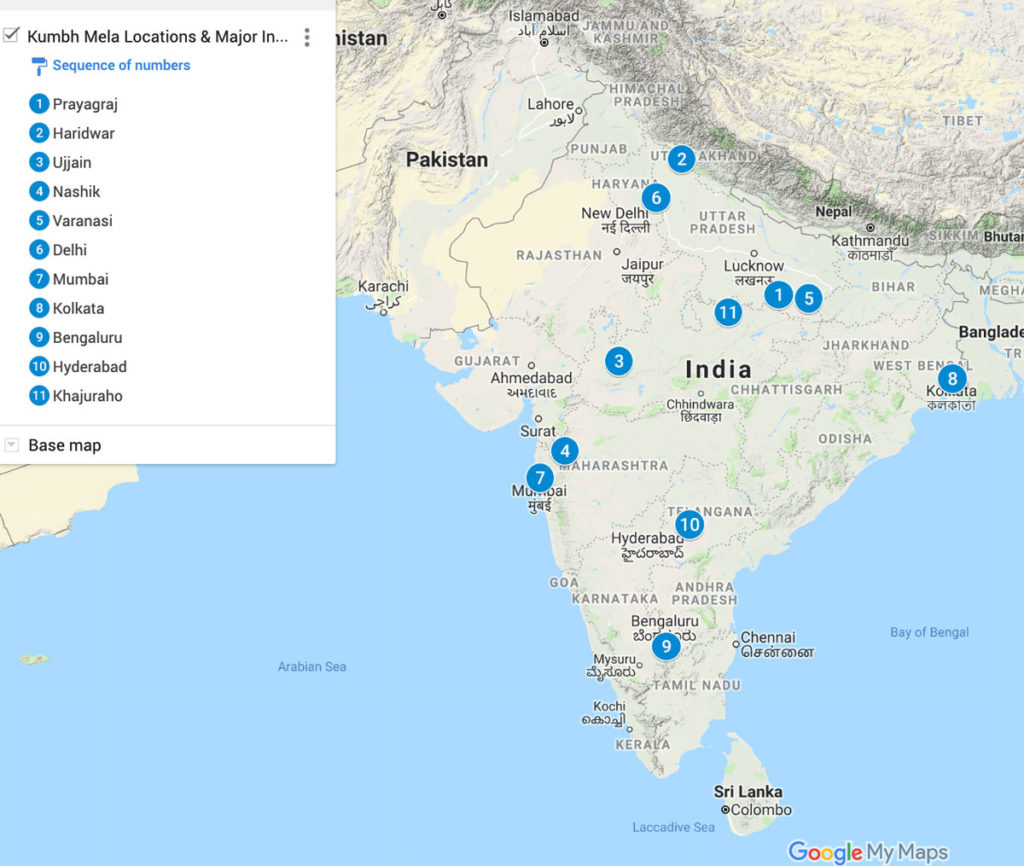 The location and timing between events vary each cycle, based on the astrological settings of the sun, moon, and Jupiter. Sometimes there is only one year between festivals for this reason. The next Kumbh Mela is in 2021 in Haridwar.
The biggest attendance comes on the sixth year (Ardh Kumbh Mela) and twelfth year (Purna (sometimes Maha) Kumbh Mela). At the end of a 144-year cycle, the Maha Kumbh Mela is particularly important and last occurred in 2013. Unless there are inconceivable advancements in medicine, I will not be here for the next one in 2157. My visit in 2019 was to the Ardh Kumbh Mela, which had the following logo.
Each time, a massive temporary city is built on land with pontoon bridges crossing the rivers.
The Indian government spends considerable resources to build the city. In 2019, the city stretched over 24 kilometers (15 miles). Here is a video from a helicopter that was given to me, showing the spread-out temporary city.
As local hotels cannot provide enough lodging and many pilgrims could not afford them anyway, thousands of tents are provided.
No matter the time, cost and effort, many Hindus, even the young…
…old…
and infirm come to participate.
Bathing
At its core, the Kumbh Mela is a ritual for Hindus to submerge themselves in holy water to cleanse their souls.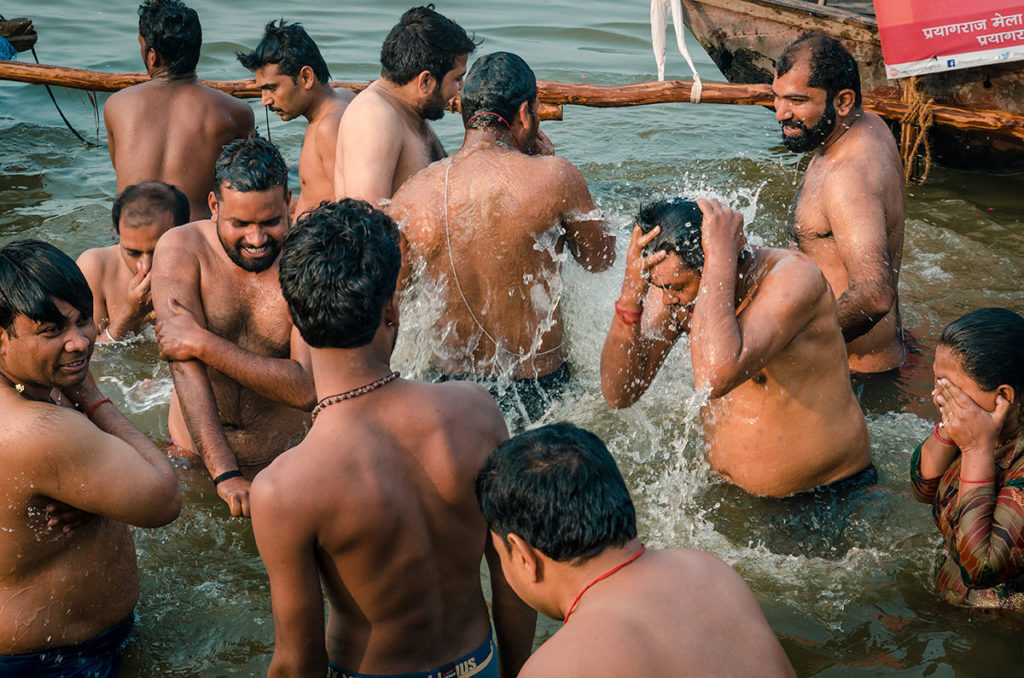 Sangam is the confluence of holy rivers. In Allahabad, it is called the Triveni Sangam, where the Ganges, the Yamuna and the mythical Saraswati meet.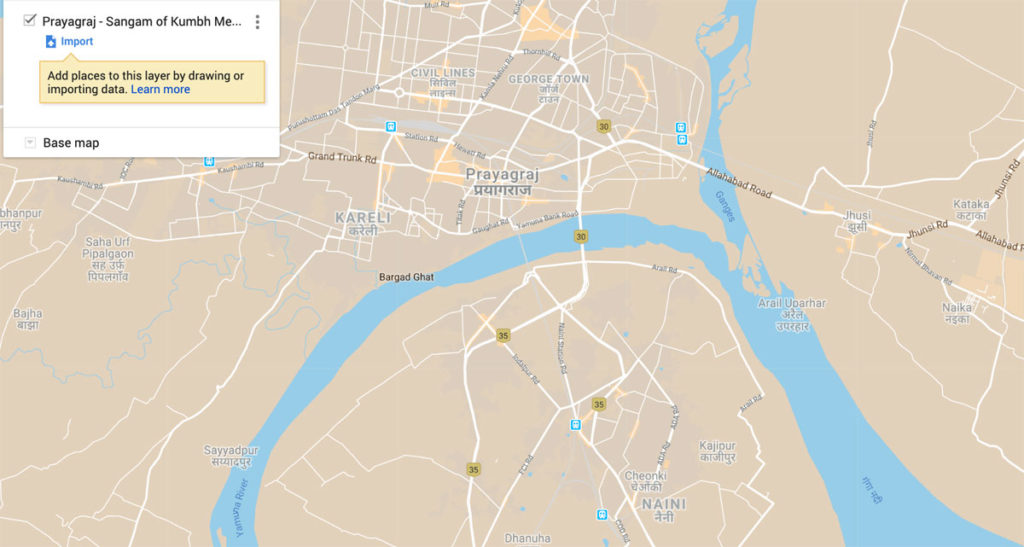 The water of the Ganges is relatively clear, while that of the Yamuna is more greenish.
Some engaged in the ritual in a solemn and contemplative manner…
…while others looked like they were in a pool party.
Next to the water, the bathers prepare for the dip and dry themselves afterwards. In some parts, the waters are next to a beach, usually supplemented with straw…
In other places, there are ghats (steps).
While Hindu women are generally modest in dressing, there is usually some exposure for them when bathing.
I found it fascinating seeing the henna designs and jewelry on women.
Here is a 360-degree view.
I was very tempted to jump in the water. However, I had a bad experience in an Ethiopia rural lake, so I didn't. In retrospect, it probably would have been fine, and I should have done it.
Sadhus
When I travelled around India in the past, I would see Sadhus here and there, in buses or requesting money in Varanasi. I thought there would be many here, but I was not prepared for thousands of them.
Sadhus are Hindu ascetics who have vowed to leave behind all material and earthly attachments. They often live in small huts, caves, or in the jungle. Sometimes, they can be found in ashrams in cities, but are often moving from one place to another. They are generally given free passage on public transportation throughout both India and Nepal as they often live in extreme poverty as part of their vows.
As far as I could tell, they spent most of their day going for breakfast, lunch and dinner and waiting in line to be served. They carry a stainless-steel container, called a Tiffen, with three-tiered containers to store food.
Sometimes they would engage in Hindu prayers.
Most Sadhus are men, but there are women too.
While living in poverty, every once in a while, one employed some modern technology (maybe he wasn't a Sadhu, but I could not always tell)…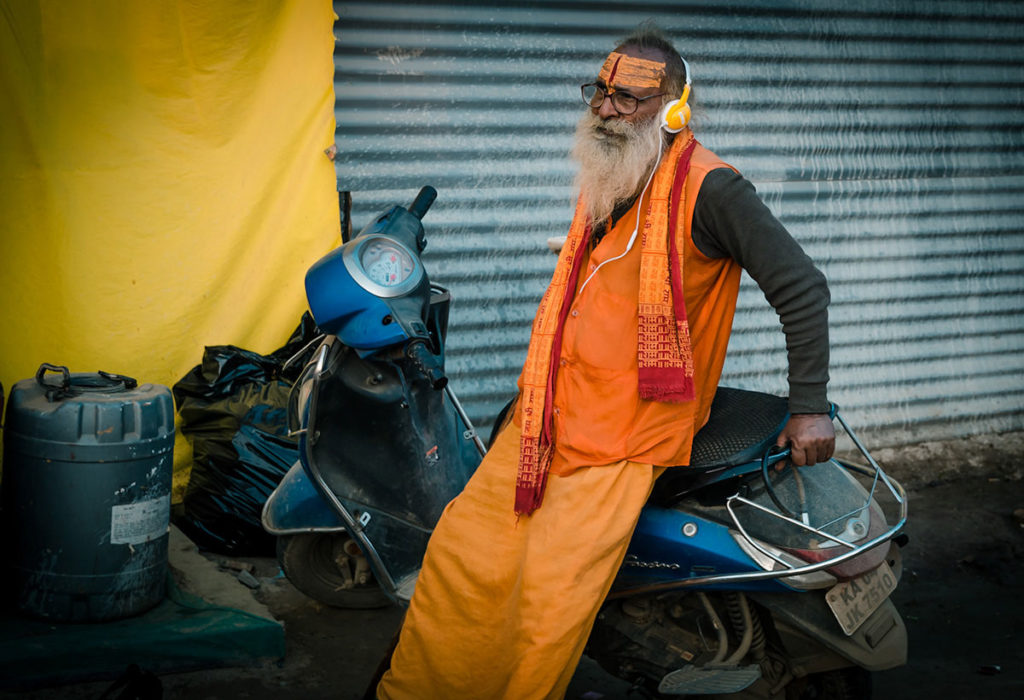 …or at least had sunglasses and vision glasses.
I never tired of looking at their faces, usually weathered and often with overflowing beards.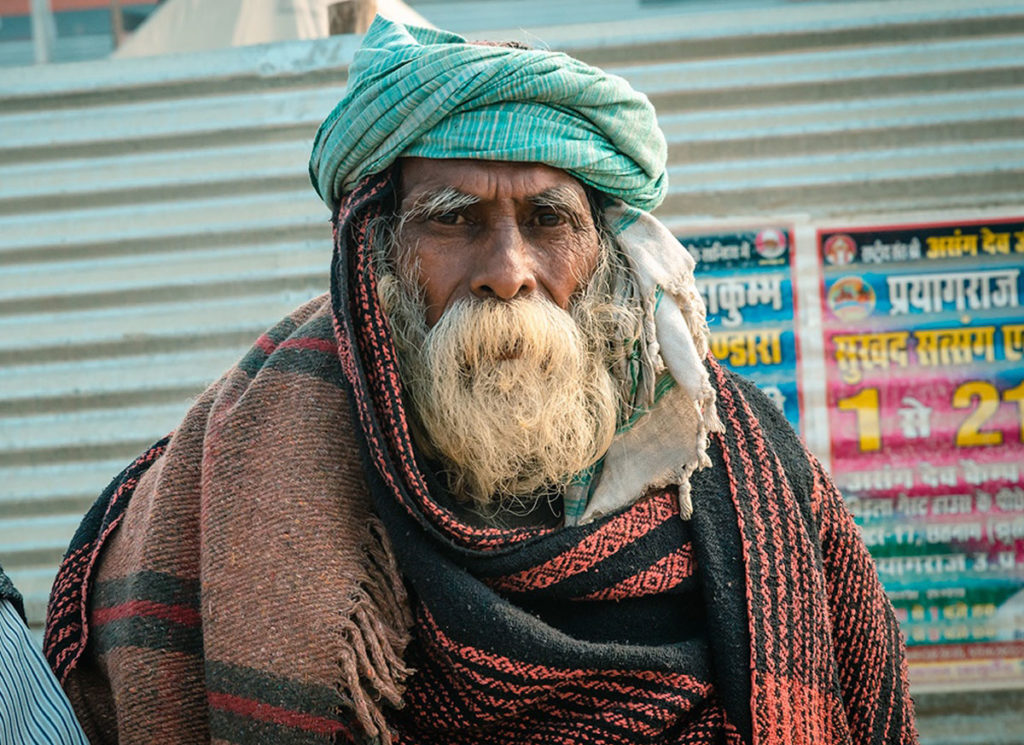 Many had painted faces for the Kumbh Mela.
Some were bundled up, as it was cold in the morning next to the river.
A few exposed their bodies.
Most wore saffron robes and headwraps, but not all.
Most Sadhus I met spoke little or no English. Most who had some fluency was hard for me to understand.
At least I was able to take selfies with some.
After a while, many of the Sadhu's faces reminded me of images out of the Old Testament.
And let's not forget the dancing Sadhus.
Rasta Sadhus
"Rasta Sadhu" is my terminology. It refers to Sadhus who smoke marijuana and hallucinatory substances. Some have dreadlocks. I saw a number of them at the Kumbh Mela.
In 1833, Britain outlawed slavery in Jamaica which created a shortage of laborers to work in the rubber and sugar plantations. To help meet this deficit, the British brought about 35,000 Indian indentured servants to Jamaica between 1845 and 1917.
These Indian laborers brought with them religious traditions which included the ceremonial smoking of marijuana. The Hindi word for the bud of the marijuana flower is ganja, which became a general name for marijuana.
Many civilizations have had dreadlocks in their history. The Vedas, Hinduism's oldest scriptures, depict Shiva with dreadlocks. Some Indian holy men and women regard dreadlocks as sacred and a denial of vanity and still wear them.
The Rastafarian religion was created in the 1930s, selecting beliefs found in the Old Testament, African tribal culture, and the Hindu religion. It is possible, maybe likely, the Hindu tradition of dreadlocks was the main source of inspiration for Rastafarians adopting them.
Naga Sadhus
There are different akharas (monastic sects) of Sadhus, all which associate with a guru for many years before becoming independent. The most well-known sect is the Naga Sadhus, who minimize belongings and attachments, never wear clothes, cover their bodies in ash and often sport matted dreadlocks. I saw them performing feats such as putting their leg behind their head or standing on one leg while drumming.
When I walked by, they asked for donations, especially if I took a photo. While non-materialists, they must need to generate some income to live.
For some reason unknown to me, one had a beaded crown on his head while sitting in front of a fire pit.
I took many other pictures, but they are too explicit for a general audience.
Mauni Amavasya
While the Kumbh Mela is alive every day with pilgrims and vendors, there are three special days when members of akharas go in waves into the Sangam before daylight. Apparently, there is quite a bit of negotiation involved in when each group proceeds. I was there for Mauni Amavasya on February 4 but for logistical reasons could not make it before the crack of dawn.
During the daylight, the heads of akharas parade through the crowds on decorated floats, followed by their adherents.
They ride atop tractors, trucks and even elephants,
The most noteworthy aspect of this day was how crowded it was.
I attempted to cross a pontoon bridge where the parade was going. However, I jumped out before being trapped on it, perhaps for several hours.
Pavilions
There are temporary pavilions along the main streets with colorful gateways and bright decorations such as huge flower arrangements and neon lights.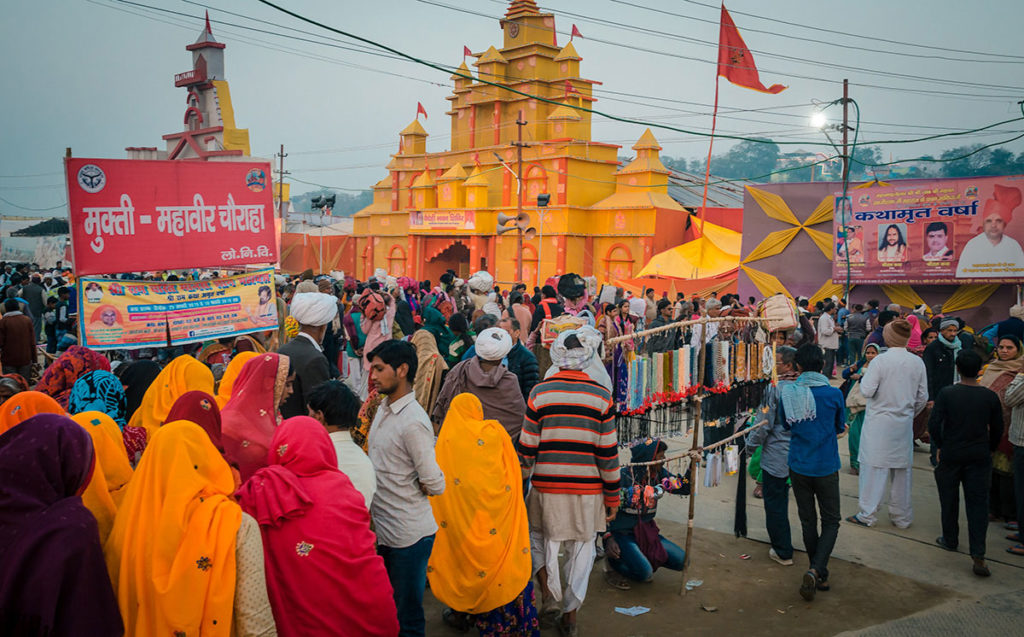 In the pavilions, I attended lectures by yogis, theater productions and musical performances. Of course, most of them were trying to recruit new followers. The pavilions were also lively and colorful on certain nights.
Some of the pavilions provided free meals to anyone, part of the Hindu charitable tradition.
I had lunch of wonderful vegetarian food at one pavilion. However, despite years of yoga, it was not easy to sit cross-legged for the entire meal. Also, I've never liked eating without utensils.
Others were conducting a homa, a ritual where a religious offering is made into fire.
In this case, it was done in between the mantra on the loudspeakers.
Chai Stands, Vendors and Performers
Along the streets were hundreds of merchants, selling religious objects and jewelry…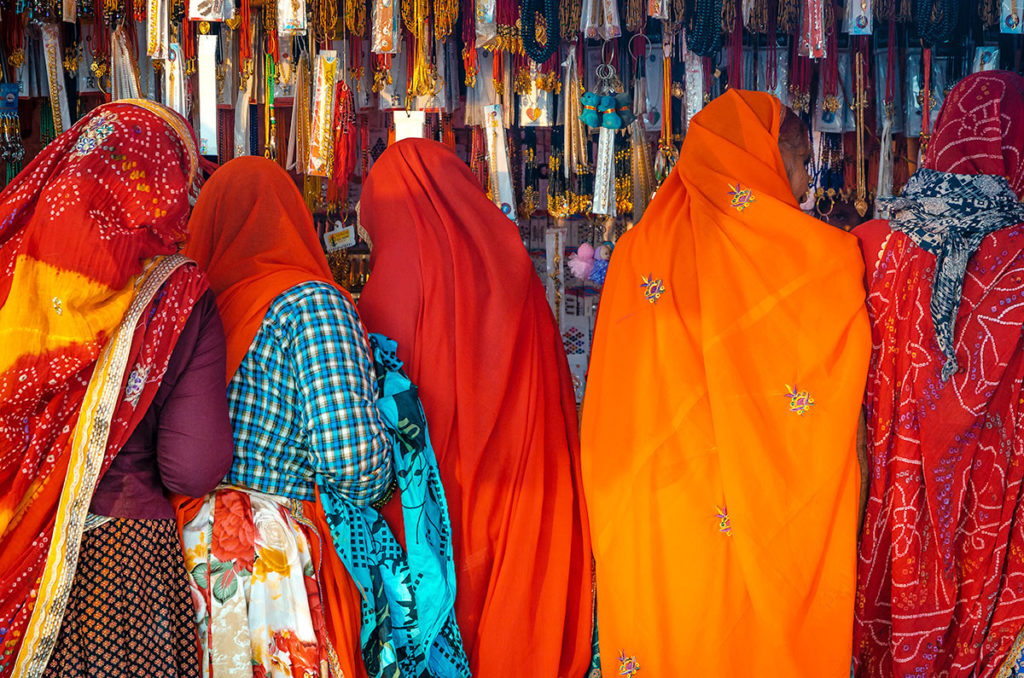 …personal services…
…bulk food…
…and chai with sweets and snacks. Every day I went to my favorite stand, run by a local family, and had several Dixie-sized clay cups of chai.
Every hour or two I took a break from walking and stopped at a chai stand and chatted with other customers. Here I spoke with these two gentlemen in their seventies (they showed me their ID card) who have been to the Kumbh Mela several times.
The gathering is more than just a pilgrimage, though, and includes some similarities to a county fair, including acrobatic performers…
…and children dressed as Hindu deities.

Security and Sanitation
The authorities had tight control of the festival with a huge contingent of armed soldiers and police.
I saw individuals get agitated once because of intense overcrowding on Mauni Amavasya. The soldiers and officers stood up to the angry folks and diffused the confrontation.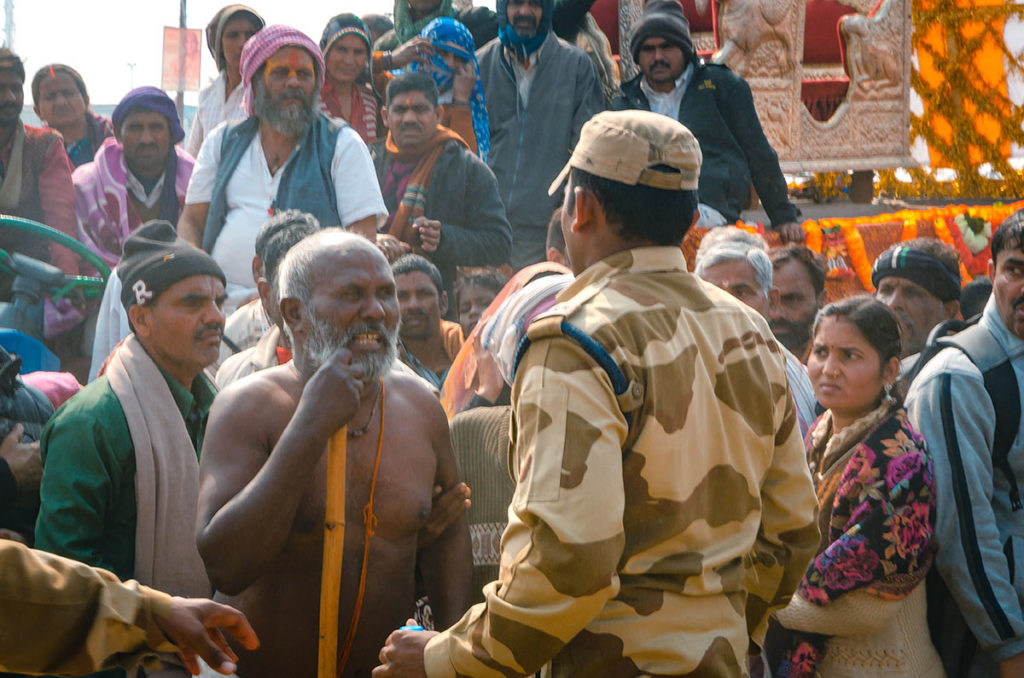 I spoke with one policeman at my favorite chai stand.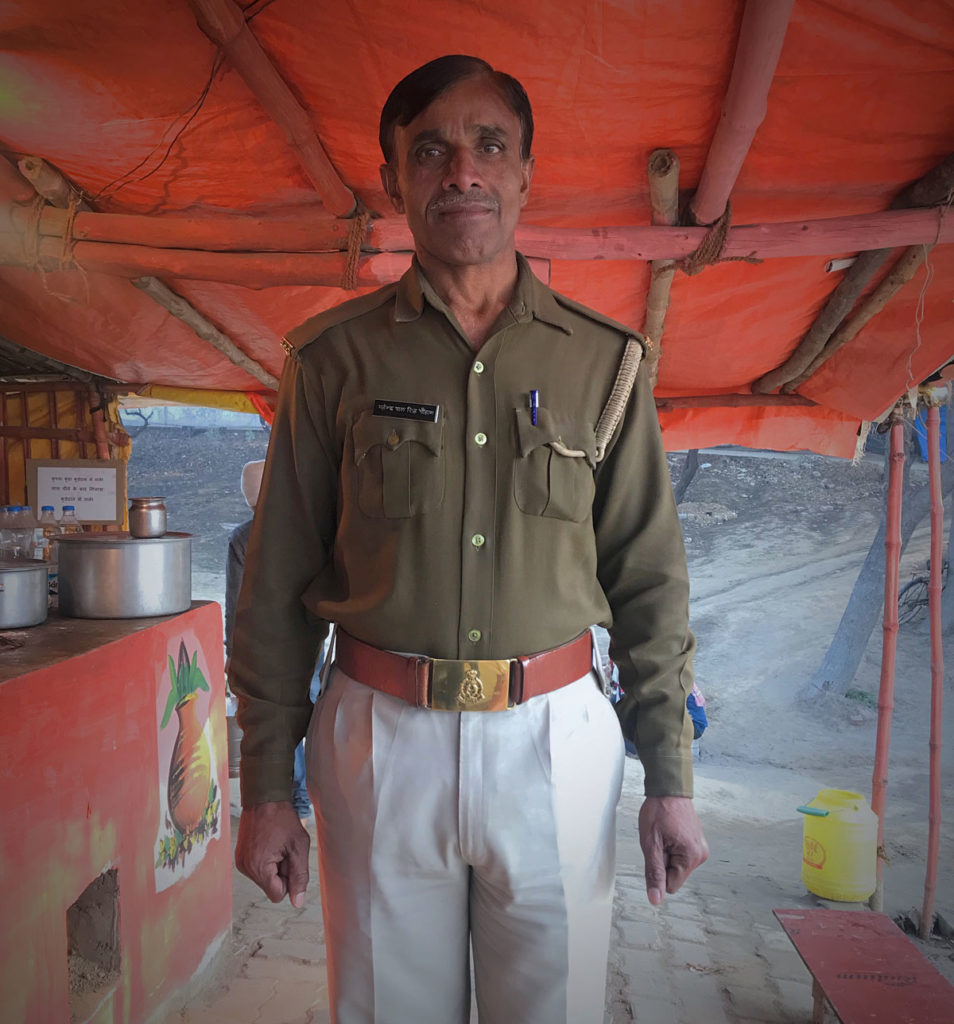 He told me he spent 22 years in the army and has a monthly pension of 25,000 rupees (US$360). He further said that he is married and has one child, a 16-year old son.
The temporary city employed another army, the one emptying the public toilet and cleaning the grounds
liked their Kumbh Mela hats and bought one.
Allahabad
Allahabad has been the name of the city for 435 years but was recently changed by the Hindu nationalist Bharatiya Janata Party to Prayagraj, an ancient name. Depending on whom I spoke to, it was done to better represent the city's role in the Kumbh Mela or it was a politically driven action to appeal to the city's Hindu majority.
The city is worth checking out if only to have a break from the Kumbh Mela. The main tourist attraction is the Anand Bhavan, the Nehru family house which is now a museum.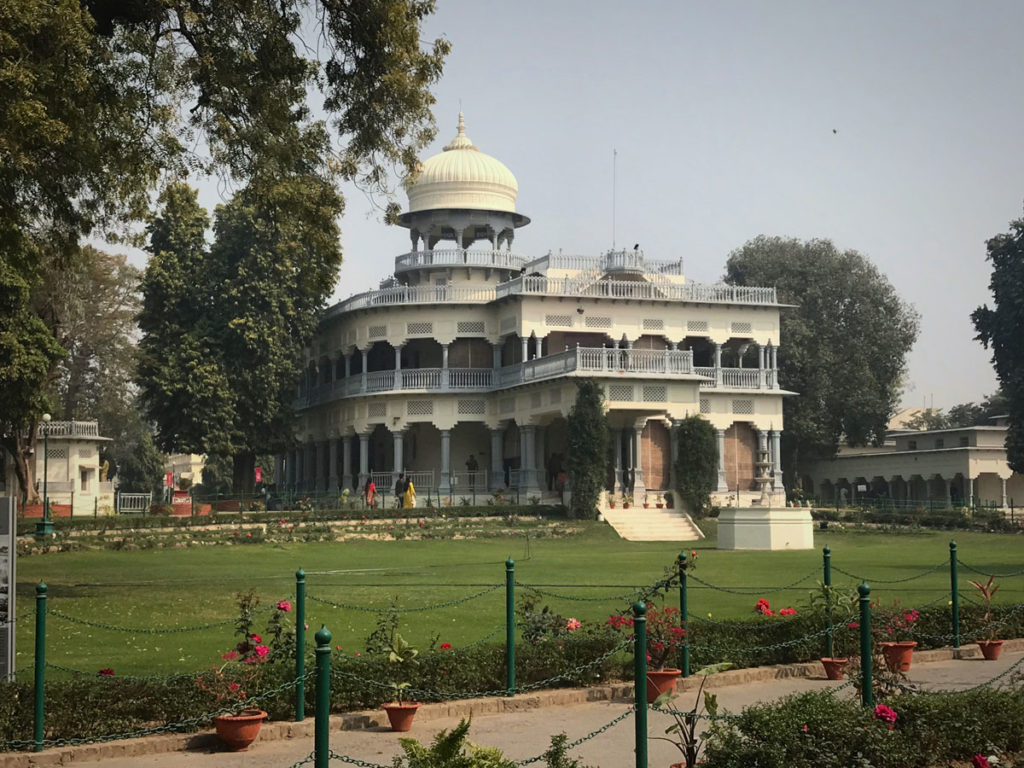 The displays in the house concentrate on the life of Jawaharlal Nehru, India's first president after independence. In the back, there is another building providing extensive and interesting detail on former President Indira Gandhi, Nehru's daughter.
While I was there, the concrete columns of an expressway through town were painted with traditional Indian images.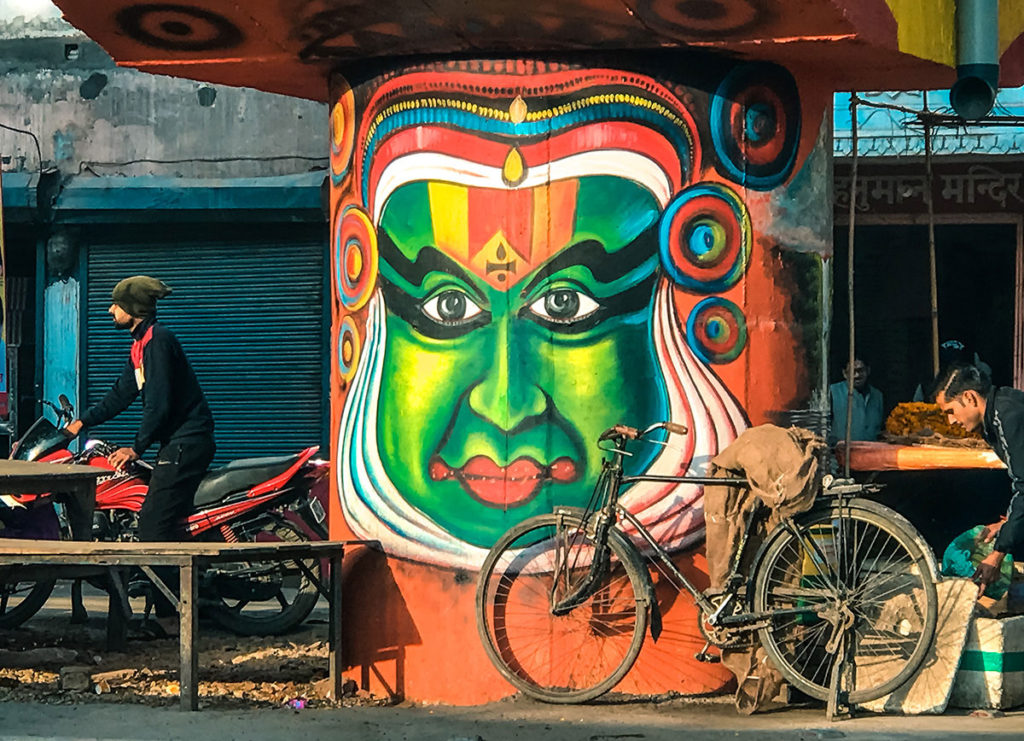 I heard they were temporary, but it would be great if they were not.
Photographic Experience and Final Images
I shot most of my photos from dawn to 10am and from 3pm to sunset, when the sunlight was warm and diffused.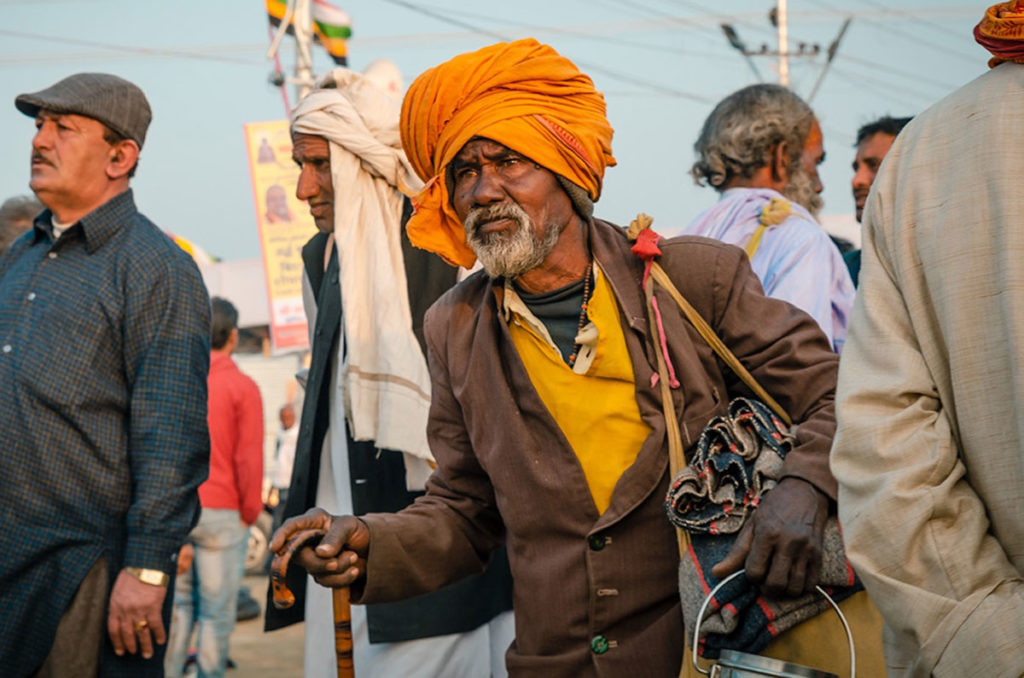 Most people I photographed did not mind and many liked it. It was difficult deciding which images to use in this post, as I had so many I liked. Here are a few more that were special to me.
India is infamous for its aggressive and deformed beggars. Interestingly, I saw relatively few of any kind here. The ones I did see were mostly children.
I even saw once where a Sadhu gave food he just received to the poor children.
As everyone knows, India is awash in color, as was amply shown here every day.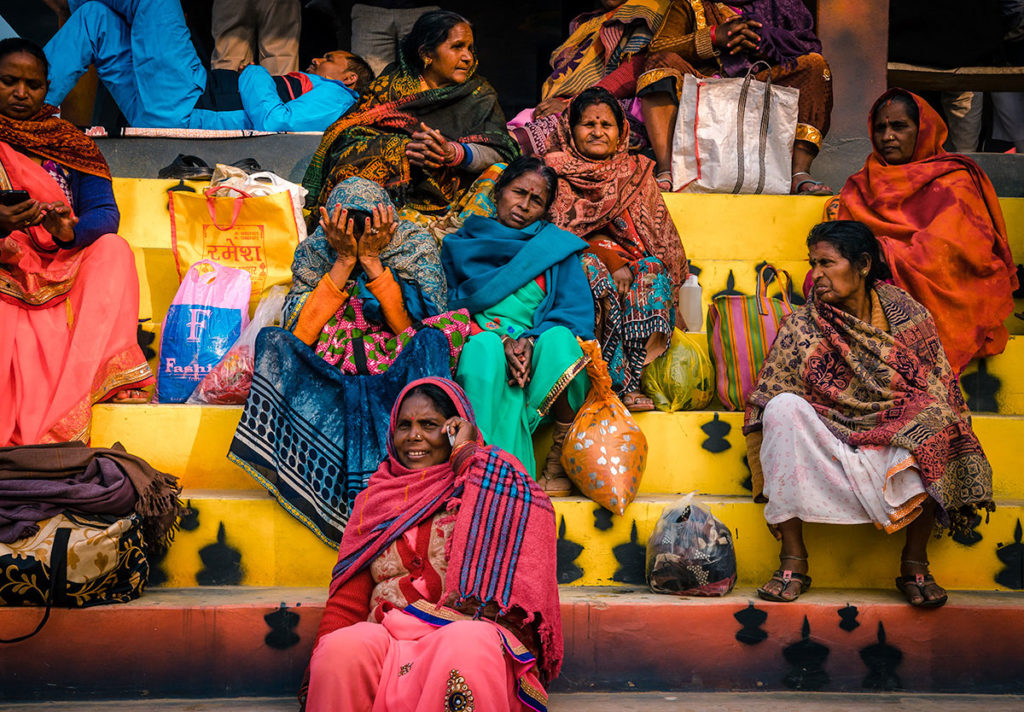 I met Rakesh several times. He was a medical doctor from Kanpur working at the festival. We continue to stay in contact.
I also took selfies (in India, this word means photos of people and not just of oneself) with people I will never see again, such as these women, but they are engraved in my memory…
…and this man with a white beard, a phone in his hand, a turban and an outdoor jacket, who came to meet me.
I am eternally grateful for this experience. I hope other travelers can have as interesting and enriching visit anywhere as I had here.