Many travelers do not know where Slovenia is or confuse it with the similarly sounding Slovakia. The Slovenian people's ancestral roots go back over 1,500 years and for hundreds of years under the sovereignty of the Habsburg Monarchy. After WWI, they became part of Yugoslavia.
It wasn't until 1991 that the Slovenians had a country of their own and in 2004 they joined the European Union. They are the most economically successful of the former Yugoslavia countries. Because of this recent prosperity and their desire to promote their culture, they have transformed the once rather drab-looking Ljubljana into a popular tourist destination. Now it visited by families…,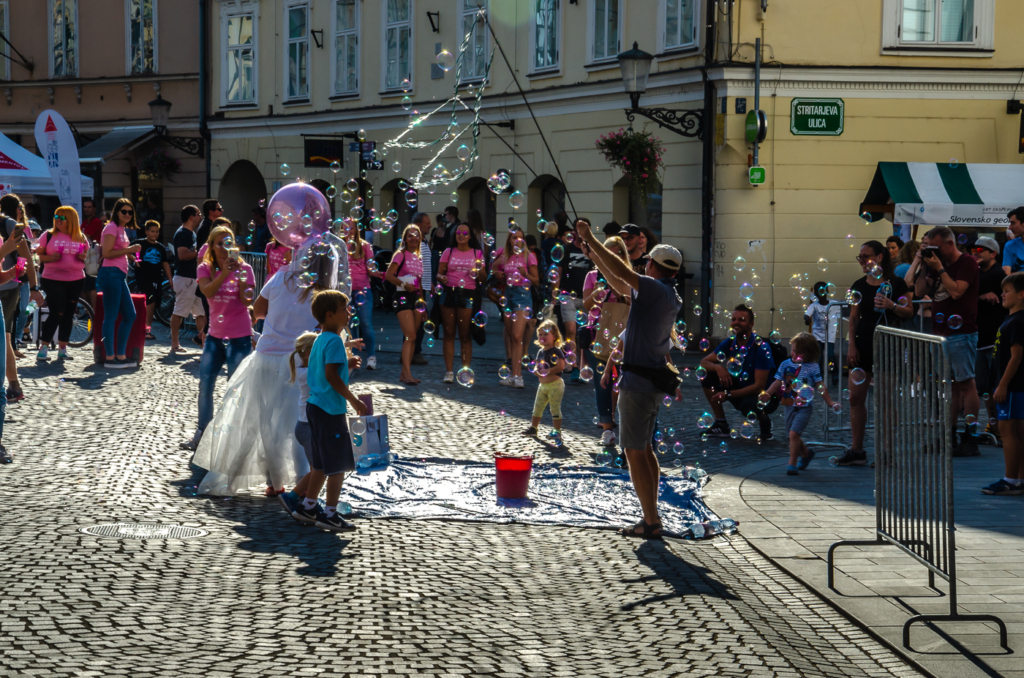 A few years before, my niece Toni traveled to Ljubljana on a cross-European trip. I was surprised she made it here, given all the other places to see in Europe. However, once we arrived, I realized that Ljubljana is on the itinerary of many backpackers.
Ljubljana is an easy drive or train ride from many European cities: 140 km / 85 mi from Zagreb, 240 km / 150 mi from Venice and 400 km / 250 mi from Munich.
In August and September 2021, my wife Khadija and I went on a five-week drive through Eastern Europe and visited many of the great cities of the region. Ljubljana was in the loop starting and ending in Munich and we spent two and half busy days there. Slovenia is a new country for me (#111).
Ljubljana is safe in the tourist areas. Here, as everywhere you travel, employ basic safety precautions and use common sense to avoid problems.
In comparison to the capitals of the former Yugoslavia, Ljubljana is the most expensive, especially as it uses the Euro. Compared to all European capitals, it's somewhere in the middle in terms of cost.
Where to Stay in Ljubljana
Staying in Center City, outside of the Old Town is probably the best value. We stayed at the Central Hotel, which is an easy walking distance to the Old Town, Tivoli Park and Metelkova. It was reasonably priced, somewhat because the rooms are small. It also has sleeping capsules with nearby showers and bathrooms, which is an inexpensive alternative used mostly by young people. We parked our car at the municipal lot by the train station, which was considerably cheaper than underground parking next to the hotel.
How to Get Around Ljubljana
Here's a map of some of Ljubljana's attractions.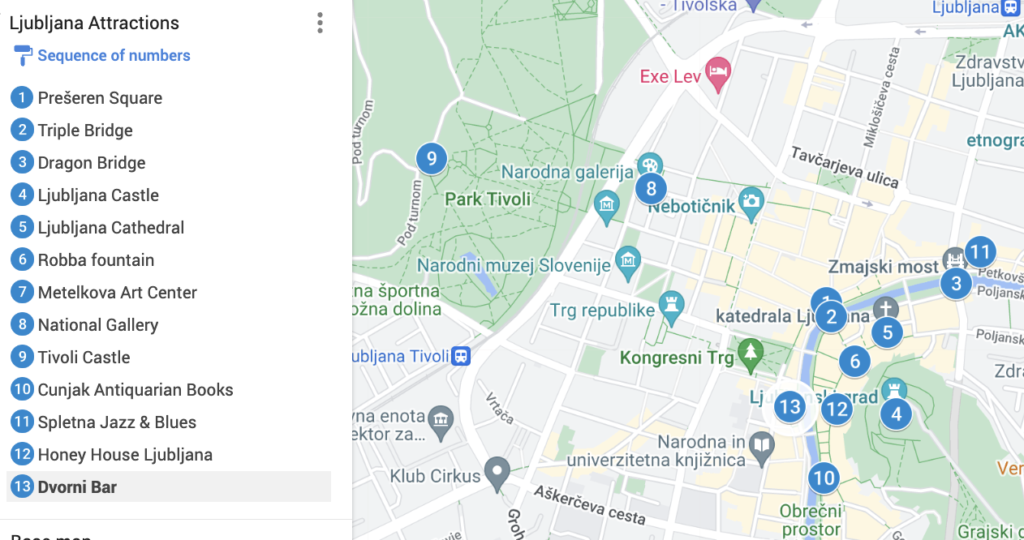 We walked everywhere with no problem. The streets of the Old Town are mostly pedestrian-only.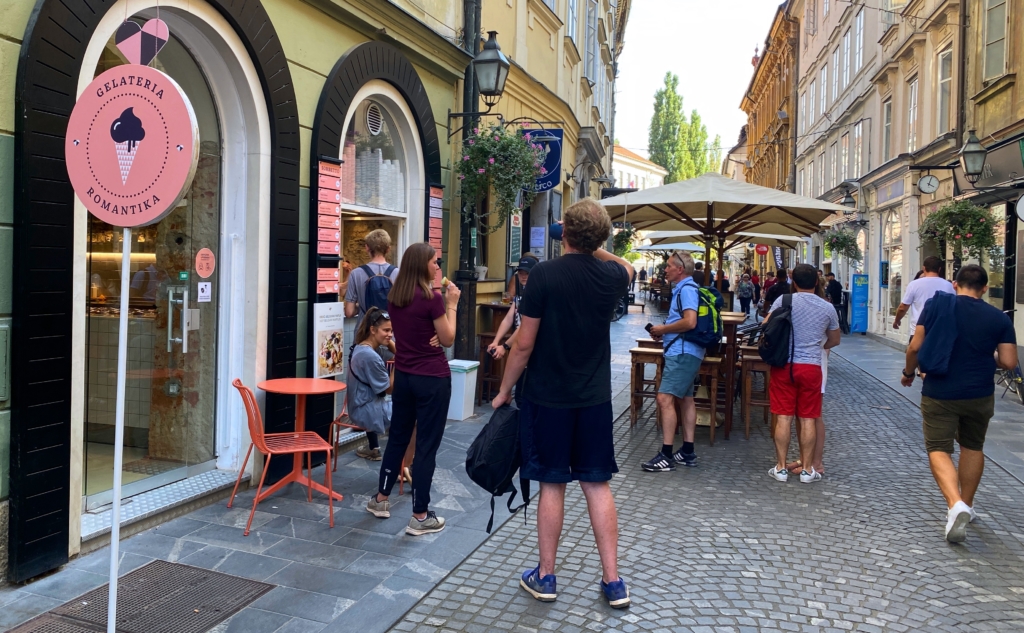 Ljubljana has many free walking tours in English (though tips are expected). We took two from Ljubljana Free Tour with friendly and informative guides.
Also, biking is a viable option in the city, with many places offering rentals.
Where to Eat in Ljubljana
Ljubljana is full of cafes and restaurants for all budgets. On the first day, we met our good friend Tony who lives in Amsterdam and grew up in the same section of Denver, CO that I did. By a striking coincidence, he was there when we were. He was visiting distant relatives and they recommended the Divorni Wine Bar, which was not expensive and had good, light lunch selections.
One night we had dinner at Altrockè, which we recommend. They serve Mediterranean dishes inspired by the cuisine of the Istrian peninsula on the Adriatic Sea.
In Slovenia, beekeeping is common, with one out of 200 people participating. As a result, it's a good place to buy many varieties. We brought home several jars as gifts from Honey House.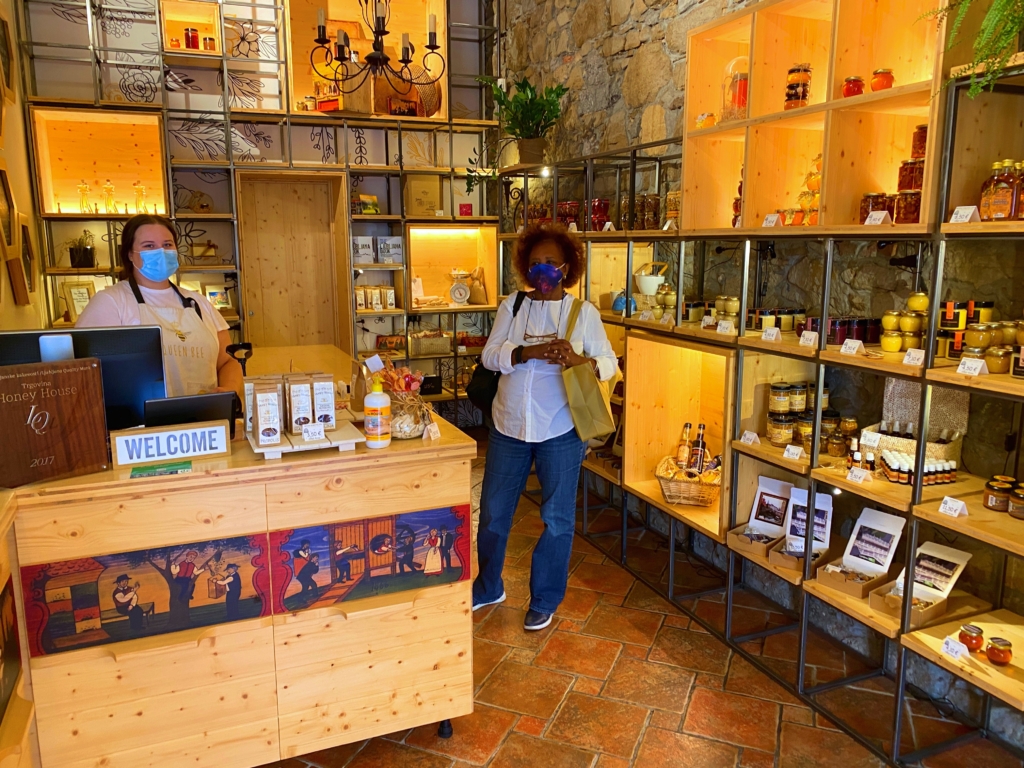 Prešeren Square is the central square in Ljubljana and part of the Old Town's pedestrian zone. It's a meeting point for tour groups and a center for festivals and demonstrations. The square is named after France Prešeren, born in 1800, one of Slovenia's most renowned authors and poets.
There's a statue of Prešeren in the square. Romantically (with a little creepiness from today's perspective), his figure stares at the window of Primičeva Julija, whom he became infatuated with when she was a teenager and dedicated many of his songs to. They never had a relationship and she married someone else when she was 23. On top is a female sculpture of a muse.
The most prominent building in the square is the salmon-pink Franciscan Church of the Annunciation. The front facade was built in the Baroque style in the early 18th century and redesigned in the next century with neoclassical embellishments such as pilasters with Ionic and Corinthian capitals.
Ljubljanica River and Bridges.
A defining feature of Ljubljana is the Ljubljanica River. It provides extended views of the Old Town's picturesque architecture. For an interesting perspective, you can take a boat tour.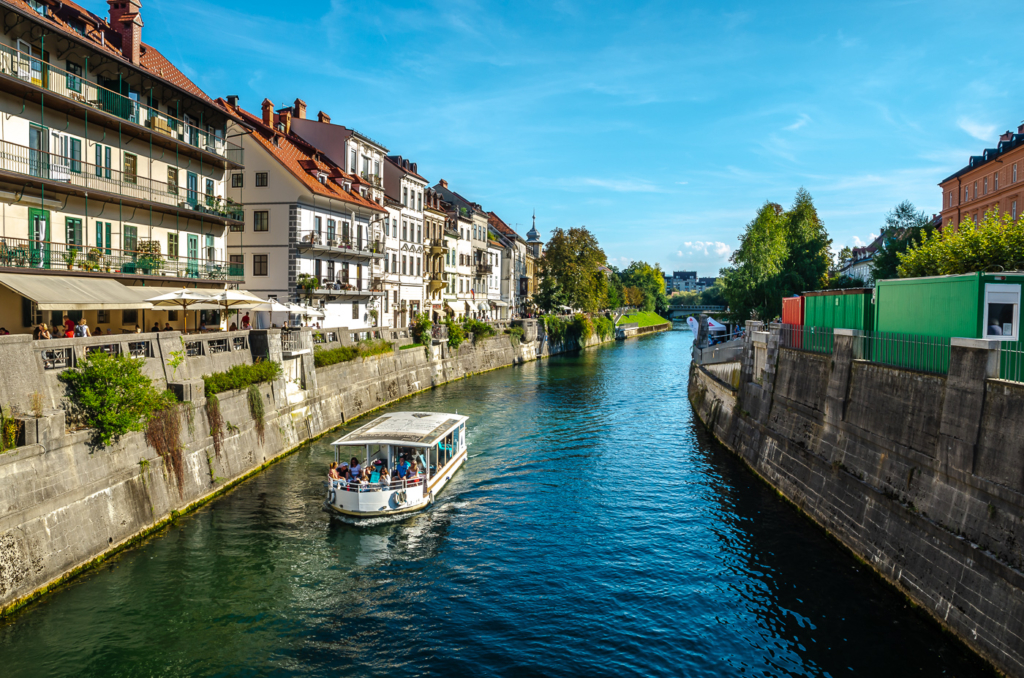 Ljubljanica's distinctive appearance in the Old Town came from the imagination of architect Jože Plečnik, who designed the river embankments and riverside walks, as well as prominent buildings, parks and plazas in the city. He helped transform an outpost of the Habsburg Monarchy into a splendid city. His work is so associated with Ljubljana, it's often compared with Antoni Gaudí's in Barcelona and Christopher Wren's in London. He also designed and modified many bridges, including the Triple Bridge (wide center bridge for vehicles, two-foot bridges on each side, now all are pedestrian), connecting the Old Town with the modern city.
The Dragon Bridge was finished by 1901 and Ljubljana's first reinforced concrete structure. Its name is based on a fantastical legend that Ljubljana was founded by Jason and his Argonaut crew. You may ask, how can this be? In this version, they stole the golden fleece from King Aeetes with help of the King's daughter Medea. They were pursued by the King and fled to the Black Sea and up rivers to escape. They reached the Ljubljanica River and couldn't go further as the water was too shallow. They spent the winter dismantling their ship in order to carry it overland. During this time, with Medea's help again, Jason killed a dragon which inhabited this marshy region. Eventually, the crew carried the vessel parts to the Adriatic Coast, reassembled them and sailed back to Greece. Some of the Argonauts stayed behind and formed a settlement that would later become the Roman town of Emona and then present-day Ljubljana. See this post for more convoluted and entertaining details. In any case, the bridge has four dragons guarding it, two at each end.
According to a more recent, urban legend, when a virgin crosses the bridge, the dragons will wag their tails. In any case, the dragon is the symbol for the city.
There are 17 bridges in all and aficionados can spend a day crossing and admiring them. When I return, this will be the first thing I'll do.
Ljubljana Castle, standing high above, is the city's main attraction.
The castle offers a sweeping view of the skyline.
The 900-year-old castle has the usual features you would expect such as a tower with a battlement and a flag, dungeons, a massive courtyard and extremely thick, stone walls. It also has a museum on Slovenian history and a puppet museum. I wanted to see the latter, but it was closed when I finally got there in the late afternoon.
The highlight for me was the Chapel of St. George which was built in the 15th century in gothic style and modified in the 18th century to a Baroque style except for the windows. What's unusual is this rather austere chapel decorated with frescos of coats of arms of governors of Carniola, the territory of Slovenia under the Habsburgs. As expected, there is a painting of St. George killing the dragon, but there are few items of the typical Christian iconography.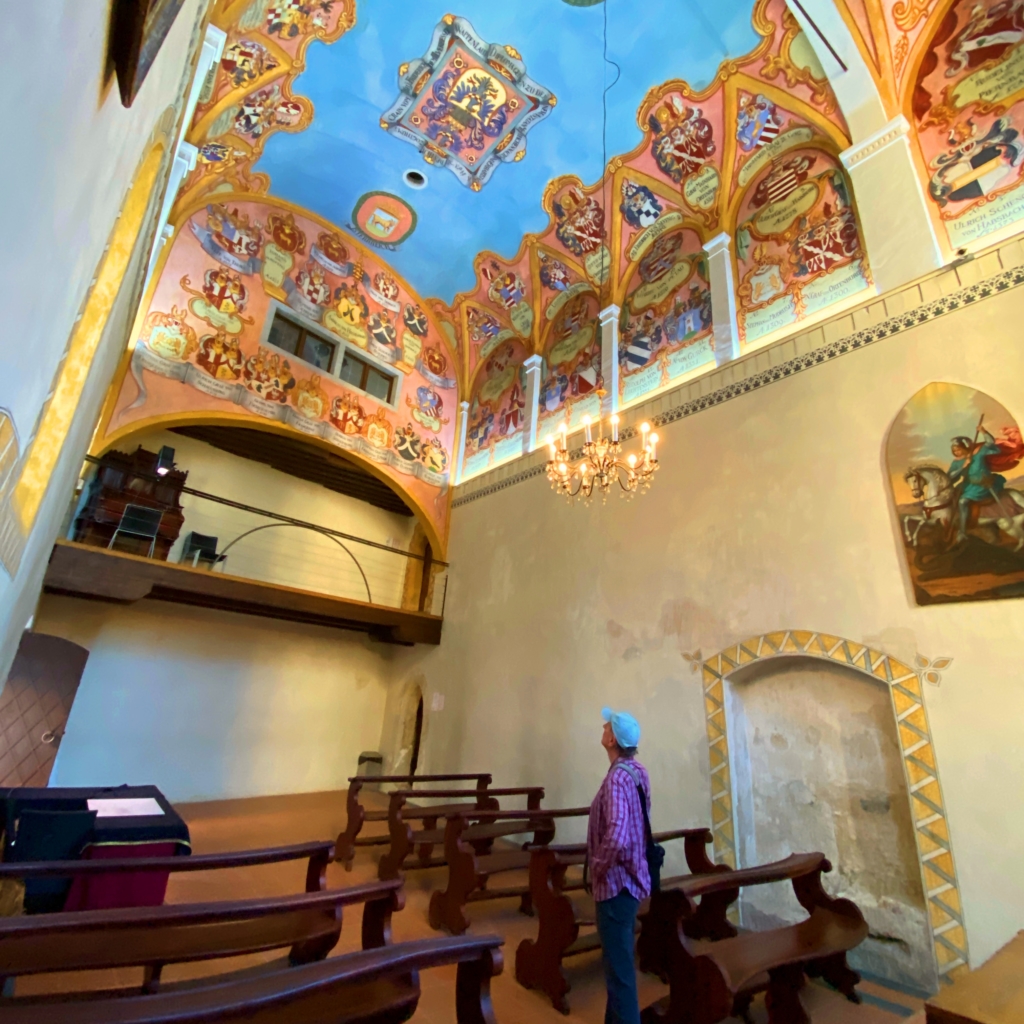 It's a steep walk up the hill but, as an alternative, you can take a funicular.
Ljubljana Cathedral and Front Door
The Renaissance Ljubljana Cathedral (officially St. Nicholas Church) has remarkable bronze doors created in 1996. The front doors have reliefs depicting events and themes of 1,250 years of Christianity in Slovenia including the visit of Pope John Paul II (he's on top). What stood out to me were the horse riders with babies in their arms, in the upper right section. In the 15th to 19th centuries, Turks would take Christian youths from the Balkan provinces, convert them to Islam and train them to be Janissaries, soldiers of an elite corps in the Ottoman army. Sometimes they would fight against their native lands.
There are also side doors with reliefs of six 20th-century Ljubljana bishops wearing traditional, ceremonial headdresses (i.e. miters) and standing above Christ in a shroud.
Bronze Faces of Locksmith Street
Locksmith Street is a cobbled street, really an alley, located in front of City Hall with a bizarre number of wildly different faces made of bronze by Jakov Brdar (1892 to 1967). They are situated in a drainage gully, extending from a drinking fountain with random sculptures. Very psychedelic and I liked it.
This is also known as the Fountain of the Three Carniolan Rivers, symbolizing the Sava, Krka and Ljubljanica Rivers. The fountain is an over-the-top Baroque monument placed at the intersection of three streets. It has three sea gods with oval jugs with dolphins at their feet. The monument is inspired by a fountain in Piazza Navona in Rome.
It was supposed to be made exclusively of Carrara marble, but some of it sank in the Adriatic and the sculptor, Francesco Robba, had to incorporate other materials.
Metelkova (often Mesto, meaning city, is added) is an alternative culture center and hangout, wildly festooned with murals and three-dimensional art.
It's frequently compared to Freetown Christiania in Copenhagen and has galleries and clubs, as well as scheduled and impromptu concerts and DJs. When we walked around in the afternoon, there was pulsating, electronic music pouring through the graffitied buildings.
In 1993, the government was about to clear out abandoned army barracks in this place. A group of underground artists and intellectuals protested and they transformed it by promoting artistic freedom, perpetual parties and free living.
The creativity never stops and there's constant change. So, the following mural probably won't be around by the time you make it there.
National Gallery of Slovenia
The National Gallery of Slovenia was completed relatively recently, in 1984. Its mission is to showcase the arts of the Slovene people, which has become a top priority since becoming an independent country. It's medium-sized and in an hour, you can see an item or two in most of the galleries.
I was impressed by the portraits of the bourgeoisie by Giuseppe Tominz (aka Jožef Tominc, 1790 to 1866), including this self-portrait.
There was a special exhibition on Hinko Smrekar (1882 to 1942), a Slovenian caricaturist and illustrator. His extensive work is incredible with the Sorcerer's Apprentice being just one.
When walking towards the museum, we saw this man with a Putin T-shirt.
This was before the Russian invasion of Ukraine. I wonder if he would be wearing now.
Tivoli Park is the largest park in Ljubljana, covering 5 sq km / 2 sq mi, and pleasantly landscaped with chestnut tree-lined walks and ornamental flower beds. The European Best Destinations organization ranked Ljubljana the best European capital in 2021 for sustainability. The ranking considered green spaces per inhabitant, percentage of people who walk, cycle or take public transport to work, the number of kilometers of cycle paths and other criteria.
Tivoli Castle is a mansion located in Ljubljana's Tivoli Park.
Within the castle, there's the International Center of Graphic Arts, a museum housing a collection of fine art prints and exhibitions of contemporary art. While we were there, it was exhibiting work from the 34th Ljubljana International Biennial of Graphic Art, including this groovy, far-out and right-on display.
Ljubljana has all the attractions you would expect from a medieval city, but in a smaller, more digestible locale than Prague and Krakow. I'm not much of a shopper, but I did like some of the stores, including Cunjak Antiquarian bookstore, open late at night and having some books in English.
My favorite was the Spletna Jazz & Blues Ploščarna!, featuring records and CDs of jazz, blues and classical albums, some out of print. The owner, Matej Gerzelj, has encyclopedic knowledge of his inventory and spent some time in the eighties checking out the music scene in the Bronx and Manhattan.
You can also order online and he'll ship the music to you. If you visit, tell Matej that Exploring Ed recommended the shop and he'll give you a free beer, coffee, or something.
Bottom line, Ljubljana is worth the visit!