Introduction
Madagascar split off from Africa and India about 160 million years ago resulting in the evolution of a staggering variety of endemic animals and plants. Living in this awesome biodiversity is a unique culture mixing elements of South Asia and East Africa. It is no wonder that Madagascar is on the essential destinations-list for seasoned international travelers
To see them, we had to travel great distances only where off-road vehicles can manage,
by women with pasted-faces and children in mud-and-grass hut villages,
across rivers, while praying we don't get stuck,
across other rivers on make-shift ferries,
around zebu-driven wagons carrying hay and blanketed farmers,
and in some parts in a convoy with police escort.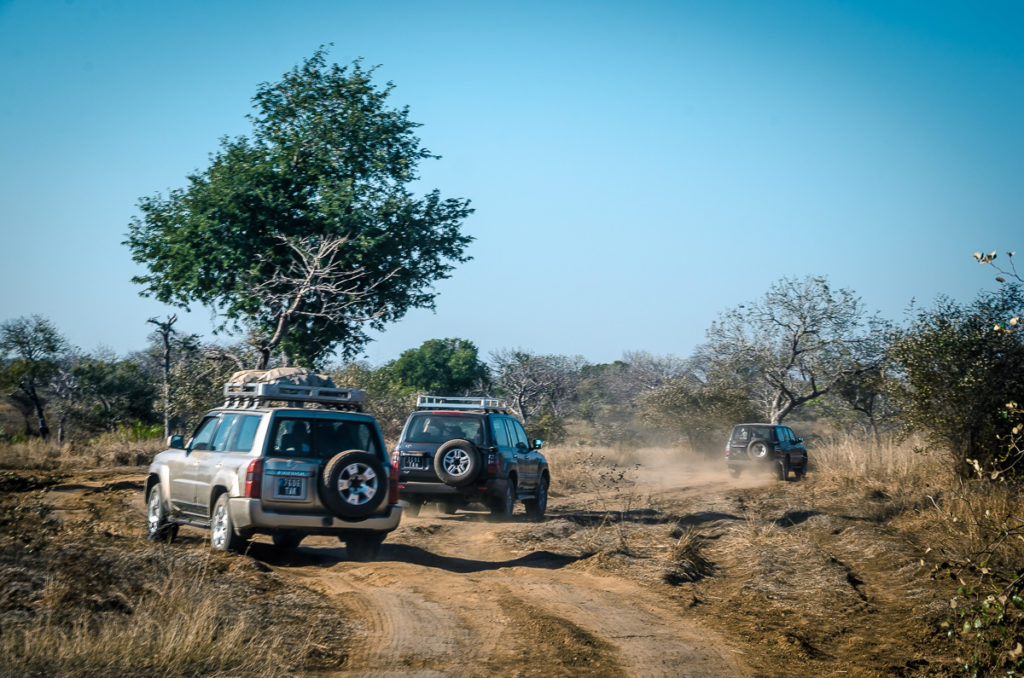 This journey entailed long days of strenuous travel, but when we saw the limestone "tsingy" formations, we were reminded it was worth the time, expense and effort.
Our Madagascar Story
My wife Khadija, our friend Gaynor and I spent 18 days in Madagascar during July on one of the world's great road trips. This post covers our journey from the southwest city of Toliara north on Route Nationale 9 (RN) and RN 8.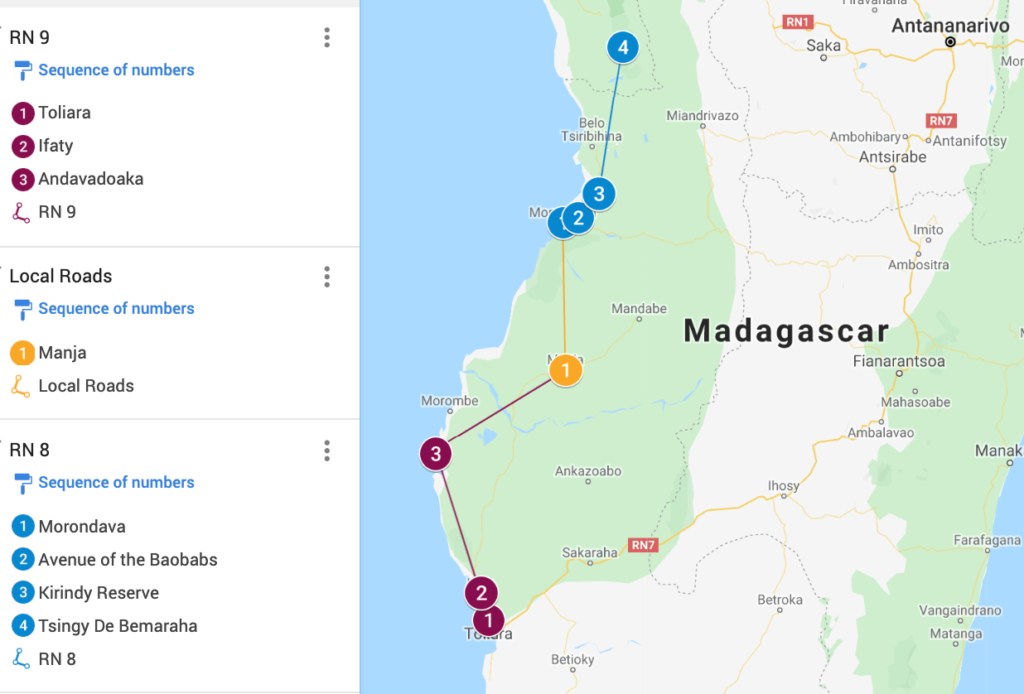 Our first Madagascar post, "Madagascar Road Trip From Antananarivo to Andasibe" is essential reading for would-be travelers, as it details our strategy for seeing as much of this huge country as our time permitted. It provides itinerary options, safety precautions, and historical information. We arranged this trip through Joel of Ramartours. Our excellent driver was Tahiana. If you contact them, say Exploring Ed recommended you.
Our next post, "Madagascar Road Trip to Ranomafana and Isalo National Parks" covers the amazing sites in Southeast Madagascar on RN 7.
The tour paid for the car, driver, hotels and entrance fees. We used Lonely Planet's Madagascar Travel Guide which provided sufficient information for us.
Is Southwest Madagascar Safe?
This part of Madagascar is less developed than the cities in the central plateau and is mostly composed of small villages. There have been some isolated but high-profile incidents and now police escort convoys of tourists from their hotel to Tsingy de Bemaraha National Park. Definitely do not go to deserted areas without a local, especially at night. Be particularly careful on beaches and know where hotel security is. With reasonable precautions, visitors should have no problem.
Toliara and the Great Reef
This city is also known as Tuléar and located on the Mozambique Channel. We drove about three hours to reach there from the boomtown of Ilakaka, south of Isalo National Park. This is a bustling regional outpost. Many come here just to fly to Antananarivo (Tana).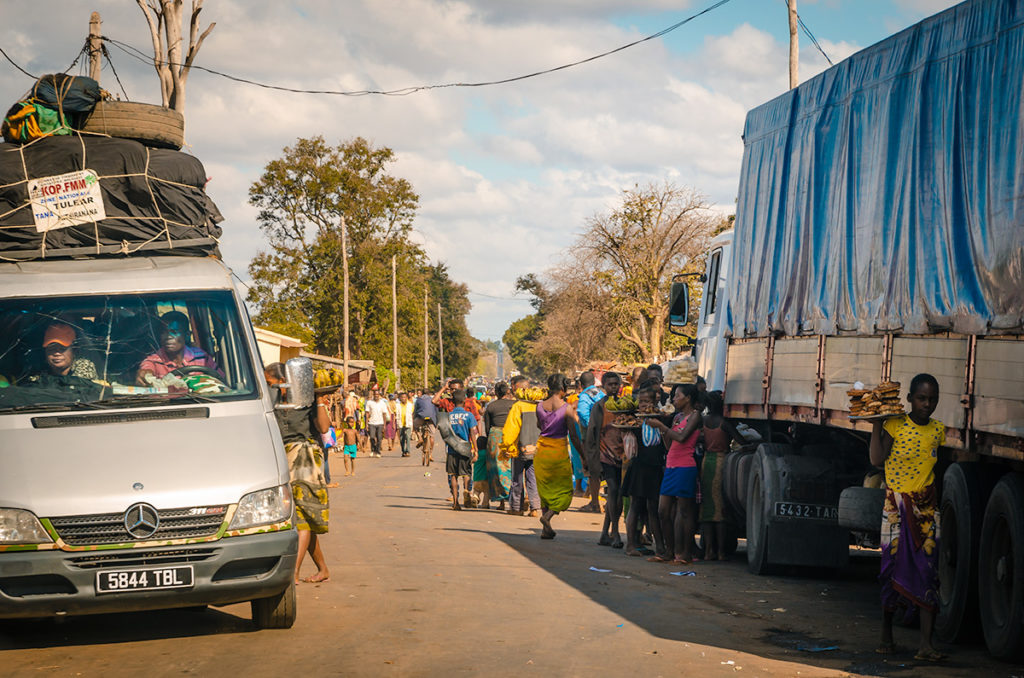 It's a base to explore the fifth-largest coral reef in the world extending 450km (280 miles) south from Itampolo and north to Andavadoaka. The reef is popular for snorkeling, scuba diving, and whale watching. There are local tour companies which can make arrangements.
There are two things to do in Toliara. We did one, eat lunch in one of the fine restaurants run by French and Italian ex-pats. The walls and ceiling of Le Jardin Restaurant are covered with unframed paintings. Italian Chef Giancarlo used to work on one of the current Love Boats and sailed the Seven Seas. He married a local Malagasy woman and set up his own restaurant in Toliara. We didn't do the other attraction, which is the highly acclaimed arboretum.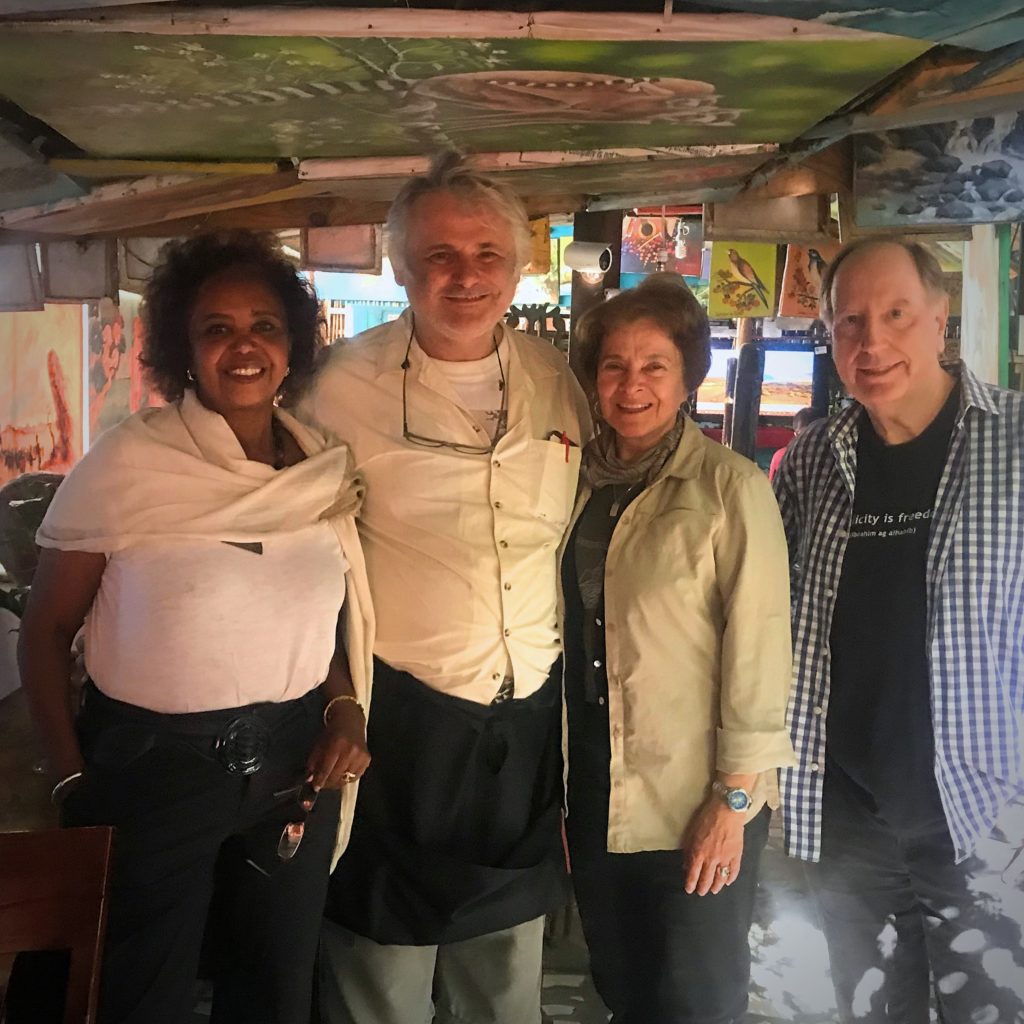 We all thoroughly enjoyed the seafood, pasta, and ambiance there.
Madagascar RN 9 to Morondava
I grew up in Colorado and have done some off-road driving in the Rocky Mountains, so I have some experience on rough terrain. However, I've never been on a stretch of road that was so bone-rattling for so many days. Over three long days, we drove RN9 to Manja. It took us several minutes when we left our 4WD to stop vibrating. On the map, RN 9 looks like any other national road, but it is only paved a few kilometers north of Toliara. It is relentlessly rugged.
with difficult sandy stretches.
It eventually becomes less sandy as the road goes northeast away from the coast, twisting through forested areas and small villages where locals set up unsanctioned toll stops which Tahiana had to painfully negotiate.
These two men, one with a clef palette, were one of the toll chargers. After we paid, we let them hang on the side of our 4WD as we forded a river. Afterward, they posed for a photo then ran down the stream behind them and disappeared into the brush.
Three times we had to use a ferry to cross a wide river. The first was over the Mangoky River.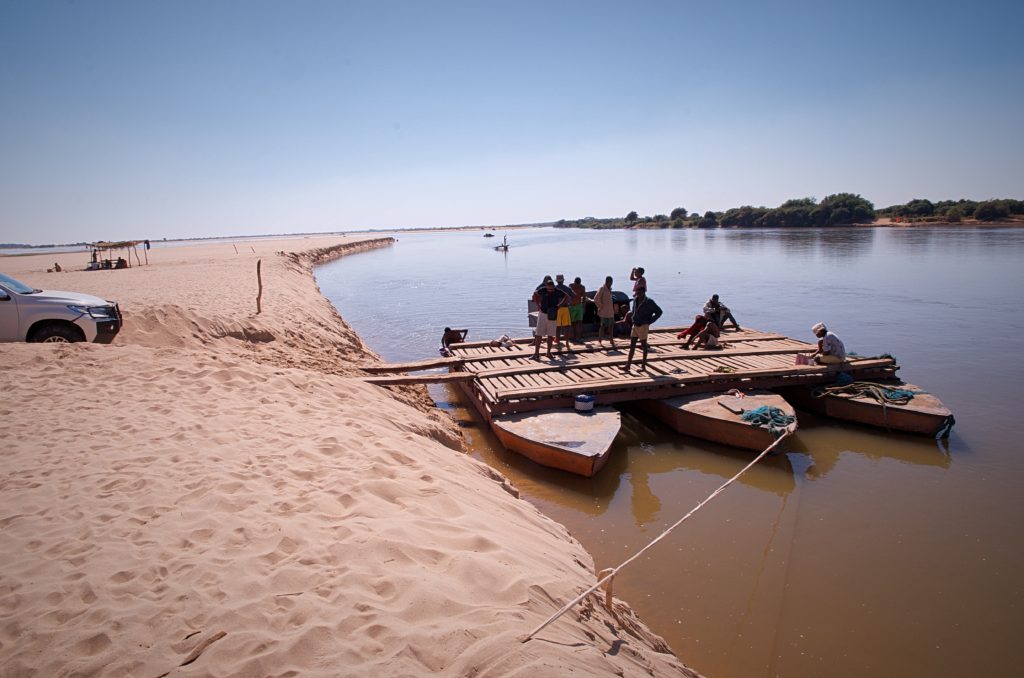 Usually, the cost for the ferry was Ar.10,000 (about $2.50). This time they said it was five times that amount because the engine wasn't working and they had to push it. We suspected they just didn't turn it off so they could extort a higher toll.
While the drive was strenuous and at times monotonous, it was interesting going through small villages where sometimes the children engaged us…
and saw many women with "masonjaony" paste on their face made from the bark of a tree of the same name.
The paste protects the face from the sun and can be a stylish expression, but long-term use can also change the color of the skin.
A highlight was seeing Madagascar's national tree, the baobab. There are nine species and six are in Madagascar (others are in mainland Africa, Australia, and India). These ancient giants are a wonder to behold, resembling dancers with outstretched arms in long dresses. Between Andavadoaka and Manja, we saw a stand of very thick ones that Gaynor engaged in serious tree hugging with.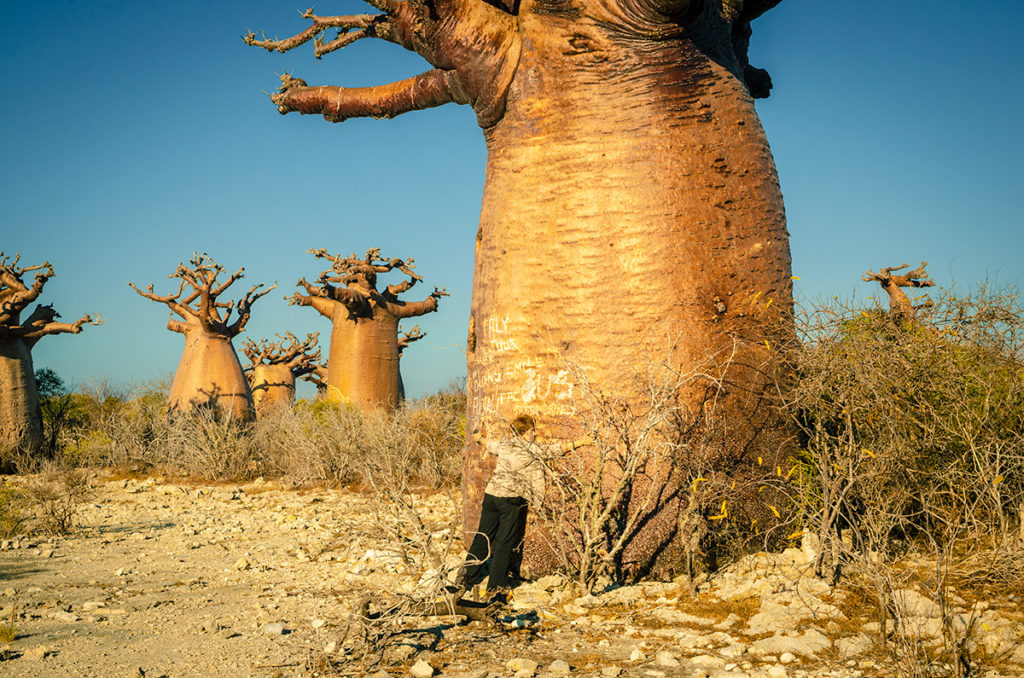 We spent three days driving to Morondava. In retrospect, we would have spent an additional two days to break up the drive, visit some villages and take advantage of staying next to great beaches on the Mozambique Channel.
The first night we stayed at the French-owned Les Dunes d'Ifaty with excellent food and a long, white beach.
While there, we chatted with these two young ladies who were selling scarves.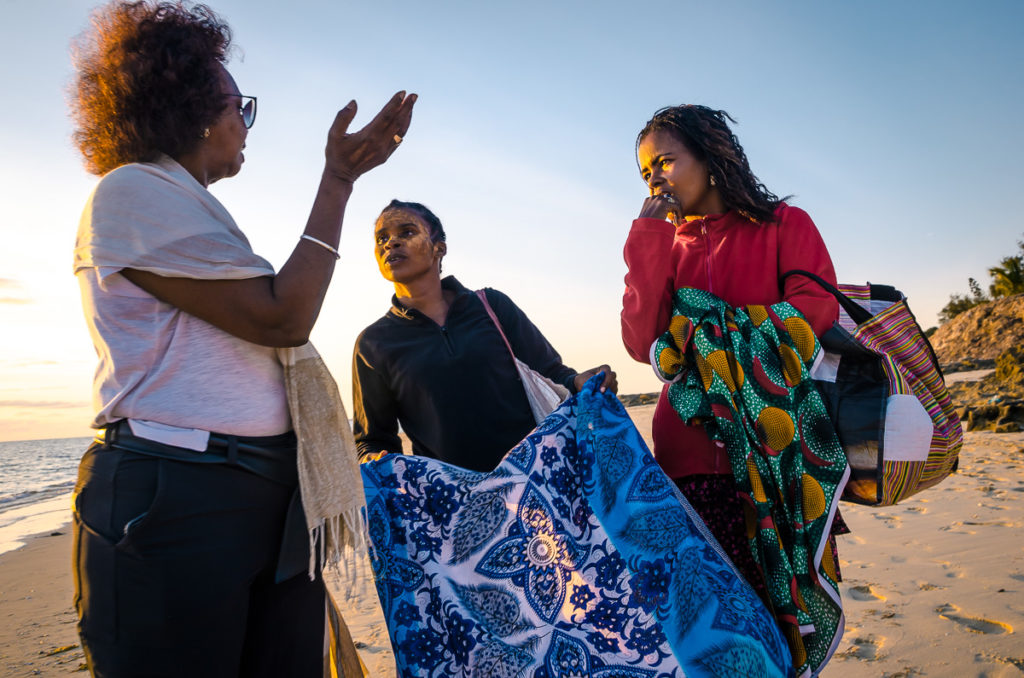 The second night we stayed in the Italian-owned Laguna Blu Resort in comfy bungalows next to a small fishing village.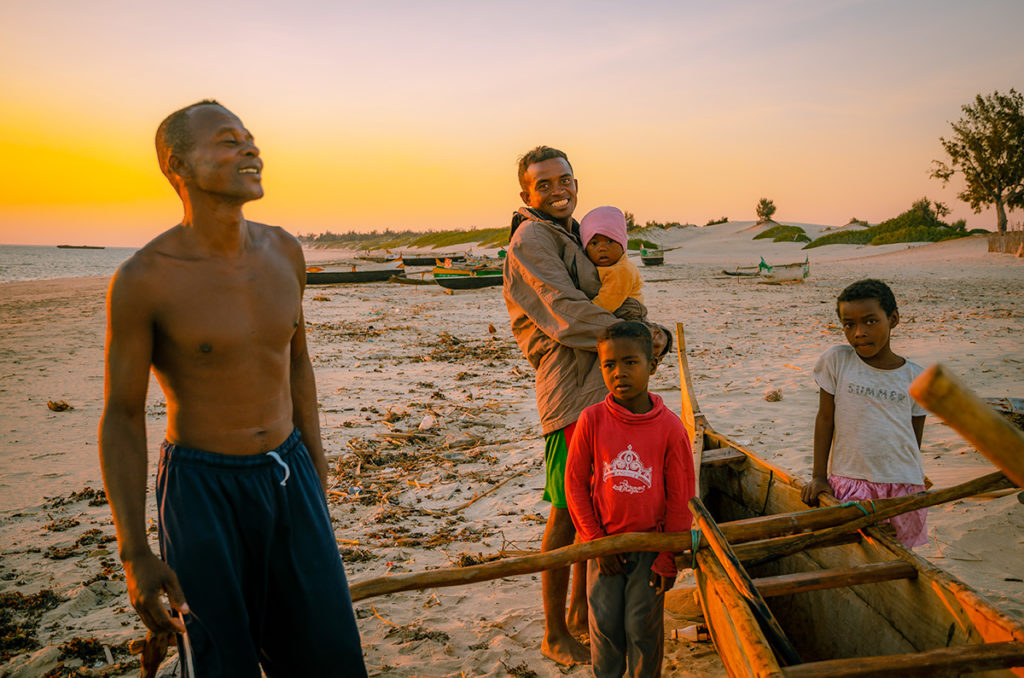 The third night we stayed in the Manja Hotel, the only place in town. It was clean but rudimentary. Rooms had faint lighting and the bathroom shower only dripped intermittently. Luckily we were tired and able to sleep while the bar underneath our room blasted loud music. The most interesting thing in this small town was the pretty church.
Morondava is similar to Toliara as it has an airport where tourists fly from Tana to avoid days of driving. It is basically one long street filled with shops and markets ending at resorts on the beach.
When we returned from the north, we stayed in the Palissandre Côte Ouest Hotel which had bungalows on the beach, a good-sized pool and a spa. We arrived late and left early and did not take advantage of its location and amenities.
Madagascar RN 8 to Tsingy de Bemaraha National Park
The next three days also involved driving further north and back on bumpy, mostly unpaved roads, though not as bad as those in the south. There are two more ferries on the route including one crossing the Tsiribihina River…
…where teenagers and children lounged on the riverbank.
On the north side of the river, we had a tourist lunch in the town of Belo sur Tsiribihina which has surprisingly good restaurants including the Mad Zebu where we ate. There we formed a convoy and had a police escort to and from Tsingy de Bemaraha National Park.
The third, smaller ferry crosses the Manambolo River by Bekopaka, close to the entrance of Tsingy de Bemaraha National Park.
Considerably more tourist travel RN 8 than RN 9 and the locals are more accustomed to the rambling 4WDs passing by. Still, it's easy to see the rhythm of local life in the communities…
…and in the forest.
We stayed two nights in bungalows at the Olympe du Bemaraha. We spoke to the French manager for a long time and he told me his efforts at efficiency. From our experience, the food was served quickly and checkout was fast. We particularly liked the terrace off of the restaurant.
Avenue of Baobabs
The Avenue of Baobabs, a short drive north of Morondava, is a stretch of these famous trees lining RN 8. Many of the trees are over 800 years-old with trunks measuring over 50m (165 ft) around. To some, the high canopies look like root systems and the trunk is actually a source of water. During the day, the road is dusty with a few locals.
Before sunset, there are hundreds of tourists taking pictures, which makes it challenging to get a photo without them, but I managed.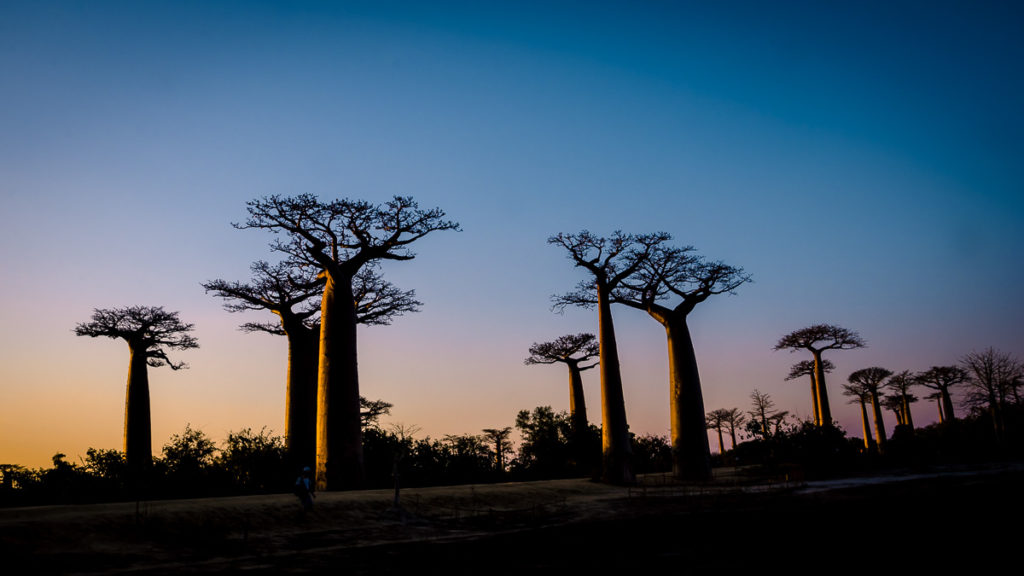 A short drive from here is an awesome, giant, twisty baobab.
Kirindy Forest Reserve
The Kirindy Forest Reserve covers about 100 square kilometers (40 square miles) and is 50 km (30 miles) north of Morondava. A Swiss company privately manages the reserve to protect the dry, deciduous forests that are the most threatened in Madagascar. The park is inaccessible due to rain from mid-January until late March but otherwise, it is a popular stop to see the flora and fauna unique to this habitat.
When we arrived in the area, we took a night walk and to our delight saw a nocturnal mouse lemur which is one of the smallest primates in the world.
On our early morning walk the next day, we ran into a pack of brown lemurs which were licking shells and leaves for water.
While these lemurs are primates with human-like hands, they jump through the forest and scramble on tree branches like squirrels.
The highlight was encountering a fossa, the villain in the animated Madagascar movies. The fossa body resembles a cat but with a tail longer than the rest of its body and a muzzle resembling a dog. It is not related to either one, but to the mongoose.
They are stealthy and agile predators in the forest canopy and below. They feed on lemurs, wild pigs, mice, and many other animals. They are small, only weighing about 9 kg (20 lb), and found only in Madagascar.
Tsingy de Bemaraha National Park
Tsingy de Bemaraha National Park is one of the most unique landscapes in the world. "Tsingy" is Malagasy for "walking on tiptoes" describing the sharp limestone needles protruding from the ground. These needles were formed by the groundwater dissolving the karst creating a limestone counterpart to Bryce National Park in Utah.
The park is large, about 1500 square kilometers (600 square miles) and only a small area at the southern tip is open to the public. We explored with an authorized guide and were required to wear harnesses that connect to ropes fastened to rock. It is advisable to wear long pants to avoid cuts from scrapping the sharp rock.
After walking through a flat area with limestone formations, fossil prints, and many bird species, we started climbing.
Our climb took us through narrow passages and caves. While demanding, a reasonably fit person should not have a problem. After about an hour of hiking and climbing, we made it to a platform with a 360 degree of the formations.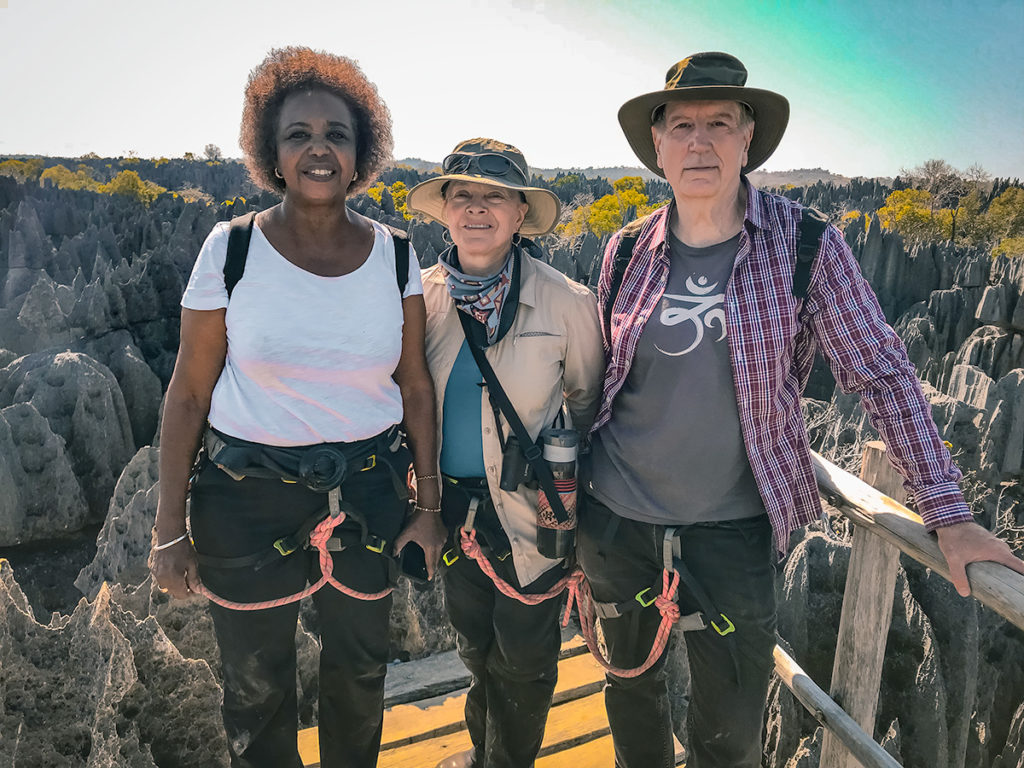 Later we crossed a long suspension bridge which I would avoid in strong-wind conditions.
On the way back, we saw sifaka lemurs in the trees.
In one day, we gained a good understanding of the park's terrain and appreciated the biodiversity. If we didn't have time constraints, we would have spent another day hiking another path.
Drive to Tana on RN 35
After the adventure in Tsingy de Bemaraha National Park, we returned and slept in Morondava. From Morondava, it is over ten hours of solid driving to Tana. The most common route is RN 35 to Malaimbandy, then RN 34 to Antsirabe and finally RN 7 to Tana.
We decided this drive was too much for one day and stayed overnight in Antsirabe. We had lunch at the hilltop Princesse Tsiribihina Hotel in Miandrivazo which is about halfway to Antsirabe.
The drive was through changing landscapes in which we saw a van with a pile of boys sitting on the roof,
a Zebu herd blocking the road,
and these boys filling potholes, hoping for tips from drivers.
Eventually, we started to see terraced crop fields and we knew we were close to Antsirabe.
We stayed overnight in Antsirabe, then drove to Tana, completing our amazing Madagascar Road Trip.
Final Thoughts on Madagascar
Madagascar is known as the "Eighth Continent" because it has so many endemic animal and plant species. On this large island, the Malagasy culture is rich, drawing influences from South Asia, East Africa and elsewhere. Yet one aspect I enjoyed was the sense of humor. For example, our 4WD was called Fady Rano.
Fady (taboo) and Rano (water) together mean it is taboo to use water. In this case, it is a playful way of saying your vehicle needs washing!
Our next stop: Mauritius.