Introduction
We finally made it to the Maldives from Sri Lanka. From the Velana International Airport, we flew over many of the country's islands.
We landed on one island and switched to a boat.
Once we were docked on our island, we took a golf cart through town, passing children playing soccer.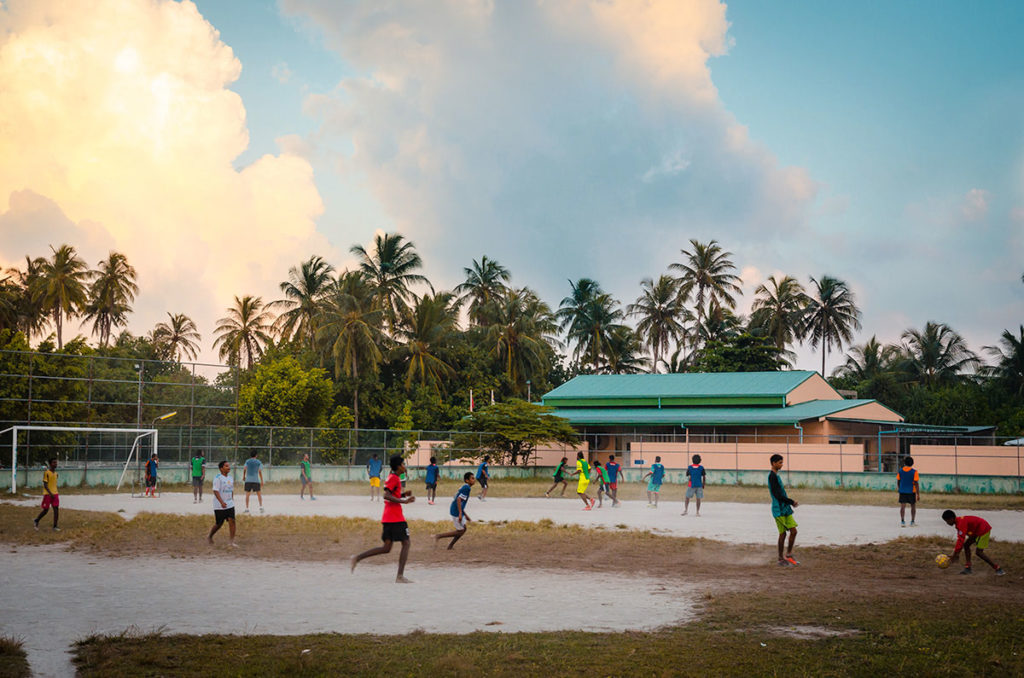 We checked into our lodge, then hightailed it to the beach.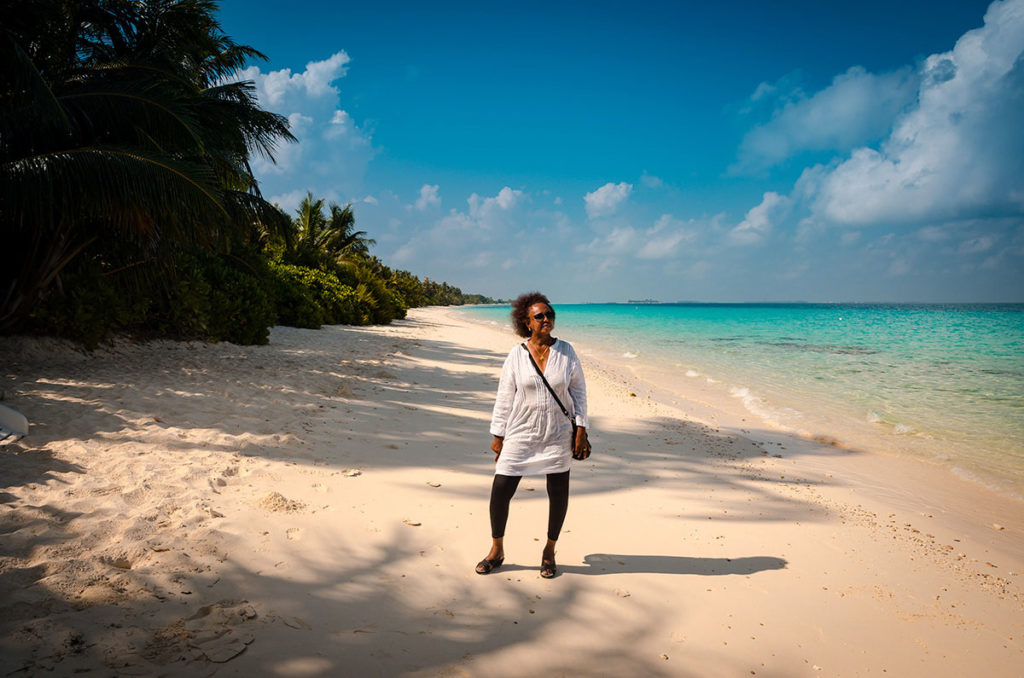 We made it to a fabulous island for water-sports. There were no surprises until that night when we saw the local women competing in a tug-of-war contest.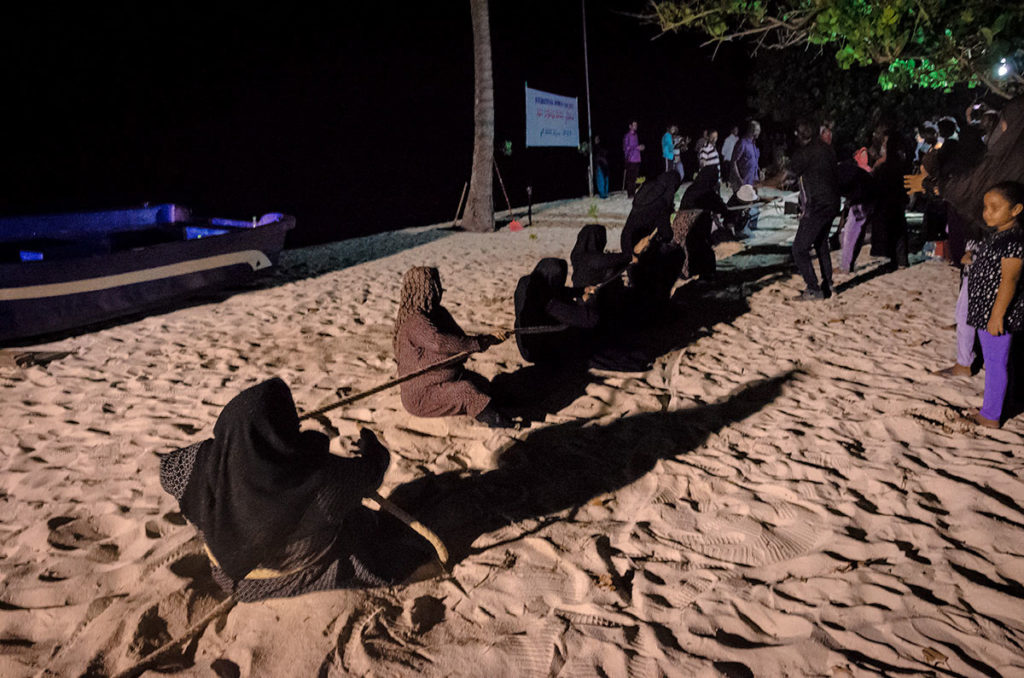 We then realized that there is much more to the Maldives than aquatic recreation.
Our Story
My wife Khadija and I spent a week in March 2019 in the Maldives, after almost three weeks traveling in Sri Lanka with our friends Peter and Caitlin. We decided to stay in a guesthouse on Dhigurah Island to learn about the local culture. Peter and Caitlin chose to stay at the Vilamendhoo Resort instead, a more comfortable option.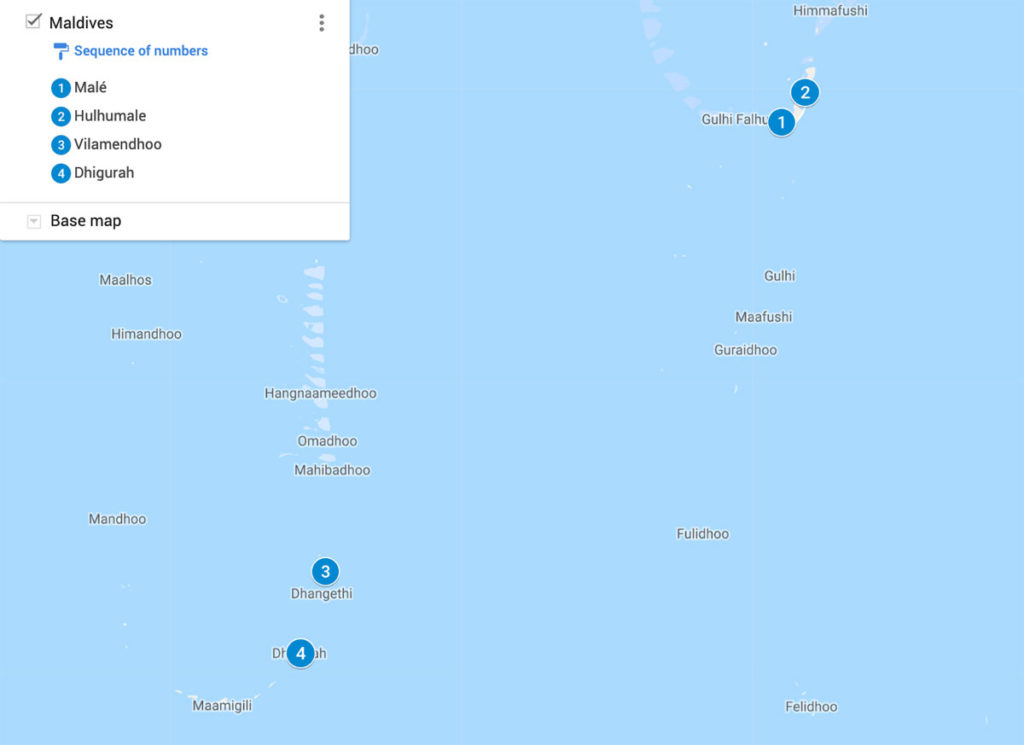 Both Dhigurah and Vilamendhoo are in the Alif Dhaal Atoll. An atoll is generally understood to be an area of water surrounded by coral reefs. Interestingly, the word comes from Dhivehi (the Maldivian language) meaning a governing subdivision.
In this post, I will tell our story and Caitlin will tell theirs. Together, they give a good overview of vacationing in the Maldives. Of note, all underwater pictures were taken by Peter.
Background
Maldives is a country of approximately 1200 islands, most uninhabited. The land area is only 300 sq. km (115 sq. mi), making it the smallest country in Asia. However, these islands exist in 900,000 sq. km (350,000 sq. mi) of the Indian Ocean (about the size of Germany). The population is about 500,000 (including non-citizen workers), with 200,000 in the in the capital city / island of Malé (picture is a free online download)…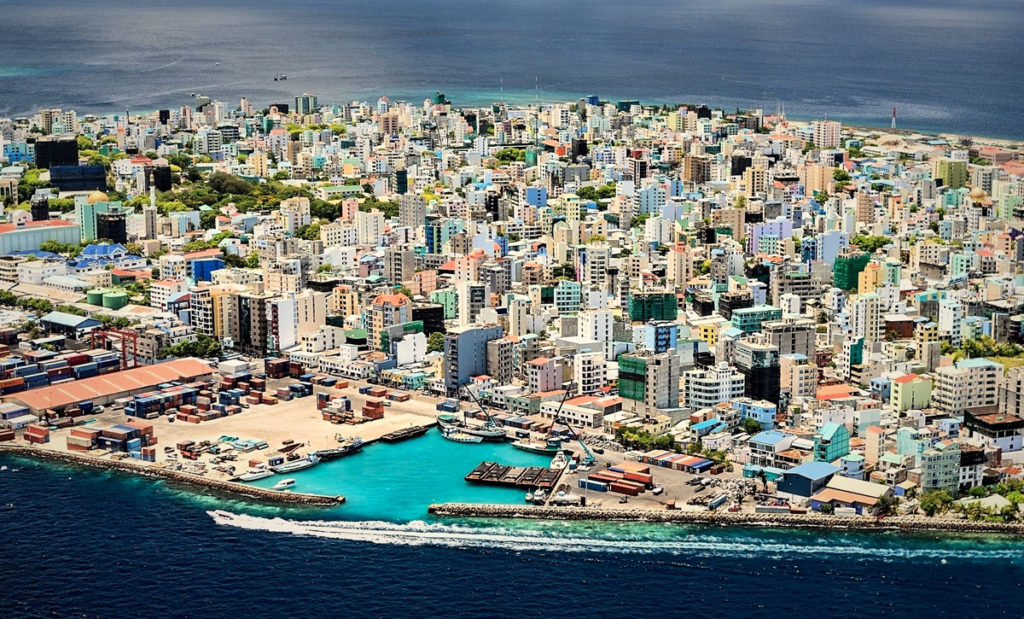 …and the nearby man-made island Hulhumalé. We stayed in Hulhumalé and traveled to Malé by ferry and taxi over the recently opened Sinamalé Bridge (originally called the China-Maldives Friendship Bridge because most funding was from, you guessed it, China).
The remaining 300,000 live in villages with 1,000 or fewer residents on 200 islands.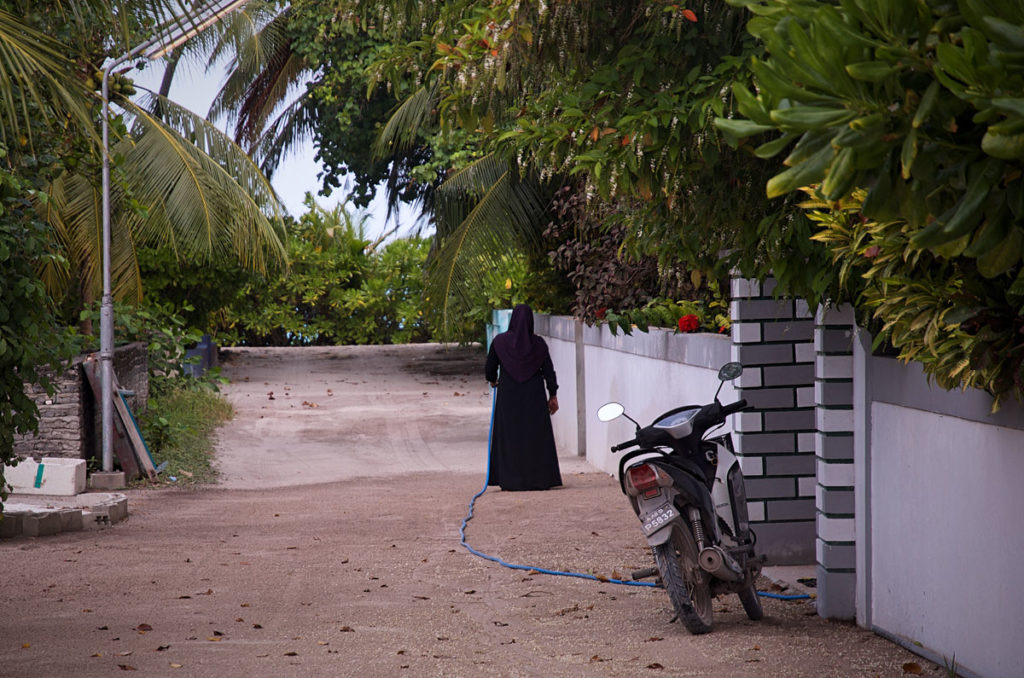 Almost all the islands are coral and flat (average elevation is about 1.2 m (4 ft) and the highest is 2 m (6 ft). This island, which I photographed through an airplane window, is a good example.

If global warming continues and the ocean levels rise, the Maldives could be completely submerged. Climate change is not an academic subject there, but an existential threat.
The citizen population of Maldives is almost entirely the Maldivian ethnic group, which is an amalgamation of immigrants over the centuries from India, Sri Lanka, Arab countries, Malaysia, Africa and other places. As a result of this gene-pool diversity, the population has a wide variety of skin colors and facial features.
The official language is an Indo-European language called Dhivehi (Maldivian). The language is written in Thaana script which first appeared in Maldivian documents in the 18th century. Like Arabic, it is written from right to left. This picture shows the characters on the wall of a school.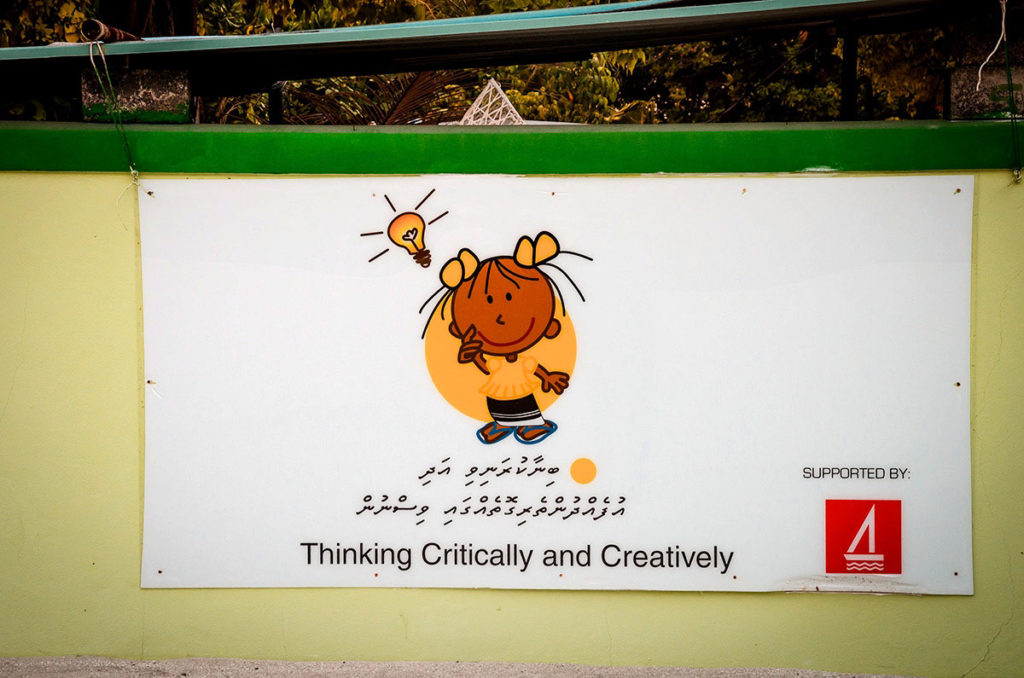 All schools teach English which is the country's second language. I found this out when I was in a coffee shop in Hulhumalé and ended up playing Scrabble with a mother and her young daughter. I quickly noticed the mother spelled better than I did. It made sense when she told me she was an English teacher.
As stipulated by the 2008 constitution Islam is the state religion, only Muslims can be citizens and no other faith can be practiced in public. The country has a spectrum of how observantly Islam is practiced, with Malé  and Hulhumalé  being more liberal and the rest of the islands more conservative. When we were in Dhigurah, all women were covered.
The country has become more conservative in the last two decades, especially under the influence of Salafi / Wahhabi ideology promoted and funded by Saudi Arabia. But it is still a long way from Saudi Arabian society, as many women work and drive.
We used credit cards and dollars everywhere we went, although change came back in local currency (Rufiyaa) and the exchange rate was rounded to the benefit of the merchant.
Dhigurah Island
Dhigurah (Long Island) is so named because it is almost 4 km (2.5 miles) long and only 300 m (0.2 mi) at its widest. We picked this island based on a recommendation of a Maldivian friend. There is a village of 600 people with a few restaurants, shops and roads.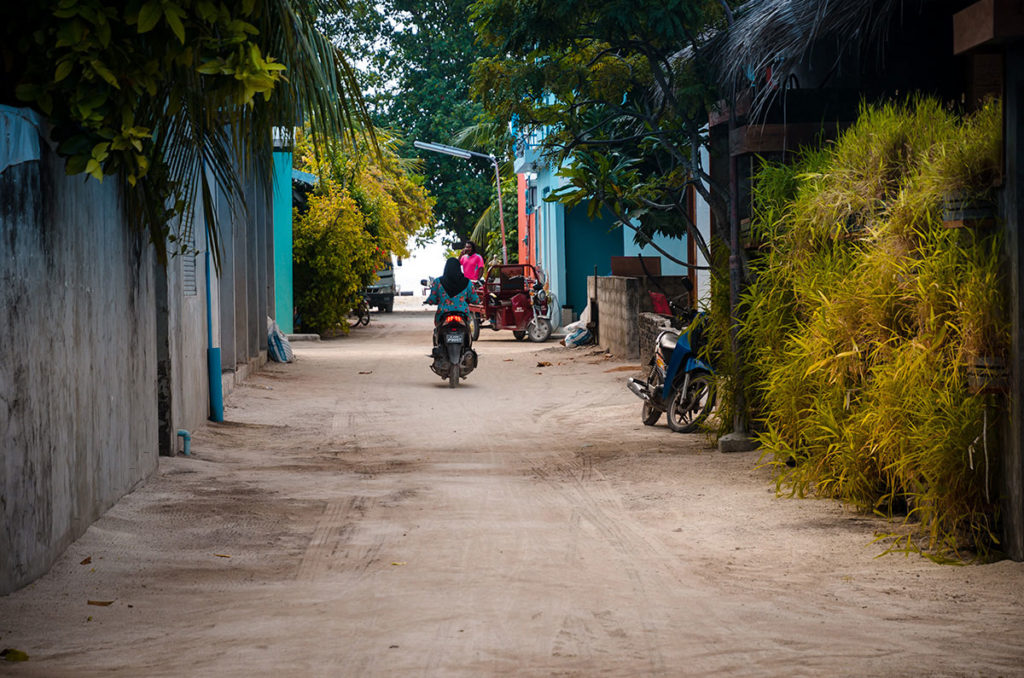 For decades, visitors could only stay at resorts which exclusively occupied an entire island. The resort tourist could wear revealing bathing suits and drink alcohol even though it is outlawed in the Maldives. In 2010, the government approved guest houses which could operate on islands with villages but must be majority-owned by a Maldivian citizen. They are not as expensive and luxurious as resorts and no alcohol is allowed, but they provide the visitor with an opportunity to get to know the locals.
We stayed three nights at the Bliss Dhigurah which was only a few minutes from the beach. It had small, comfortable rooms with air conditioning and a restaurant. Brechtje, from Holland, checked us in and was our guide when we went snorkeling in the ocean.
We walked through the town several times. We went once in midday and found it too hot for our taste, so afterwards we only went during cooler times, including the night. The town had a few souvenir shops, two grocery stores and two restaurants. During our strolls, we saw this mother and young daughter…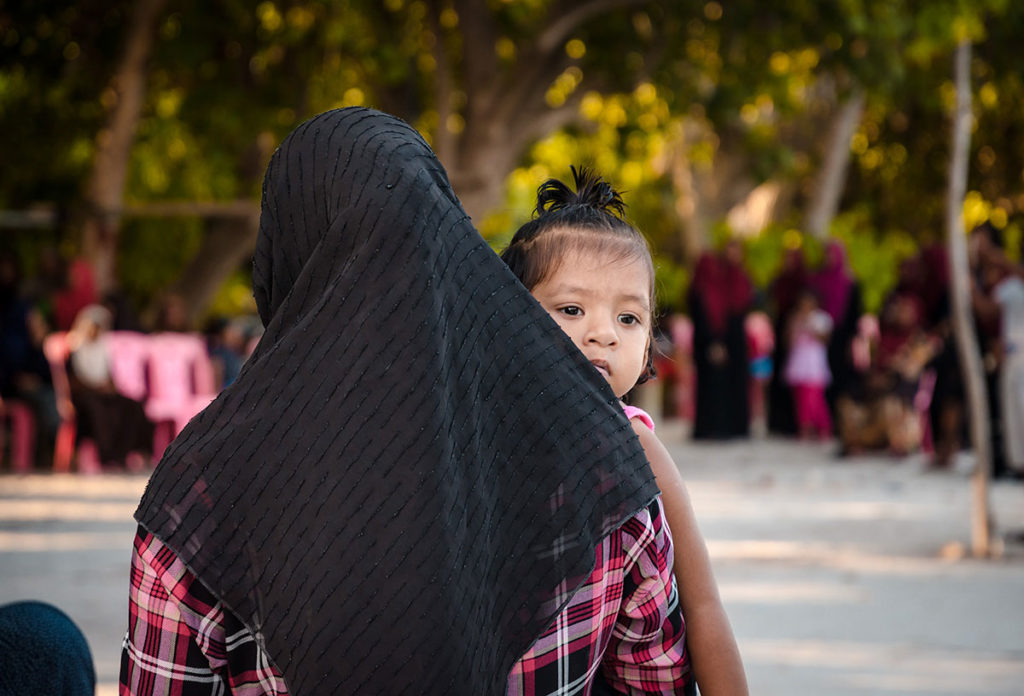 …typical one-story homes…
…a wall commemorating the country's 50 years of independence…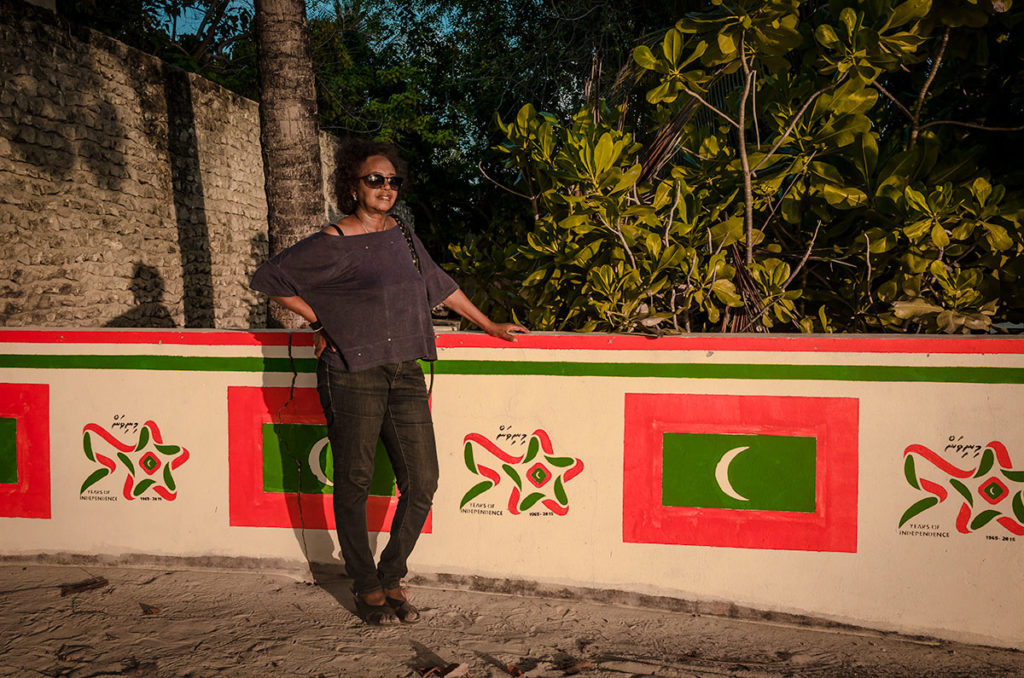 …and posters everywhere for candidates for elective office.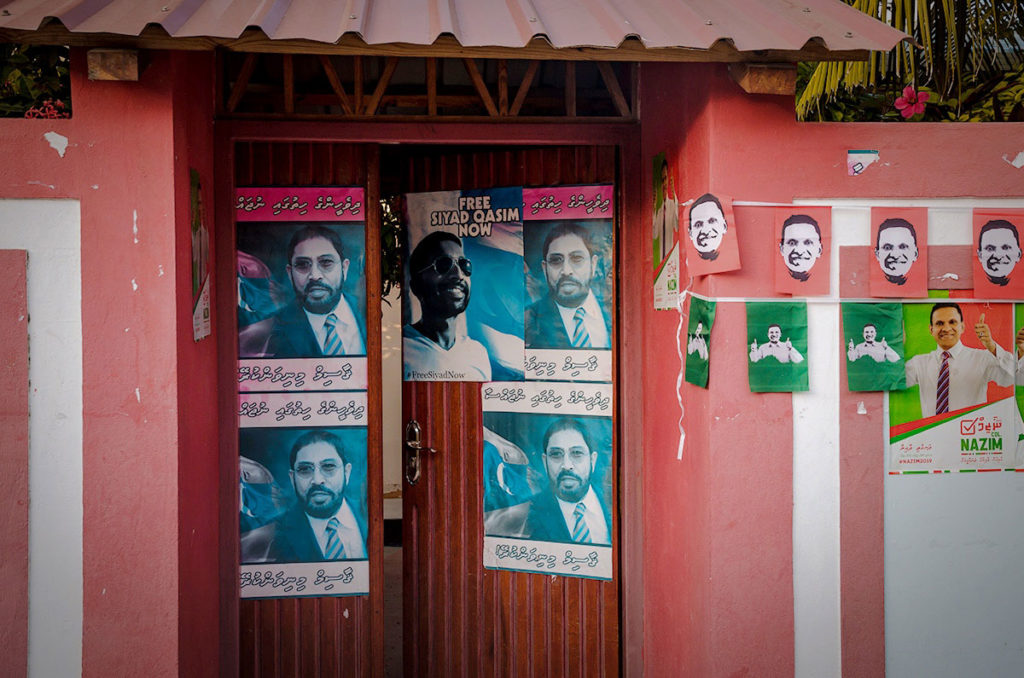 I had conversations with a young man who worked in Malé when he didn't have a local job as a diving instructor…
…and a woman at a small grocery store, who explained that one of her bracelets came from Medina and the other from India.
Dhigurah was celebrating International Women's Day by giving certificates for women who helped the community and organizing events, such as this night-time tug-of-war.
One side of the island is a long beach.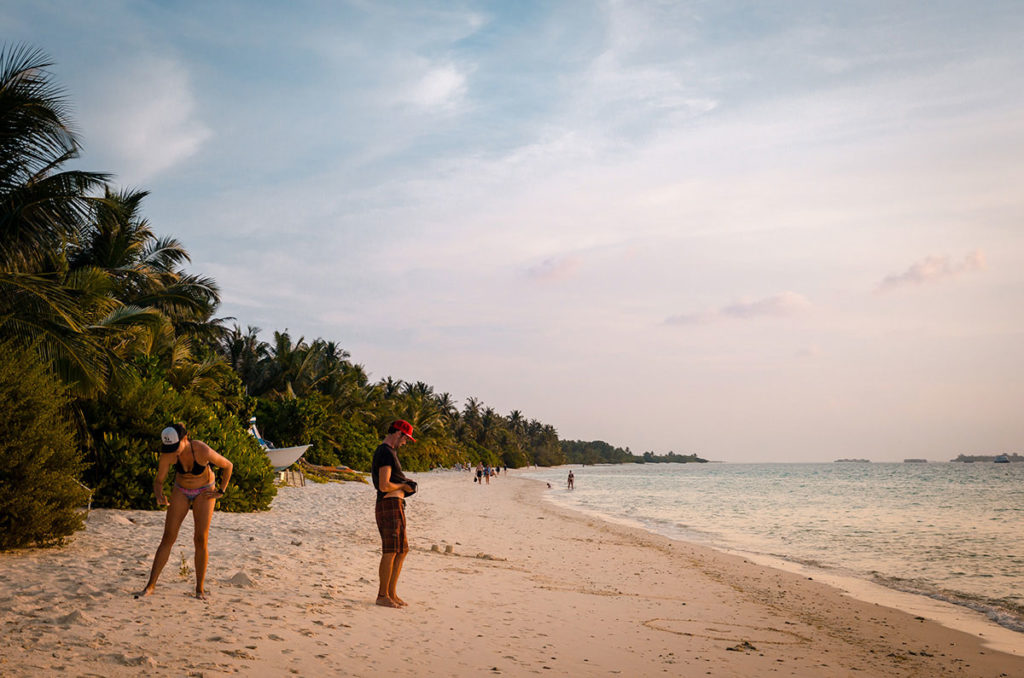 Sunbathing and walking in bathing suits on Fridays is not permitted as the locals have the day off and picnic on the beach.
On the land side of the beach, we saw an old boat with vines growing on it…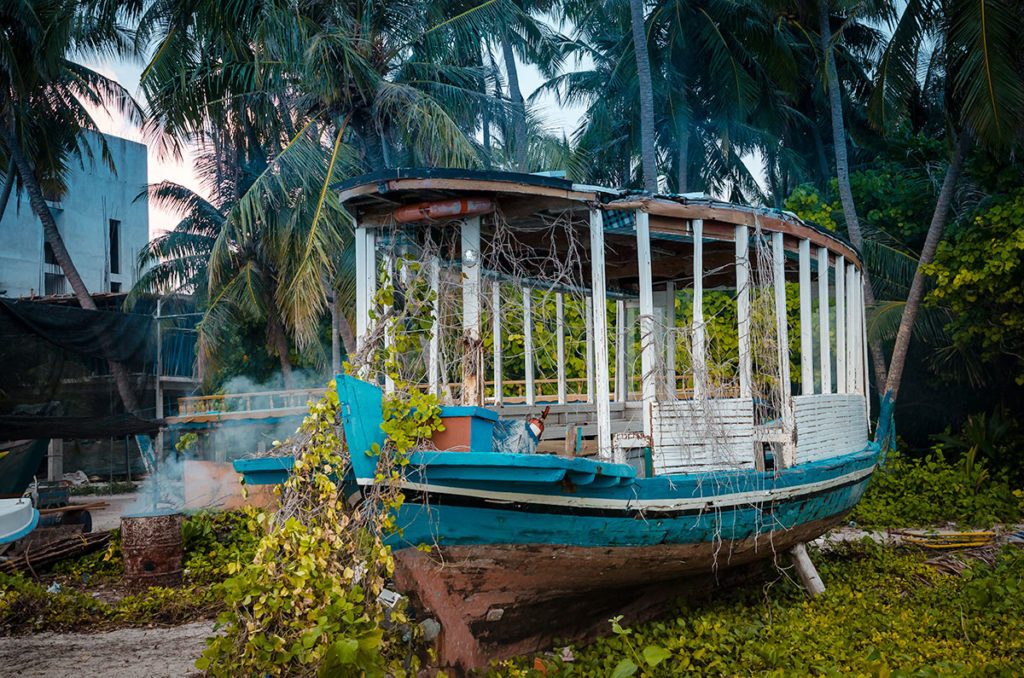 …and later a dramatic sunset on the waterside.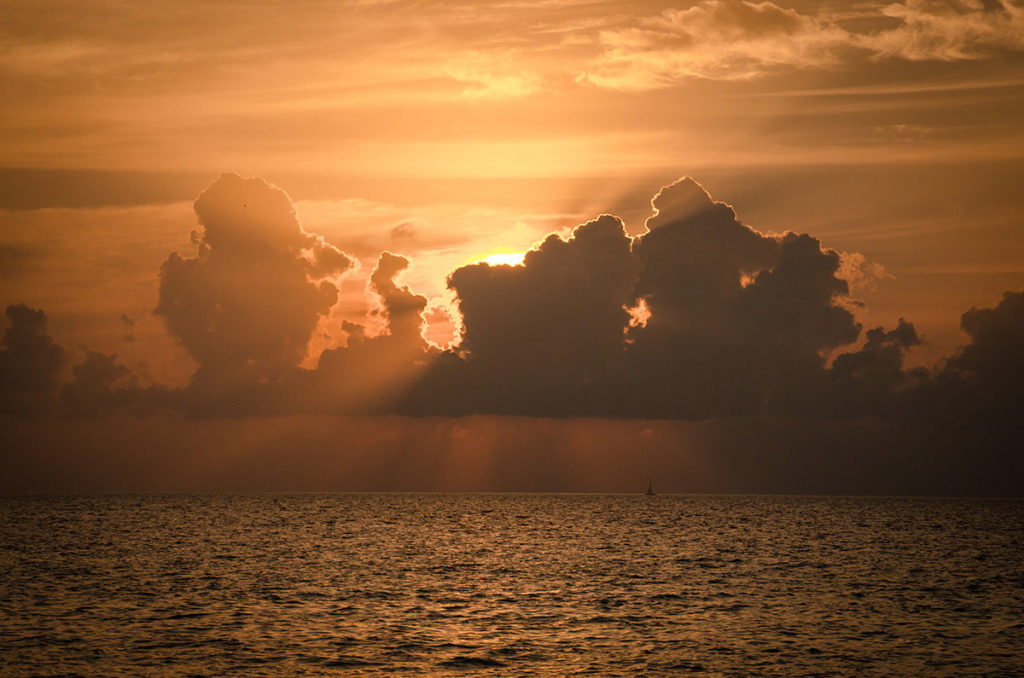 On a daily basis, Bliss Dhigurah arranged boat rides for snorkeling, diving and fishing. We went for snorkeling which involved an hour ride to a long stretch of coral reefs.
The fish life was a kaleidoscope of colors as they swam over the coral. I did not have an underwater camera so no pictures to show. While there, the current was strong and I had to pay attention not to go too far from the boat and other snorkelers. The area is known for white sharks and manta rays, but I did not see either.
Hulhumalé Island
For our last two days, we visited Malé, the capital. We stayed by Eastern Beach in Hulhumalé Island at the Coconut Tree Hotel which was less expensive and calmer than in Malé. Hulhumalé is an artificial island made to provide housing to the expanding population of Malé. It is connected by a causeway to the international airport in Hulhu Island and by bridge to Malé. Within walking distance of our hotel, we had a good meal at Tandoori Flames Restaurant and great coffee at Family Room Coffee (10105 Dhigga Magu) which was no-smoking unlike most other places in the Maldives.
Malé
Malé is tiny (9.25 sq. km / 3.5 sq. mi) but densely populated. The main tourist sites were practically next to each other. Here is a map of it and nearby islands.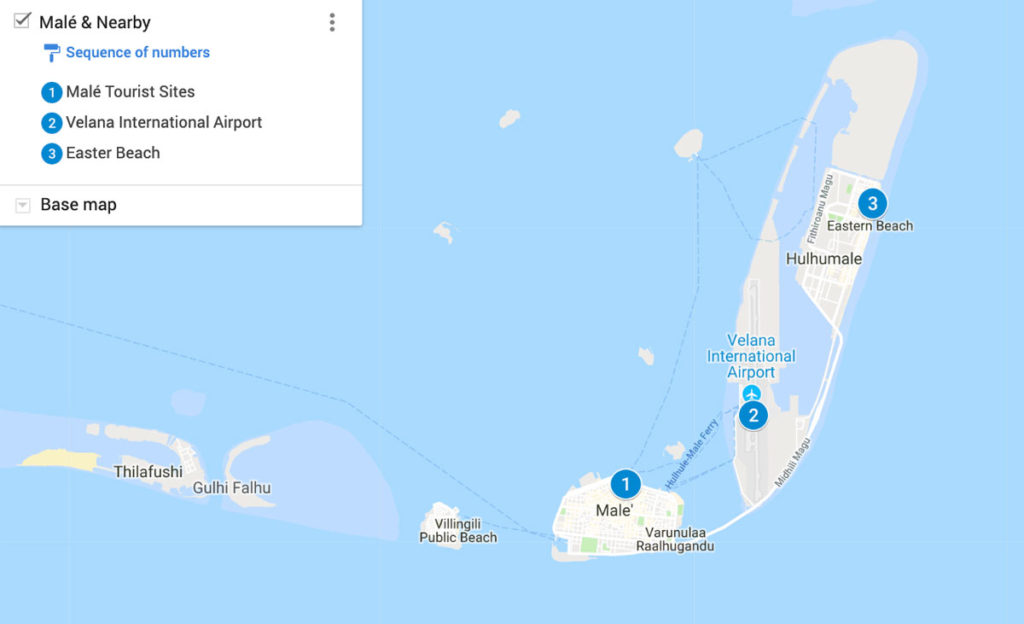 We had to be careful in the hectic streets which had motorcycles whizzing by constantly.
The streets were always full of people, including old men playing chess…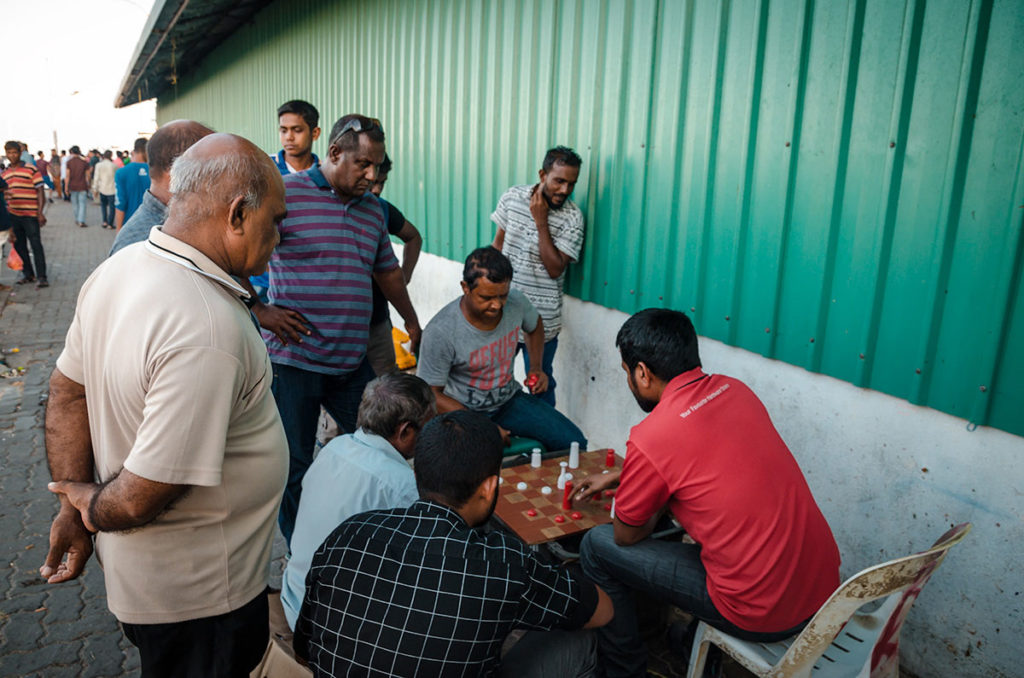 …and young men standing on the wall next to the water.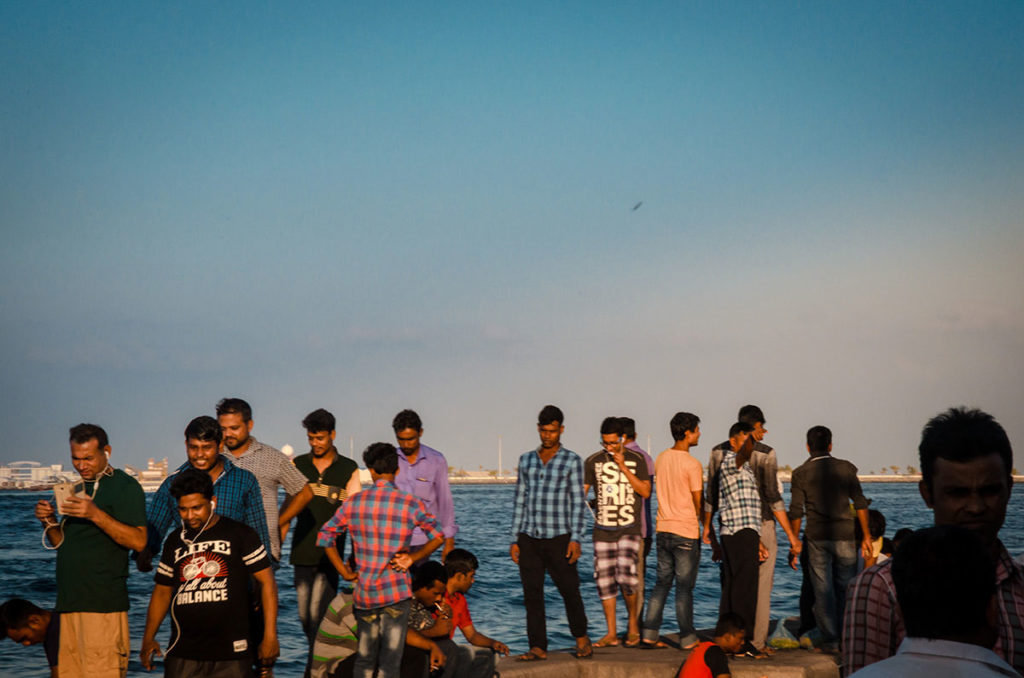 For our short time there, we were often approached by local men volunteering to take us to shops for jewelry and souvenirs. I was looking for a T-shirt with a Thaana script, so we engaged this nice guy to help us.
I'm sure he received part of the selling price as a commission from the shop. We also tipped him for his efforts, as he found a T-shirt with the Maldivian adage "the ocean is life" in block-characters.

Republic Square (Jumhooree Maidhaan)
This square was constructed in 1989 and is a popular meeting place for visitors and locals alike.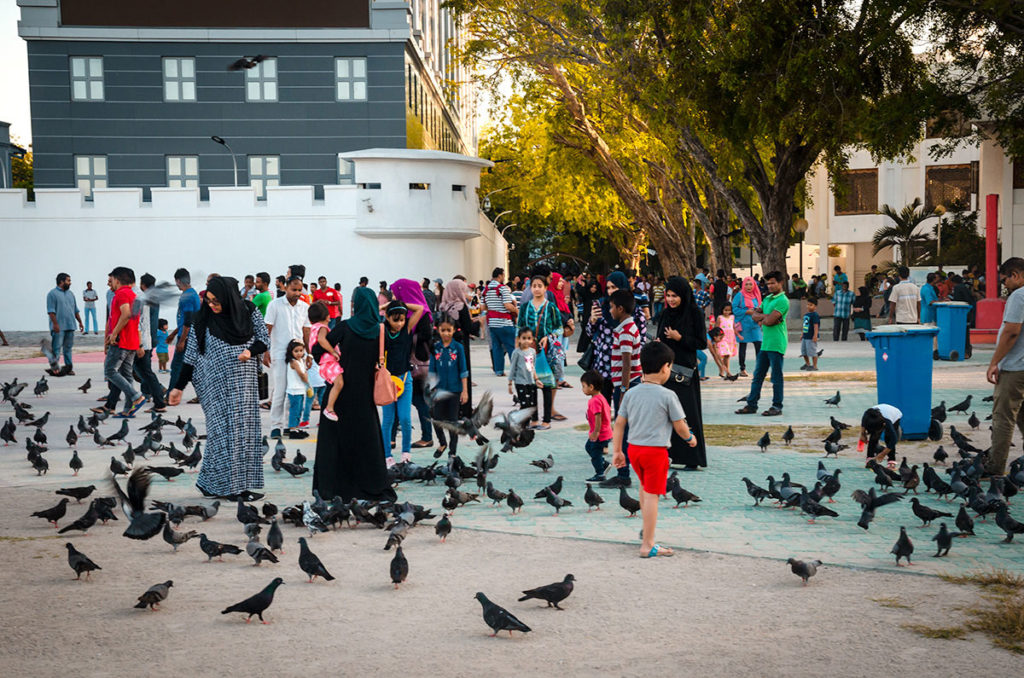 From a flagpole in the square, the largest flag in the country flies the Maldivian colors.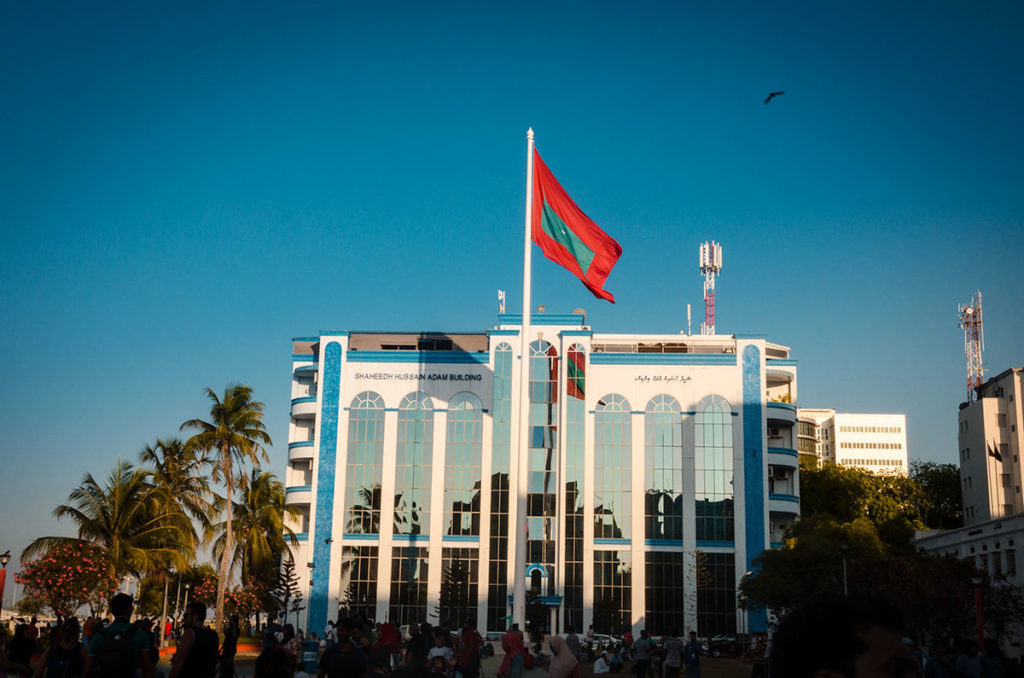 Local Market
When traveling, I cannot resist going to food markets and photographing. At the Malé Local Market, we saw stalls filled with a variety of produce from the atolls.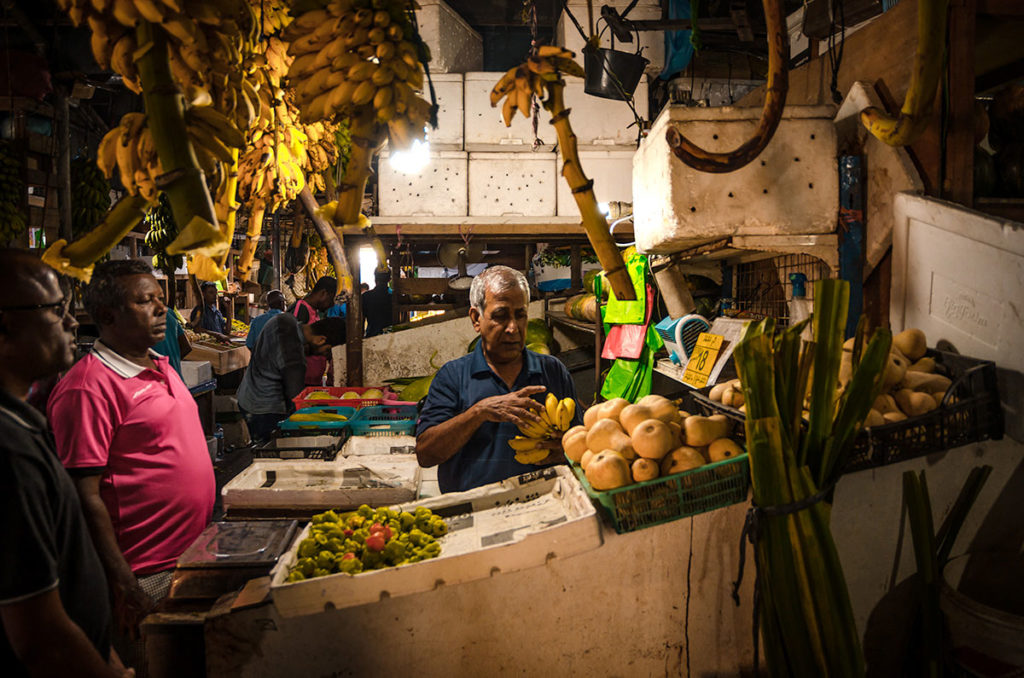 We went to the building next door and saw the vendors with smoked and dried fish.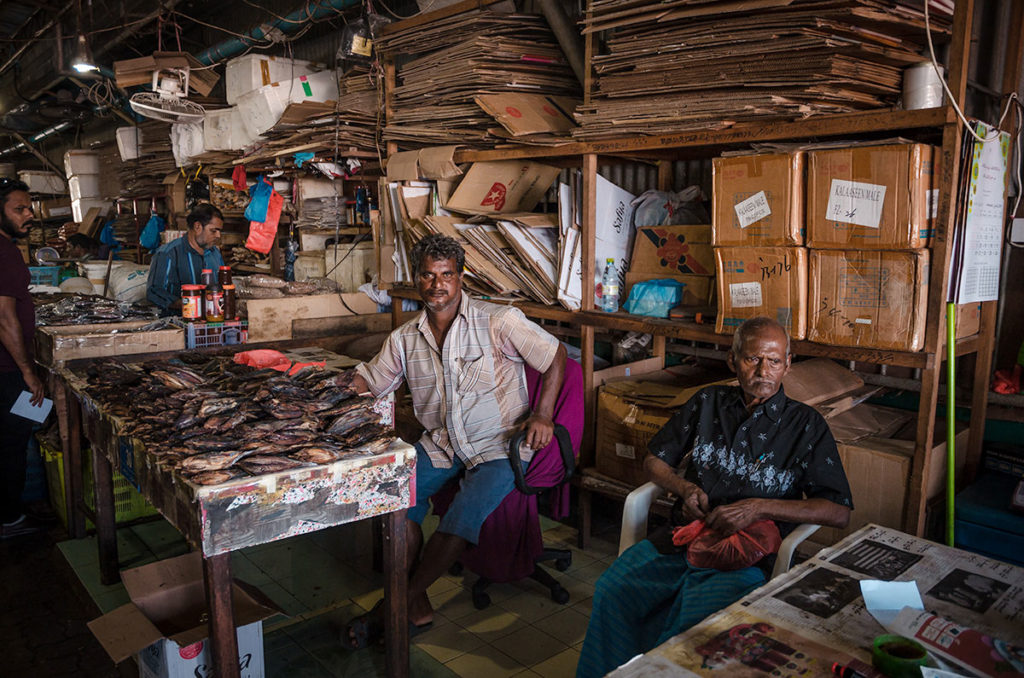 Fish Market
My favorite place in Malé was the Fish Market. It was engaging to watch the workers cleaning and preparing the fish to be sold.
We saw a cross-section of the population come in and buy the fresh fish.

November 3rd Memorial
The November 3rd Memorial commemorates the eight military servicemen who defended their headquarters from the 1988 coup d'état attempt by a group of Maldivians assisted by armed mercenaries of Tamil Tigers (whom I had learned a great deal about in the previous weeks in Sri Lanka).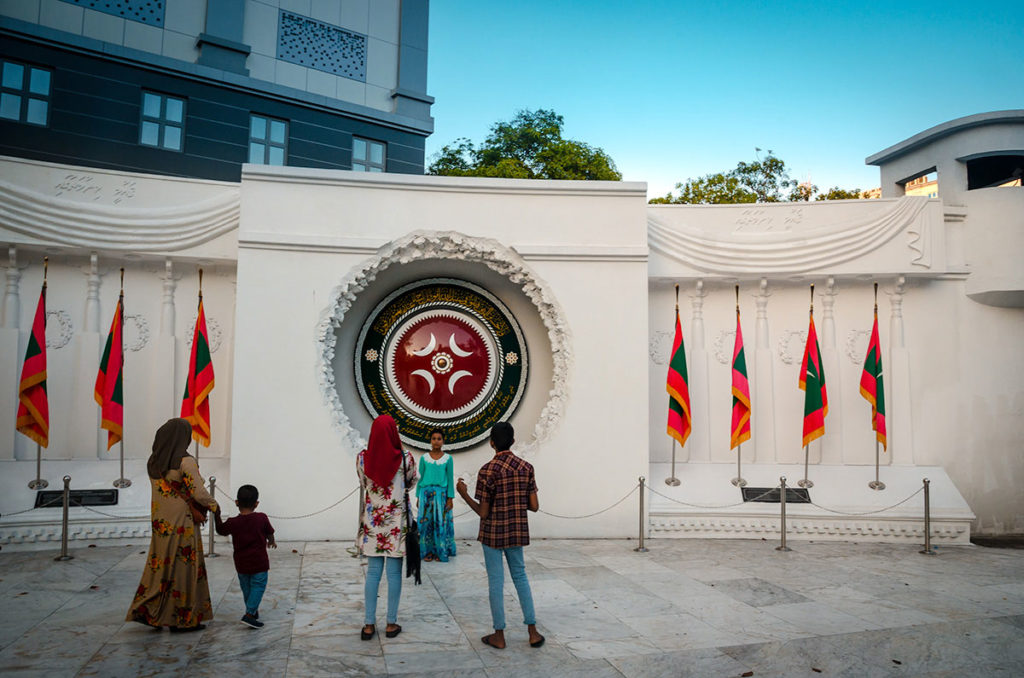 The site of the memorial shows a shield that decorates the hole made by the attackers trying to enter the building.
The Islamic Centre
The Islamic Centre is officially named Masjid-al-Sultan Muhammad Thakurufaanu Al Auzam. The building is constructed with white marble and the inside is decorated with intricate wood carvings and calligraphy.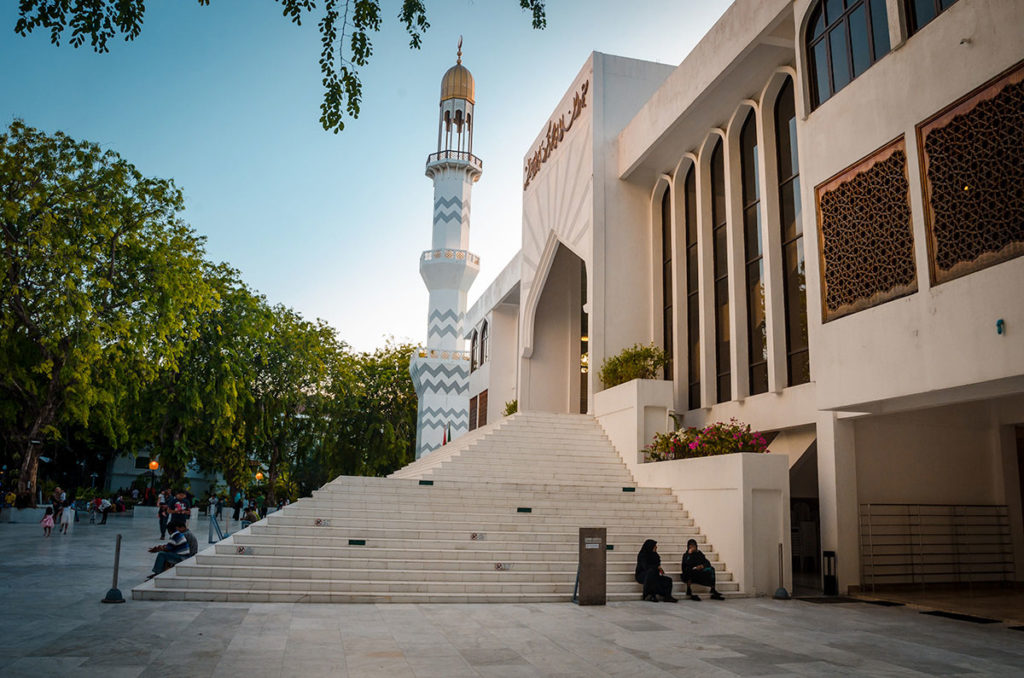 It was named after a Maldivian hero, who played an important role in the uprising and subsequent independence from the Portuguese. It was opened in 1984 and houses the largest mosque in the Maldives, the Grand Friday Mosque.
Vilamendhoo Island (Written by Caitlin)
While Ed and Khadija headed off to enjoy a local island, we decided to check out a resort island experience. In the Maldives, islands are classified as "local" or "tourist." Local islands are governed by Muslim sensibilities: no alcohol and if there is a "bikini beach" for tourists, it is screened by a fence. Tourist islands are generally each occupied by one resort which provides all the typical amenities: pools, bars, spas etc.
Our priority in choosing a resort island was easy access to an excellent house reef. We didn't want to spend over $500 USD a night, and we were content with a simple room rather than an overwater extravaganza.
We found an excellent choice for us in Vilamendhoo, which turned out to be practically next door to Dhigurah, where Ed and Khadija were staying.
Vilamendhoo has a fun, laid back vibe. The resort occupies the entire island, and sandy paths wind from building to building through tropical vegetation …
…where herons and various birds…
… and geckos and lizards can be spotted.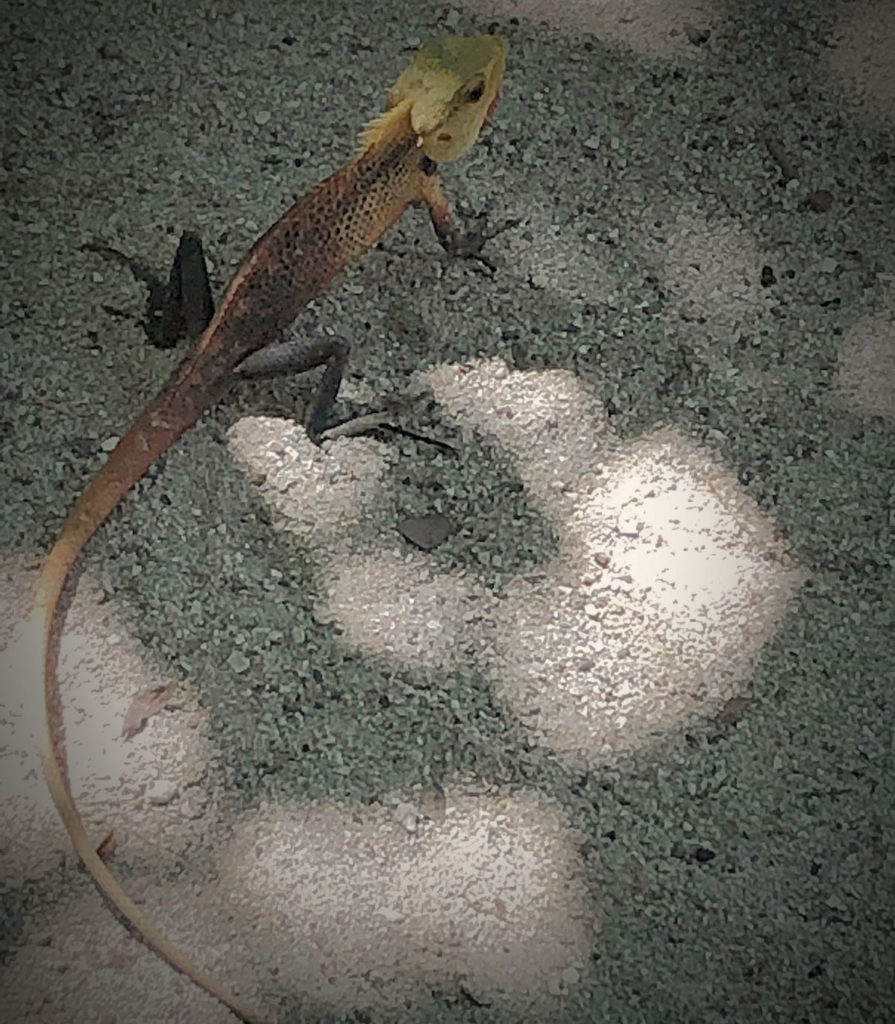 The reception area and restaurants are large, open-air, thatched roof structures with floors of sand.
Extensive wood decking provides a large area to eat outside and to sip a cocktail. A variety of entertainment was provided at night, such as DJs and bands, occasionally on the cheesy side but fun if you didn't take it too seriously. Our room rate gave us access to a buffet meal three times a day. There was a wide selection of foods, mainly genuinely delicious and well crafted.
We had dinner with the Swiss-born manager, Daniel, one night, which was pretty interesting. Daniel is a seasoned pro, having worked at other resorts in Southeast Asia before coming to Vilamendhoo. He told us a lot about the intricacies of running such a place. The island has 194 rooms meaning about 400 guests. To service those people, they have a staff of 400 people from all over the world although 56% are Maldivian. I asked Daniel if it would be possible to run more of the island using solar power. He told me that the most recent resort created by the group that owns Vilamendhoo is entirely solar powered. But he said that retrofitting Vilamendhoo with solar would likely be too costly, which is a shame.
The water in the Maldives is extraordinary, so clear you can easily see tropical fish swimming below you. Our island is known for having a wonderful "house" reef that can be accessed from the shore. Our room didn't have the best view, as it faced a restaurant, but was ideally positioned for snorkeling. We could exit our room, walk twenty feet to the beach and swim through a cut in the reef.
Then we swam along a drop off about 150 feet deep with shallow coral reefs to one side. Squadrons of colorful fish swirled around us.
During our time snorkeling, we saw baby and juvenile black tipped sharks, enormous parrot fish, trumpet fish (which look like mini submarines), a moray eel as thick as a man's bicep, tangs, an octopus swimming and changing color, triggerfish, angelfish, clownfish swimming amid anemones, cuttlefish, lionfish, pufferfish, and a small eagle ray. It was so beautiful…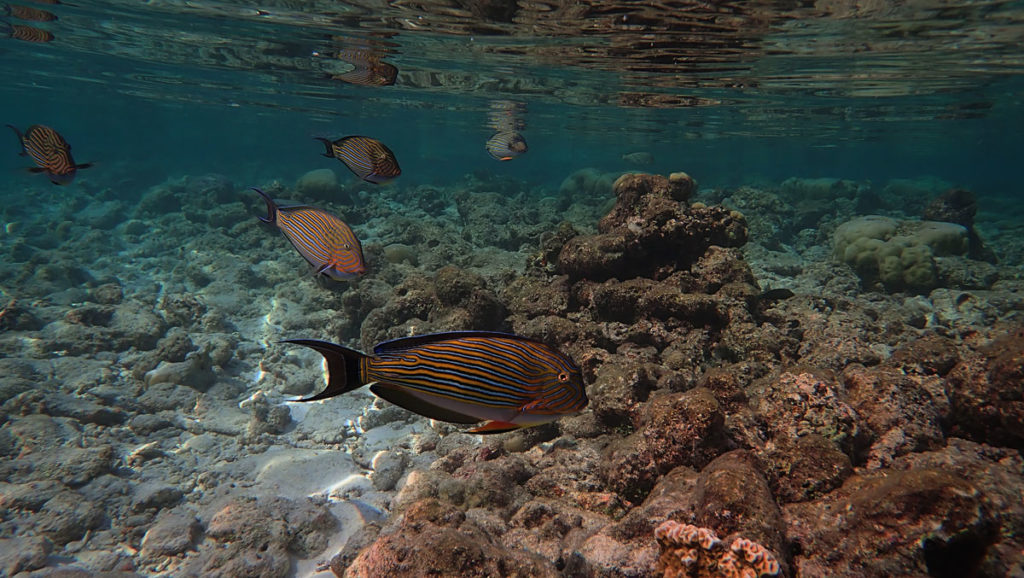 … but sad to think that this underwater paradise is so threatened by global warming.
Much of the coral in the Maldives died in 2016. The reef we snorkeled was mostly bleached and dead, but Daniel told us that fortunately the fish are still able to extract nutrients due to ocean currents.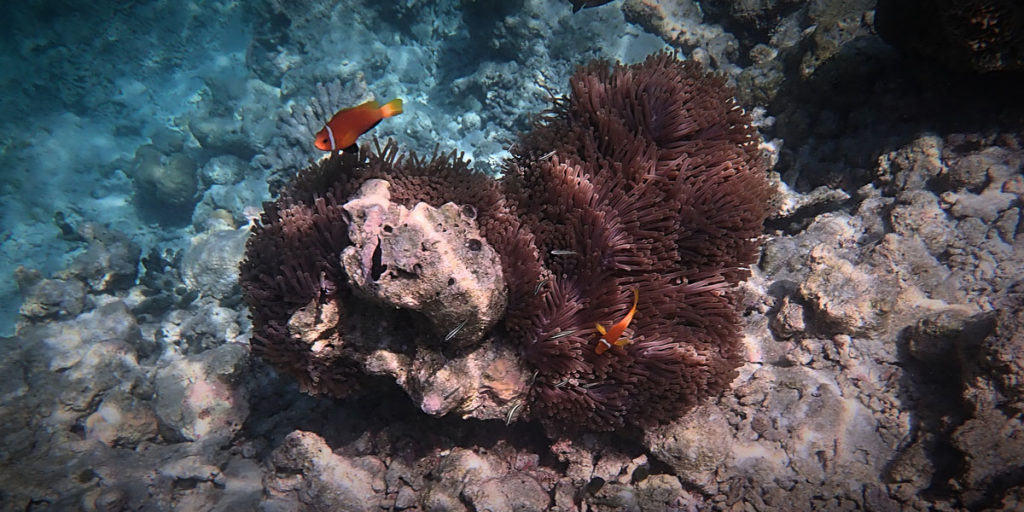 Additionally, we did see some spots where the coral is persisting, or even re-growing, but it is a slow process that takes decades.
We also took a crazy boat trip to see whale sharks and we were lucky enough to spot them several times. The guys on the boats seem to communicate with each other about where these whale sharks could be found. Eight or ten boats converge on the spot, and everyone jumps into the water at once. You find yourself in a throng of snorkelers thrashing and swimming. Nonetheless I was able to spot a whale shark way below me. Annoyingly one snorkeler, a very fit German guy, was equipped with weights and swam down towards the whale shark, causing it to dive deeper. We also witnessed a whale shark swimming deep below when it came across a group of divers on the sea floor, which seemed to spook it as it rocketed away. I just hope the presence of humans is not causing stress to these wonderful animals.
We left Vilamendhoo entirely water-logged after five days of snorkeling and swimming in the pool at least twice a day.
Final Thoughts
The Maldives was the end of a six-week trip. An interesting aspect was in India I attended the Hindu Kumbh Mela, the largest religious festival in the world. Then I went to Sri Lanka where the majority are Buddhist. Finally, I ended up in the Maldives where all citizens are Muslim. From this experience, I could better compare and contrast the three religions.