Is This the Time to Visit?
Myanmar is a nation with a deeply-rooted Buddhist culture with many impressive temples, pagodas, stupas, statues and monasteries and thousands of monks and nuns. The country has bustling cities, long sandy ocean-beaches, and forested mountains with remarkable trekking opportunities. Over 130 ethnic minorities are constituting about one-third of the population, many with colorful clothing styles and traditions. The country's primary language is Burmese which is tonal and has a distinctive "bubble" script, but there are a hundred languages spoken throughout. Myanmar has a sophisticated cuisine with influences from India, China, and Thailand. Myanmar's society is welcoming to visitors, who can sample the festivals and performing arts developed over the centuries.
Based on this profile, the country should be able to compete in tourism with neighboring Thailand, but surprisingly has fewer tourists than Laos which has only ten-percent of its population. This is the case because in 1962 the military took over the country after a coup d'etat and ruled in a repressive and isolation manner which limited visas and travel.
The isolation started to change in 2010 when the military allowed a nominally civilian government to rule, albeit led by a retired army general. During this time, Nobel laureate Aung San Suu Kyi, daughter of Aung San, "father-of-the-nation" for Myanmar, was freed from years of house arrest for her advocacy of democracy. Their pictures are ubiquitous in the country, such as this one is the window of a musty second-hand bookstore.
In 2011, she dropped her opposition to tourism but only if it was responsibly done. Her pronouncement led to a surge in tourism, mainly from the West. In 2012, for the first time over a million tourists visited the country and it continued increasing for the next four years. The hospitality sector flourished, building hotels as quickly as possible and significantly improving the income of those in the industry.
It became quite fashionable to say that "Myanmar is the new Cuba," meaning that a culturally rich country is now welcoming tourists after decades of travel restrictions. However, the international perception of Myanmar shifted from a peaceful Buddhist nation to a ruthless regime which had exiled 700,000 Muslim-minority Rohingya starting in August 2017 after decades of intimidation and marginalization. As a result, the number of tourists significantly declined, maybe by forty to fifty-percent.
My wife Khadija and I had been discussing traveling to Myanmar with our friends Peter and Caitlin for a couple of years. Finally, our schedules allowed us to go there in January 2018 and Caitlin had time to plan most of the itinerary (she is unbelievable good with arranging itineraries). However, we were conflicted by the question if it is ethical to visit and whether we were implicitly supporting the government. With reservations, we decided to go. In retrospect, it was the right decision and was one of the most compelling trips of my life.
What we found is that most of the Myanmar people are involved in their daily work and family life and do not think much about the Rohingya crisis. Of course, it helps the news is restricted (though there is the internet) and airs government propaganda. We discussed the Rohingya a few times with locals, when we thought the other person would engage in an open dialogue. From this, we learned important facts glossed over by the headlines in the West. However, those facts in no way justified the military action.
By the end of the trip, we felt our monetary effect was mostly for those in the hospitality industry, such as tour operators, taxis, hotel and restaurant workers and trekking guides, which had been hurt by the dramatic drop of tourism. We did not feel we supported the military regime. This was our feelings, but of course, others can think differently. However, if everyone stopped going to countries with repressive, authoritarian or distasteful politics, the world would not be a better place.
As far as safety, Rohingyas live in the Arakan Province, next to Bangladesh, which is off-limits for travel. Interestingly, we found other states with ethnic minorities have their own armies or militias and are in off-and-on conflict with the national government. The areas which are dangerous are not open to travel. The areas you can visit seem to be quite safe as everyone wants tourists, though on trekking expeditions you may see soldiers and not know which army they belong to.
Travel Tidbits
Culture
Myanmar, with a population of about fifty-million, is a federation with simmering and sometimes outright tension between the central government and military controlled by Burmese (two-thirds of the population) and regional states dominated by other ethnic groups (the largest are the Shan, Karen, Arakanese, Chin, Wa, and Mon).
Around ninety percent of the population is Buddhist and follow the Theravada branch, which is also practiced in Sri Lanka, Thailand, Cambodia, and Laos. From my travels, this seems to be the most Buddhist country in the world with monks and nuns of all ages everywhere in the country. There are over a million Chinese scattered throughout the country, as well as Muslims, Hindus, and Christians of various ethnicities. The culture reflects the influence of all these groups, as well as being a trading crossroads between India, China, and Southeast Asia.
Two aspects jump out to the visitor as soon as they arrive. First, a majority of woman, many children, and some men apply thanaka (a light yellowish paste made from grounded bark) on their faces. The paste protects the skin from the sun but is also a fashion statement.
Second, men and women commonly wear a leg wrap, similar to a sarong, called a longyi.
Government
The country is still more known as Burma, which the English called it in the nineteenth century after gradually subjugating it as a colony after three wars over a half-century. The name is a derivative of the native name for the majority ethnic group in the country. The government changed the name in 1989 to Myanmar, apparently to distance itself from colonial rule and to acknowledge that the country has a sizable population of non-Burmese ethnic groups. The military government made the controversial change with few public pronouncements and without a referendum, so the actual motivation probably will never be known.
The capital of this country is Nay Pyi Daw (Abode of the King) which was built on undeveloped land in 2005, next to Pyinmana, a town with one hundred thousand people before. We did not go as it would have taken at least another two days which we did not have, but I regret not doing so. It is known as a ghost town, even though it has a population of almost one million, because of videos showing twelve-lane highways with only a car or two on them. It is more centrally located than the former capital of Yangon and is less vulnerable to invasion, a consideration for a military government.
Cuisine
The most interesting aspect of Myanmar cuisine is each meal is served with several dishes of accompanying food (soups, vegetables, sauces, etc.) and spices, so there are endless combinations of tastes and seasonings. The flavors are sour and savory, not sweet and spicy. The main dishes are fish, seafood, chicken, and vegetables on rice or noodles prepared in a variety of ways. It would take several paragraphs to adequately describe the cuisine. Suffice to say dining is a highlight of traveling there and an adventure, as you do not know everything that will put on the table after you order.
Transportation
We flew from Newark on Air China non-stop to Beijing on a thirteen-hour flight, then five hours to Yangon. I have finally convinced myself that business class is worth it for overnight trips, as they are much more comfortable than economy especially for sleeping. Our tickets were well-priced at about $2,000 each. I had some credit card points which paid some of the cost. The Yangon international airport is modern and large. However, because of the drop in tourism, it was eerily empty.
The country is about the size of France or Texas. We found intercountry flights to be efficient. In fact, the plane usually landed about 15 minutes before departure, quickly loaded passengers, and then took off on the departure time. Except for a few highways, the rest of the country is connected by two-lane, winding roads with truck and bus traffic which makes travel slow.
The country has right-side driving. Being a former British colony, it was on the left-side, until General Ne Win (head of state from 1962 to 1981) decided to switch it for some reason in 1970. What is wild is that most of the cars have steering for the left-side, as they are bought second hand from Japan. So, passing is challenging, as the driver is by the roadside (not the middle) and has a hard time. Fortunately, cars in front often use turn signals to indicate if the road is clear for passing.
Lodging
Unlike five years ago, there is no problem finding lodging of all price ranges in the four big travel destinations of Yangon, Inle Lake, Mandalay, and Bagan. In the other cities, there should be comfortable lodging, but if you get too far off the beaten track, it could be a different story.
When trekking, often the only choice is a homestay in a local home, where the mattress is on the floor and the bathroom is an outhouse. While these are modest accommodations, the experience of talking and observing your hosts is rich.
Currency and Credit Cards
The currency is the Kyat. When we were there, one US$1 equaled about 1,300 kyat, which is not the easiest conversion rate to remember. In many hotels and restaurants, they accept dollars, but for many small purchases and other times, you may have to use kyat. Vendors are picky about only taking foreign currency which does not have rips or other degradations. There are ATMs throughout the country, but there are few or none in remote locations.
Credit cards are used in many places. Often you have an option to charge in Kyat or US$. I chose the latter because I definitively know the cost in my home currency and the conversion rates are acceptable. Many hotels and merchants will add an extra three percent to credit cards for the service fee they charge.
Travel Guide
I carried the Rough Guide to Myanmar (Burma). I always take the Rough Guide if it's available as I find it gives personal and comprehensive details which are missing from competitors' books.
Photography
Myanmar is one of the best countries in the world to photograph. The people are extremely friendly and do not mind being photographed. Perhaps it's because they have not been inundated with tourists for decades. Many have an exotic look because of the face paste and ethnic clothes. There are thousands of monks and nuns living in the country and temples and buddhas galore. For photographing people, the best strategy is to find a good background and wait until the people go by, on foot or motorcycle. Be sure to bring at least twice the memory card capacity you usually use. Check out this site's photo gallery for Myanmar.
Yangon
Yangon, formerly Rangoon, is a city of about five million people, with British colonial and 1950's architecture with some modern office, commercial and residential buildings. The city is a squiggly-square about the area of Chicago. The main business section is in the southern part, bordering the Yangon River, and very clean with few homeless people. There is quite a bit of decaying building stock.
However, the city is more contemporary looking than I expected for being in a country isolated for a half century and relatively poor (it's basically the top of the lowest quartile of per capita gross national product). Even though the military and police are powerful, you see scant indication of them on the streets.
It's worth spending at least three days here, as we did. Many attractions are walking distance from each other and taxis are very cheap. Enough people know some English that you can easily navigate the city.
Shwedagon Pagoda
Officially known as Shwedagon Zedi Daw The, this temple complex is the number one attraction in Yangon. In Myanmar, pagoda means a series of buildings around a stupa, a dome-shaped Buddhist shrine which may or may not have interior rooms. It is the oldest pagoda in Myanmar, over two thousand years old, and has been modified and enlarged numerous times. Despite many earthquakes over the years, it has remained intact. The main stupa is coated with gold leaf that competes with Fort Knox in quantity. It is capped with numerous huge gems including a seventy-six-carat diamond.
There are so many pointed dome structure it reminds me of a gigantic chess board.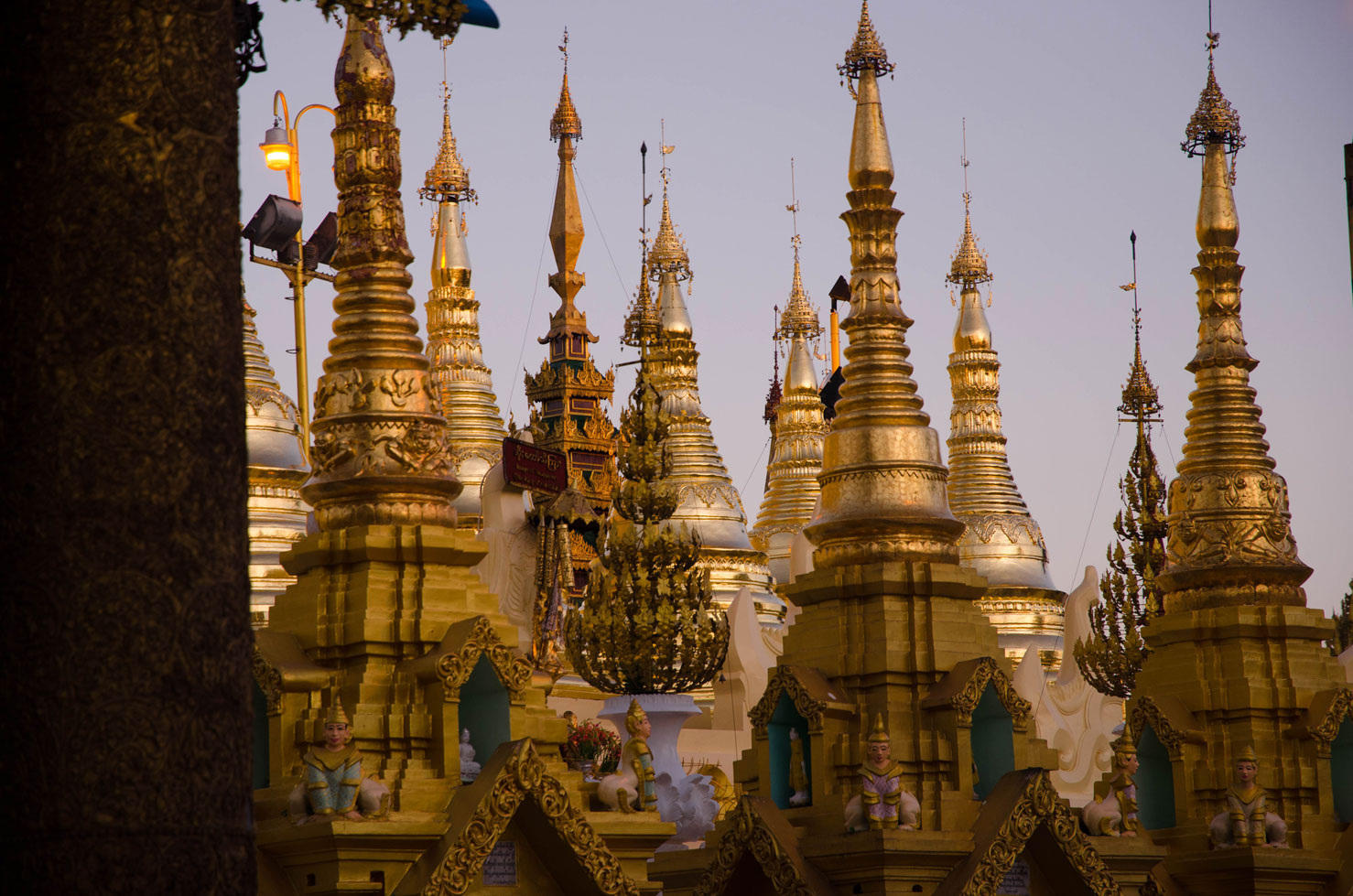 We spent about three hours there, as it's large and jammed pack with shrines, buddhas, and monks. Worshippers often are making a pilgrimage.
For the best light, probably go early in the morning or mid-afternoon and you can bring in a tripod for night photography. It's worth hiring a guide to understand what you are observing. Like most temples, the visitor must remove their shoes.
Sule Pagoda
Unlike the larger Shwedagon Pagoda with its own park, the Sule Paya is in a busy intersection in the center of Yangon, close to colonial-era government buildings. It's said also to be over two thousand years-old and enlarged several times since. The golden dome with its spire reached its present height of 44 meters (145 feet) in the 15th-century and is unusual because of its octagonal shape.
It's named after the Sularata nat (spirit) who once lived there. Many people in Myanmar still practice animism along with Buddhism, a practice predating the official religion. The size of the complex is less than a city block, and you can leisurely visit it in an hour.
Myanmar National Museum
The museum has over five thousand items, and it's a great way to survey the country's history and the cultures of indigenous people. It was recently updated and no longer "appallingly labeled and often badly lit" as described by Lonely Planet. You could spend just an hour there speeding from one gallery to another or up to your museum-limit hours. I recommend using a guide which you need to tip at the end.
The must-see gallery is the Lion Throne. There were nine seats of the monarchs in Mandalay when it was the capital, but the museum has the only one left after bombings in World War II. (There is a replica in Mandalay.) It is richly decorated with intricate carvings with highlights of gold gilding. The carved motifs are intricate wood carvings of animals, birds, and flowers using many types of woods.
Throughout the museum, there are centuries-old Buddhas and artwork that would take a book to explain. A favorite of mine was the ethnic-minority traditional dress, such as this amazingly contemporary one.
Walking the Streets
As street photographers, Peter and I spent hours walking and seeing what we would encounter. Usually not having a specific destination is inefficient, but it seemed everywhere we went was interesting.
One such place was on 37th Street (the streets are numbered similarly to Manhattan) where there was an open food market and small bookseller.
It was great to see so many book stores, although they sometimes stacked books in unanticipated ways.
On other streets, we would wander into ethnic enclaves, where the workers were primarily Muslim, Indian (who were a slight majority before World War II), Chinese, etc. These groups overlap, for example, an Indian could be Hindu, Muslim or something else. Many operate local businesses and all sit outside eating, drinking and smoking on small, colorful plastic chairs.
The guidebooks mention Bogyoike Market as a place to buy jewelry, art, antiques, and clothing. This would be a place to go if you are looking for gifts, but it is gentrified and low on ambiance. Regarding purchasing local items, we found Hla Day (81 Pansodan Street, up the stairs) has very interesting items made by Myanmar artisans, many with disabilities or struggling economically.
Chauk Htat Gyi Pagoda (Giant Buddha)
It's worth going to this open-air, corrugated iron-roofed display of one of the largest reclining Buddhas in Southeast Asia just to marvel at the size. It is 213 feet long (65 meters) and 100 feet (30 meters) high. The location is not only an enclosure of a statue but a place of worship for Buddhists.
This Buddha is brightly painted with a porcelain upper body and head with glass eyes. There are several variations of the reclining Buddha, depicting his calm nature before leaving this world. This version is the resting Buddha with the head resting on the arm. If the head is resting on a pillow and the hand and forearm are up, it is the preaching Buddha. If the head is resting on a pillow and the eyes are closed, it is the enlightened Buddha (reaching nirvana after death). Resting Buddhas have different names and religious connotations based on the direction they are facing. This one has the head pointing east and the front facing north.
Another characteristic of this reclining Buddha and many others is the symbols on their feet. On the nearby wall, there is a chart explaining each one.
Musmeah Yeshua Synagogue
This synagogue is Myanmar's only Jewish house of worship. In the 1890s, it served 2,500 Sephardic Jews that arrived with the British from India for trading opportunities. A large percentage of the Jewish population fled during the Japanese invasion of World War II. Today it's reported that only twenty Jews live in the country.
There are nearby Hindu, Muslim and Sikh houses of worships we would have visited if we had another day.
Drug Enforcement Museum
This place is highly recommended as it is so weird. It is reminiscent of the 1930s US propaganda movie Reefer Madness. It has three floors exhibiting the horrors of drug addiction and makes it abundantly clear that drugs were introduced to the country by foreign powers trying to weaken Myanmar. It shows drug interdiction raids with portraits of the military officers in charge. A standout for oddness is the diorama of an American drug den, complete with a rock band.
I did not see anything about treatment and dealing with addiction as a medical problem. It was empty when we arrived, but about half an hour later a group of elementary school children came. They did not pay much attention to the dioramas but enjoyed running through the museum.
Yangon's Circular Railway
This is a great way to see the ebb and flow of life in Yangon, this old-fashion train rumbles twenty-nine miles stopping at thirty-eight stations. The whole trip is three hours. The fare is a whopping 200 kyats (US$ 15 cents)! The usual place to start is the Yangon Central railway station, a grand colonial building.
The train passes shopping stalls, high-rise apartments, affluent gated communities, shanty-town encampments, soccer fields, rice paddies, and Buddhist temples. As the train stops at each station, there is flow of arriving and departing passengers, which are fascinating to observe.
The benches are wooden and not comfortable. The only air-conditioning is the open windows. While often crowded it is easy to observe and chat with a cross-section of the people. We spent forty-five minutes and felt we gathered a good sense of the journey. We took a taxi back, but we could have taken the train back. We went late afternoon, but I read that after dawn is the most interesting.
Ferry to Dala
A great way to see village life is to take the quick ferry ride to Dala Township, from the Pansodan Street jetty on Strand Road. We spent a couple of hours there, but you could spend a half or even a full day.
Once there you can hire a rickshaw driver to take you to villages, temples, and monasteries. Ask the price from a few of them to get an idea of the usual cost. As you pass through the ferry area, you can see hundreds of motorcycles parked, presumably by commuters on the ferry.
We visited the bamboo village which has a few hundred tiny bamboo houses, some barely standing. The town is impoverished and was devastated by a cyclone in 2008.
We went to the fishing village where they harbor and repair boats. Many people commute to Yangon on these canoes.
The most fun was talking with the children on the ferry. Hopefully they were off from school and not there every day.
There is a great view of Yangon from the ferry.
Hotel and Restaurants
We stayed in Hotel G Yangon, a modern, business-oriented hotel, conveniently located in the business district. The rooms were small, but everything worked well. The bar made potent drinks and was full at night. We paid $72 / night.
Two of the restaurants we went to are worth noting. Rangoon Tea House serves traditional Burmese cuisine with its own special preparation and seemed to be made up of half tourist and half locals. We spent only $28 for two light meals. Sharkey's Restaurant (there are two locations) is the Yangon version of farm-to-table and the food was fresh. We spent $45 for two.
I highly recommend the Strand Hotel for afternoon high tea. It opened in 1901 and before independence was one of the most luxurious hotels in Southeast Asia. It was renovated in 1993 to a top-of-the-line boutique hotel, and dining there transports you back to the colonial era.