Overview
The number one thing most people associate with Nepal is Mount Everest and other massive mountains. In fact, eight of the highest mountains in the world are partially in Nepal. Nepalese are also known as incredibly tough people, including the amazing Sherpas who routinely brave incredibly perilous, frigid-cold, low-oxygen peaks and the legendary Gurkhas who are a fearsome, disciplined, loyal component of the British army. The country is proud of its non-colonial independence, achieved even though it's sandwiched between the large nations of present-day China and India. It is multi-ethnic (well over a hundred groups and castes), multiracial (people-looks range from Indian to Mongolian to Chinese) and multi-religious (roughly 80% Hindu, 5% Buddhist and 15% Muslim, Christian and indigenous), and multilingual (the official language Nepali (related to Hindi) is spoken by 45% of the population, over hundred more languages are either Indo-Aryan or Sino-Tibetan and English is a second language to many with education).
As a child, the capital Kathmandu was one of the two most exotic places on earth (the other was Timbuktu, maybe it had something to do with three syllables names). I pictured it as a mystical ancient kingdom nestled in impossibly high mountains. It turned out that my imagination was not far from reality for this capital city and the whole country. There are several places with actively-used buildings and sizable ruins that are over a thousand or two thousand years-old, integrated into a bustling, developing economy and a burgeoning democracy.
My wife, Khadija, and I arranged a two-week visit in India in November 2017, when we realized that Katmandu was only a two-hour flight from Delhi. We contacted our good friends Ruben and Ikie who have lived there for the last five years and arranged a fun-filled, far-reaching, action-packed, ten-day itinerary for the rest of the month. The following recounts some of our experiences. Also, see the Photo Gallery on this website for more pictures.
Katmandu Metropolitan Area
Katmandu's elevation is approximately 1,400 meters (4,600 feet) in the bowl-shaped Kathmandu Valley of central Nepal and surrounded by the Himalayan mountains. Katmandu is in an ancient lake basin from which an agricultural society emerged. This fertile terrain and its location between India and China, enabled Kathmandu to become an important trading center over the centuries, including Silk Road commerce between India and Tibet.
It is the largest metropolis in Nepal, with a steadily rising population, now about two million in the city proper, and six million including cities in the surrounding areas.
The Katmandu valley has three preserved Durbar Squares, all UNESCO World Heritage Sites, in three medieval kingdoms; Kathmandu, Bhaktapur, and Patan. Durbar Square means "place of palaces" or "royal square". Each of the three squares is a site of thousand-year-old palaces and Hindu and Buddhist temples in a concentration hardly seen elsewhere. All were significantly affected by the 2015 earthquake, thus scaffolding and construction still everywhere.
Bhaktapur Durbar Square
Bhaktapur is about ten kilometers (six miles) from Katmandu, although it looks like one continuous city. This would be the Durbar Square to visit if you had to choose only one, as it was not so heavily damaged in the 2015 earthquake as the others.
The tiered-roof buildings dominate the architecture, such as the Bhairava Nath Temple.
Much of the architecture here, and throughout Kathmandu, was developed by the Newari, the original inhabitants of the valley and master craftspeople. This style is marked by creative brickwork, protruding porches and windows, elaborate metal decoration and a unique style of wood carving.
I was infatuated with the phantasmagoric statues, many decorated by worshipers with powder, flowers and incense.
There are many free-standing statues on the outside-stairs of the Siddhi Lakshmi Temple, including pairs of camels, man-lions (reminding me of Bert Lahr who played the Cowardly Lion in Wizard of Oz), rhinos and horses.
Another interesting feature is the elaborate wood doors.
It is also the place where locals gather to socialize…
…and for ceremonies, such as this fire-based one which we had no inkling of what it was about:
Plan to spend at least two hours here, including browsing artisan and souvenir shops.
Patan
In Patan, which borders Kathmandu and is also known as Lalitpur, we spent most of our time in the neighborhood near Durbar Square. A pond with greenish water provided a panorama of Newari architecture.
This area has wonderful brick structures and many stacked-bricks which will be used in post-earthquake rebuilding.
We spent an inordinate amount of time in the Golden Temple (Kwa Bahal or Hiranya Varna Mahavihar) considering its small footprint. It is a three-story Buddish temple pagoda. The center is a courtyard with an altar, four monkey statues, two elephant statues, Buddhist spinning drums and much devotional adornment.
Oddly they have a place to feed rats, which they do regularly.
Bouddhanath Stupa
Bouddhanath Stupa is one of the largest stupas in the world, the largest in Nepal, the holiest Tibetan Buddhist temple outside Tibet and a UNESCO World Heritage Site. Bouddanath is an area of Kathmandu, close to the airport.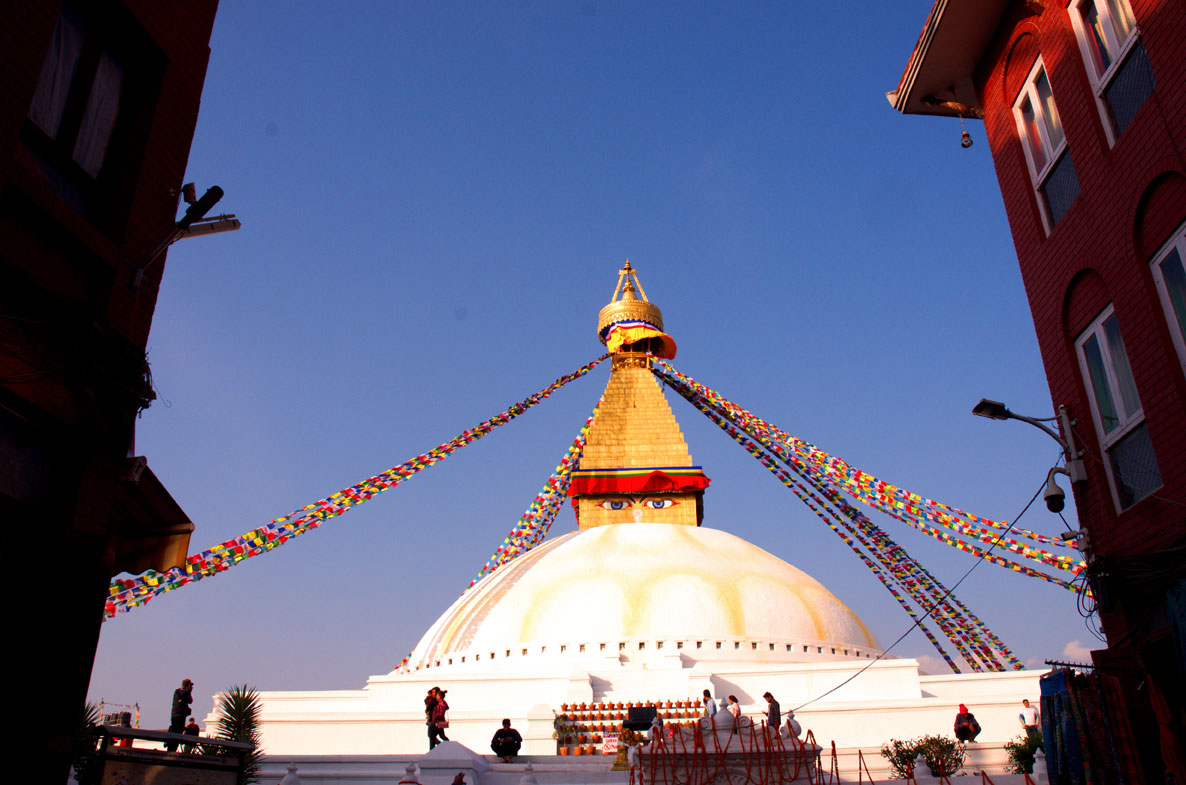 A stupa is a domed structure (or even a pile of earth) commemorating Buddha (or an important follower or sacred location) and his teachings. There is a small fee to enter the circular street surrounding the stupa which has become a Tibetan Buddhist cultural center after their mass exodus from Tibet in 1959 after the Chinese invasion and occupation. On the roads are buildings with souvenir shops, apartments, gompas (Buddhist monasteries or temples, often a fort in other places of the world, dedicated to learning and spiritual awareness) and workshops (for items used in Buddhist ceremonies and rituals such as musical instruments, lamps, and headgear).
Books are written about the architecture, history, and symbolism of Buddhist stupas. What usually catches one's attention is the pair of eyes, here repeated four times on a square on the top. Known as Buddha eyes and wisdom eyes, they represent the all-seeing capacity of Buddha.
There are many places with various sizes and types of prayer wheels (drums) which can be spun for good fortune. Here they are on sequential spindles, which a person can spin while walking, clockwise according to the ritual. The prayer wheels often have the mantra "Om Mani Padme Hum," written in Sanskrit. Devoted followers repeat this mantra while spinning the wheel or wheels. The words are not easily translatable, but one interpretation is "praise to the jewel in the lotus." Apparently spinning a wheel can provide the same beneficial effect as reciting the prayers.
In parts of the stupa, worshipers were doing a ritual similar to sun salutation in yoga.
Most tourist take a taxi to go there, braving the traffic and driving under the knotty mess of overhead electrical wires.
The Pashupatinath Temple and Arya Ghat
The Pashupatinath Temple is a preeminent Hindu temple, a UNESCO World Heritage Site and the most sacred Hindu place in Nepal. It is dedicated to Pashupatinath, an incarnation of the Hindu god Shiva as "lord of the animals." Many Hindus, especially in Nepal, revere him. It'sa short drive, without traffic, from Bouddhanath and is on the banks of the Bagmati River.
Non-Hindus are not allowed into the main temple but can walk around the area by other temples and ashrams. Many of the Hindu visitors to the temple are well-dressed, appropriate for such a prominent religious location.
While there, a troop of monkeys were also visiting.
The open-air cremations on the adjacent Arya Ghat (steps to the river) are the reason why most tourist visit. They watch from one side of the Bagmati River.
There are six stone crematory platforms. The two immediately in front of Pashupatinath Temple are reserved for the Nepalese royal family, including for ten members of the Nepali royal family after the massacre in 2001. During a dinner in a Kathmandu palace, a royal prince used a heavy-duty assault rifle to kill the whole royal family, including himself. In one night, an entire line of the Shah family line, which had ruled over two centuries, was eliminated.
I pondered whether it is ethical or even polite to photograph a cremation ceremony. I decided that it's a ritual of the circle of life and it was useful to communicate this practice to others.
However, this is private matter and the photographer should be discreet and respectful.
Baber Mahal Vilas
Kathmandu has a generous number of restaurants offering many cuisines, unlike many other travel destinations. Prices are inexpensive compared to, say, New York City.
We went to Baber Mahal Vilas, a boutique hotel with a restaurant offering attentive service and delicious food. We ate the "Royal Rana Thali Set" (thali is food served on a round platter) which had several dishes including Chara Ko Ledo (boneless chicken cooked with Nepali herbs and spices), Chamsur Palunga Ko Saag (two types of spinach sautéed in garlic and mustard oil) and Khasi ko Sekuwa (cubes of mutton cooked with spices and strained through a fine muslin cloth).
An equally important reason for eating here is to see the architecture of the hotel which each wing has a different style: Newari (Katmandu valley), Mustang (western Himalayas), Terai (plains next to India) and Nepali neoclassical.
We saw a typical room with antique furniture, pool area and fitness center with rooms for massages. When we come back again, we may stay here in this luxurious place, as the rate for a regular room is just a little over US$100.
Poon Hill Trail
Nepal is commonly considered the ultimate hiking and climbing destination, so we had to partake. We chose the Poon Hill Trail in the middle mountains in front of the Annapurna Range. Nepal requires trekkers to have a permit and a guide. We used Rugged Trails Nepal for arrangements (https://www.ruggedtrailsnepal.com/). Our contact was Nirajan, who gave us good advice on our options. We decided to hike the Poon Hill Trail, where at the top there is an excellent view of the many Annapurna peaks.
Many people start at the village of Nayapul and take four days to go to Poon Hill and back. From Nayapul, Tikhedhunga is often the destination for the first day. It is a relatively easy walk and generally takes between three and six hours. We had only three days, so we started from Tikhedhunga, where it is a narrow path solely for walking and is mostly non-stop steps to the top.
We were planning on starting by noon or earlier. However, our flight from Kathmandu to Pokhara (where we met our trek organizer and finalized payment and permits) was delayed over two hours. In fact, we flew three more times within Nepal and were delayed two to five hours each time. The drive from Pokhara to Tikhedhunga is about 50 kilometers (30 miles) and can take up to an hour. We did not get started until 2:30 pm which is on the late side. Subas was our guide, and we used two porters, Bhansing and Suman. I carried just my cameras and Khadija only a walking stick made from a branch on the side of the trail. Usually, two people would use one porter, but we did not know that. Also, the loads that many porters carry are bulky and quite heavy and bordering on exploitive.
We did no fitness preparation for the hike. When we started, we quickly realized going up thousands of stairs may not be a Herculean feat, but it is work and takes time. In particularly steep stretches, I would walk twenty-five to thirty steps and stop for a minute to let my heartbeat slow down. We also quickly determined this is not a remote, wilderness trip, but a path through several small villages with hundreds of other trekkers and locals going about their daily lives, including using donkeys and horses to carry supplies. Periodically we conversed with them with Subas translating.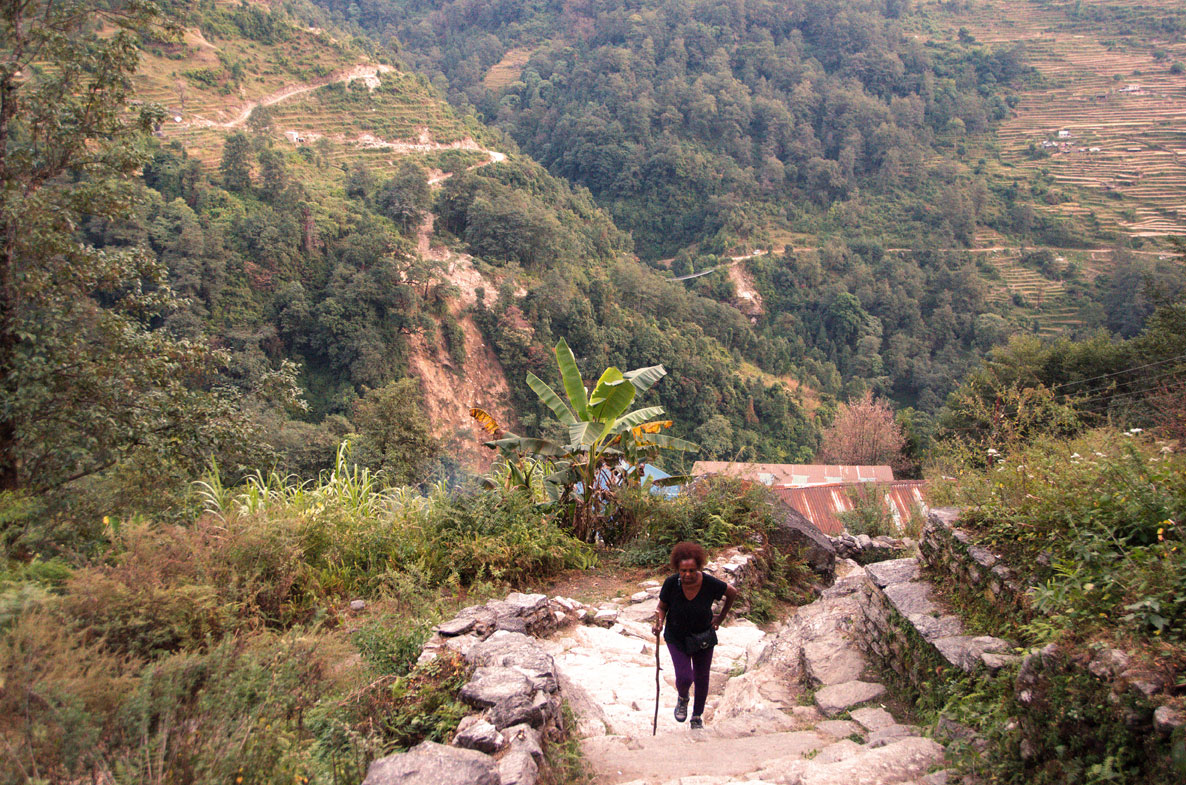 There are around 3400 stairs (everyone has a different count) from Tikhedhunga (elevation 1,500 meters or 4,921 feet) to Ulleri (elevation 2000 meters or 6,561 feet). After going through a few villages and over a suspension bridge, we trudged up the incessant hills. On the way, we saw a man carry a huge load of chickens on this back, which weighed about one hundred kilos (220 pounds). He was not big and muscular, but he was strong.
While we were struggling up the stairs, locals flew by. There is a sign which tells it all. It said it was twenty minutes to Ulleri (for locals), someone wrote in one and half hours, which is probably closer to the truth for many trekkers.
On the way, we saw many scenic views:
We finally reached Ulleri around 7 pm and stayed at the Ulleri Lodge. We had our own basic room and bathroom. It was cold, but we had borrowed good sleeping bags from Ruben and Ikie, as well as extra sweaters. The next morning, we awoke to a good view of the far mountains.
The following day, we trekked to Ghorepani (elevation 3200 meters or 10,498 feet). While there were steep stretches, it was not as consistently uphill as the previous day. We walked by several waterfalls.
Our three-meals-a-day were almost the same except with eggs for breakfast and larger quantities for dinner. In fact, different kitchens in guest houses had the same menu.
In mid-afternoon, we made it to Ghorepani.
We checked into the Dhaulagiri Lodge, where there are fantastic views of the Annapurna range. I decided to go up Poon Hill (elevation 3200 meters or 10,498 feet) to photograph the sunset. About half-way up, I found a good spot and put the camera on the tripod and clicked away.
The night was colder than the night before, because of the higher altitude. Khadija put on every piece of clothing she had to keep warm.
The next day, scores of trekkers left around 5 am to see the sunrise on Poon Hill. I was tired, and I'd photographed from there last night, so instead at about 7 am, I shot our team on the roof of the lodge.
At 8:30am, we started our descent.
On the way, we saw the sign of the Maoist party which is part of the government and formerly a revolutionary insurgent group. It was interesting seeing the iconography. Perhaps nowhere else but North Korea or Turkmenistan would have such dated images.
Since we knew the lay of the land and were going downhill, we went twice as fast and concentrated more on watching the daily life of locals.
One shepherd we met was impressively strong but probably typical. He was in his seventies, had a leathery face and was wearing a traditional Nepali hat. Since he was wearing short pants, we noticed his legs were nothing but taut muscle.
It was late afternoon when we made it back to Tikhedhunga, where we were picked up and taken to Pokhara.
Pokhara
We spent two nights and a day and a half in Pokhara. The city used to be a village, but now it's a growing city of about 250,000 residents. While more expensive than most of Nepal, it is a great place to walk around the outfitter, clothing, carpet and souvenir stores and eat and drink in many different establishments. There are several museums, but we didn't go into any on our short stay. The striking aspect of Pokhara is the incredible mountain backdrop of the city, especially Fish Tail Mountain (Machapuchare in Nepali).
Our first order of business was resting after trekking, so we checked into Fish Tail Lodge, located on a peninsula across Phewa Lake. While not extremely old (built in the 1960's), it has an old-world charm with absolutely top-notch service.
To enter the lodge, the visitor must use a shuttle-pontoon which the operator pulls ropes to propel it.
Early in the morning, we took a rowboat on the lake and saw the mountains and foreground in soft morning light.
We rowed to the Tai Barahi Temple which is a small two-story pagoda on a tiny island on the lake. While there we talked to Nepali student-aged visitors.
The rest of the time, we walked around the lake visiting the shops in between hatha yoga classes at Yoga Chautara. These were taught by Nabita Ananda in a dedicated room in her apartment. She is highly effective in teaching proper techniques for basic postures and can adjust the classes to the ability of her students. The studio's website is http://www.yogachautara.com.np
Our favorite shop was Shalbaf Carpets where we bought shawls and pillowcases. The owners have a good inventory, competitive prices and are nice guys. They generously invited us to Kashmir, where they are from originally. We hope to take them up on their offer, as it is a place we've always wanted to go.
Lumbini
Lumbini ("the lovely" in Nepali and Sanskrit) is in the Terai, which is the lowland plains in southern Nepal and northern India. It's famous as the birthplace of Buddha and one of the four main pilgrimage sites for Buddhists. By accident, in this trip, we went to two of them, as before Nepal we visited Sarnath in Varanasi, India, where Buddha first taught the Dharma (the principle of cosmic order). Of note, when Buddha was born in the sixth or seventh century BC, there was no modern-day Nepal or India, just independent kingdoms.
Lumbini is a UNESCO World Heritage Site with a religious park that has been glacially developed by the Nepal government since the 1970s. While the master plan envisions considerably more building in the park's Monastic Zone, it's gained enough recognition that some Buddhist tour groups include it in their itinerary. In the park, no shops, restaurants, or hotels are allowed.
Most of the park is composed of monasteries and temples built by nations with Buddhists. While there, we visited the ones from Germany (there are some Buddhists there apparently), Vietnam, Thailand, Myanmar, China, Korea and Cambodia. The visit was a crash course on the basics of national architectural styles. My favorite was the Cambodia one.
It has a fantasy look to it, with a dragon tail around the perimeter. The inside has a huge Buddha shrine and murals on the walls, along with many decorative flourishes. Surprisingly, white light-switch covers are prominently placed on the murals, as if some petty building inspector mandated it. You would think they've figured out a more discreet way to operate the lights.
Another favorite was the German one, which had outside statues depicting Buddha's life. There is an emaciated one representing Buddha when he reputedly became a walking skeleton because he ate so little to eschew the material life.
After his near-death existence, Buddha concluded the best way to live is the "the middle path" and not go to ascetic extremes.
The Maya Devi temple is where Buddha is thought to have been born and is adjacent to a square pool.
Solid archaeological work confidently dates some of the ruins to the third-century BC. The ruler Ashoka constructed a series of at least ten pink-sandstone pillars in his massive subcontinent empire during this time. One is here with inscriptions on it, including a tax break for Lumbini. Thus, it is not surprising that Ashoka converted to Buddhism during his reign. The pillar was lost until 1895 when a team of Nepalese archaeologists uncovered it.
While there, at dusk, some pilgrims were chanting prayers.
Between the Maya Devi complex and the monastery zone is a long canal with a lustrous gold statue of Baby Buddha midway.
At the end of the canal is the eternal peace flame.
On the other side of the Monastic Zone, there is the Peace Pagoda, which looks more like a Buddhist stupa. This pagoda is one of over seventy built after World War II by the Nipponzan Myohoji Order of Japanese Buddhist monks.
While at the Peace Pagoda, we were the only non-Nepali tourists among many nationals.
Our knowledgeable and enthusiastic guide was Raj Kumar Yadav. We highly recommend him. He can be contacted at [email protected].
When it was dark, we left to our hotel.
Final Thoughts
In this case, my reaction to our trip is simple. The Nepali people were always polite to us and hard-working, including the millions who work abroad in the construction and hospitality industries. The country is improving, but still poor economically, but very rich culturally.
Each part of the trip was exceedingly interesting, and we didn't have enough time for any place we visited. Even more, there are so many other places in Nepal we would like to see, which is amazing as it is only the size of Iowa (but with a strikingly different topography).