Introduction
We were traveling above the Arctic Circle on the Norway coast and witnessed non-stop scenic landscapes of towering mountains…
…sweeping fiords…
…and splendid flower and rock formations.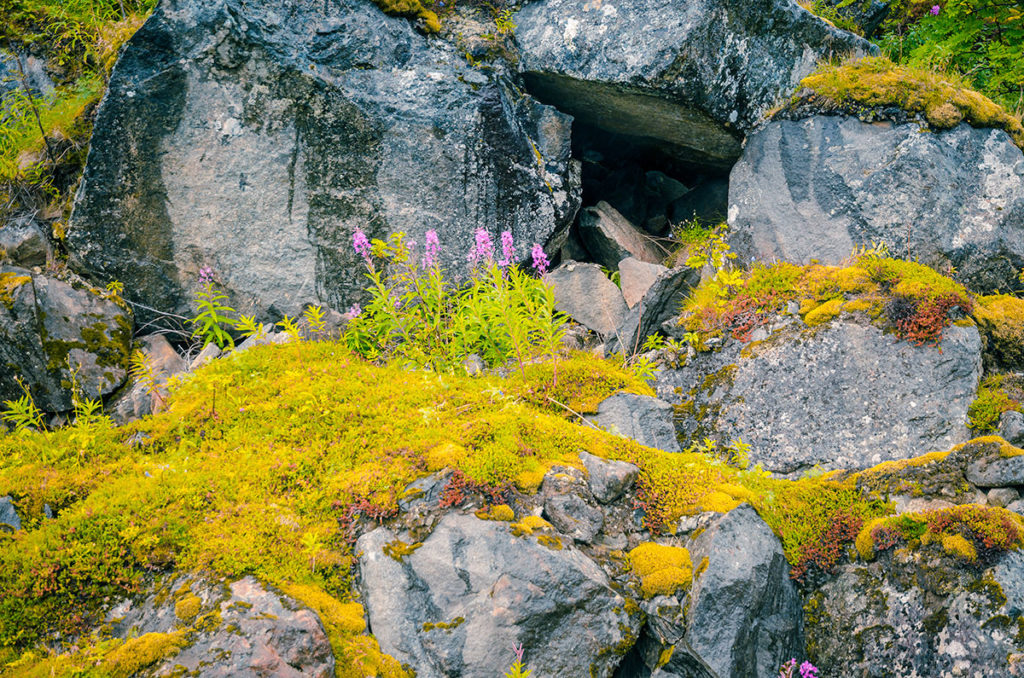 We were inspired to hike the mountains and chose Justadtinden on Vestvågøy Island. It started well, trekking up the mountain.
After an hour, we were separated and had no way to contact each other. I returned to our car by the trailhead and waited hours for Khadija to return. Finally, I called for a rescue squad to search for her. Continue reading to find out what happened.
Our Story
Khadija, my wife, and I spent three weeks in Norway, Sweden, and Finland in August 2018. A majority of the time was in the capital cities, but we were fortunate to have a week on the Norwegian coast driving from Tromsø to the Lofoten Islands. The drive was one of the most spectacular ones in my life, which is saying something as I have traveled for decades through stunning landscapes.
We flew from Stockholm to Tromsø and spent three nights there. The following day we drove the coastal route to Henningsvaer in Lofoten, using ferries from Sommarøy to Senja Island and from Senja Island to Andenes. After two nights in Henningsvaer, we drove to Reine and stayed there for two nights.
Going back to Tromsø we stuck to the highways (no ferries). We left Reine 9AM, had lunch in Svolvaer, dinner in Narvik and arrived in Tromsø at midnight. It was not as nearly as scenic as the coastal drive.
Background
During the last ice age, Norway was covered by a thick sheet of ice that shaped the country upon its melting. The result was the islands, mountains, and fjords that now give the country its distinctive character. Norway, part of the Scandinavian Peninsula, shares most of its long, eastern border mostly with Sweden and some in the north with Finland and Russia.
The Norwegian language is Germanic and is mutually understandable with Danish and Swedish. It has three extra vowels than English: Å, Æ, or Ø. Å is pronounced as 'aw' in 'yawn'. Æ is similar to the vowel in 'bad'. Ø is similar to 'eh' position like 'met'. In my two Norwegian posts for this trip, I usually use these Norwegian letters but sometimes resort to A, AE and O.
Tromsø
Tromsø is the biggest northern city in Norway with a population of about 70,000. It is far from everything — 350 kilometers (220 miles) north of the Arctic Circle and 1,700 kilometers (1,050 miles) from Oslo. Usually, places so far north are quite cold and often snow-bound for some of the years. This is not the case with Tromsø because the Atlantic Ocean Gulf Stream warms the Norwegian coast. Throughout the year, the temperatures range from -7 to 16 degrees Celsius (20 to 60 degrees Fahrenheit). When we were there, people mostly wore light coats during the day, as were these apparently long-lost friends.
Tromsø's city center is on Tromsøya Island, connected to the mainland and the airport by a bridge and a tunnel. Being so far north, the days are very long in the summer and short in the winter (which helps see the Northern Lights or aurora borealis). The University of Tromsø, the world's northernmost university with an enrollment of about 17,000 students, has a campus outside of the center city.
We spent three nights in the city, which was probably a night too long. We easily saw the center city in a day, where we walked by the water checking out the boats and several modern buildings.
The Tromsø Cathedral was built in 1861 has over 600 seats. It is Norway's only wooden cathedral and the focal point for the central city.
The characteristically-Scandinavian, modestly-adorned cathedral interior is dominated by the altar with a painting of the resurrection of Christ and stained-glass windows designed by Gustav Vigeland (more on him in the next post).
The Arctic Cathedral was constructed in 1965. The cathedral is best known for its unique shape, a series of massive triangular chambers made up of eleven panels on each side.
We did not see the interior because it was closed for some reason.
The small Polar Museum is located in a former Customs House. The collection focused on polar expeditions which Norwegians played a significant role (Roald Amundsen led the first expedition to the South Pole and the first expedition verified to be the North Pole) and pre-"Save the Seal" Arctic hunting.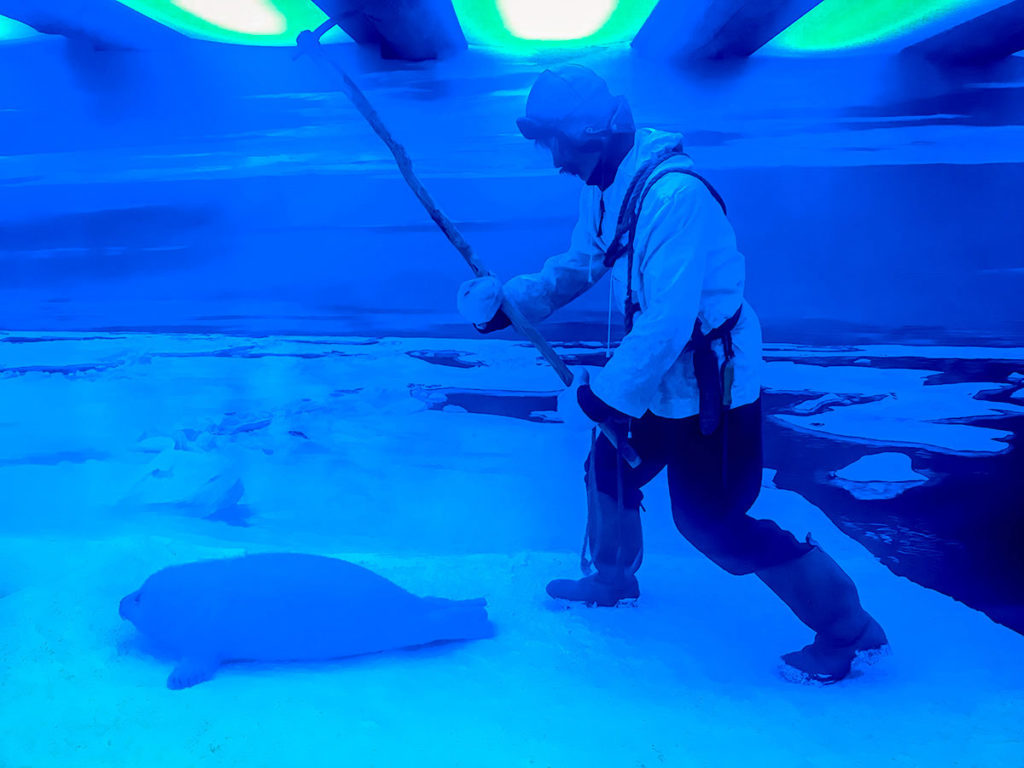 It was a bit stodgy and cramped with mostly dioramas with old farms, hunting and ship implements. Most of the descriptions were in Norwegian. However, we found it well worth the hour we spent.
Our highlight of Tromsø was taking the Fjellheisen cable car to Storsteinen, on a ledge of a mountain over 300 meters (1,000 feet) above sea-level. The views of Tromsø were memorable.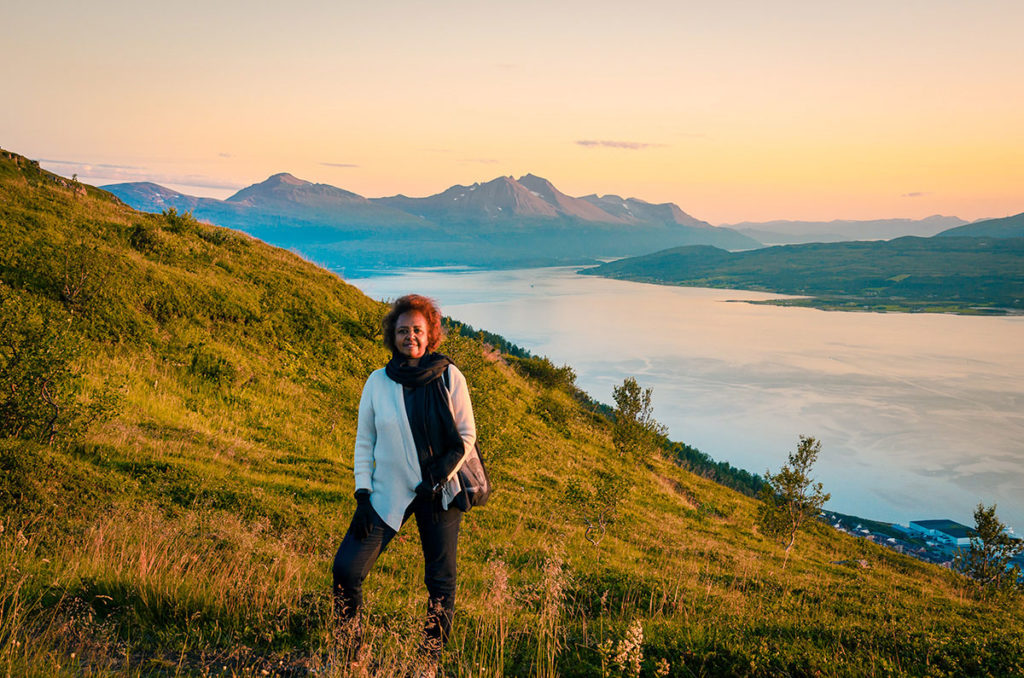 We arrived at about half an hour before sunset when the light was warm and horizontal.
We were mesmerized by the sun slowly dipping below the mountains behind Tromsøya Island.
Sommarøy and Hillesøya
Sommarøy and Hillesøya are small islands close to Tromsø with only a few hundred residents. We leisurely drove to them one morning.
We greatly admired the uncluttered and natural environment including the inlets…
…the mountains and birdlife…
…and the cliffs and large rocks.
Drive to Lofoten Islands
We left Tromsø and drove again on road to Sommarøy until we reached Brensholmen, where we caught the ferry to Botnhamn on Senja Island.
Senja Island is the second biggest in Norway with a rugged and sparsely populated Atlantic coast. It looked like a place that would be good to hole up for a few days and explore the wild and mountainous terrain. The first three pictures in the blog narrative were taken in Senja. Here Khadija gave us her initial impressions of Norway.
We continued to the fishing village of Gryllefjordon to catch the ferry to the town of Andenes on Andøya Island. We waited over an hour to board the ferry, so walked in the intermittent rain to admire the local architecture.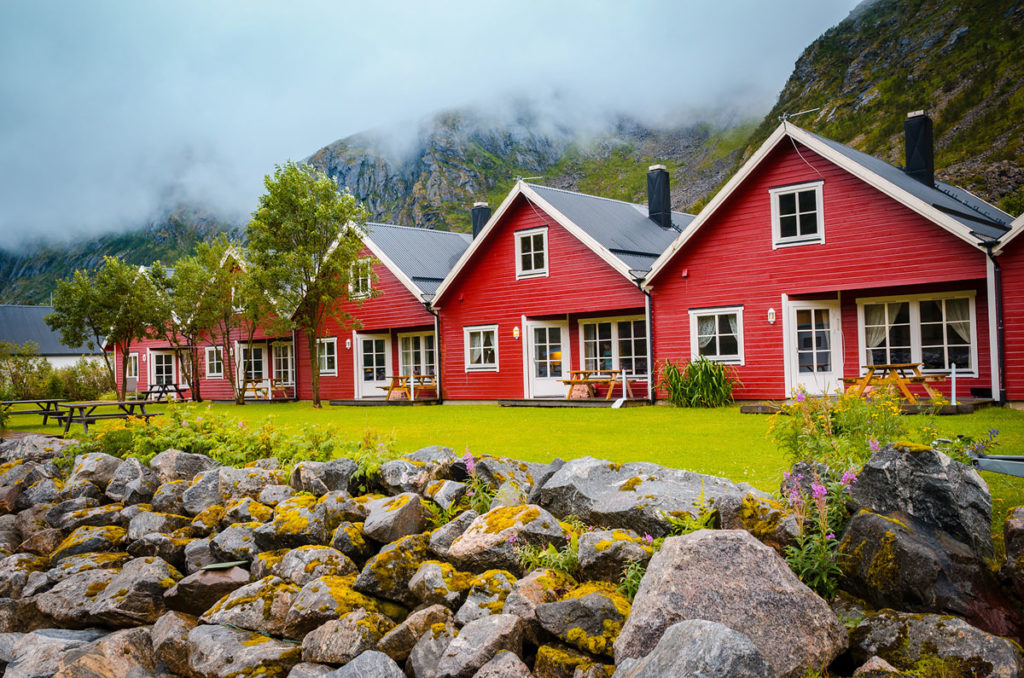 We went into a grocery store by ferry and met a Somali couple who immigrated to Norway over a year ago. They still were struggling to learn Norwegian. The woman was dressed in a dark jilbab with tennis shoes. Despite the long covering, she was cold as she probably had insufficiently warm clothes underneath and still had not acclimated to this far-north environment. Khadija, knowing their language, spoke to them about the difficulties of assimilating. They came here to escape the dangers in Somali and to provide a better environment for their children. What was interesting, they immediately recognized Khadija spoke like a northern Somali. Even though she grew up in Nairobi, her family roots were from northern Somalia and her community kept the regional accent.
Our ferry was much bigger than the one between Sommarøy and Senja.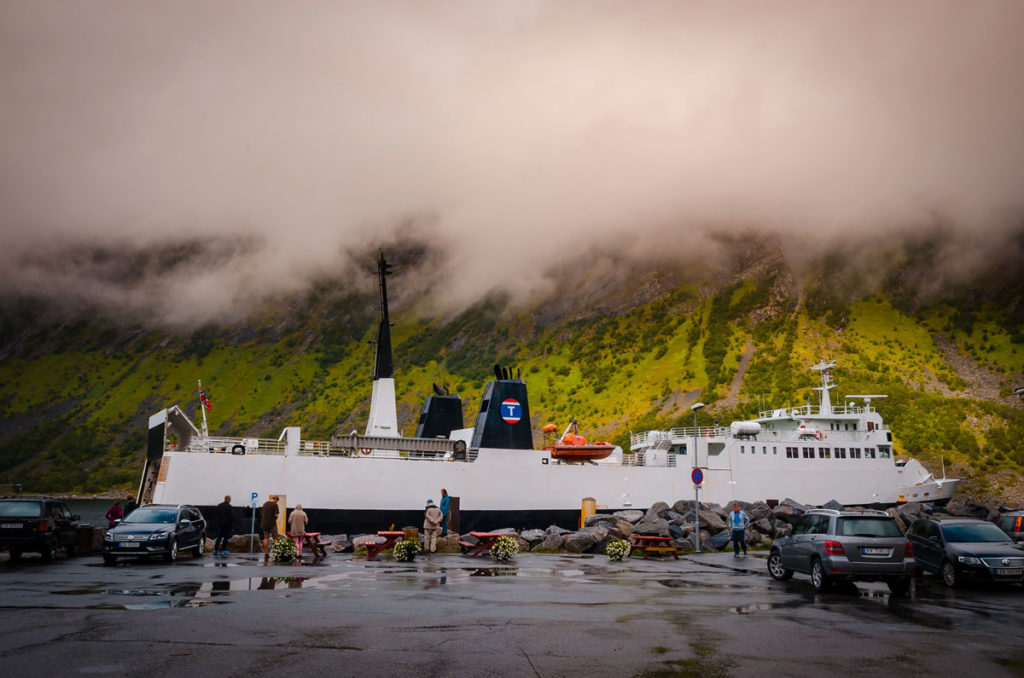 It took over a half-hour to board the passengers and cars. We paid the fare on the ferry but read that in July it was necessary to buy tickets in advance. The ride was over an hour and a half. The most interesting part was the continual battle of the sun rays trying to pierce the clouds above the open sea.
After we left the ferry, we drove on the coast road of western Andøya Island. We were impressed by the massive mountains in the early evening light.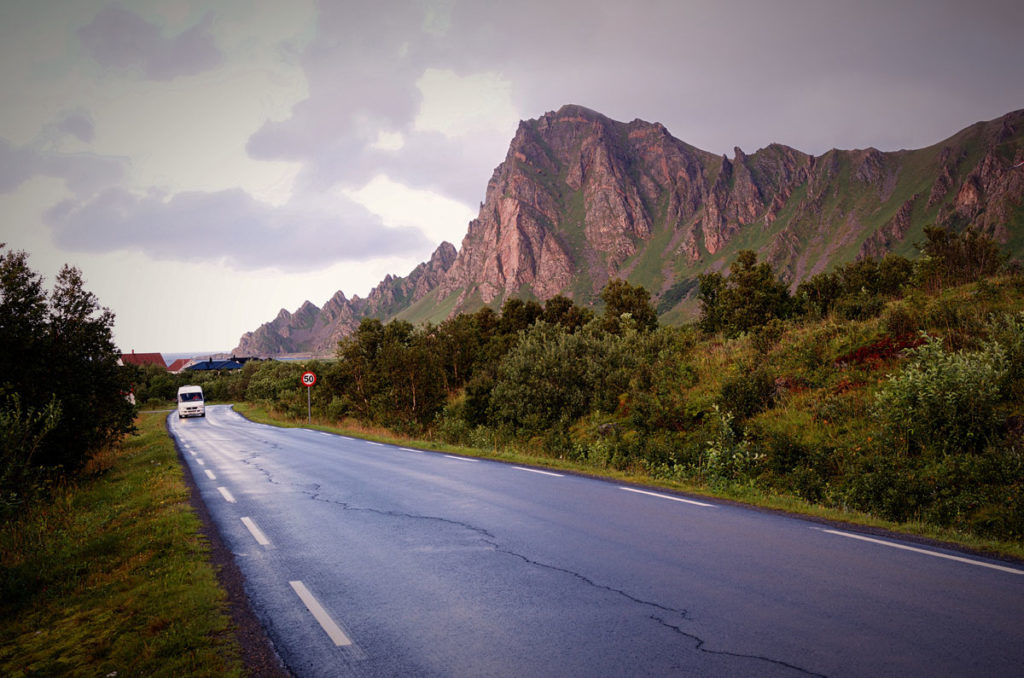 There was a stretch of a particularly jagged mountain ridges.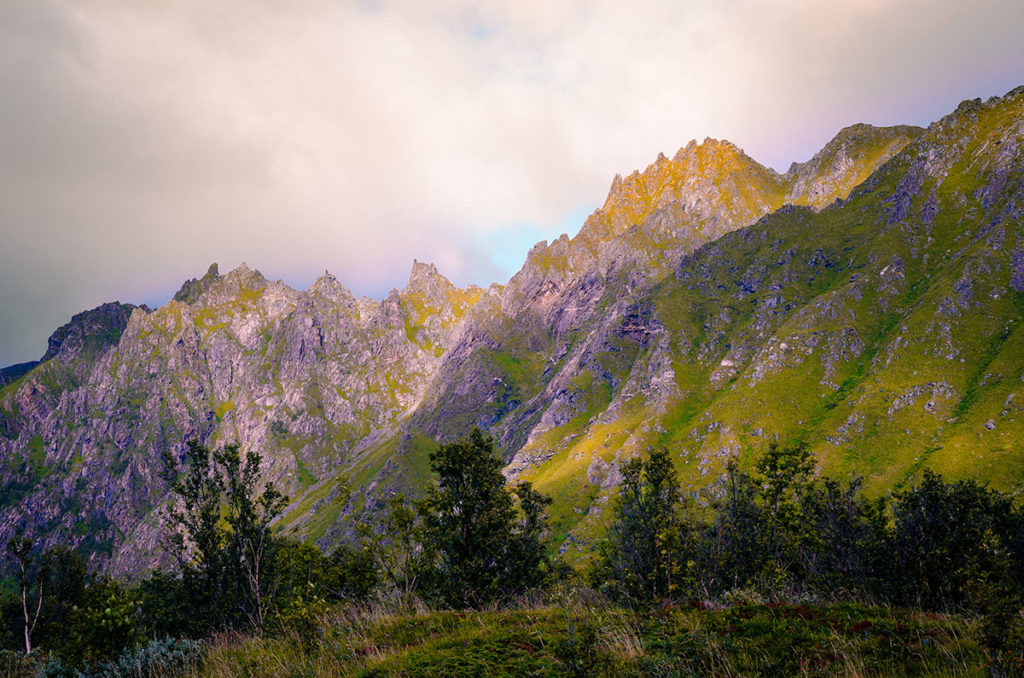 We passed what looked like a barn or an abandoned building with a "Street Art Cookbook" mural.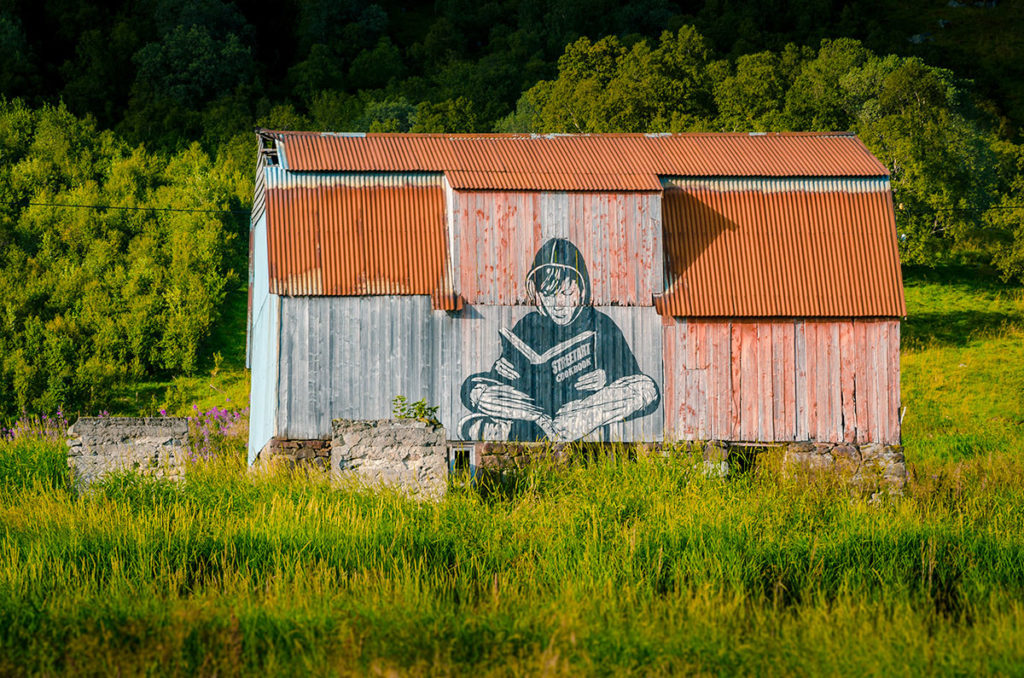 We continued driving for another four hours as night crept in, winding around mountains and through many tunnels. Finally, we reached Henningsvær, our destination for the night.
Lofoten Islands
Lofoten Islands are north of the Arctic Circle and known for their sheer mountains, large fjords, diverse birdlife and fishing settlements. The archipelago stretches from the southern part of Hinnøya Island to Moskenesøya Island. It is connected by Highway E10. The narrow southern stretch below Svolvaer is the most popular part for tourists.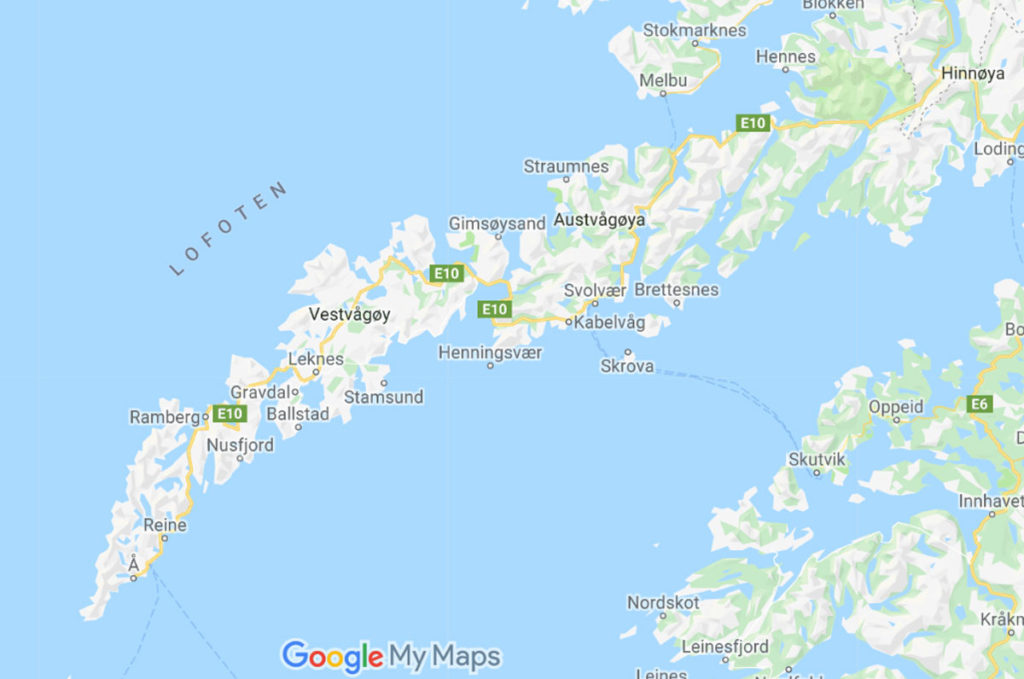 The archipelago is about 175 kilometers long (110 miles). The volcanic islands are actually the tops of a partially submerged mountain range. It has been continually occupied since the Vikings. For centuries the economy was essentially only fishing, primarily for cod and haddock. Visitors started coming in the late 1800s and eventually, tourism became an important source of revenue.
We first stayed two nights in Henningsvær, then two nights in Reine.
Henningsvær
After a long drive, we were quite happy about staying in the fishing village of Henningsvær, the best preserved, traditional Norwegian architecture we saw on the whole trip. (The lead photo of this post is Henningsvær.) The town, situated in front of the Austvågøya Mountains, is picturesque with colorful buildings surrounding the harbor.
Even though the village is small, we spent a couple of hours checking out the shops, cafes and homes. One shop attracted us with the white husky dog outside.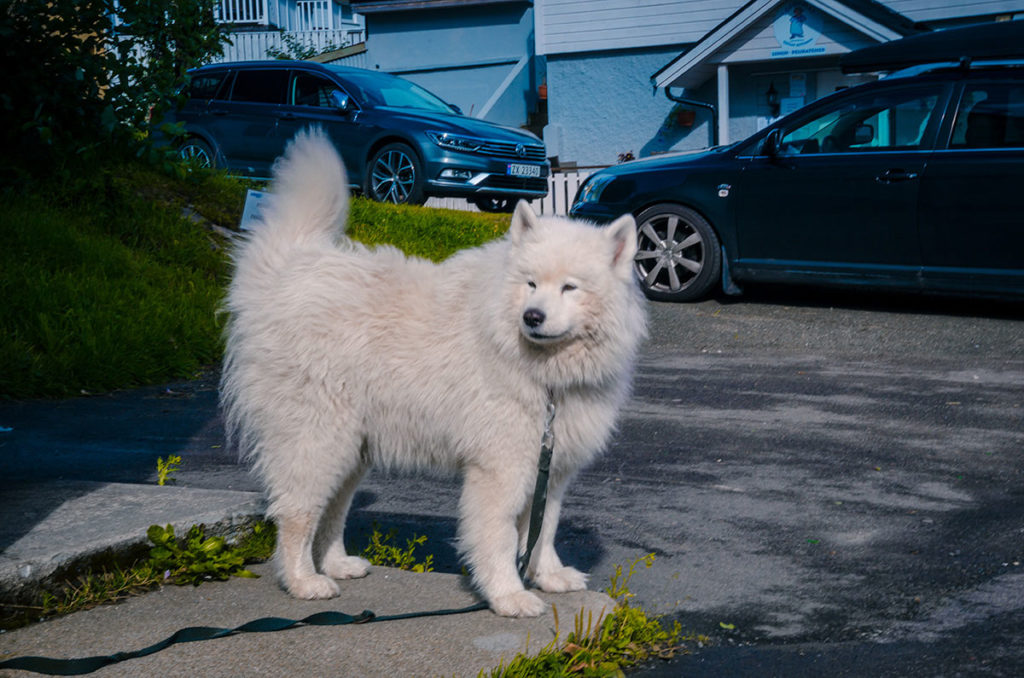 We went in to see what breed the dog was. The lady-owner told us it was a Samoyed Husky, a graceful breed that is impervious to cold. We ended up buying seaweed soap, one of our few purchases on the trip.
There were a mountaineering outfitter and guide who had a bright logo on their building.
In the same building was a coffee shop, playing traditional blues music, with great window views.
We stayed in the Henningsvær Bryggehotell and ate two dinners in its excellent restaurant specializing in locally sourced ingredients. My first one was cod stockfish which is unsalted fish dried outside for months on wooden racks. It is rehydrated before cooking. My fillet was cooked with onions, garlic and other seasoning and served on top of vegetables. It tasted fine but similar to the cod I have eaten before. However, I have limited discernment in fine differences in fish, so I may not have appreciated why it is so popular around the world.
For the other meal, I ate whale steak for the first and probably only time in my life. Wait, don't think I should be exiled to Dante's Inferno! The waiter assured me that whales were hunted in a sustainable fashion and it was the un-endangered Minke species. Norway and Iceland are the only countries in the world authorized for whaling. Japan also hunts whales, ostensibly only for scientific research. Anyway, it was a thick steak that tasted more like sinewy beef than fish.
We read warnings to be careful on the narrow roads. We should have listened more closely. When leaving Henningsvær, we were driving on a very narrow two-lane road, fairly close to the edge. A car came from the opposite direction and our rear-view mirrors collided.
We stopped, but the other driver did not. The mirror did not come off completely. I wedged it back in place which it remained for the rest of our trip. Hertz charged us a hefty $2533 to fix it and some scratches on the bottom of the front fender. Fortunately, I charged with my Chase Sapphire Visa Card which reimbursed me 100%.
Reine
We took a leisurely three-hour drive from Henningsvær to Reine. On the way, the weather was constantly changing.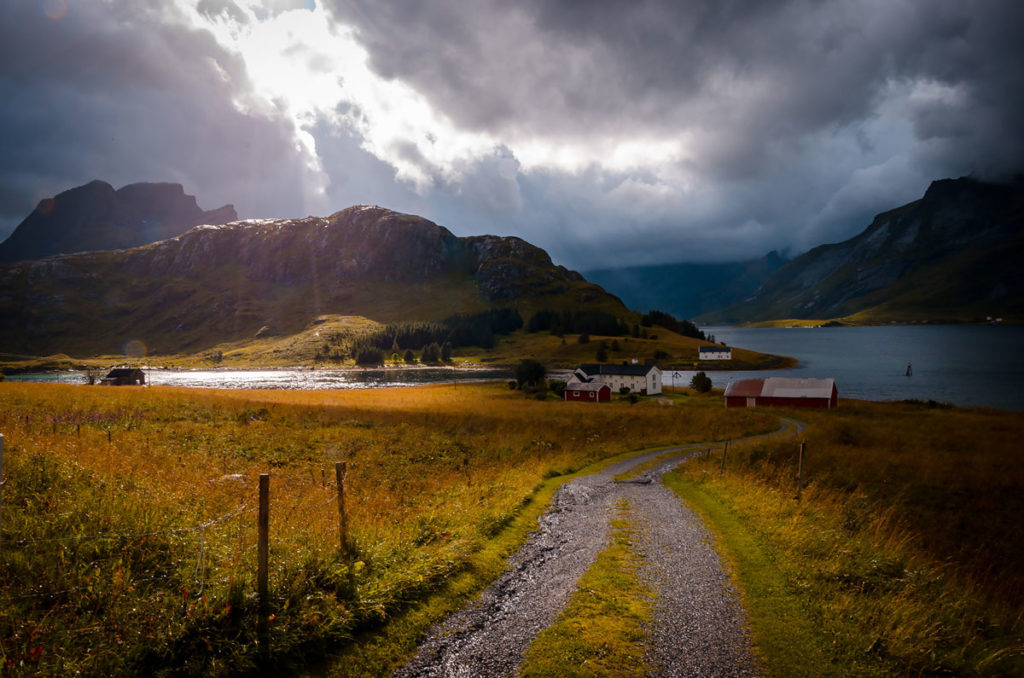 Reine, on Moskenesøya Island, has a population of just over three hundred people but is a major tourist destination for outdoor activities and dramatic views.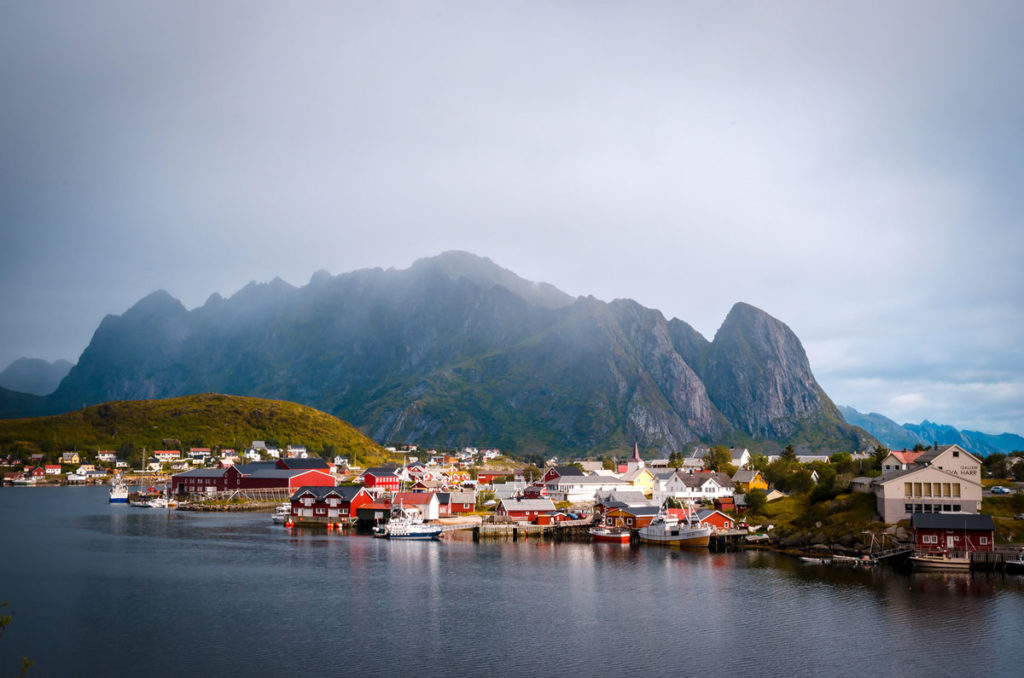 The mostly red and white buildings are nestled between imposing mountains and a quaint harbor.
The village and surrounding area are full of Rorbuer cabins, a Norwegian traditional type of seasonal house built on land, but with the one end on poles in the water, allowing easy access to small fishing boats.
We stayed in one of these, which added to the feel of being in a fishing village.
Almost everywhere we turned our head, there was something to marvel, including streams running down gigantic mountains…
…drying cod stands…
…and stacked kayaks.
An interesting excursion we took was to ferry ride across a bay to the miniscule village of Vindstad, on the same island of Moskenesøya. The windswept and rainy area was peaceful and refreshing to walk through.
We passed a few scattered houses, some being renovated…
…a tiny cemetery…
…and a lake…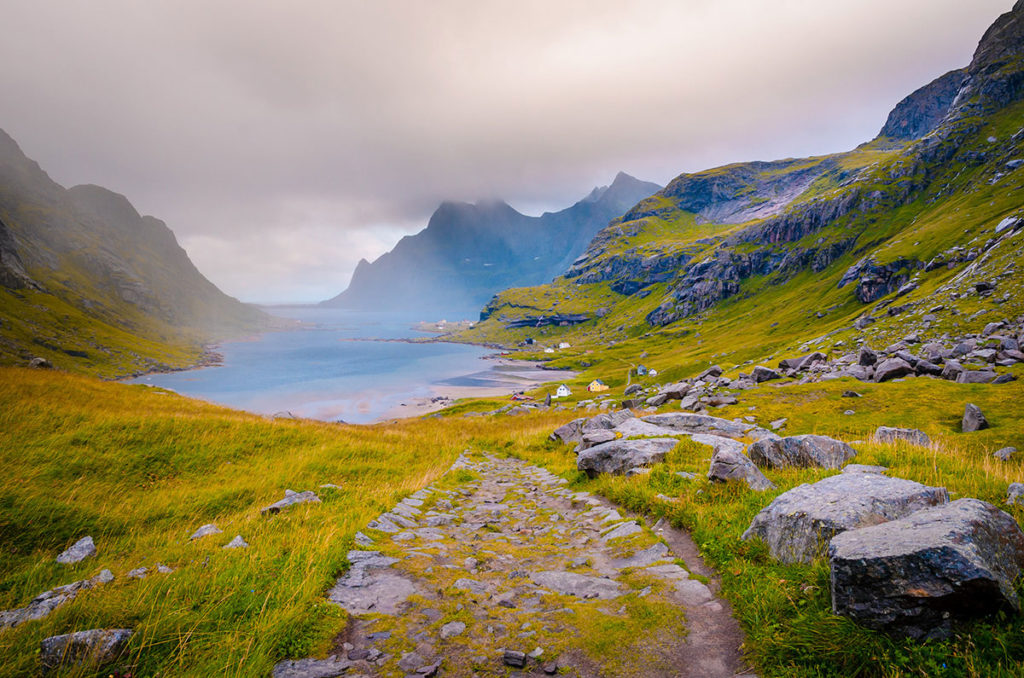 …up to the top of a ridge, where we had a terrific view of Bunes Beach.
We then carefully walked down the slippery, steep slope in the unceasing, strong wind.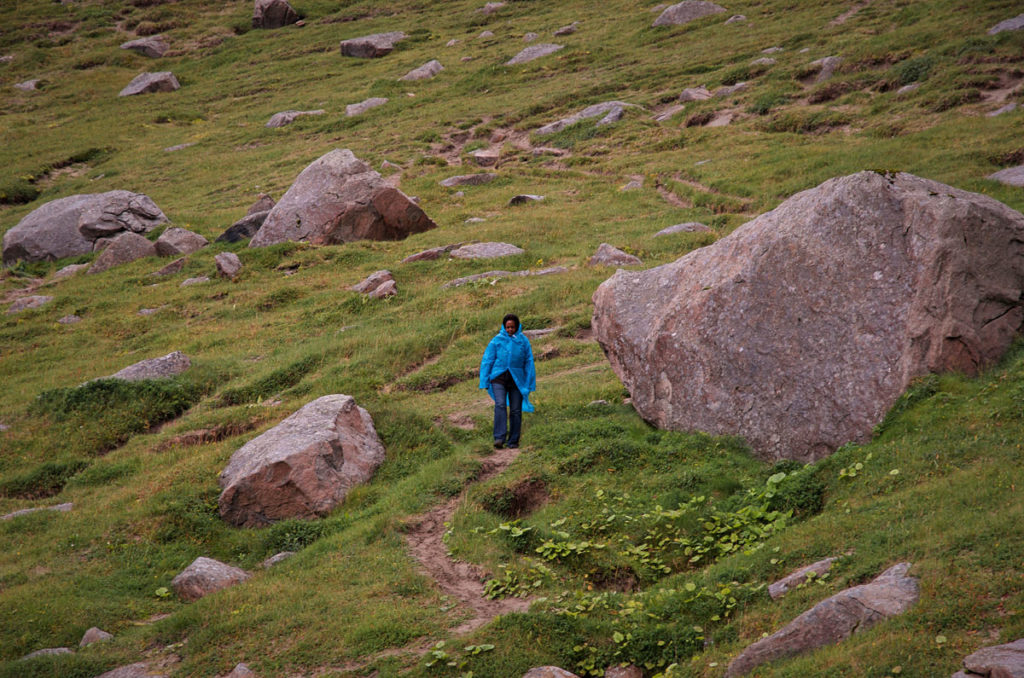 We observed others walking on the beach during low tide, some of whom had set up camp to stay for the night.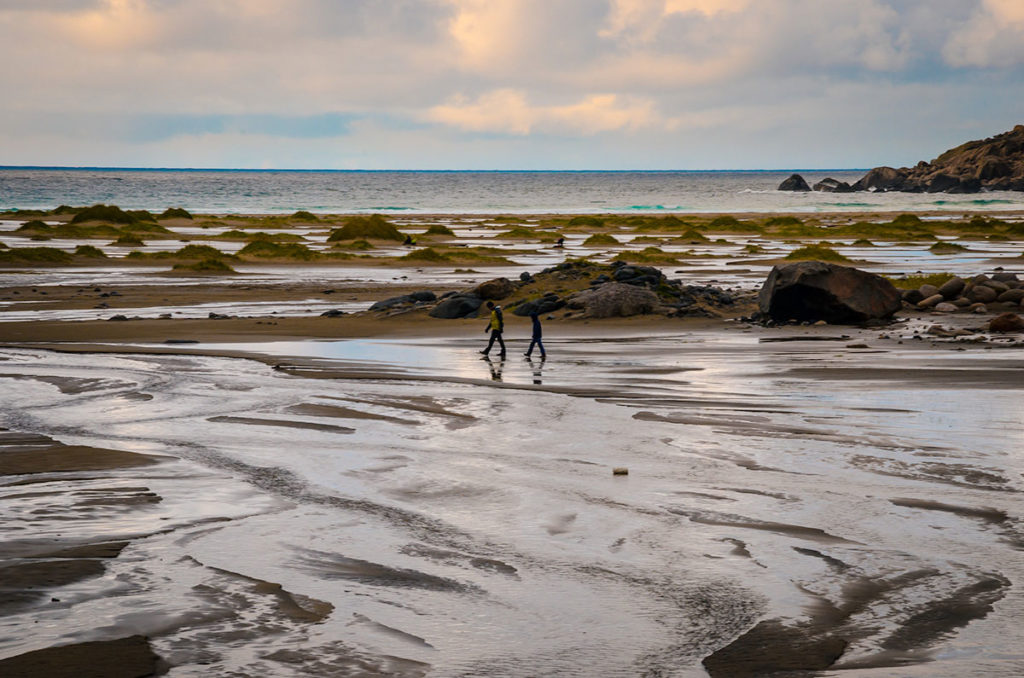 It was our last activity on Lofoten. The next day we drove to Tromsø.
Tribulations on the Mountain
Remember, at the beginning of this post, I mentioned that Khadija and I were separated on Justadtinden Mountain and I called for a rescue squad to search for her. Well, here is the cautionary tale.
We wanted to experience the outdoors, so we decided to take a moderate hike for a few hours. We chose Justadtinden (740meters/1770 feet), the highest peak on the eastern side of Vestvågøy Island. We drove there from Henningsvær. It took about an hour and we parked the car in a lot next to the trailhead. Next to where we started was a tall cell tower. For the first hour, we walked through boggy stretches up a gradual incline. I was ahead of Khadija but kept her in view.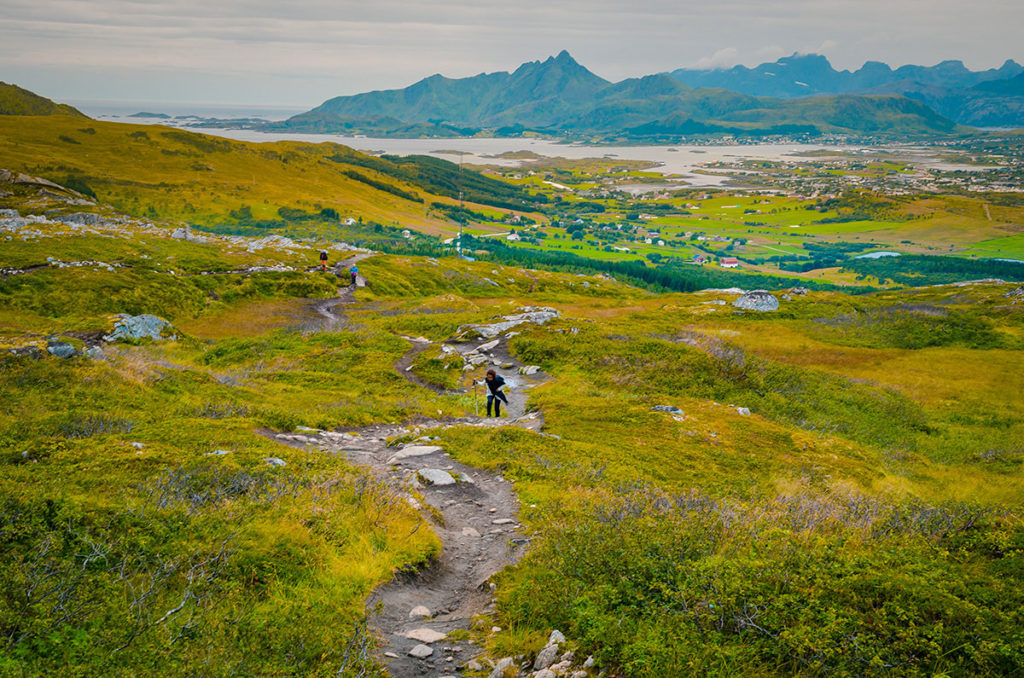 The only other hikers around were a couple who came to pick berries
The higher we went, the colder and windier it became. Also, it was raining more frequently. We decided to skip going to the top but I wanted to go to an intermediate ridge to get a 360-degree view. I took off on what looked like a short jaunt. I walked around a pond, scrabbled up a small cliff, arrived at the top, and snapped a few pictures while battling to stand in the wind.
I came back down where I thought Khadija and I had last been together. However, she was not there! She must have become tired of waiting for me. Warning #1: Do not separate without clearly communicating how to meet later.
I thought my short expedition would take about ten minutes. It probably exceeded a half-hour. Warning #2: Pay close attention to time.
I looked everywhere. I did not see her and eventually hiked back. Neither of us had working cell phones on us, so I could not contact her. Warning #3: If separated, carry phones or walkie-talkies to contact each other.
I thought she would have no problem returning as it was mostly downhill and she would eventually see the cell phone tower. I returned to the car and was ready for a well-deserved lecture. To my shock, Khadija was not there. I did not see how I could have passed her but reasoned maybe I did. I sat in the car for about an hour and still she had not descended.
On a hill above the parking lot, I saw a building that looked like a restaurant. I drove there, as it would have taken about 15 minutes to walk. It was a catering hall and a wedding ceremony was about to start. Outside groomsmen dressed in light blue tuxedos were chatting. I explained my situation and one of the guys understood me well enough. He used his cell phone to call the police. Once connected he gave his phone to me. The dispatcher spoke English well and asked me a number of questions, including what hotel we were staying in. The wedding was starting and the man told me to leave the phone on a chair outside when I was finished. The dispatcher advised me to wait longer before calling a rescue squad.
I drove back to the parking lot. While I was waiting, a few hikers returned to their cars. I described Khadija and asked them if they had seen her. All replies were negative until the last one. He saw her as he was going up to the summit. He told Khadija she was going the wrong way and she turned around. He did not pass her on the way down. Warning #4: Pay attention to the terrain and know where you are going.
I became considerably more worried. She could have slipped into a ravine. If injured and immobile, she could develop hypothermia while stranded for the night in the rain, wind, and cold.
I drove back to the catering hall. The phone was still on the chair. For some reason, I was not stopped by a password but I had to figure out how to call the last number on this Android phone (I have an iPhone which works differently). Fortunately, I was able to find the number and call. The dispatcher said they would send a rescue squad.
I went back to the parking lot and in about 20 minutes, the 5-person rescue squad came. I described what happened and they took off. About 15 minutes later, they returned to the parking lot and told me she had made her way back to the hotel. I was greatly relieved but totally confused.
I drove the hour back to the hotel and Khadija was sitting in the lobby in dry clothes. She had returned to the parking lot and did not see our car. Apparently, she arrived when I was in the catering hall. Warning #5: Think about how the other person might interpret what is happening.
She spoke to two German men in their late twenties who just finished the hike. They did not see me and offered her a ride to the hotel. When she entered the hotel, the clerk informed her that the police had called for her. She called back and said she was safe.
Luckily nothing serious happened, but we did use the time and resources of the Norwegian rescue squad and police. I feel incredibly irresponsible because I knew better, as I have hiked since I was a child growing up in Colorado. I threw caution to the wind, as I thought it was a relatively short hike in a wide-open area. Warning #6: Never underestimate Mother Nature.
Final Thoughts
We especially liked the rugged outdoors of Norway. We plan to come back someday. We would need weeks, as the area is large with a lot to see. Also, as it is frequently overcast, I would need to schedule additional days to wait for weather favorable to photography.