Introduction
For years, a group of us discussed hiking the Inca Trail. We did not know much except it went over high mountains in the clouds.
We finally made it and found we would share the path with local folk.
We discovered it is just as hard going down as up.
We lamented that everyone could not finish.
When we made it to Machu Picchu, we agreed it was worth the effort.
Our Story
Remarkably my wife Khadija, our friends Steve and Nick, and I coordinated our schedules for the Inca Trail hike from April 28 to May 1, 2018. Steve had travelled with us the previous two weeks through Bolivia and Peru and returned home after this. Nick met us in Cusco and continued with us to Lima.
The focus of this post is the experience of the amazing hike on the Inca Trail. The trail ends at Machu Picchu, the magnificent "lost city" of the Incas only "discovered" a century ago. This post does not discuss Machu Picchu except celebrating it as a wonderous site after our strenuous four-day hike. There are hundreds of online sites and books with extensive information and stunning photography of this sacred place, so I did not feel the need to supplement it.
Background
History
There are multiple trails that the Incas took to Machu Picchu, but the famous trek today is a specific path with a special history. The Inca Trail leads through the mountains, the jungle, and a number of significant archaeological complexes and sites. The Trail was a pilgrimage for the Incas in the 1400s that led to Machu Picchu and had sites for ceremonies and rituals honoring the gods and mountains along the way. Hiram Bingham, an explorer on a quest to find the Lost City of the Incas, stunned the outside world when he found magnificent Machu Picchu after centuries of disuse. Bingham came across the Inca Trail in 1915 and soon realized that he had found a route to Machu Picchu.
Trail Description
We had to use a local company to secure a hiking permit for specific days. The government caps the daily number of people on the trail to 500, including porters and guides who outnumber the visitors. We engaged Andina Travel for the permit, guide and porters. They were professional in providing us with information and a good crew, plus spoke English well enough. We were on the four-day hike starting on Kilometer-82 (a point on the nearby railway line between Cusco and Machu Picchu) close to Piscacucho village. Others start on K-78 at the Chilca rail-station or the K-88 train station by the Inca ruin of Qoriwayrachina.
According to the chart, our hike was 30 miles (48 km). Many online sources state it is 26 miles (43 km). Perhaps they are starting at K-88. My research did not find the exact point where the trail ends and Machu Picchu begins.
The camping sites, mountain passes and the main Inca ruins we visited were:
Day 1
Piscacucho – starting point
Qorihuayrachina ruins – passed by, did not see from the trail.
Llactapata ruins
Huayllabamba (Wayllabamba) campsite
Day 2
Warmiwanusca – "Dead Woman" Pass #1 (13,800 ft – 4200 m)
Pacasmayo (Pakaymayu) campsite
Day 3
Runkurakay – Pass #2 (12,900 ft – 3900 m)
Sayacmarca and Conchamarca ruins – next to each other
Phuyupatamarca – Pass #3 (11,900 ft – 3600 m)
Winnaywayna ruins – passed by, did not visit
Winnaywayna campsite
Day 4
Intipunku (Sun Gate) overlook (8,900 ft – 2700m)
Machu Picchu (7,900 ft – 2400 m)
All places have variations in their English spellings. Some spellings break names into two. There are other campsites which are used. For example, we could have camped near Phuyupatamarca instead of Winnaywayna.
We went in late April, as it not as busy as a month later. It only rained a few times and flowers were starting to bloom.
The National Institute of Natural Resources (INRENA) closes the trail in February because of heavy rains. This is
also when they perform annual maintenance such as clearing the trails and picking up garbage.
Guide and Porters
Our informative and charming guide was Michelle Delgado.
We highly recommend her. She made sure everyone was doing well and knew the history of every site we visited. She speaks English very well and is fluent in German. If you want a guide for anything in the area (e.g. Sacred Valley), you may contact her at [email protected] or WhatsApp at +51-943-652-479. You can request your tour company to use her as your Inca Trail guide.
Porters carried our gear, food and tents. Everything we gave them was accessible only at the nightly campsites. A few times I wanted to change a piece of clothing, but it was not possible as it was packed away. The porters have a weight limit of 25 kg (55 lbs). They used to carry more but had accidents such as falling backward off the side of a mountain. They are usually on the small side, but always strong and agile. They march up the hills with few rest stops, often with a mouthful of coca leaves.
Incredibly they run down the trail while the hikers are carefully planting each step. The porters all spoke Quechua and were men. I read there are female porters, but I did not see any with the other groups. Their ages range from around 20 to mid-sixties. One of our guys was Hermogenus, then age 63, who had no problem keeping up.
Photography
Like everyone, I wanted pictures to document our adventure. I encountered a few issues. First, I had a solar-light charger for the batteries of my iPhone, which is my backup still camera and my main video camera. For some reason, the charger did not work and I could not recharge. I had to carefully conserve the charge and use it sparingly. Second, I did not have access to my tripod except when we camped, as the porters had it into their combined load and it was too heavy to carry by myself. Third, the skies were mostly overcast and often foggy, thus less than ideal for vista photography. However, occasionally the sun would shine through and I could nab a shot.
How Hard Is It?
I could not find the success rate of finishing the trail. My guess is most do it, somewhat because, after the 2nd day, it is easier to finish than go back. The reasons for not finishing are lack of physical stamina, digestive problems, and insufficient acclimation. Concerning the last item, a person could take Diamox which is for altitude sickness. Nick took Diamox and also chlorophyll pills bought over-the-counter. He did not have the benefit of two-weeks of acclimation like the rest of us. I ingested a dose of chlorophyll that Nick gave me on the third day. It may have helped, but so did the coffee in the morning. Steve and Khadija did not take anything for the altitude. Steve took Advil on a preventive basis. This is probably a good idea, as it reduces inflammation with usually no side effects.
I found the hike taxing, especially the second day going up Dead Woman pass. However, I saw no one who looked physically exhausted. In fact, there was a woman who looked well over 70 who steadily went up and down with her two walking sticks. Khadija and I hiked in Nepal a few months before in the Annapurna range. Based on this experience, we were convinced we could walk up steep steps all day. When I was tired, I concentrated on the next step as a type of meditation and did not think about the remaining distance. Going down was difficult in maintaining balance and enduring stress on my shins and knees.
Day 1
Our tour company picked us early in the morning from our hotels. They made several stops on the way, picking up our guide Michelle and supplies. We then drove from Cusco to Piscacucho (K-82) in about two hours. By the time we arrived, it was around noon and others were unloading and milling around. We eventually estimated there were twelve other groups and they all had more than our number of four hikers.
Eventually, we entered the outside waiting area as Michelle did whatever necessary for us to proceed.
Michelle took our picture at the Trail Sign.
We did not know it, but someone else was also taking our picture. After we finished, in the market in Aguas Calientes, they found us. It was worth their effort as we bought two 8" x 10" copies.
After years of talking about it, months of planning and weeks of acclimation, we finally started by crossing a bridge over the Urubamba River.
For the first few hours, the trail was mostly dirt with a gently upwards slope. We often passed people who lived in this area, including those playing soccer.
We eventually arrived at our first substantial Inca ruin area. Llactapata and Patallacta are very close together and are sometimes mentioned collectively as the Llactapata ruins. They were discovered by Hiram Bingham on the same trek as when he found Machu Picchu. It is believed the Incas grew crops here. This settlement probably supplied Machu Picchu with food.
Llactapata is a smaller ruin at a higher elevation that was only thoroughly mapped in 2003. Bingham, when he first made a surface exploration of the site in 1912, documented that it was possibly where an Inca chieftain built a home. This post's opening photo shows our approach to the site. I was still full of energy and scaling the walls.
Patallacta is below Llactapata and includes sinewy terraces.
We did not walk down to it. Manco Inca Yupanqui burned it down in 1536 to keep the Spanish from following his rebellious contingent. The Spanish initially installed him as a puppet emperor, but he eventually founded the Sapa Inca state and fought the Spanish. His life was the stuff of legend and he had intermittent success against the Spanish. He was eventually assassinated in this mountainous region.
We walked more as the afternoon progressed and enjoyed the mountains and valleys…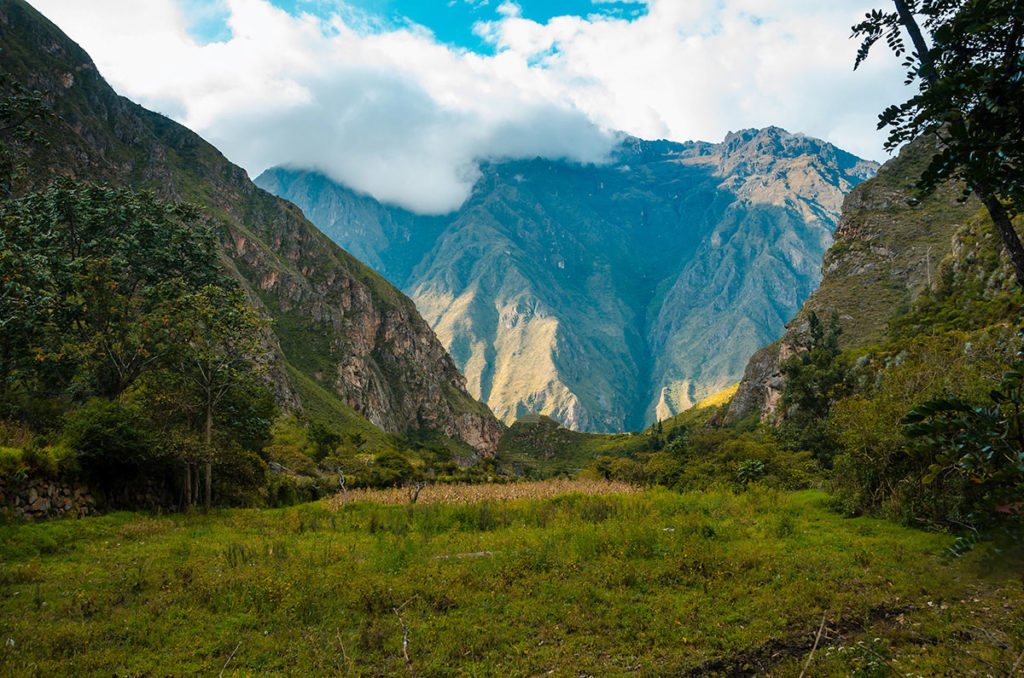 …and the streams we crossed on bridges.
At dusk, we arrived at our campsite called Huayllabamba. There were a few houses surrounding the flat area for our two-person tents.
Our cook whipped up some healthy stew. There was an outside bathroom up the hill we used. We fell asleep early but had to put on extra clothes to keep warm.
Day 2
We awoke before 6am. By the time we had breakfast and organized ourselves, it was about 7:30am. At a distance, we could see porters from the other groups trudging up the hill.
We were not good at leaving as early as possible. We should have, as it is cooler in the morning to hike. Unless it was raining, we were generally hot because of our exertion and the warm daylight temperatures.
Today was our long hike up to the highest pass of Warmiwanusca (13,900 ft – 4200 m). It is also called Dead Woman's pass because it looks like, with some imagination, a woman looking up to the sky. It may indirectly reference that one may feel dead after making the ascent. The hike was basically one step after another for hours.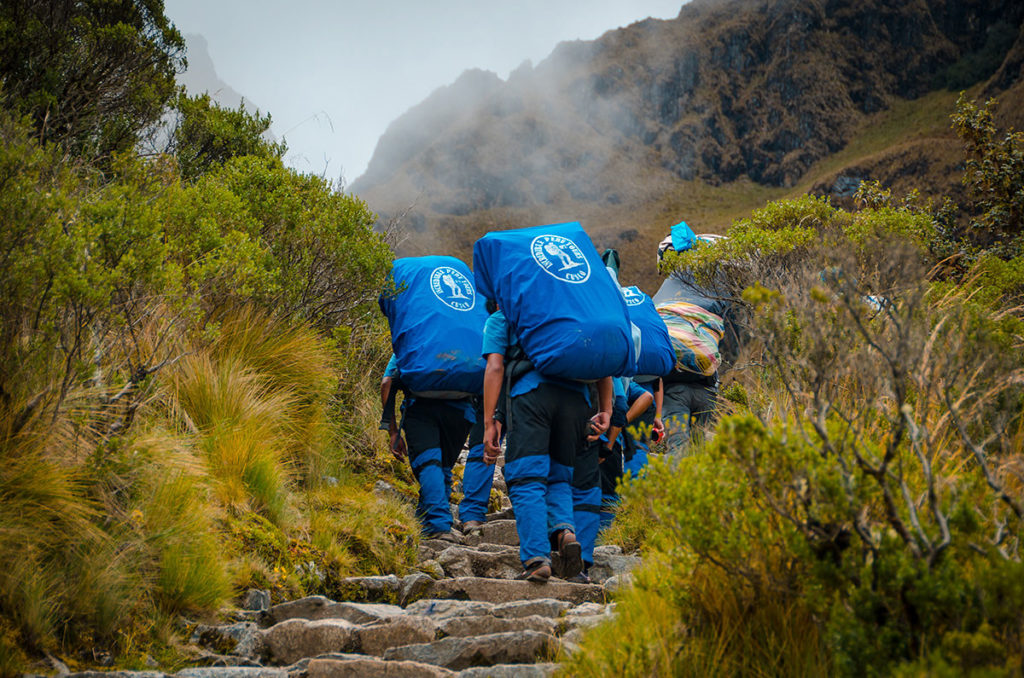 At one point, there was an overlook everyone used as a rest area and Nick and I posed for a picture.
Most of the time we were in the open. Sometimes we would go through tree-covered areas…
…and sometimes a tree would be in the path.
Occasionally, there would be a break in the mostly-cloudy sky to see peaks and distant mountains.
While the Andes, with their massive vertical ridges, were undoubtedly impressive, there was beauty in the moss-covered rocks we passed.
All four of us walked at our own pace. Michelle accompanied Khadija most of the day. While I was taking a rest near the top, a porter came by playing the pan flute. He probably reached the top and took a break walking down.
The steps remained steep to the very top. Khadija was still in good spirits despite exerting so much energy.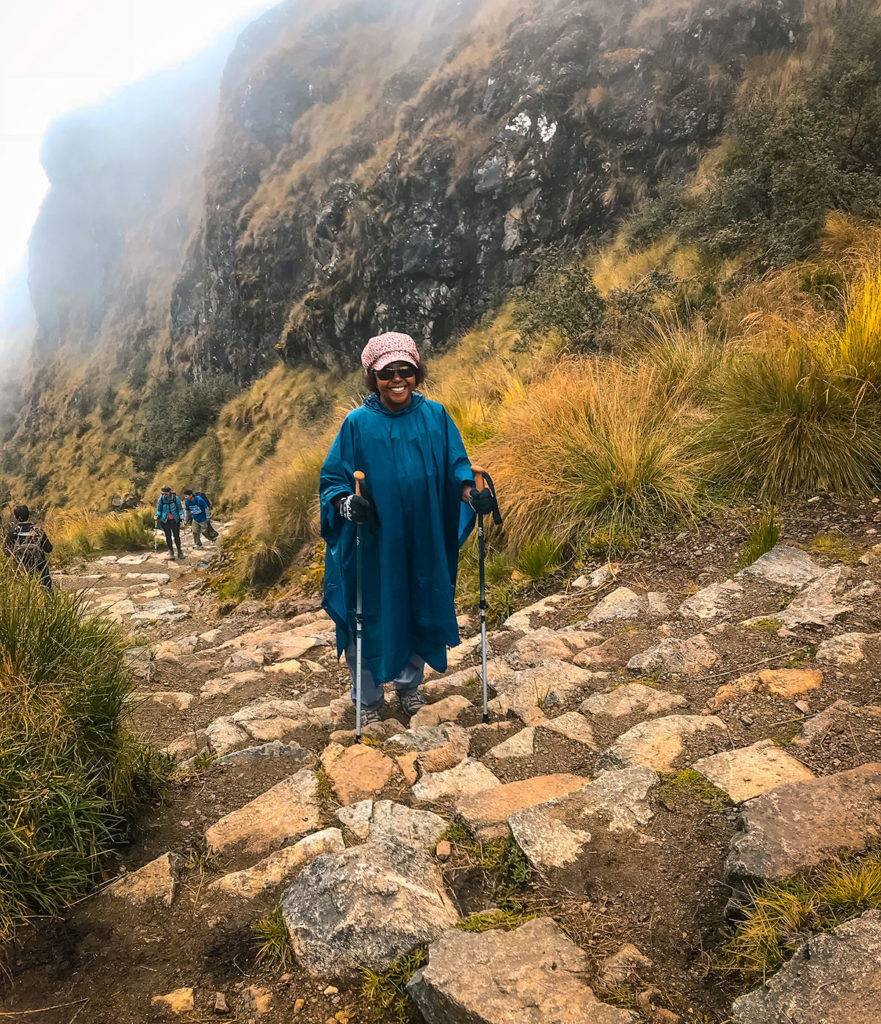 I waited a little while and she joined me on the top. Even though I am originally from Colorado where there are 58 peaks over 14,000 ft, this was the highest I ever hiked.
The ascent took hours and involved hundreds of steps but if I felt it was doable if acclimated to the altitude.
When we started down the mountain, we realized that this was not the end of the difficulty. We had to be careful walking down the high, uneven steps, in order not to fall or slip. It was rainy and foggy here, so they were especially slick.
The porters were not fazed as they bounced down the trail.
In another three hours, we all made it to the Pacasmayo campsite, nestled between two hills.
Khadija, with Michelle, was jubilant that she made it so far.
Day 3
We started going up a steep climb to Runkurakay Pass, the second one. Halfway up, we stopped at the Runkurakay ruins that are two concentric wall-circles with a smaller rectangular building below it. All other Inca buildings I remembered were square or rectangular, so this was different. As we had been walking less than two hours from Pacasmayo, most of the groups arrived around the same time.
The different colors of the grasses, accented by flowers, were a pleasure to see.
The common belief is that this was a Tambo, a place to rest for messengers (critical for the far-flung Inca empire) and others.
While there, an unlucky woman from Australia had one of her shoes come apart. I always travel with duct tape which we used to bind it. It worked for the rest of her hike.
We have kept in touch and met her and her husband when they visited New York City.
All the groups, with a wide spectrum of ages, continued.
In the late morning, gradually everyone arrived at Runkurakay Pass (12,900 ft – 3900 m).
After walking downhill for a while, we came to the ruins of Sayacmarca.
It is often referred to as a fortress due to its position and single staircase entrance. Water was channelled to it by an intricate canal system from a nearby river. Sayacmarca was not built by the Incas, but actually by their enemies, the Colla. The only weakness of Sayacmarca under Colla rule was the lack of agriculture, which was later rectified by the Incas when they took over the city and established a nearby farm and storehouses.
Up here we could see the valley and mountains over the moss-covered walls.
We also saw a section which could have been an altar with a rock formation that looked either like a dancer or a face.
Directly below was Conchamarca, another Inca ruin.
A short distance away, we rested and ate sandwiches at the Caqquiqocha campsite, which had decent bathrooms. After a brief walk upwards, we easily hiked through a cloud forest with bamboo intermixed with alpine and tropical flowers. Here some of the trails were more-or-less flat, whereas almost everywhere else it was sloped.
We continued to the third and final pass, Phuyupatamarca (11,900 ft – 3600 m). Some of the groups camped here for the night. Nearby were the ruins of the same name.
This site appears to have had some ritual function, including bathing with water from a spring higher up.
From here, Khadija and I walked together for almost two hours and passed a grazing llama…
… and a scenic panorama as the sunlight was receding.
We and most of the accompanying groups stayed at the Winnaywayna campsite. Each group had a small, dedicated terrace for tents. There was a stretch of bathrooms with water on concrete. However, the flushing was insufficient and it was disgusting to use them. INRENA should devise a better system, especially considering this a national heritage site which brings considerable money into the country.
Day 4
We joined almost everyone else and awoke at 4:30AM. The goal was to make the one to two-hour walk to the Intipunku, the Sun Gate, and see the beginning of sunrise over Machu Picchu without people in the complex. We dressed, ate and gathered our backpacks and started our hike in the dark. We went for a whole five-minutes and then had to wait in a line for about an hour until the trail's exit booths were open. The guide of each group had to show their authorization and identify each group member. Then we were allowed to go forth on the last leg of the trail.
We walked at a moderate pace and arrived at the Intipunku steps, which were steep even by Inca Trail standards, but short.
We arrived about an hour past sunrise and celebrated that we made it.
Next to us was a young woman who was sick on a stretcher. She admired the view before she was carried down the hill.
On the way down, Khadija posed for a picture with the legendary city behind her.
As we descended, we passed people visiting Machu Picchu for a day walking up to Intipunku.
Khadija, Nick and I reunited with Steve, who walked at a faster pace in front of us. Michelle proceeded to give us an in-depth explanation of the complex. It had become hot. I was tired, dirty from four days of no showers and frankly a bit stinky. I had a little attention span. The others were not fresh and energetic either. We lasted about two-hours walking slowly and taking advantage of shade whenever possible. In this time, we did see some memorable views of the whole city…
…the huge terraces…
…and the surrounding mountains.
Of course, we took an obligatory picture in front of the fabled peak.
From there, we went to the bus stop to catch one with dozens of others to Aguas Calientes (Hot Waters).
In a short time, we went down a series of switchbacks to the main road.
Some young people walked down rather than pay for the bus.
We finally arrived at Aguas Calientes and found a town built up for the hundreds of people passing through daily while going to Machu Picchu.
We immediately went to a spacious, sunny, high-end Italian restaurant. While waiting for the food, I used the bathroom to wash, shave and change clothes, which made me feel incredibly better. After our meal, we went to the train station and caught one to Cusco.
Final Thoughts
A few days later in Lima, Khadija summed up her experience.
The one thing I would have done differently is after the Inca Trail, I would have gone to a hotel in Aguas Calientes for the rest of the day. There I would have rested and importantly taken a long shower. I would have gone to Machu Picchu as soon as it opened the next day, walking when it was cooler and photographing in the best light.
The four of us went back to Cusco, then Steve left to return home. Khadija, Nick and I went to Lima as described in Peru – Part 3 – Lima.