Senegal has a population of 16 million and is about the size of Nebraska or Belarus. It's over 95% Muslim, but mostly Sufi denominations of Sunnism. The mosques and traditions are very tolerant and promote social harmony, as a result it's one of the most stable countries in Africa, with three peaceful political transitions since independence in 1960. The first president was a Christian and many Europeans live there full or part of the year. This cohesion has kept extremists at bay, even though they are menacing many neighboring countries.
There's a great number of attractions for a visitor such as beaches with colorful fishing boats returning from or preparing to go into the Atlantic. Or a stroll by the charming colonial buildings of Saint-Louis which was the capital of the French colony of Senegal from 1673 until 1902 and French West Africa from 1895 until 1902. Or watching the surfers at Ngor Island. In fact, Senegal has seven UNESCO World Heritage Sites (only South Africa, Ethiopia, Morocco and Tunisia have more in Africa). Everyone I've spoken to who has visited has nothing but superlatives to say about their experience.
Senegal is south of Mauritania, north of Guinea and Guinea-Bissau and east of Mali.
The capital Dakar is the furthest point west on continental Africa and further west than Ireland. A first time visit to Senegal should include Gambia, as it's completely surrounded by Senegal and the Atlantic Ocean.
This was an opportunity for my wife Khadija and I to visit the country and see our friend Giovanie who was stationed in Dakar.
I hadn't been to West Africa in a decade and felt it was time to return. In this trip in November and December 2021, we also visited Mauritania and Gambia.
How Long to Spend in Senegal
We spent ten days in Senegal and felt we got a good understanding of the culture and saw many of the highlights. We didn't see the country south of Gambia and some attractions in the regions we traveled; to do so would've taken another two weeks.
It's a safe country but here, as everywhere you travel, employ basic safety precautions and use common sense to avoid problems. For example, be careful late at night or in deserted streets and beaches.
Senegal, for Americans and others, is affordable although the cost of a rental apartment or a cappuccino in the expat area of Almadies in Dakar is similar to coastal cities in the U.S.
In Saint-Louis, we stayed at the Siki Hotel, located in a completely restored colonial building in the heart of the city. It had a charming courtyard, a very good restaurant and excellent views from the terrace.
While staying in the village of Somone on the Petite Cote, we stayed in Africa 6 Plage Hotel, which we found was a good value.
If you need to be close to the airport, the city of Thies is nearby. We stayed one night in the recently opened Résidences Blue which was clean and provided breakfast.
In Dakar, we didn't need a hotel as we stayed with Giovanie.
How to get around Senegal
I overwhelmingly recommend Youssou Badji, who is both a guide and driver. He's flexible in arranging each day, knows the country like the back of his hand and charges a fair rate.
It's possible to drive on your own in Senegal, but having a driver takes away a lot of stress and is much more efficient. Dakar is on a peninsula and has limited access out, so the traffic is often quite jammed.
In Dakar, we used taxis. There are buses, but we couldn't easily figure out where they go. There's no subway. There's a train connecting Blaise Diagne International Airport to Dakar, covering 47 km / 25 mi, a good alternative to the many bottlenecks in the drive to Dakar.
Senegal has buses, bush taxis and a train line, which can be cost effective cross-country options.
Here's a map of the places we went and ones we'll visit next time.
What Languages to Use in Senegal
Wolof is the lingua franca and the most widely spoken language in Senegal, as a first or second language. Many people speak French. English is spoken by some, especially in the hospitality industry.
Dakar, on the Cap-Vert peninsula, is the westernmost point of the African mainland. It was a village until annexed by the French in 1857, where it became a major trading hub for commercial goods which tragically included enslaved humans. The French were attracted by the settlement's natural harbor and being the furthest point west on continental Africa, shortening the journey to the Americas.
Today it's still a chief African seaport and a bustling city with a metropolitan population of over two million; one in eight Senegalese live there (not counting the diaspora of over two million). It's a place where you can see the industriousness of the Senegalese and a cultural, artistic and business center. We spent three full days seeing attractions and sampling food.
African Renaissance Monument
The massive African Renaissance Monument was finished in 2010 and depicts a man holding his child on his biceps and apparently rescuing his wife by the waist while she is having a wardrobe malfunction exposing a breast. This machismo statue is taller than the Statue of Liberty in the New York Harbor, extending 50 m / 160 ft upwards, and is the tallest in Africa.
The monument was designed by a Romanian architect and built by a North Korean company.
The Mosque of the Divinity with two towering minarets was completed in 1997. From the top of the cliff overlooking the mosque is a dramatic panorama of the Atlantic Ocean. The architecture combines elements of modernism with traditional Islamic design.
Black Civilization Museum
This grand and modern museum celebrates black civilizations in Africa and in the diaspora. It opened in 2018 and the construction was underwritten by a $34 million gift from China. The architecture of the museum was inspired by the impluvium huts (which use a shallow pool which collects rainwater through an opening in the roof) of Casamance, Senegal and the archeological remains of Great Zimbabwe.
In the middle is a towering artistic baobab tree in the circular inside.
The museum consists of four floors. Each level exposes the social and scientific advances spread by African societies. There are numerous traditional items and works by contemporary artists. There was a display of the five, at the time, female African heads of state (from left to right, from Mauritius, Malawi, Central African Republic, Liberia and Ethiopia).
Did you know that a heavyweight champion was from Senegal? Battling Siki is his name.
He won the title in 1922 but lost in his next fight. He moved from France to the United States. On December 15, 1925, he was stopped by a policeman who saw him staggering drunk on 42nd Street, not far from his apartment in New York City. Later he was found lying face down, shot twice in the back at close range, dead at the age of 28. He was initially buried at Flushing Cemetery, in an unmarked grave but his body was repatriated to Senegal in 1993.
The museum has room for approximately 18,000 pieces and some of the galleries are not yet filled. The museum is making a concerted effort to reclaim art and documentation held outside the country, primarily Europe.
IFAN Museum – Mask Museum
The IFAN Museum (Musée de l'Institut Fondamental d'Afrique Noire) is a special place with one of the best African mask and statue collections I've seen, such as this zoomorphic (animal representing a god) mask from Mali.
I highly recommend going here. As a bonus, it's apparently not crowded, as we were the only ones there.
The Island of Gorée was a busy slave-trading center because Dakar is the furthest point west on mainland Africa, so a shorter distance to the New World. This World Heritage Site shows the deplorable quarters slaves were kept and the inhumane way they were treated. The small island used to have around 28 slave houses but all but one have disappeared or turned into private houses.
A typical arrangement was the traders lived comfortably on the second floor of a building, while the enslaved were in cells on the ground level.
Their conditions were deplorable. For example, about 15-20 male slaves were packed in 7 sq m / 75 sq ft, bare, dark and dank cells, chained around the neck and arms. They were usually in there for three months before being shipped out in horribly crowded conditions.
Other small dark rooms under the stairs were used as punishment rooms or to keep young girls and children separately from men for sale and often for the pleasure of the traders.
After the waiting period, the slaves would be taken out, stripped naked and gathered in the courtyard. The buyers and traders would lean over the balcony and observe the slaves and negotiate prices. The torture and indignation didn't end there as they were stuffed into boats and often died from disease or suicide. This was one part of a three way shipping trade, taking slaves to the New World, then agricultural goods to Europe and the last leg was manufactured goods to Africa.
While I cringed seeing how the slaves were treated, it's important to preserve history. Tragically, the names of the enslaved have not survived, though they know many came from the interior of what is now Senegal and Gambia.
This site is accessible by a ferry and has many visitors. Besides the slavery structures, there are colonial buildings and restaurants.
The Village des Arts was started by the Ministry of Culture in 1998 to provide studios for resident and visiting artists. It's located on 4 hectares / 10 acres and has a gallery, cafeteria and a store to help sell their work. It was originally built as dormitories for Chinese workers constructing the nearby Diamniadio Olympic Stadium. We went to every studio where an artist was there. One artist was Tita Mbaye who is passionate about history and theater and whose art revolves around ancient kingdoms of Senegal.
If you take a taxi, be sure the driver knows it's by the stadium and not the similarly sounding place off the Corniche which sells furniture, souvenirs and other merchandise.
In 1964, Dakar was the first destination in the legendary surf film The Endless Summer, where two Californian surfers went around the world to find the best surf locations. They ended up on Ngor Island and put Senegal on the map as a surfing destination.
From when the movie was released to the 1990s, surfing was mostly done by tourists and traveling surfers. This dramatically changed when Oumar Seye of Senegal became the first African surfer to turn pro. He eventually established Senegal's first surf school and helped set up the Fédération Sénégalaise de Surf.
Ngor is a chilled and small island, you can walk from one side to the other in 15 minutes. The locals are friendly and often village children will hang out with the surfers. On cliffs, you can watch the surfers ride the breaks.
There are considerably more rocks today than in The Endless Summer days. Ngor has steadily been building houses by extracting sand from the beaches and dumping rocks in their place.
To reach the island, you can take a regularly scheduled pirogue (fishing boat) taxi or hire one for the short stretch. Besides surfing, there are sandy beaches, many outdoor murals, cafes, bars, galleries and even an obstacle course where soldiers train.
The Pink Lake (Lake Retba) is 50 km / 30 mi north of Dakar and over an hour drive because of vehicular, pedestrian and animal traffic.
In the photographer's gospel, the best light is at the beginning and end of the day when it's slanted and softer. However, for the Pink Lake, the best is in the middle of the day when it's overhead and the strongest. Under these conditions you can see the pinkish (some may say purplish) tint to the water. The water's pink hue comes from Dunaliella salina, a single-celled algae that can tolerate salty environments. In high salinity or intense sunlight, they produce an orange-red beta carotene in such amounts that the lake's color changes.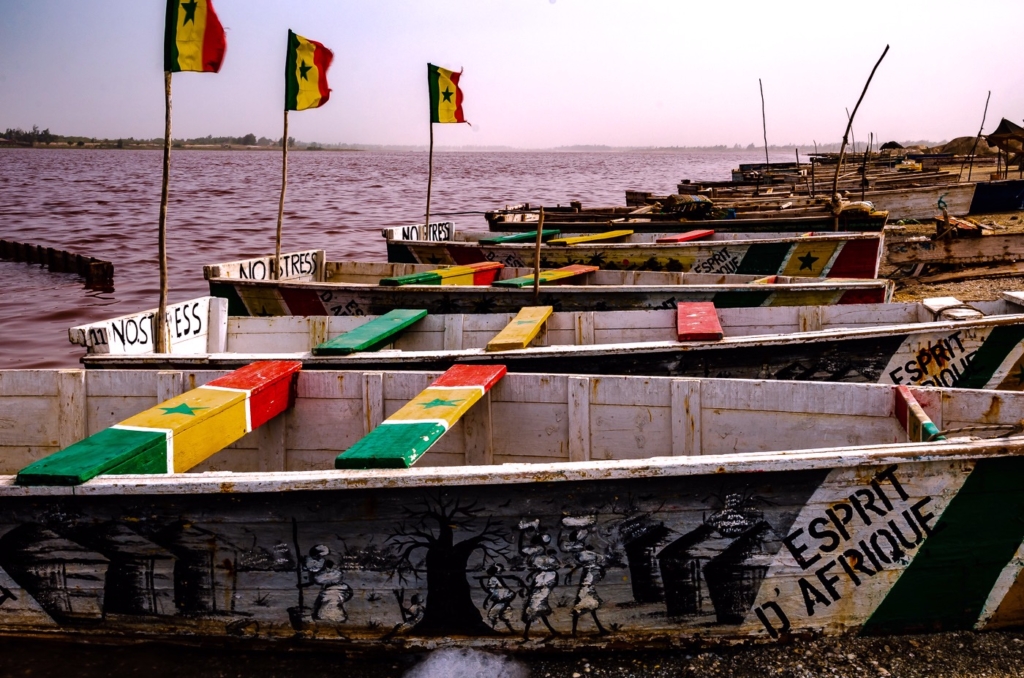 The lake is typically at its pinkest during the dry season (November to June) when there's persistent sunlight and high concentrations of salt.
This location was the last stage of the Paris-Dakar rally until 2009 when it was moved to South America and then in 2020 to Saudi Arabia. Professionals and amateurs compete in a multiday, off-road route in suitable vehicles and motorcycles. Now you can take a ride in one over the sand dunes and on the adjacent ocean beach, which Youssou and I did.
The lake is continually harvested for salt and you often can see men doing the backbreaking work of shoveling it into bags.
Clubs for music on the Weekend
The city's vibrant nightlife is inspired by the local mbalax music. The genre's name was derived from the rhythms of the Wolof sabar drum and was coined by the world famous Senegalese singer Youssou N'Dour (I saw him perform in Brooklyn and what an incredible voice). We were tired, still jet-lagged and had to be at the airport in the morning, so we didn't stay out all night and listen like we normally would.
Saint-Louis is located in the northwest corner of the country and is the oldest colonial city on the western African coast. Saint-Louis was the capital of the French colony of Senegal from 1673 until independence in 1960. From 1920 to 1957 it also served as capital of the neighboring colony of Mauritania.
There are two parts of the Saint-Louis UNESCO World Heritage Site. First, there's Saint-Louis Island in the Senegal River connected to the mainland by the Faidherbe Bridge, designed by Gustave Eiffel and finished in 1865. Second, there's the Langue de Barbarie peninsula between the Senegal River and Atlantic Ocean and connected to Saint-Louis Island by the Mustapha Malick Gaye Bridge.
This small, rectangular island, also known as Ndar Island, has narrow streets as part of a grid layout. Some of the two and three-story colonial buildings have been renovated, while most need substantial work. Two prominent features are the bright colors and metal and wood balcony railings.
It has a similar look to the French Quarter of New Orleans and Cayenne, French Guiana.
There are few cars and the local pedestrian traffic is uncrowded and unhurried.
Saint-Louis Photography Museum has three photo galleries in three buildings and should not be missed. The collection includes the early days of Saint-Louis, African history and contemporary work.
We had a long discussion with Amadou Diaw, who founded the museum and a successful business school, initially from his personal collection.
We spent a couple hours in Guet Ndar on the Langue de Barbarie peninsula, where intrepid fishermen unload their catch from colorful, carefully painted boats known as pirogues.
This was a hectic scene of everyone doing their job.
In the organized chaos, women gather small quantities of fish and sell them on the beach.
Hustling men load the catch into trucks and shipping containers.
Touba and the Grand Mosque
Touba is dominated by the Grand Mosque and you can see the minarets from any part of the city.
The mosque is one of the biggest in West Africa. The architecture is dominated by arches, columns, domes, tiles and colored windows. While the material comes from around the world, most of the labor was done by Senegalese. Most of the geometrical designs were painted on cement while it was drying.
While Youssou and I were talking with local men in the mosque, we were photographed and made a religious gesture similar to an okay sign.
There were relatively few followers while we were there (it was a Sunday and not the main
prayer day on Friday), the mosque has a capacity for 30,000. In September of each year, millions come to Touba for the "Grand Magal" pilgrimage.
Touba's the center of the Sufi Mouride denomination (most of the country follows some form of Sufism), founded by Senegalese Muslim scholar Ahmadou Bamba Mbacke in 1887. His image is seen throughout Senegal on vehicles, walls and clothing.
In this city, we saw many Baye Fall, who at first glance may look like Rastafarians as they often have dreadlocked hair, patchwork clothing and amulets. They all have broad belts which is a sure sign they are a member of this sect under Mouridism. Here's a photo of one Baye Fall man we spoke to while having lunch.
The Baye Fall are named after Ibrahima Fall who was a leading figure in the sect's philosophies. They work as security guards, cooks and laborers for the religious leaders.
La Petite Côte (The Little Coast)
La Petite Côte (sounds better in French than Little Coast in English) runs southeast from Dakar / Cap-Vert peninsula to the Saloum Delta, near the border with The Gambia. It is famous for its pristine sandy beaches, nature reserves and leisure hotels.
In Saly, many French and Europeans live, at least for six months and one day in order to qualify for non-resident tax status in their home countries. It has a variety of restaurants, as well as art galleries, including a no-name one in a former slave house built by the Portuguese where we bought a sand painting.
Lagune de la Somone is a nature reserve on the banks of the Somone River. From the shore and especially on a boat ride, you can see quite a few bird species, including herons, flamingos and pelicans. Local women spend hours bending over and picking up oysters from the shallow water.
We walked to nearby beaches where we saw young men and boys exercising and playing sports, as physical fitness is an important part of the Senegalese culture. Here we spoke to three in-shape guys taking a break to pose for us.
On our beach walk, we also saw this endearing image of children playing in a pirogue.
Mbour has a bustling fish market on the beach, broader than the one in Saint-Louis, while fishermen unload their catch from their pirogues.
Nianing Church is in the shape of a shell and made mostly from local materials. The shape references the seashells on the nearby coast. Architecturally, it's very interesting with five rib-shaped vaults following one another, a high bell tower and a prominent orange color.
Joal Fadiouth – Shell Island
Joal Fadiouth is one town but two villages, Joal on the mainland and Fadiouth, an island made of seashells.
Joal has interesting views of the bridge and women scouring for oysters, but the main thing that stood out to me was the statue of wrestlers, a wildly popular sport in Senegal.
Joal and Fadiouth are connected by a wooden bridge that is off-limits to cars.
When we crossed the bridge, our steps produced crunching sounds from seashells which have accumulated over many years and held together by the roots of mangroves, reeds and giant baobabs. The inhabitants keep the shells from the mussels, clams and oysters they eat to continually fortify the island. Mostly what we saw were women carrying items on their heads, children playing and street vendors selling souvenirs and food.
As the small island is mostly Christian, there are churches and shrines everywhere. Pigs are raised here, which is somewhat unusual as Senegal is almost completely a Muslim nation.
Connected by another short bridge is the cemetery, with a section for Christians and another for Muslims.
We stayed in Africa 6 Plage Hotel and one night they had a terrific performance of acrobats, dancers and drummers.
All I can say is: what energy, what a performance!
This is a private reserve with tame animals and a good place to get a picture with a lion. We didn't visit, because I prefer where animals roam free in large parks such as Serengeti and Kruger.
Places We Didn't Go To (Next Time)
We could've spent at least two more weeks in Senegal, visiting:
Niokolo Koba Park (World Heritage Site) and Dindefelo Falls – plant diversity and large animals including elands, chimpanzees, lions, leopards and elephants.
Bassari Country (World Heritage Site) – terraces, rice paddies, ethnic villages and archaeological sites.
Saloum Delta (World Heritage Site) – burial mounds, bird watching and sport fishing.
Casamance – diverse ethnic groups and religions.
Foundiougne Bridge – West Africa's longest sea-crossing bridge.
Podor French Colonial Fort.
Djoudj National Bird Sanctuary – island of pelicans.
Lompoul Sand Dunes.
See the map of places to visit in Senegal at the beginning of this post for their locations.
Sometimes you have experiences while traveling that catch you by surprise.
We stopped on National Highway 3, between Touba and the Dakar airport, to chat with these two ladies selling vases.
Even though they spoke in Wolof, I thought we were having a typical, friendly conversation. When we left, Youssou told me they said that I needed a wife and they could help find one. They must not have seen Khadija in the backseat or connected her to me. In any case, they must have thought I was looking for something in my life.
We had so many great interactions with local people and saw so much in such a short time. I wish that everyone could visit this special country to also experience the many things it offers!