Introduction
I knew a little about different ethnic groups living in Sri Lanka, including the Sinhalese, who are mostly Buddhist…
…and the Tamils who are mostly Hindu…
…and Muslims, many of whom are descendants from Arab traders.
However, I did not know about the original inhabitants, the Veddas, until visiting the country and meeting them.
Learning about them was typical of our time in Sri Lanka. Every day was a combination of exploration, education and enjoyment.
Our Story
I had just spent two incredible weeks at the 2019 Kumbh Mela in Allahabad, India, the world's largest religious festival and flew to Colombo, Sri Lanka. There I met my wife Khadija and our long-time friends, Peter and Caitlin.
We travelled almost three weeks in Sri Lanka in February and March 2019. Khadija was there once in the 90s, but it was the first time for the rest of us. We concentrated on the interior of the country and not the coast with its many excellent beaches, because we were going to indulge in water-related activities in the Maldives after we left Sri Lanka.
We travelled by train and with a driver in a van or SUV. Our Sri Lanka adventure is described in four posts.  This post covers the initial stretch from Colombo to Nuwara Eliya (2 nights) to Ella (2 nights) to Gal Oya National Park (2 nights).
This was a fantastic road trip which we all will remember fondly.
Tea Country
This part of the journey was mostly in "Tea Country", where some of the finest tea in the world is grown at an elevation exceeding 4,000 feet. Sri Lanka is one of the largest exporters of tea in the world.
The British ruled Sri Lanka (then called Ceylon) from 1815 to independence in 1948. They first commercially grew coffee, but a blight from a fungus decimated the cultivation beginning in 1869. Within fifteen years, tea replaced coffee as the main agricultural export. It remains the top agricultural export and is one of the country's main foreign currency sources. Most tea pickers are women and we saw very few men doing this work.
Colombo to Nuwara Eliya
Deshan (Deshan Sri Lanka Tours on Facebook and @deshansrilankantour on Instagram) was our driver for this segment. He knew the roads well and aptly explained the history of the places we visited and the cultural practices of Sri Lanka.
From Colombo, the distance is only about 150 kilometers (90 miles) to Nuwara Eliya, but it took us about five hours to drive there because of the twisting mountain roads. We were glad we didn't rent a vehicle and do it ourselves because the drivers are aggressive, visibility is low because of the curves, and roads are left-side driving (it is on the right in the US). On the way, we stopped at an overlook to see Devon Waterfalls in the distance.
About two-thirds of the way, we stopped for a late lunch at the Plantation Hotel in Kitulgala. There we saw young men at the edge of the river and it reminded me of something out of Tom Sawyer.
This is where the 1957 Oscar-winning "Bridge of the River Kwai" was filmed. About a kilometer from the hotel was where the bridge constructed for the movie used to be (spoiler alert…it was detonated and destroyed in the movie ending).
Nuwara Eliya
This town is the highest in Sri Lanka (1,900 meter – 6,200 ft) and the most important location for tea production. It is also has the coolest climate in the country. The British founded the city in 1846 as a refuge from the hot temperatures of most of the country. The city is known as Little England because of its history and the many colonial structures, including municipal buildings, hotels and bungalows.
Glenesk Bungalow
In Nuwara Eliya, we stayed in the charming, century-old Glenesk Bungalow (www.gleneskbungalow.com, gleneskbungalow@gmail.com, +94 775 200 696), 20 minutes from Nuwara Eliya, with excellent views…
…and great meals made with home-grown produce. The highlight was our interesting conversations on Sri Lanka politics, history and culture with Khema, whose family has owned the bungalow for decades.
Horton Plains National Park
This UNESCO World Heritage Site is one of the most famous parks in the country known for its biodiversity, scenic views and hiking trails. It is a one-hour drive and 30 kilometers (18 miles) from Nuwara Eliya. The park is a cloud forest and named after a mid-nineteenth century British governor of Ceylon.
We arrived at sunset and layers of fog were in the valleys.
On the side of the road, we saw a buck with half of his antlers missing.
We walked the moderately strenuous loop trail which is almost 10 kilometers (6 miles). It is lovely in the early morning with the warm light illuminating the bushes, ferns and grasses on the hillside. In the afternoon, the highest elevations are often in clouds.
The trail tops off at World's End, approximately a 1,000-meter (3,300-foot) cliff. No one knows where the name came from, but it is easy to imagine this was the end of the civilized world two-centuries ago.
We followed the path as it descended to the tiered Baker's Falls. There was a platform next to it where I set up my tripod for long exposure photos.
West of Horton Plains is Adam's Peak, a tall conical mountain with over 5,000 steps to the top. We had a family friend who is 30-years old and a jogger who climbed it a month before. She said it was difficult and her legs were sore for many days. There are many pilgrims of multiple religions who climb it, so the stairs can be crowded and slow to ascend. Hikers usually start around 2am in order to see the sunrise from the peak. We decided not to do it because of the difficulty and not to wake up so early. However, the next time I am in the area, I will climb it.
Train Ride from Nuwara Eliya to Ella
The train ride from Kandy to Ella is often referred to as one of the best in the world. While it is full of tourists, locals also use it. It is highly photographed, as passengers can hang out of the cars any way they want, no matter how ill-advised.
We rode the stretch from the Nanu Oya Station (close to Nuwara Eliya) to Ella. The sign at the Nanu Ova Station shows the name in Sinhalese, Tamil and English.
Before we left, I spoke with the conductor who showed me the Chinese-made diesel engine and explained the acceleration and braking controls.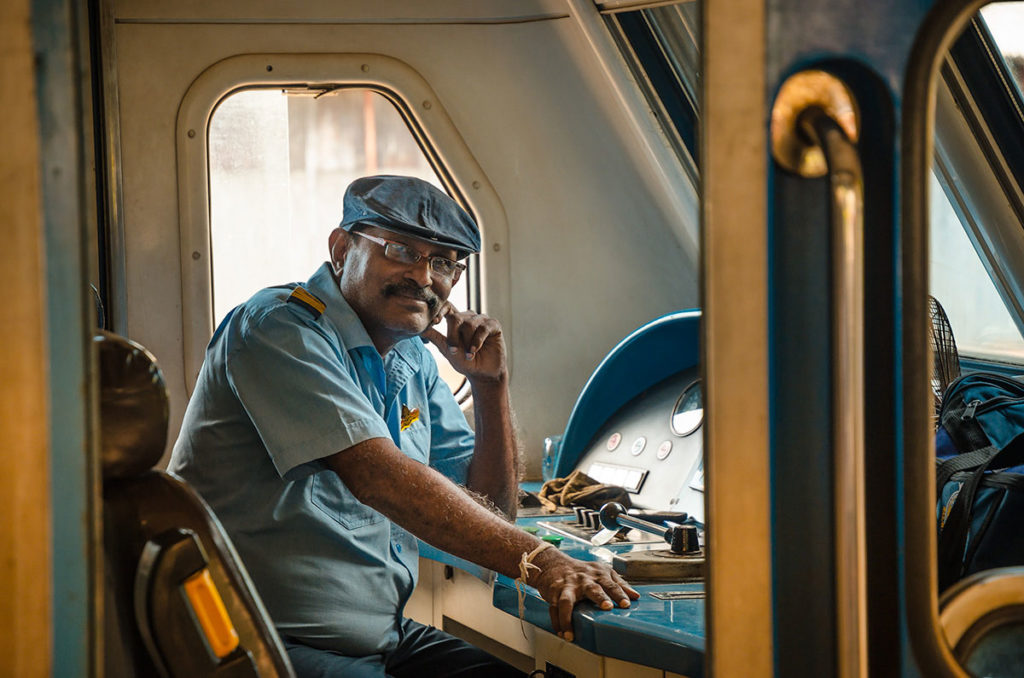 The train passed through a variety of small villages and cultivated lands, including this terraced area for tea…
…and went through mountain valleys and many tunnels.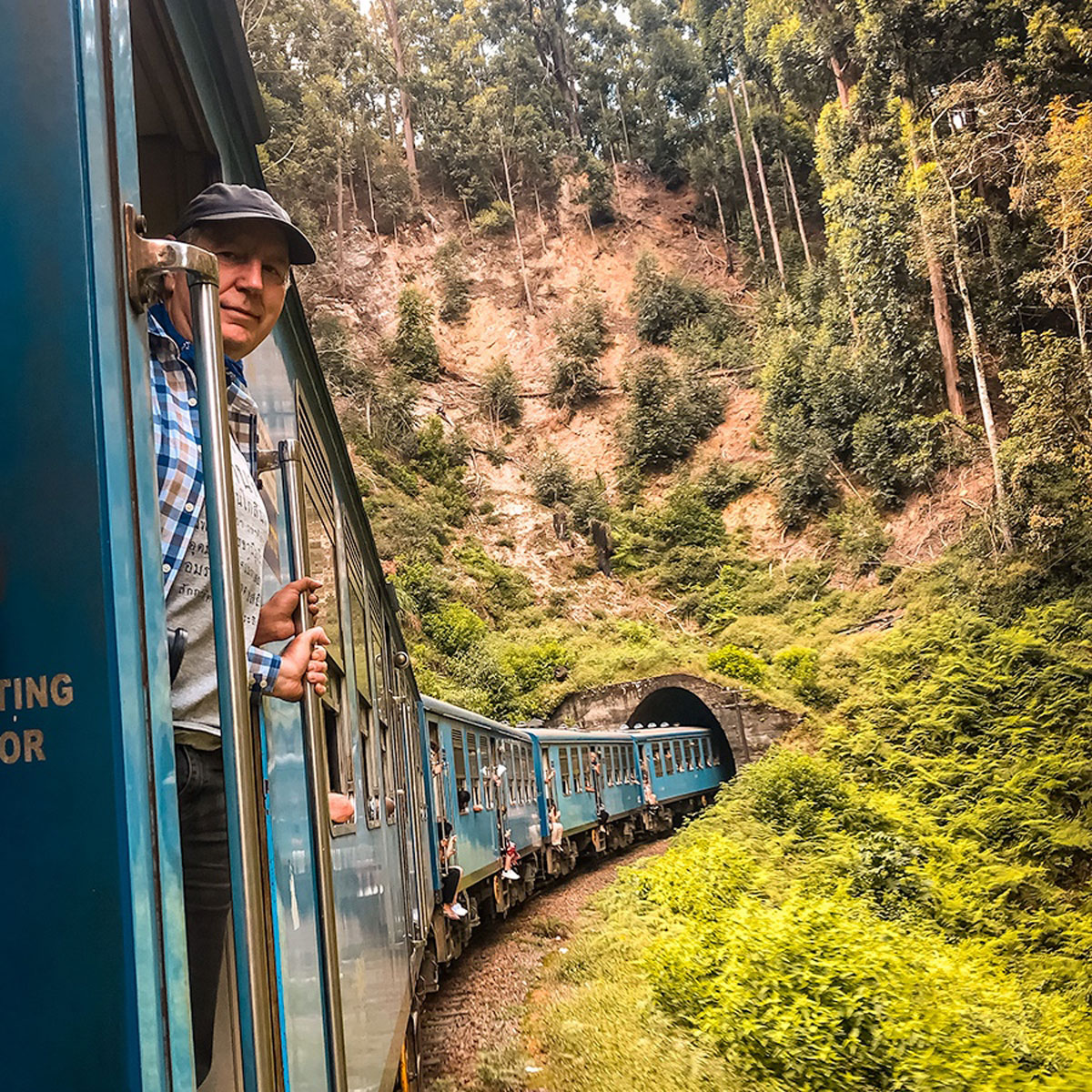 As the train was arriving, departing and stopping at the stations, we were able to wave and greet some of the local folks.
The train had a party atmosphere as many passengers were intermingling while they were not hanging on the outside of the train. Caitlin and I spoke awhile with this young couple, a French man and German woman, who were sitting on the next doorstep.
Ella
Ella started out as a blip on the road but has evolved to a festive tourist town with many bars, guesthouses and homestays. The town is a good place to eat and drink, but not much else. It has grown because it is situated by several interesting sites in the middle of tea country.
Arana Sri Lanka Eco Lodge and Yoga Center
We stayed two nights in this lodge (+94 77 560 3006 and can be booked on many reservation systems) with modern, compact wooded cabins situated on a steep hill with teeming animal life (rambunctious monkeys, colorful birds, etc.) and fantastic sunset views.
It is close to Ella, less than a ten-minute tuk-tuk (three-wheeled motorized taxi)
ride. The married owners are Anna, originally from Germany, and Asanka, a Sri Lankan national. Anna conducts yoga classes in a dedicated room. Khadija, Caitlin and I thoroughly enjoyed our Kundalini Yoga session with her as she weaved asanas (poses) with depictions of the personas of Hindu Gods.
Nine Arch Bridge
The Demodara Nine Arch Bridge is around a 30-minute walk from Ella or a ten-minute tuk-tuk ride and is nestled among tea fields and jungle. This bridge was built about a century ago with blocks and stones, but no iron or concrete. It spans a deep valley and at one end there is a tunnel entrance. It is popular with tourists, some of whom are comfortable with their balance while standing on the edge.
Locals use it as a walking path…
…amd a backdrop for special occasions such as wedding pictures.
The objective of most visitors is to see a train pass.
The trains are scheduled six times daily, but often are not on time. In our case, the train was more than an hour late.
Dhowa Rock Temple
The 2,000-year old Dhowa Rock Temple is known for paintings,…
…statues,…
…an impressive white stupa,…
…and an unfinished cliff image of Buddha carved into rock.
There were many pilgrims in the temple when we visited, including these two boys dressed in white.
We also saw this young novice training to be a monk.
I noticed the color of the Sri Lankan robes were a deeper orange than what we saw in Southeast Asia on an earlier trip. Sri Lanka is a majority-Buddhist country where many devoutly follow the religion. However, we infrequently saw monks outside of the temples, which is quite different than the ubiquitous monks in Myanmar and Laos.
Tea Plantations
In the Ella area, we drove by and walked through tea plantations, noticing the labor-intensive work involved.
Tea can only be harvested by hand, so the pickers remove only the tops of young leaves with a portion of the stem.
Tea plantation workers typically are responsible to pick 18 kilos (40 pounds) per day in 2 bags which are attached to their heads.
When we were there, the pay was Sri Lanka Rupee (LK) 750 ($4.25) plus free housing and sometimes electricity. They were paid LK35 (20 cents) for every kilo above the required amount.
We also went to a factory to see how tea is processed. The best part was sampling it afterwards.

Gal Oya National Park
Our next destination was to Gal Oya National Park which is east of the tea country and central mountains. The drive took about five hours. The park has lakes and marshy areas around sizable peaks.
The park is home to over 30 different species of mammals, including elephants and supposedly bears and leopards which are hardly seen. We constantly saw different types of birds, including peacocks, hornbills and this eagle on the side of the road.
Just the four of us took a boat safari on the Senanayake Reservoir, where we saw herds of elephants and solitary bulls.
This was yet another vantage point to see bird life, such as this heron and egret.
Veddas
In and around the area of the park live the Vedda people, the last indigenous tribe of Sri Lanka. The Veddas predate the Buddhists and have lived in Sri Lanka since the 6th century BC. We went on a nature walk with one Vedda man who showed us traditional ways of foraging.
Afterwards, we went to his home off the road in the forest and met his family and neighbors.
The Vedda population has been in a sharp decline for many years. They may be become extinct as an identifiable group. Most speak Sinhala instead of their indigenous languages which fewer and fewer individuals know. The children attend school and are not focused on learning the traditional culture.
Gal Oya Lodge
We stayed in the eco-friendly and luxurious Gal Oya Lodge (www.galoyalodge.com/) for 2 nights. Our rooms were large bungalows built with local and sustainable materials. The lodge arranged our nature walks, boat safari and Vedda walk. The manager Brent runs an efficient operation and is a fount of knowledge for the park features and interestingly East Africa travel (he is from Zimbabwe).
Next to the lodge is Monkey Mountain, which I climbed after sunrise with a guide.
The climb was only 420 meters (1400 feet) but somewhat challenging as it was slick from the previous night's rain. Accompanying us was the lodge's mascot dog, Arrack, half English Mastiff and half unidentified stray. He wandered on the property one day and has stayed ever since.
Final Thoughts
We were impressed from what we'd seen so far in only a week. Next we went to the Cultural Triangle where we received a crash course in Sri Lanka history and culture.