Introduction
We were impressed by several interesting memorials and temples we saw in Colombo, including this lion statue in front of a stupa…
…the Red Mosque…
…the Hindu temples in Captain's Garden…
…and the statue of the first prime minister next to Independence Memorial Hall.
The biggest surprise was learning about the work of Geoffrey Bawa, Sri Lanka's most famous architect. Because of some unexplained gap in my education, I did not know about him and was amazed at the sophistication and artistry of his work, including the Buddhist Seema Malaka Temple.
Our Story
This was the fourth and final leg of our journey in Sri Lanka in February and March 2019. My wife Khadija and I said goodbye to our friends Peter and Caitlin who were off to the Maldives to rest from our non-stop, two-plus weeks of travel in Sri Lanka. Khadija and I had two full days to explore the capital of the country.
This map shows some of the places we visited.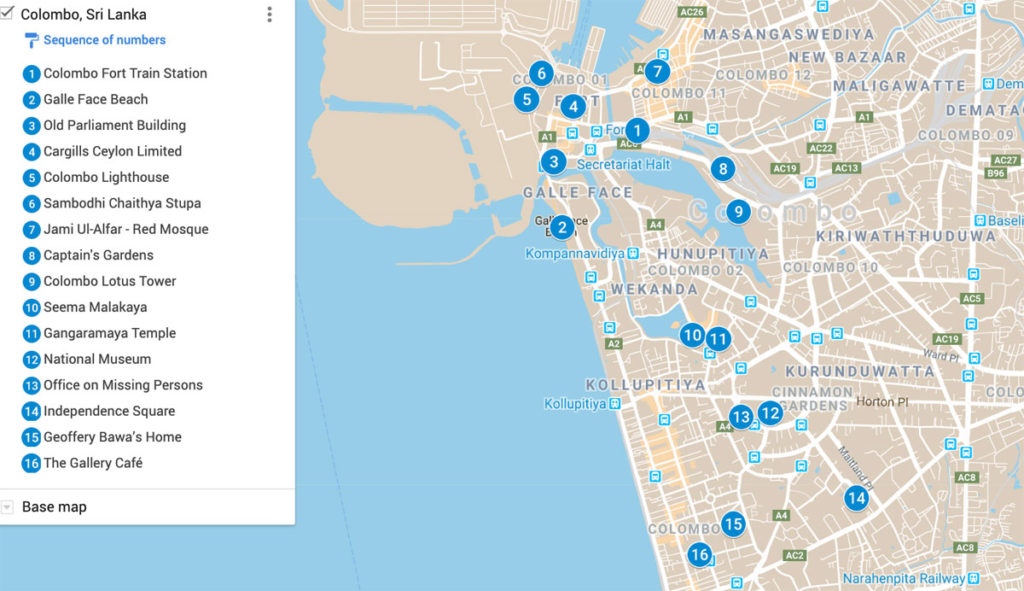 We stayed at the 300-room Marino Beach Hotel occupied mostly by international tourists. It had an infinity pool on the roof, several restaurants and a huge buffet breakfast (which I like to avoid, as it is tempting to overeat). While low on the charm side, it was convenient and efficient.
Background
Many visitors to Sri Lanka think that Colombo is a city of traffic jams, no sidewalks and few sites worth visiting, so they skip it. I am of the opposite opinion and would encourage others to spend at least three days there to see the colonial architecture, numerous temples, churches and mosques, long beaches, memorials and museums, and importantly the diversity in the people.
The main ethnic groups are Singhalese, Tamils, Moors (Muslim originally from the Indian subcontinent, Middle East and Malaysia), Europeans and Burghers (people of both European and native Sri Lankan descent). Buddhism, Hinduism, Islam, and Christianity thrive in the city. As it is so diverse and lively, there are many celebrations and parades that take place throughout the year.
We used mostly tuk-tuks (three-wheel motorized vehicles) to get around, often on the Galle Road highway by the coast.
Every tuk-tuk driver we encountered pitched a tour of the city, which involved several sites shown on a laminated brochure. We decided to take one driver up on his offer and spent two hours crisscrossing the city. The tour was cheap, only Sri Lanka Rupee LKR 2,500 with tip (US $14).
For single-ride tuk-tuks, after a few minutes of negotiations, we paid either LKR 200 or 300 (less than $2). Once in an area, we were able to walk around the neighborhood.
Galle Face Beach
Galle Face Beach was our highlight in Colombo. During the late afternoon, friends and families relaxed by the water, while others flew kites on the green space.
We did not see any swimming, but mostly folks dipping their toes into the water.
Along the promenade, there were vendors selling food and drinks. I liked this guy with his long beard.
There is a "green" space next to the beach with high-rise buildings in the background, where family picnic and young men play cricket.
Old Parliament
The Old Parliament Building was completed in 1930 and housed the Legislative Council of Ceylon during the end of the British rule. It has a monumental neo-classical look with baroque flourishes.
The front garden has several bronze statues of eminent statesmen.
Cargills Building
This striking red-and-white building is the Cargill department store, established in the mid -19th century.
It was originally the residence of a former Dutch military commander, then the residence of the first British Governor of Ceylon. It was acquired by Cargills in 1896.
Colombo Lighthouse
This impressive light house with panoramic views was built in 1952 with four sitting lion statues on each corner of the pedestal.
The lighthouse is controlled by the Sri Lankan Navy.
Chinese Harbor
Next to the Light House and close to Galle Face Beach, a Chinese state-owned company was putting on the finishing touches of reclaiming land surrounding a huge harbor.
China has been lending Sri Lanka sizable amounts of money for the last decade, which the government has struggled to pay back. As a result, the Chinese were able to negotiate a 99-year lease for the port and 15,000 acres of land for $1.12 billion in debt relief. This is part of China's "Belt and Road Initiative" to build infrastructure throughout the world. Even after this transaction, Sri Lanka continues to suffer from a punishing international debt, which approximately 40% is to China at rates much higher than other international lenders.
I have seen this story in many developing countries I visited. China deals with incompetent and corrupt leaders who reap the short-term benefit from Chinese-loans and leave future governments with an extreme debt. The West, India and others fear that China will use their financial leverage to start deploying military resources in these countries.
Sambodhi Chaithya Stupa
Sambodhi Chaithya is a Buddhist stupa sitting on arches so that it can be visible from the water.
The structure is 80 meters (260 feet) high. Inside, there are murals depicting the life of Buddha and different Buddhist sites within Sri Lanka.
Pettah
We liked Pettah so much, we went there twice. It is a colorful shopping district for numerous retail and wholesale businesses.
Most of the business owners and workers are Moorish men.
Each block specializes in certain products. We found food carts everywhere even though there was a central food market.
We enjoyed interacting with locals, as with this tuk-tuk driver…
… and this shirtless man.
Jami Ul-Alfar Masjid – Red Mosque
The Red Mosque is in Pettah and one of the most famous buildings in Colombo.
The red-and-white striped building sits on narrow streets and towers over the surrounding area. The architecture is eclectic. It is inspired by Mughal and neo-classical styles popular when it was built in 1908 and incorporates Gothic and other elements. For instance, the domes are shaped like pomegranates instead of being onion shaped. We would have gone in, but visiting time was limited to a few times per day.
Hindu Temples of Captain's Gardens
Captain's Garden was once an island and a place for sea captains to rest. Now it is the location of Sri Bala Selva Vinayaga Moorthy and Sri Kailasanathar Swamy Devasthanam temples. The former is dedicated to Ganesh and the latter and larger one to Shiva.
I am always captivated by the incredible number of statues and other ornamentations in Hindu temples. In this case, decorations were designed by architects and artisans from India, giving them a classic look that is generally not seen in Sri Lanka.
Lotus Tower
The Lotus Tower is one the tallest buildings in South Asia, standing at 350 meters (1150 feet).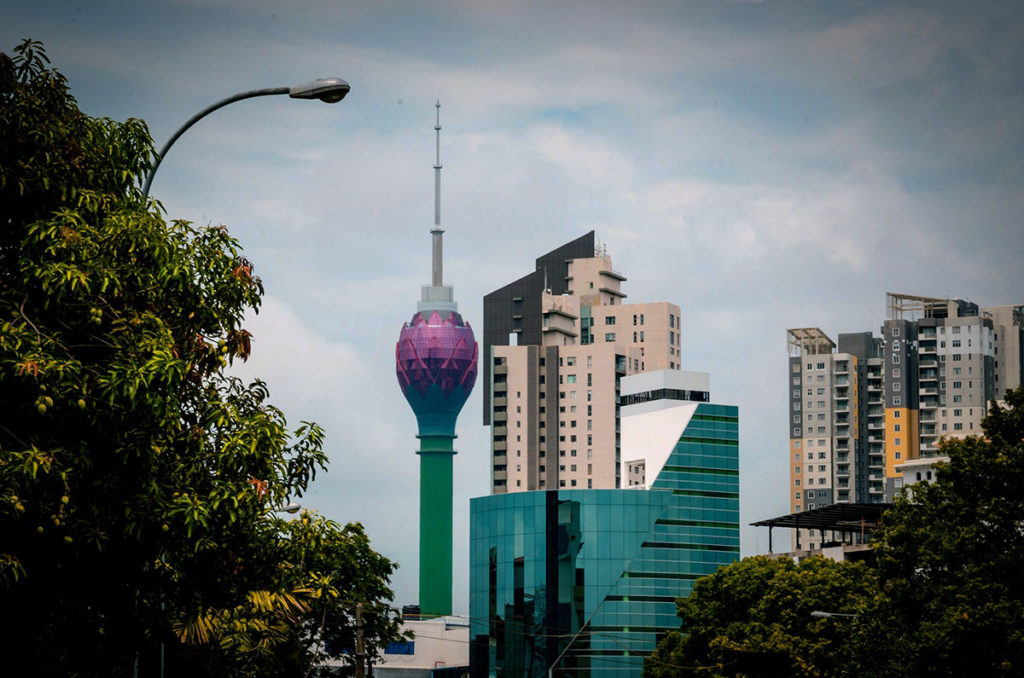 We did not go up to the tower for the 360-degree view but saw it from many places in the city.
Seema Malaka Temple
This Buddhist temple lies on an island in the small Beira Lake. In the 1970s, the original temple disintegrated and sank. For us, it was a respite from the heat, as we had been walking for the previous hour.
It was designed by Geoffrey Bawa in a minimalist style in order to radiate peace and foster mediation. I did feel calmness there even though we were in the middle of Colombo.
By the bridge to the island, there were painted, wood boards. I am not sure why they were there, maybe they were temporary, but I liked the look.
Gangaramaya Temple
Gangaramaya Buddhist Temple is over a century-old and also a cultural center.
The complex holds a library, museum, and multiple spaces that house the artifacts donated to the temple over the years. Some rooms have the look of an antique furniture store. The museum also has numerous Buddhist and Hindu statues from all over the world.
Gangaramaya displays the smallest Buddha statue in Sri Lanka that can be viewed with a magnifying glass.
The entirety of the complex is richly decorated in a range of Asian styles.
It has a large bodhi tree, the type under which Buddha is believed to have gained enlightenment.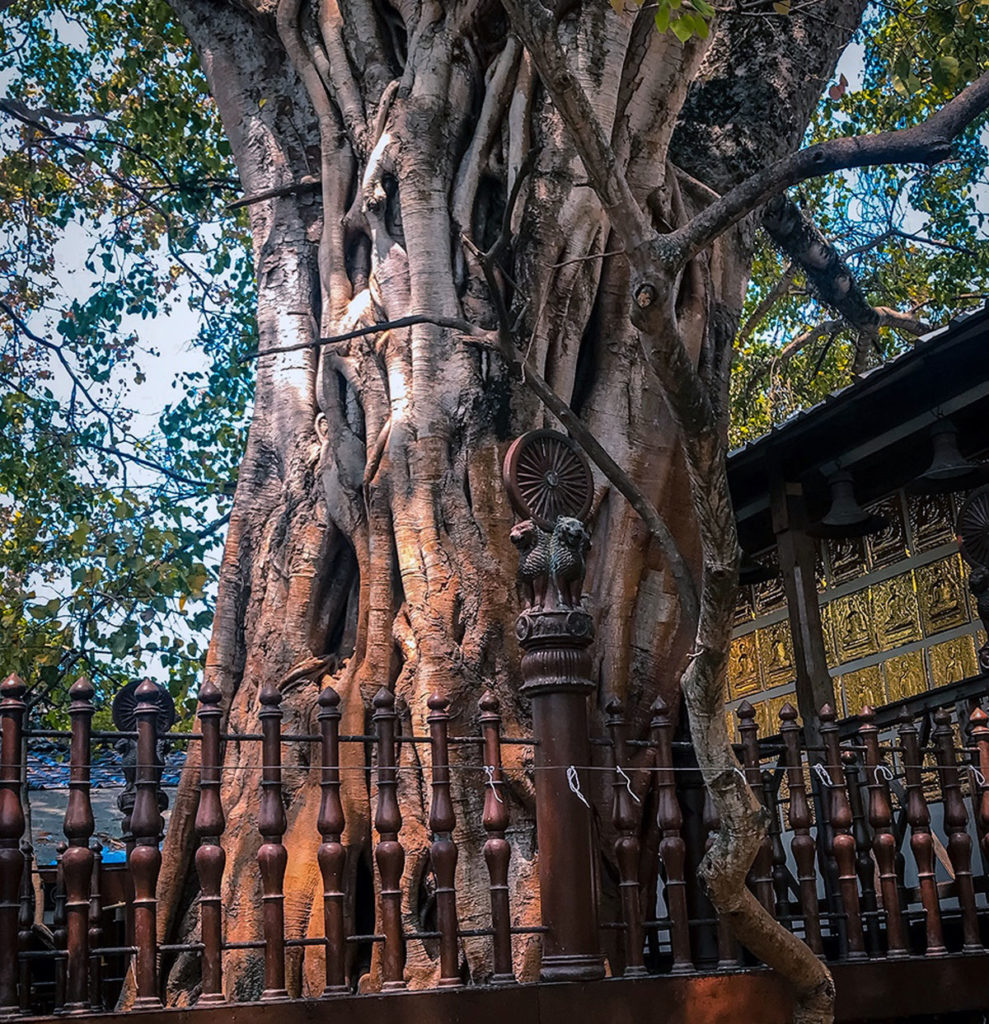 National Museum of Colombo
The National Museum of Colombo opened in 1877 and is the largest museum on the island. Since we had been travelling for almost three weeks in the country, we were familiar with the history and culture. We could appreciate the collection much better than if we visited here on our first day in Sri Lanka. The symmetrical, neo-classical building is highlighted with Italianate-style decorations. There is a sizable, meticulously landscaped area in the front, which makes it easy to see and admire the building.
We saw one of the prized possessions, the golden throne of the King of Kandy, which was the last independent Sri Lankan kingdom before the British occupied it in 1815.
My eyes were glued to this painting which showed traditional, ceremonial, Sinhalese  dresses for both men and women.
We walked through the exhibit of masks. I related to this one of the Village Chief.
I used to be the mayor of a small village. The job was challenging because of the conflicting interests of various constituencies; enough to make your eyes bulge from the stress.
The neighborhood of the museum was upscale and kept clean by the work of many people, including this lady street sweeper.
Office on Missing Persons
We walked by this attractive building which was a good example of colonial architecture. It was not in any guidebook or article that I had read.
I researched it when I returned home and discovered it housed the department that tried to resolve the status of up to 20,000 missing persons during the Civil War.
Independence Memorial Hall
The Independence Memorial Hall is In a park used by joggers, university students and families. This open-air structure commemorates the location where the British ceremonially transferred government rule to the Sri Lankans.
Geoffery Bawa House
Geoffrey Bawa was undoubtedly one of the most influential and renowned 20th century Asian architects. He was born in 1919 and of the Burgher ethnic group. His father was a successful lawyer of Muslim and European parentage, and his mother was of mixed European and Sinhalese descent. We toured his home on the 100th anniversary of his birth. He died in 2003.
He originally practiced law but his love of art and architecture led him at age 28 to become an apprentice in a prominent architecture firm. Knowing he needed technical expertise, he  studied architecture in England for several years. At 38 years old, he returned to Sri Lanka and began his chosen career. He went on to design a number of award-winning religious, educational, government, and residential buildings.
We took a tour of Number 11, his residence in Colombo, which is made up of four combined small bungalows on a dead-end street in a quiet residential neighborhood. I was allowed to photograph in only a few rooms. The street door is a tip-off that this is something special.
He was particularly interested in integrating the outside and inside of a building. Here he made an inside plant area with a trellis roof.
He blended modern and traditional styles from both the east and west, such using this antique wood door brightly painted with rustic images.
We learned that some of the rooms are available for visitors to rent on a daily basis. When we come back to Colombo, we will certainly stay here rather than in a generic tourist hotel.
Gallery Cafe
The Gallery Café (http://www.paradiseroad.lk/gallery_cafe/) is housed in the former offices of Geoffrey Bawa who approved of converting the space into a gallery and restaurant. The renovation maintained the original state except for adding a pavilion. The food and atmosphere in the restaurant were the best we experienced in Colombo.
Before entering the restaurant, there were galleries around a long pool with rotating exhibitions by established and emerging local artists.
Next to the galleries was a shop selling interesting gift items. We bought three painted door stops of men in various occupations, including this bare-chested farmer with a hoe.
They were only $5 each. Afterwards, I wish I would have bought ten or more to give to friends as a unique gift.
Final Thoughts
I thought Sri Lanka would be culturally rich and full of biodiversity but it far exceeded my expectations. Our next stop was the Maldives, which is the subject of the next post.
A few weeks after we left, on Easter Sunday, terrorists exploded bombs in churches and hotels and killed over 250 people in Sri Lanka. This gruesome and despicable act horrified the country and the world.  As a result, the number of tourists has plummeted and the livelihoods of the thousands in the hospitality industry have been significantly impacted.
I highly encourage anyone wanting to travel to Sri Lanka, to do so. It is an extremely safe country with welcoming people. This one-time bombing by brainwashed perpetrators in a few locations should not persuade anyone from not going, as the risk of anything happening to a single tourist is quite small. Sri Lanka has so many interesting regions and diverse communities, the outside world should not miss the opportunity to visit.