Introduction
We walked for hours in Stockholm. We saw many of the images you expect, such as venerable buildings by a harbor…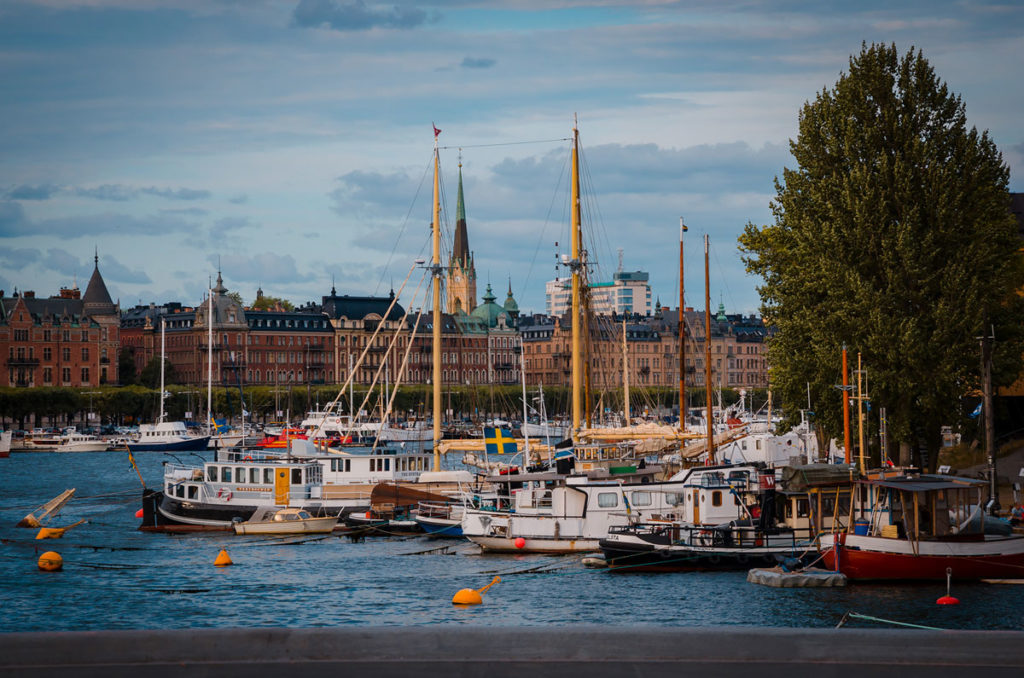 …and bicyclists everywhere.
However, while we were there, it was the start of national elections.
This piqued my interest in Sweden's national politics. It took me three days, but I finally met Prime Minister Stefan Löfven.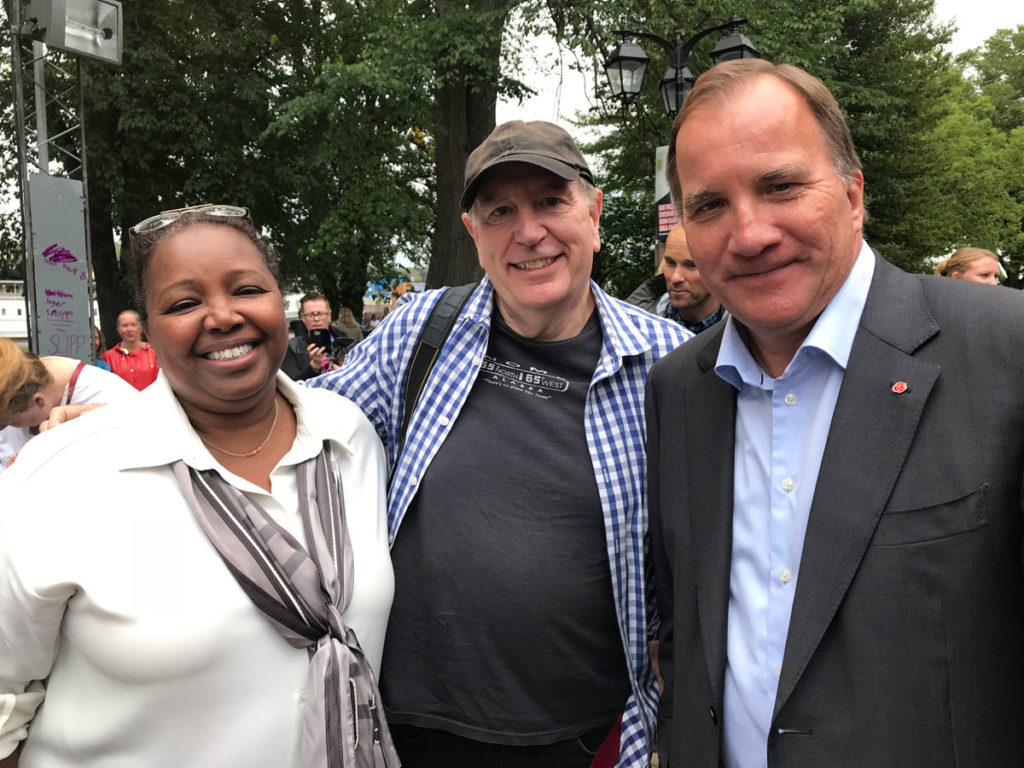 Keep reading to see how this happened.
Our Story
My wife Khadija and I travelled to the Nordic countries of Sweden, Norway and Finland in August 2018. They were all new to me. Khadija had been to Sweden a few times to visit family. Our usual vacation is in developing countries where American standards are often not met. In contrast, in these countries, comfort and efficiency are the norms. Here, like everywhere we have traveled, we spent most of our days walking the streets and hiking the hills.
We were fortunate to have our long-time friend Britta guide us.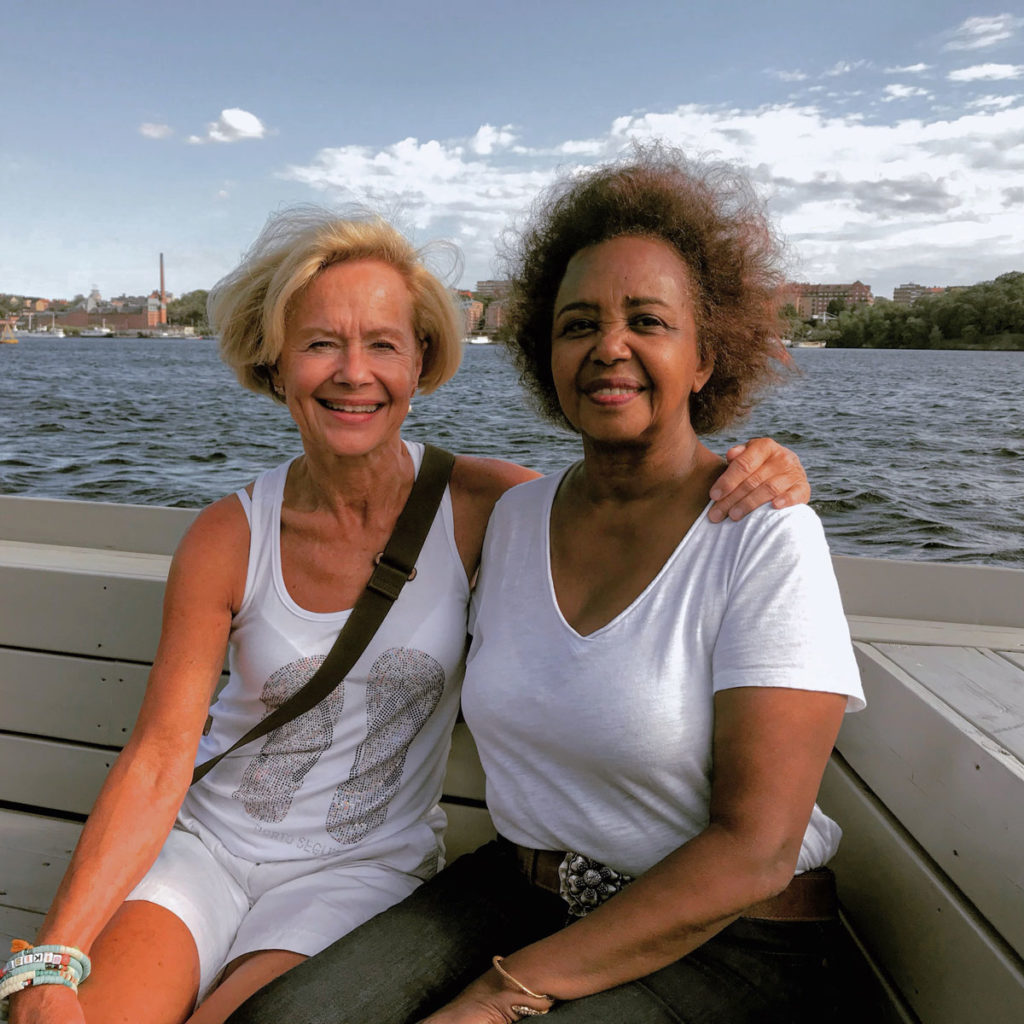 We spent three full days exploring the biggest city and capital of Sweden. Because of our limited time, we concentrated on the contiguous areas of tree-lined Norr Malarstrand on Kungsholmen, the cultural hub of Norrmalm, the park-like Skeppsholmen Island, the historical Gamla Stan and the hip neighborhoods in Södermalm. This map shows our general route and some of the places we visited.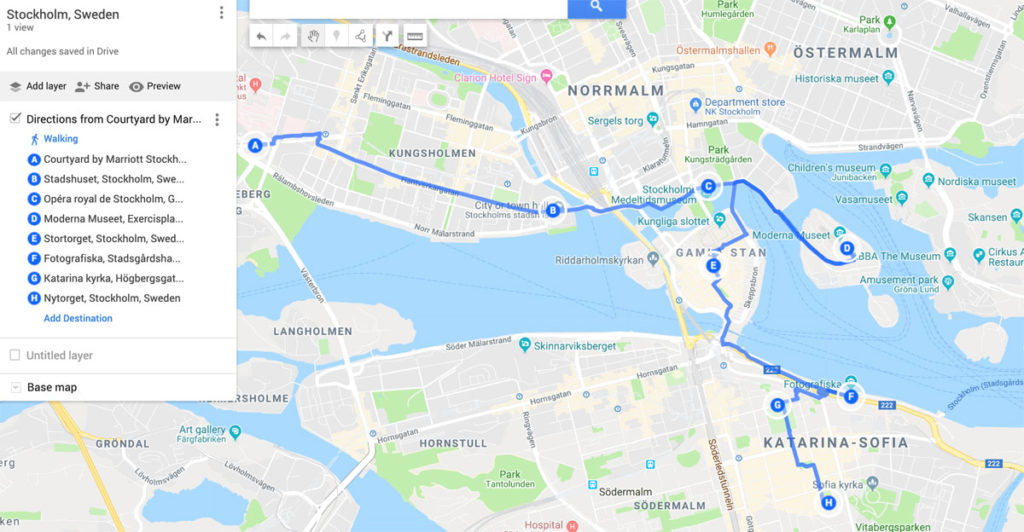 This area is relatively small and we walked it over a couple of days. The rest of the time, we used the Metro and ferries to save time and effort.
Background
Sweden sits on the Scandinavian Peninsula bordered by Finland to the northeast and Norway along the west. Sweden is the third-largest country in the European Union. It has extremely low population density outside of the larger cities. Its population is 10 million, about double to each Norway, Denmark and Finland. Stockholm is in the south and made up of fourteen islands along the Stockholm Archipelago where Lake Malaren meets the Baltic.
Sweden has its own currency, the Krona. Stockholm is almost cashless even for small amounts. Purchases are made by credit or debit card, online or with mobile payment apps. We used our credit card to pay for almost everything.
The Swedish alphabet has all of the letters of the English alphabet with an additional three vowels: Å, Ä, and Ö. Most commonly, the Å can be thought of as the "au" sound in Paul, Ä is similar to "ai" in 'pair' and the Ö is similar to "i" in the word 'bird'. We muddled these sounds and were still easily understood, probably because almost every Swede we met spoke English reasonably well.
Many Swedish names are long and imposing for a foreigner. However, quite a few are compound words. Once you recognize the embedded words, they are easier to understand and pronounce. We often saw a name contain a direction (norr, soder, oster and vaster) and a type of place (stad [city], holm [islet], strand [beach or coast], bron [bridge] and gata [street]).
Kungsholmen Island
Kungsholmen Island is a mostly residential district of Stockholm. We stayed at the Courtyard Marriott here and every day walked on the Norr Malarstrand next to Riddarfjärden Bay.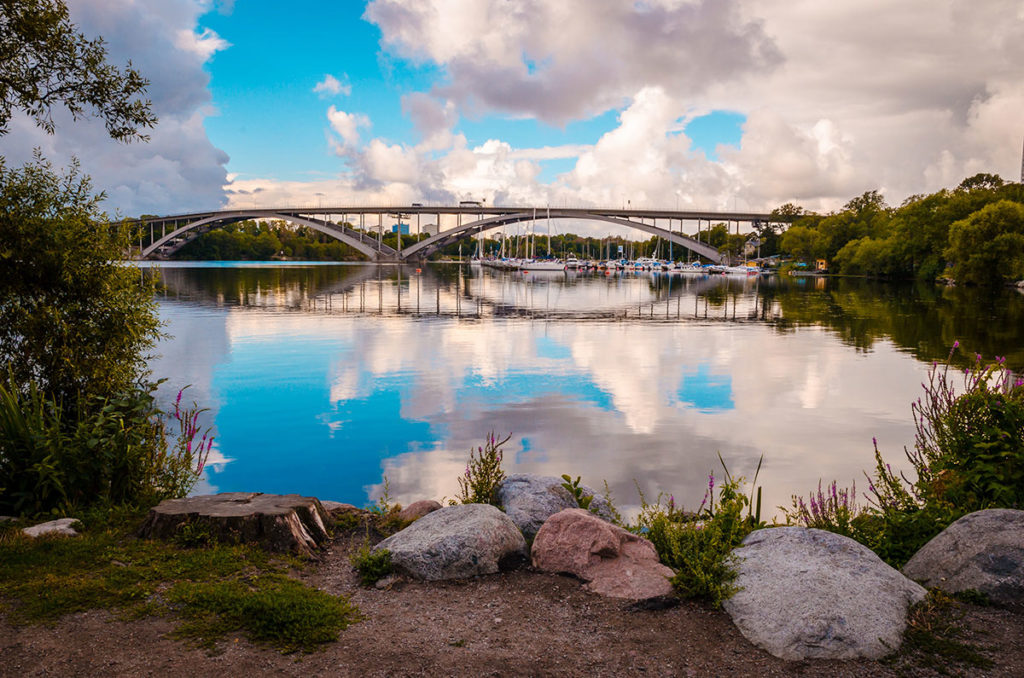 Most of the way from the Marriott to the central city was a riverside park, designed and constructed in the 1930s and 40s, where locals stroll and exercise.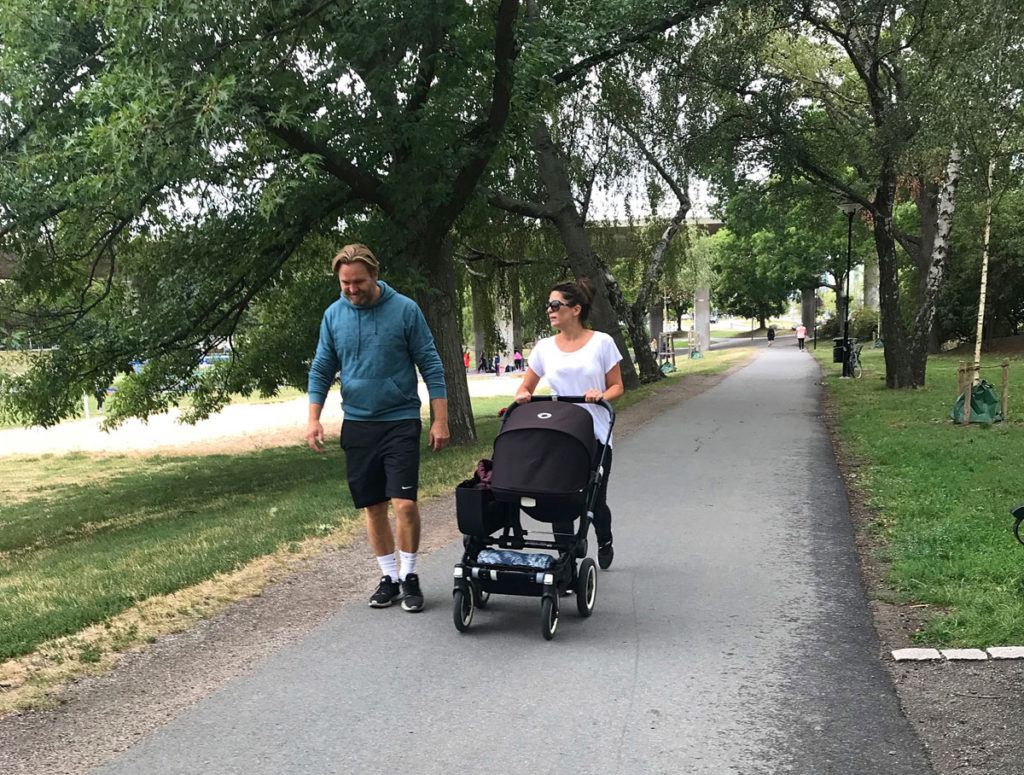 There were captivating apartment buildings lining the non-shore side of the street. These were built roughly concurrently with the riverside park. They were designed to encourage collective living with features such as a food elevator for food delivery from a ground-floor restaurant, a chute to send clothes to be laundered and rooms for kindergarten classes. Modest income families were the targeted demographic to live there, but it did not appeal to them as they wanted a home in the suburbs. In addition, it was expensive maintaining a staff of twenty or more. Instead, affluent people with a socialist inclination ended up occupying the buildings.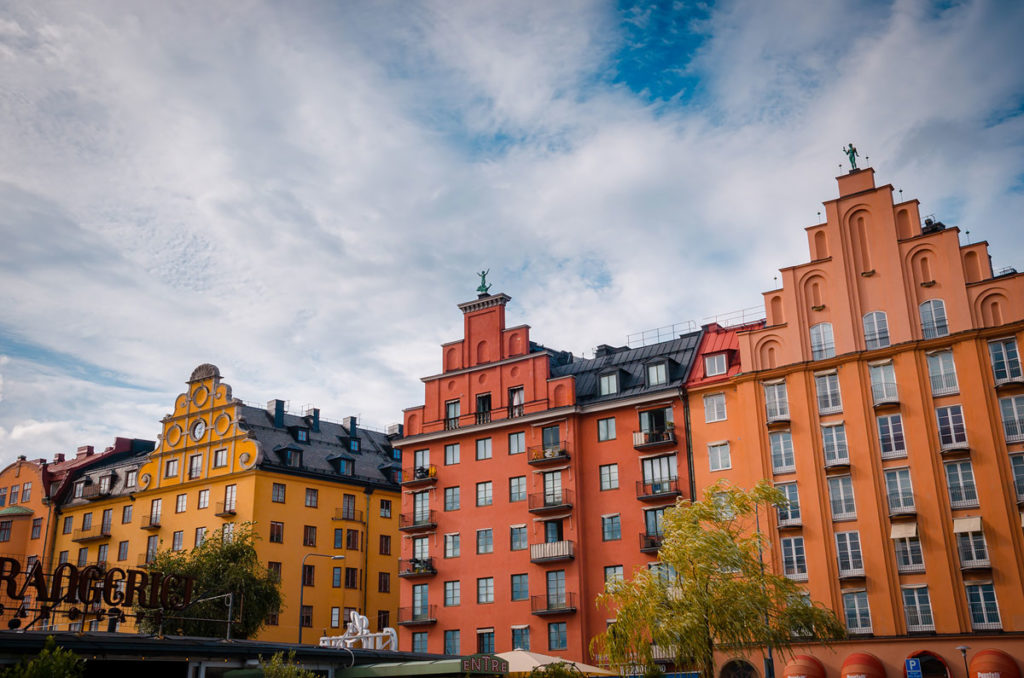 Some of the buildings were modest with balconies and large windows combined in an attractive manner. Others had striking facades capped with classical statues. Immediately when I saw this iconic stretch of buildings, I was reminded of the Victorian "painted ladies" on Alamo Square which are a defining image of San Francisco.
City Hall (Stadshuset) was the most prominent building along the Stockholm skyline with a tower topped by a weathervane with three crowns, the national emblem of Sweden.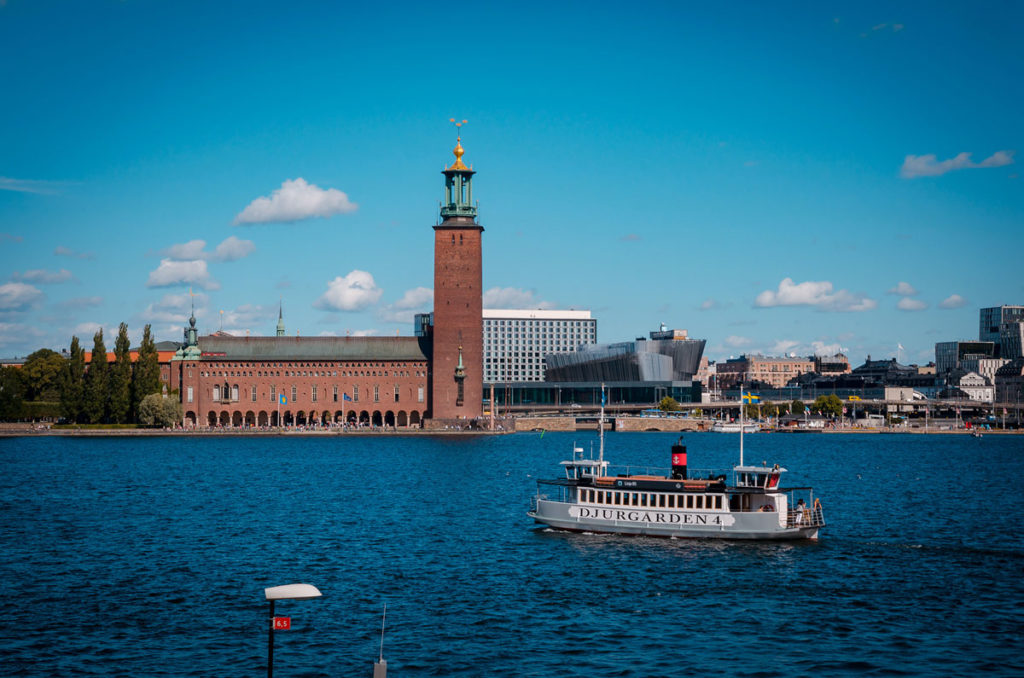 At the foot of the tower was the tomb of Birger Jarl who was the de facto ruler of Sweden from 1248 until his death in 1266.
He is known as the founder of Stockholm, but this claim is disputed. However, he did make it the administrative center of Sweden. He made the country more civilized by enacting laws that protected the rights of women and doubled the penalties for crimes against the church and the king's councils. All of this sounds wonderful, but he also led the Second Swedish Crusade, along the way fortifying Swedish rule in Finland that lasted until 1809.
City Hall was built from 1911 until 1923 with nearly eight-million handmade bricks of various red shades, easily appreciated in the courtyard with green-patina statues.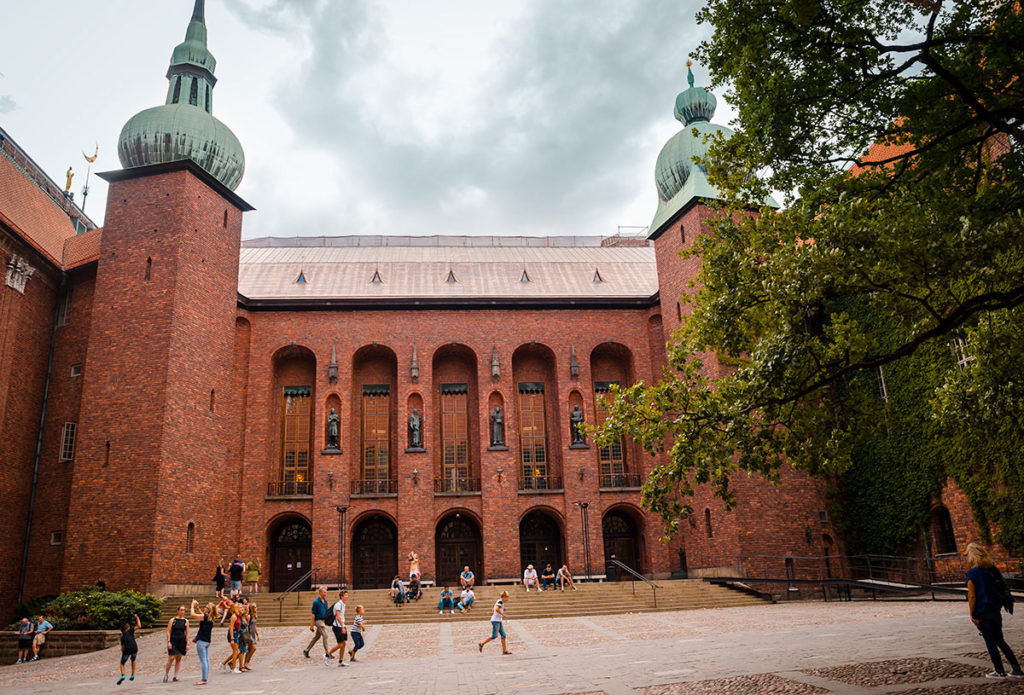 We took the informative tour, starting with the huge Blue Room. The name is a grand misnomer because it is not blue.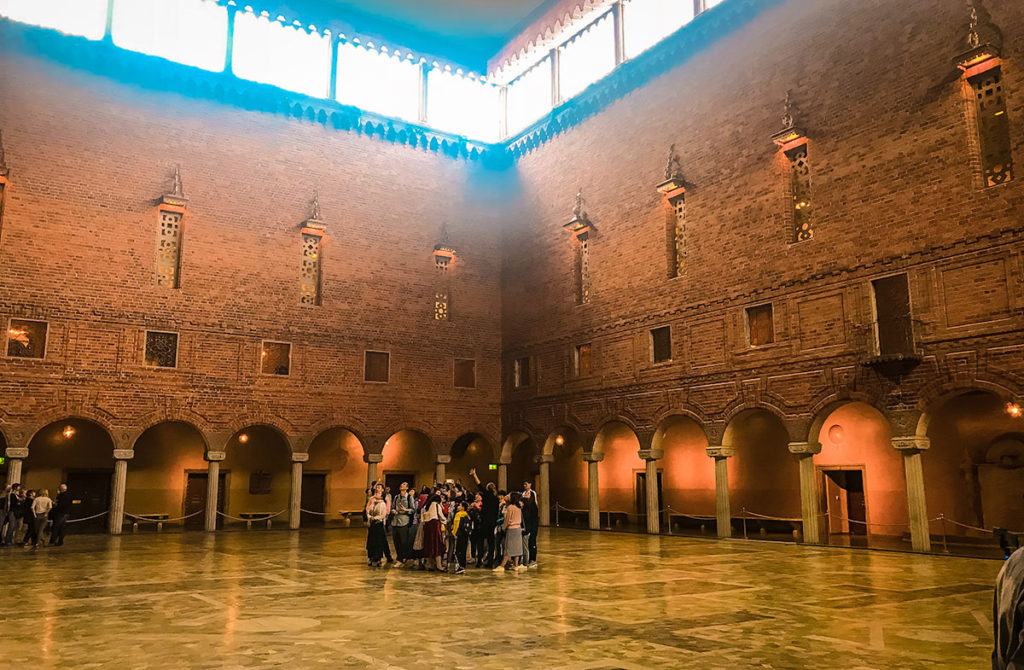 It was originally intended as an open courtyard where you could see the blue sky. For some reason, the architect did not appreciate that it rains and snows in Stockholm. Eventually, a roof was built, but the next great idea was to paint the exquisite red bricks blue. Thankfully, when the architect saw how beautifully the window light fell on them, he ditched those plans. Of note, this is where the annual Nobel award dinner is held for all prizes except the Peace Prize, which is awarded in Oslo.
Another grand hall was the Golden Room where each copper door weighs one-ton and the walls have mosaic made from 18-million tiny gold leaf pieces forming a sprawling Byzantine-style mosaic from Swedish mythology and legends. To protect the gold and discourage thieves, the gold leaf was behind a thin glass plate. The mosaics showed a panoply of scenes from Swedish mythology and legends.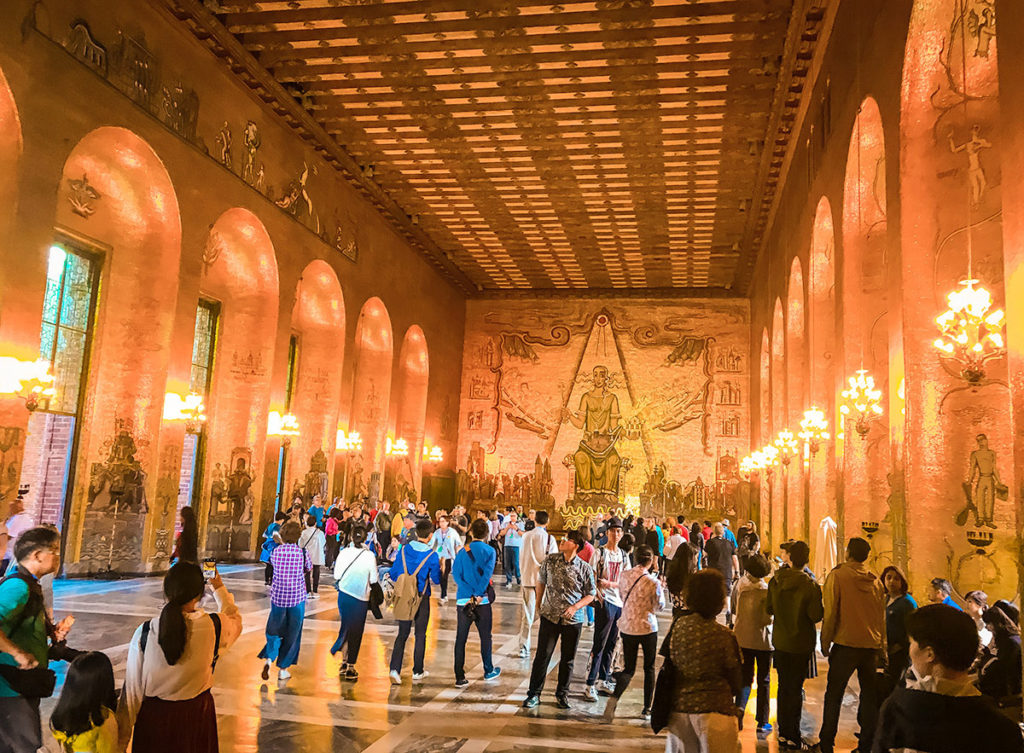 At the end of the hall was the huge "Queen of Lake Malaren" which represents Stockholm being honored by countries around the world. The United States was represented by the Statue of Liberty. The Queen had a homely look, despite the fact she is sitting on a throne with a see-through blouse and a scepter. Maybe it was the huge eyes and the Medusa-like hair that gave that impression.
Norrmalm
Norrmalm is part of the mainland with several bridges and ferries to the islands. In the 1950s and 60s, it was extensively redeveloped with modern buildings on broad, mostly straight streets. There are some architectural features from before, including the buildings of important cultural institutions.
This is the center of the IT industry; an area Sweden has excelled. Stockholm has per capita more "unicorns", digital startups eventually valued over US$1 billion in market capitalization, than any other region except Silicon Valley. Two were Spotify and Skype.
On the Stadshus Bridge connecting Kungsholmen to Norrmalm, we had a striking view of the harbor with Riddarholm Church and its tall spire. It is one of the oldest buildings in Stockholm, parts of it dating to the 1200s.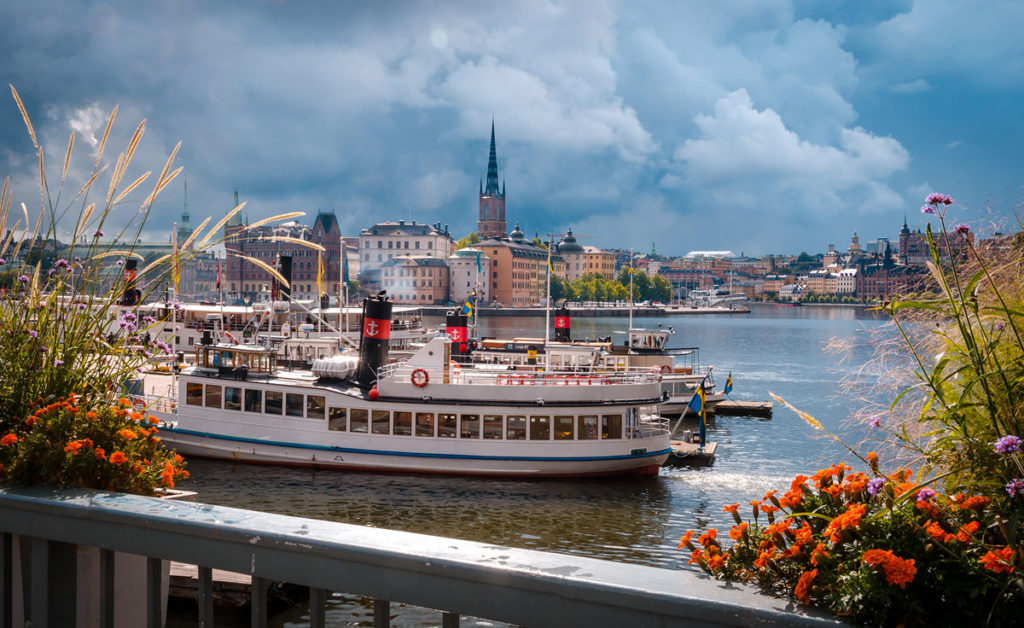 We found the whole southern waterfront of Norrmalm to be beautiful, as shown here with two fishermen by the Central Bridge.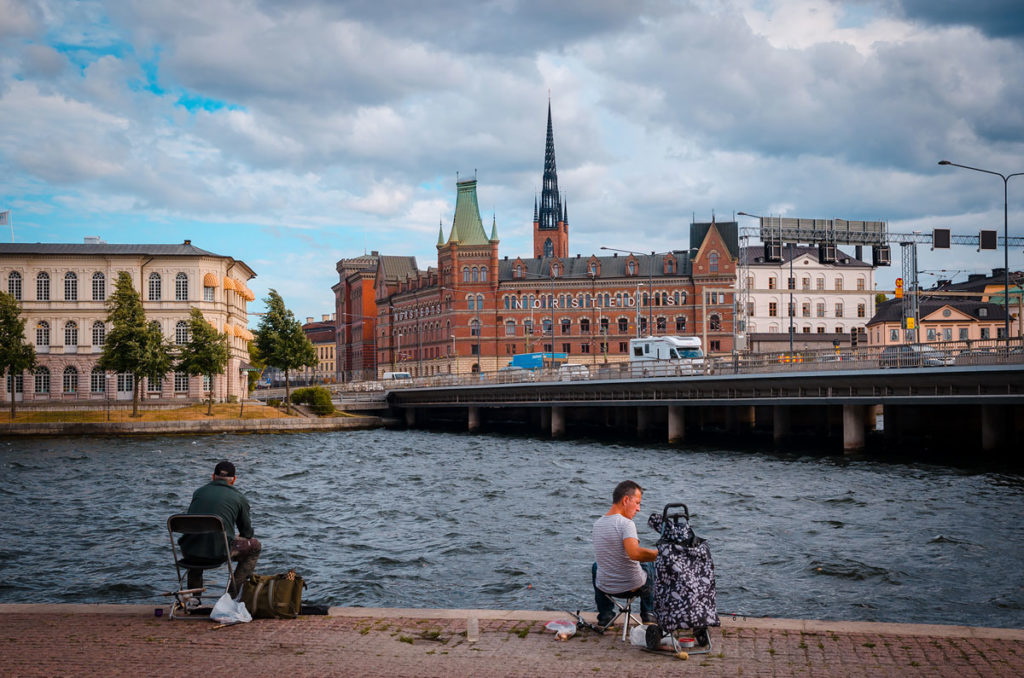 Continuing our walk on the bay, near the Riks Bridge, we saw a statue of a fox wrapped in an old blanket with a baby and a pair of boots.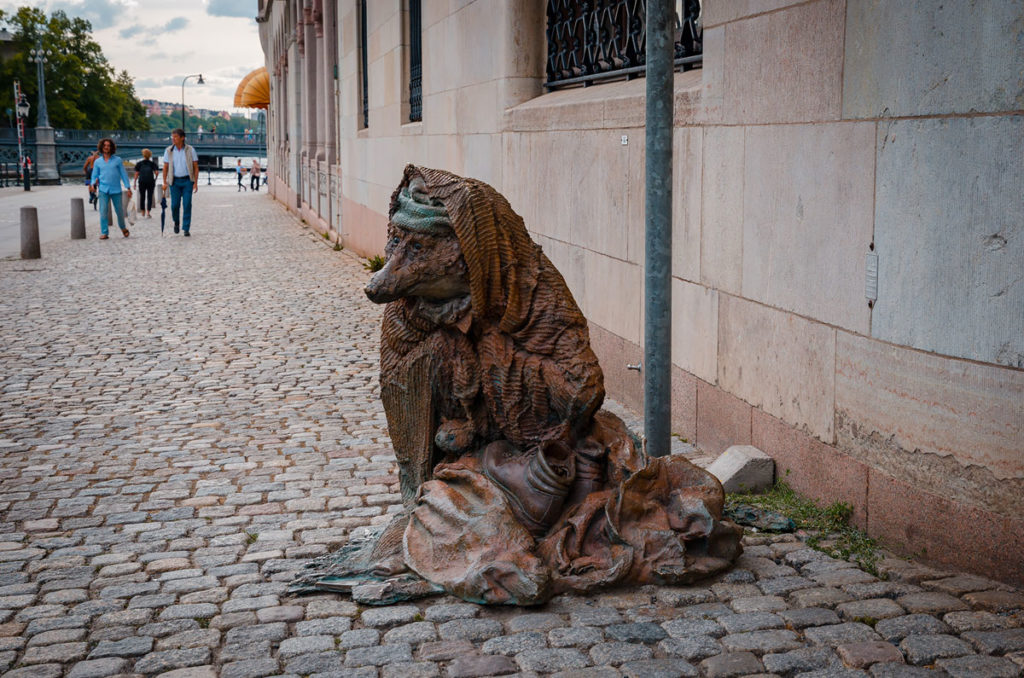 This seemingly begging and homeless creature is called Rags and Bones and was created by British sculptor Laura Ford. The residents voted to place the statue here, apparently to remind passersby that there are others who are less fortunate.
The Royal Swedish Opera (Kungliga Teaterhuset) was constructed in the late 1800s and was one of the most impressive buildings in Norrmalm that we saw.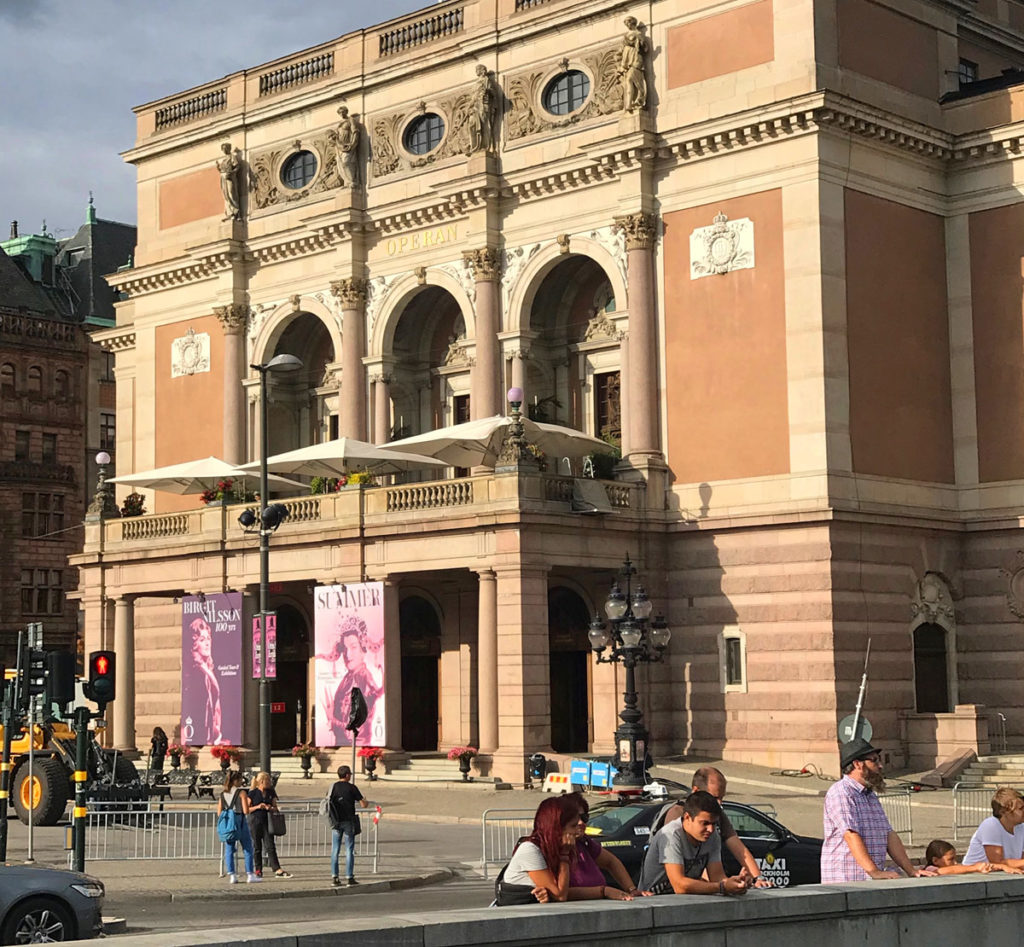 It has changed its name no less than twelve times and now is generally referred to as "the Opera". We did not take a tour but ate our one expensive meal in the building's Michelin-rated Operakallaren. We sat in the main dining room with giant crystal chandeliers, oak paneling and murals.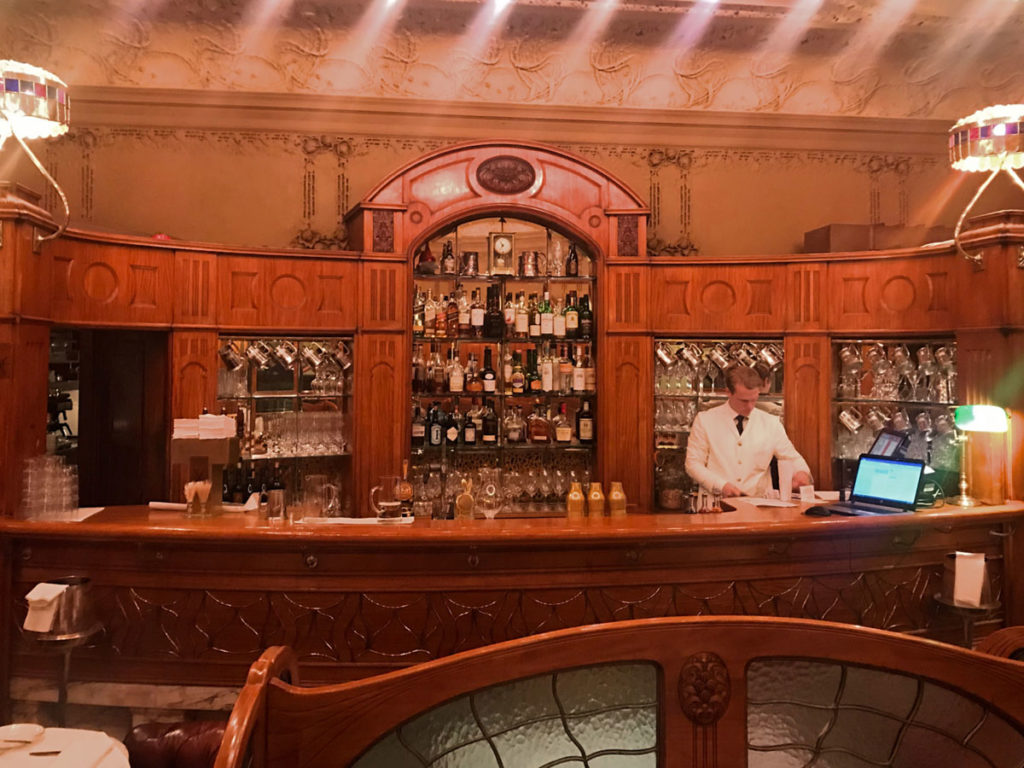 The food we ate, mostly a variety of specially prepared fish and vegetables, and the atmosphere were worth the cost.
We marveled at an acrobatic performance by a French circus group (Le Cirque c'était mieux avant) in front of the Opera.
This was part of the Stockholm Cultural Festival, just one of many that were held throughout the year.
Other notable buildings were the Grand Hotel…
…and the National Museum.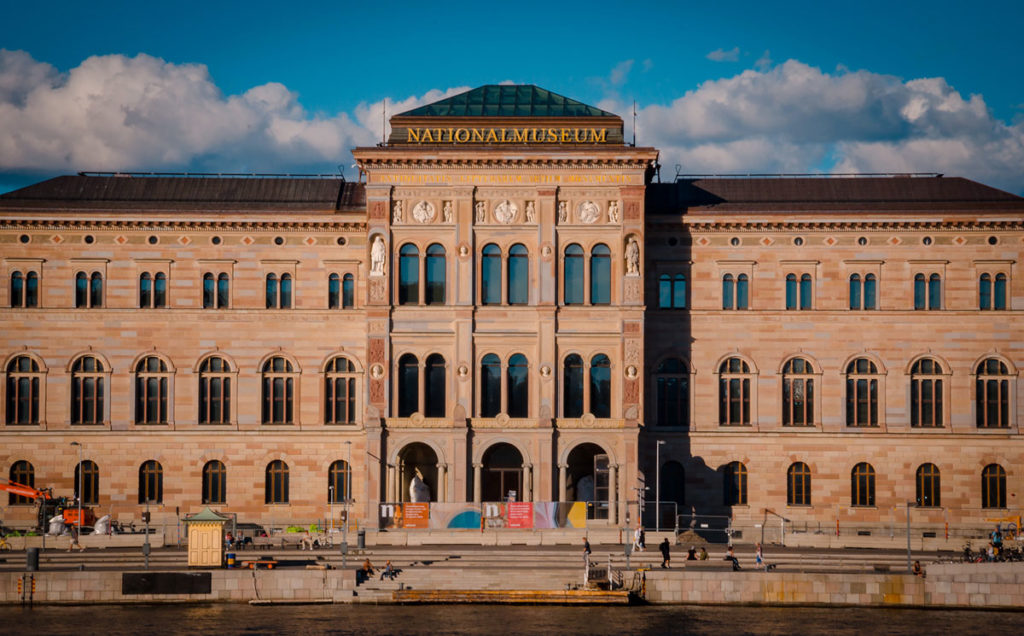 Skeppsholmen Island
Skeppsholmen is a small, leafy island accessible from Norrmalm by a short bridge.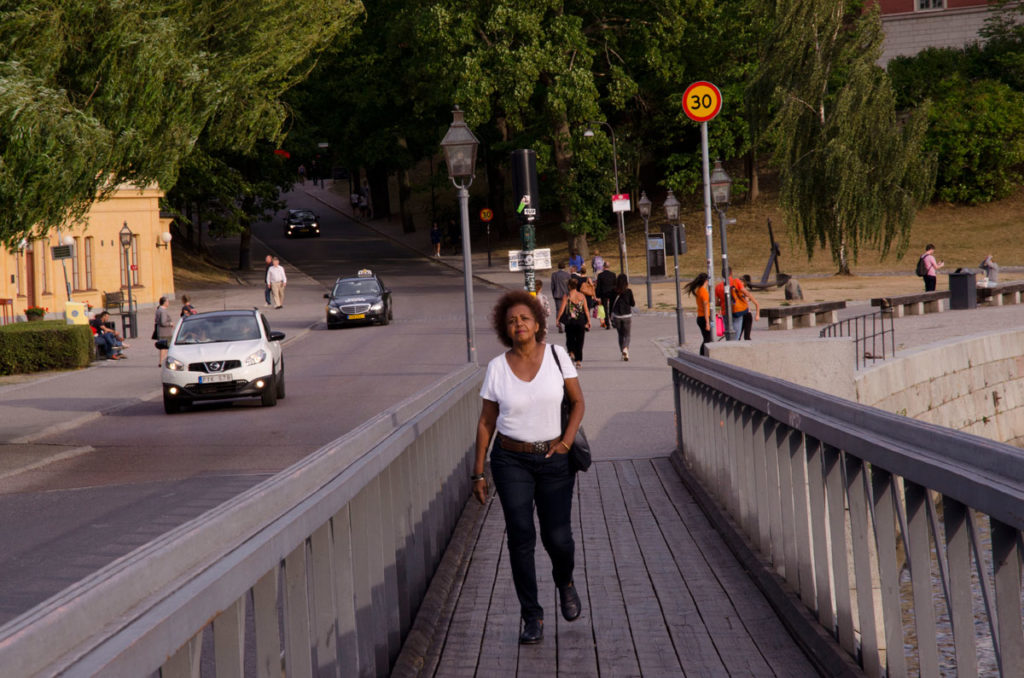 We found this island relaxing and filled with historical sites such as the Admiralty House…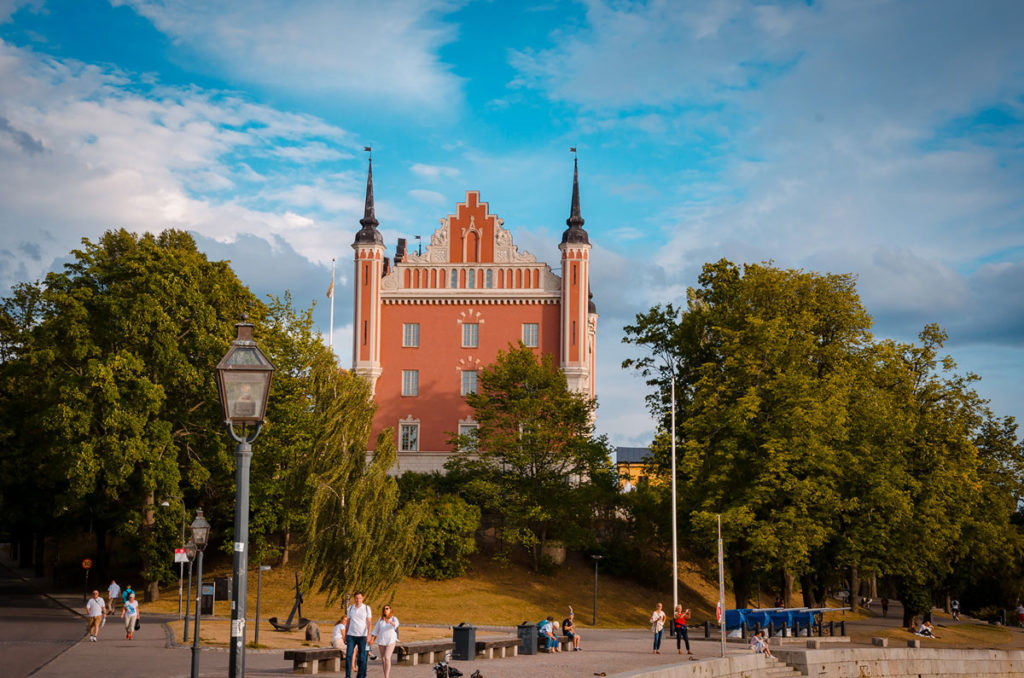 …and cool museums such the Modern Art Museum with its outside installations.
From this island, we saw great views of other parts of the city, including the Fotografiska and Katarina Church across the bay in Södermalm.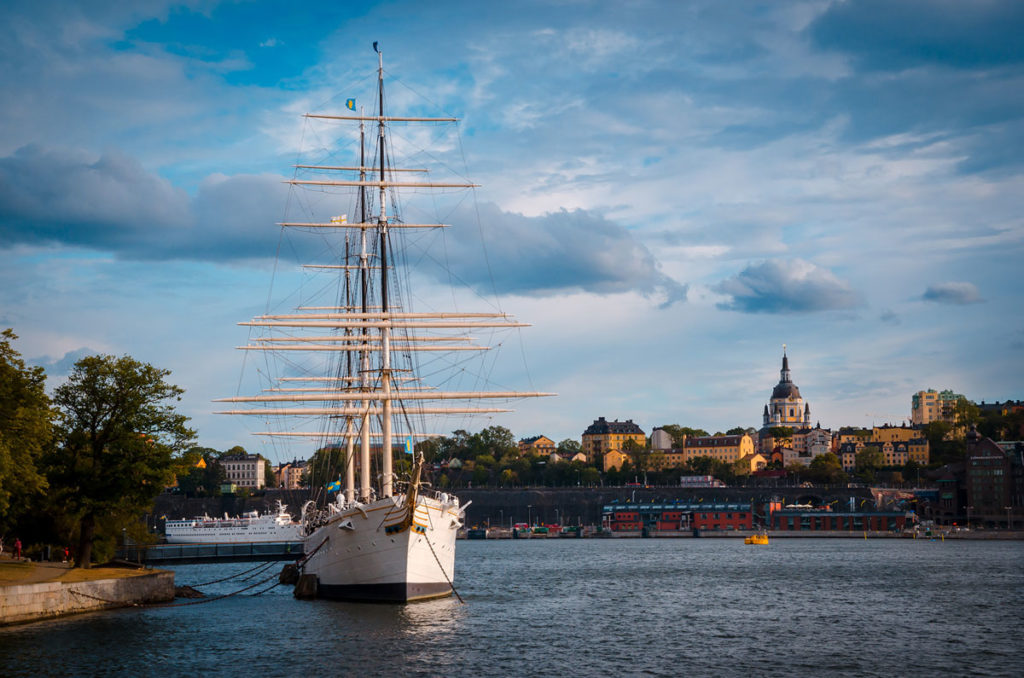 Gamla Stan
Gamla Stan (Old Town) is one of the best-preserved city centers in Europe. Gamla Stan consists primarily of the Stadsholmen Island plus the surrounding islands of Riddarholmen, Helgeandsholmen and Stromsborg.
Stockholm is often referred to as the "Venice of the North" due to its system of islands and waterways. For many years, Gamla Stan was most of the city. But as the population increased, bridges were constructed to the other island and the city expanded. There are eight bridges to Gamla Stan in total, four to the north, and two each to the west and south.
On the Norrbro Bridge to Helgeandsholment, Khadija posed for a picture.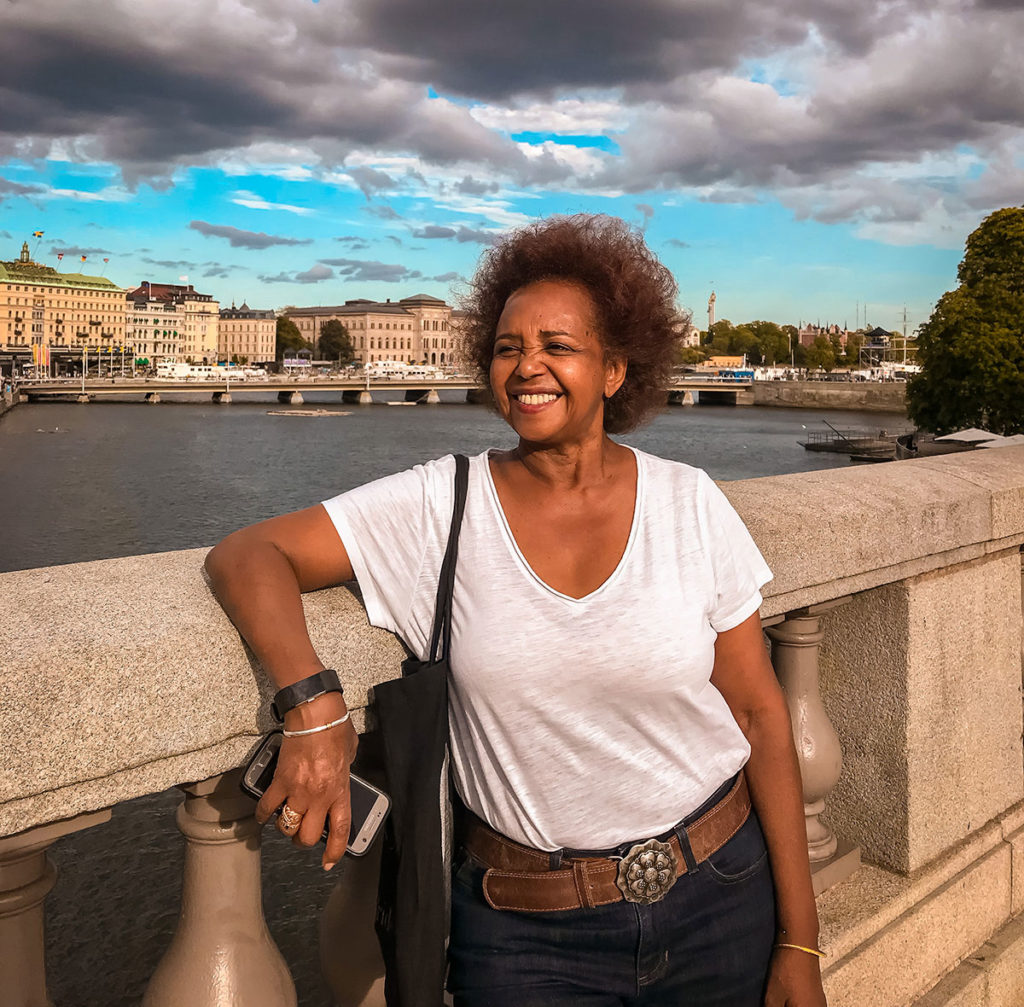 The neoclassical Parliament House was constructed between 1897 and 1905.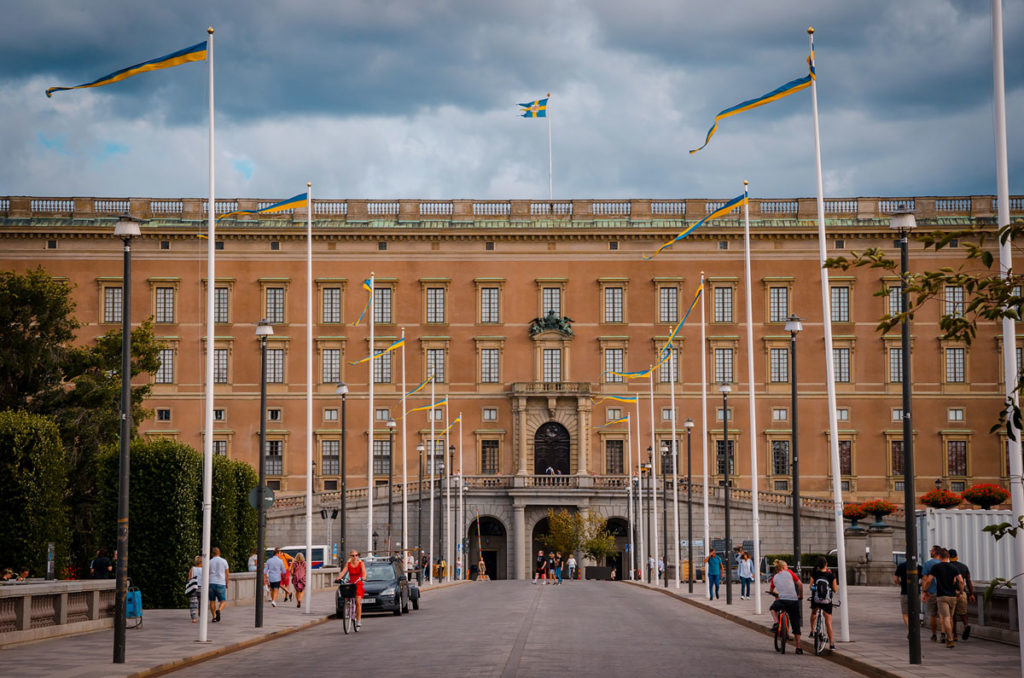 While grand, it was designed not to overshadow the nearby Royal Palace. The Riksdag (National Legislature) is unicameral with 349 members who serve fixed four-year terms.
We discovered that Gamla Stan was a network of narrow streets winding through canyons of high buildings.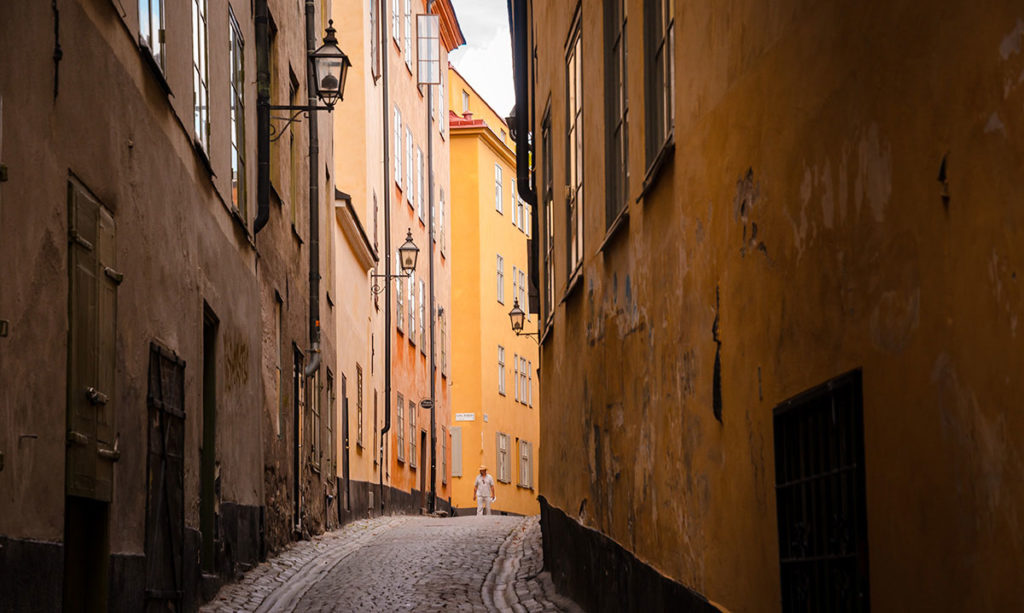 We found the amalgamation of architectural styles built over the last 900 years to be interesting and photogenic. Most of the buildings that stand today were built in the 1600s and 1700s.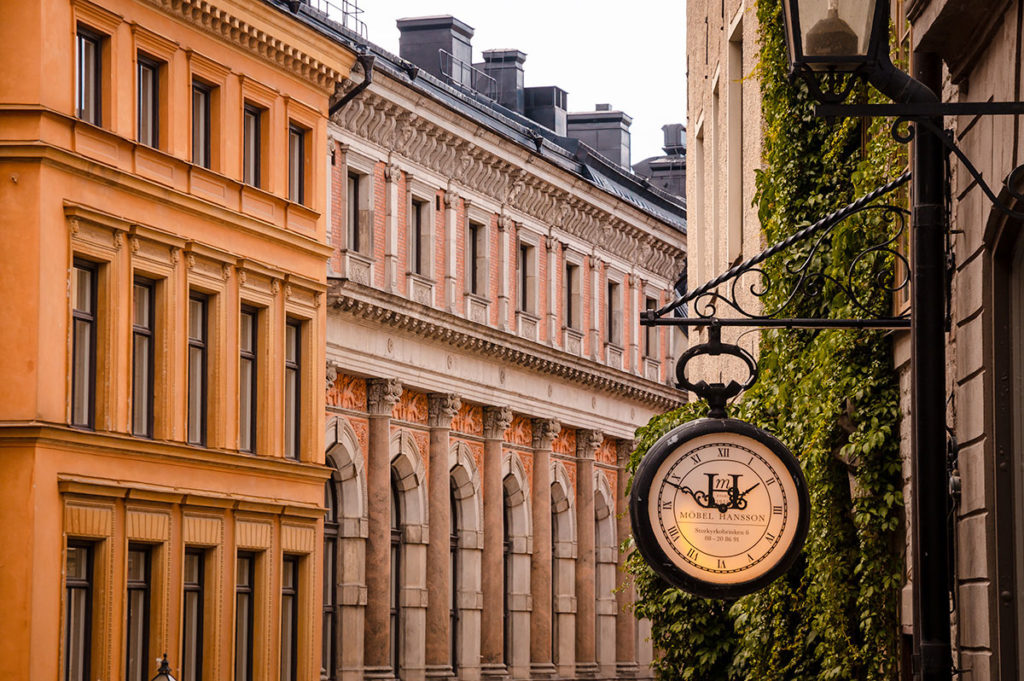 We eventually made it to the small but striking Stortorget Square (Grand Square), the most visited locale of Gamla Stan.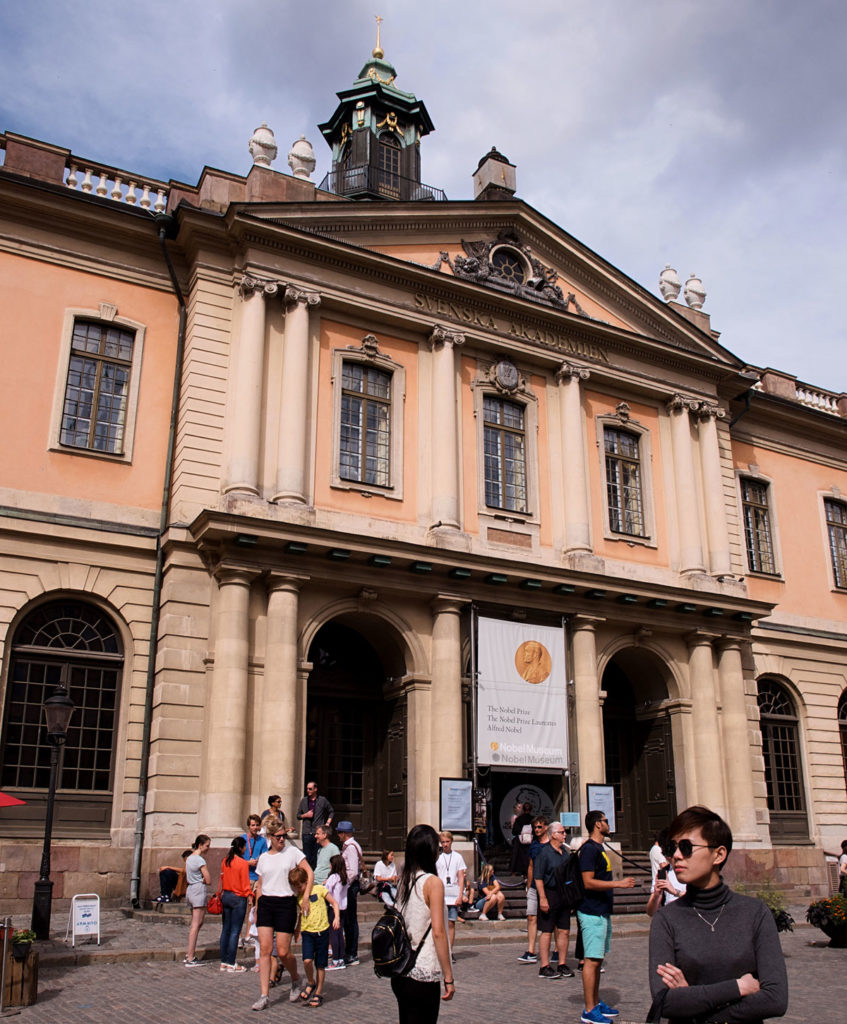 The most interesting part to me was the top of the facades in a series of privately-owned houses.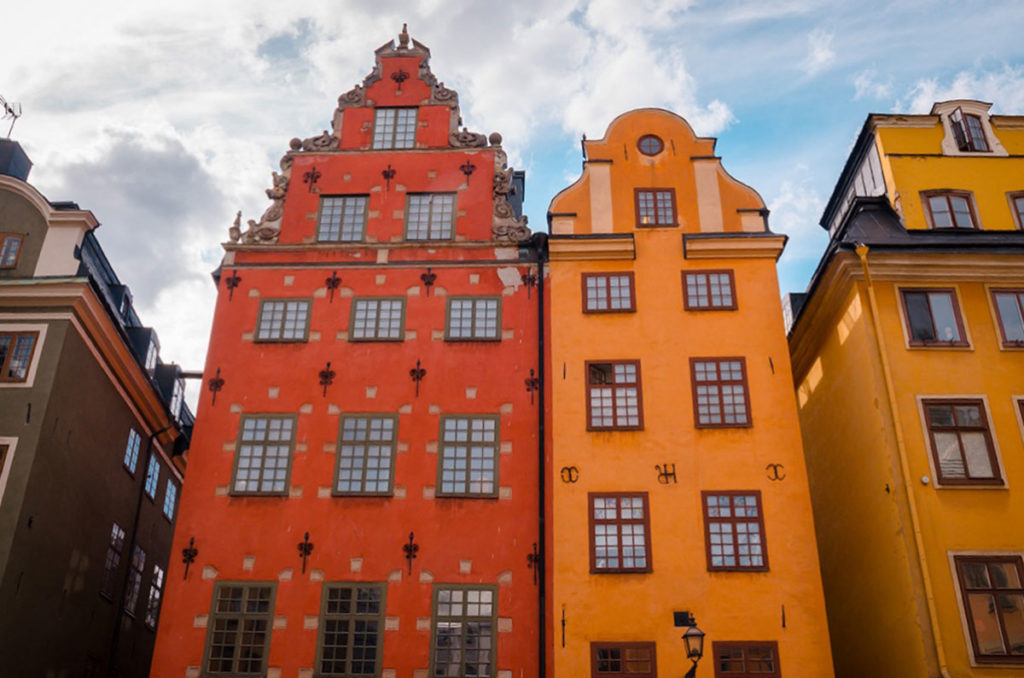 In Jarntorget Square (Iron Square), I really liked this lively and amusing statue of Evert Taube (1890–1976), popular author, artist, composer and singer in beret and sun-glasses (made sense, it was in a sunny spot), with music sheets in his hands.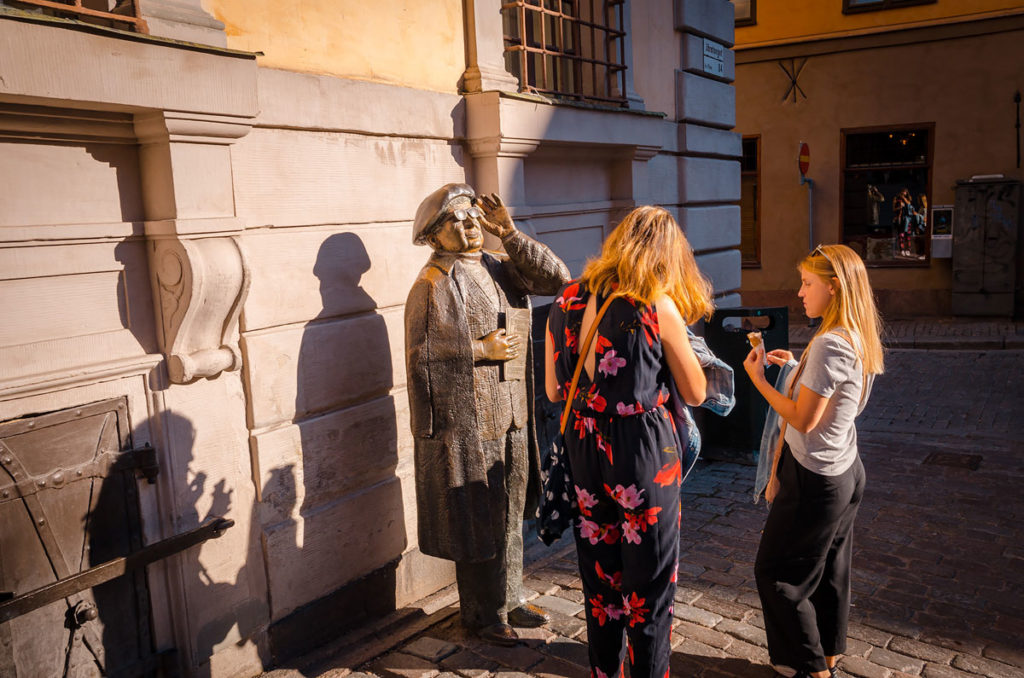 Tourists were constantly taking pictures of it and with it. It was situated to look like the troubadour is in the middle of going somewhere to sing a ballad. The sculptor was Karl Gote Bejemark who made other statues of famous Swedes such as Greta Garbo.
Gamla Stan is not just a repository of historic buildings, but a lively place with restaurants, bars, art galleries and antique shops. It is also a frequent backdrop for weddings, one we saw in action.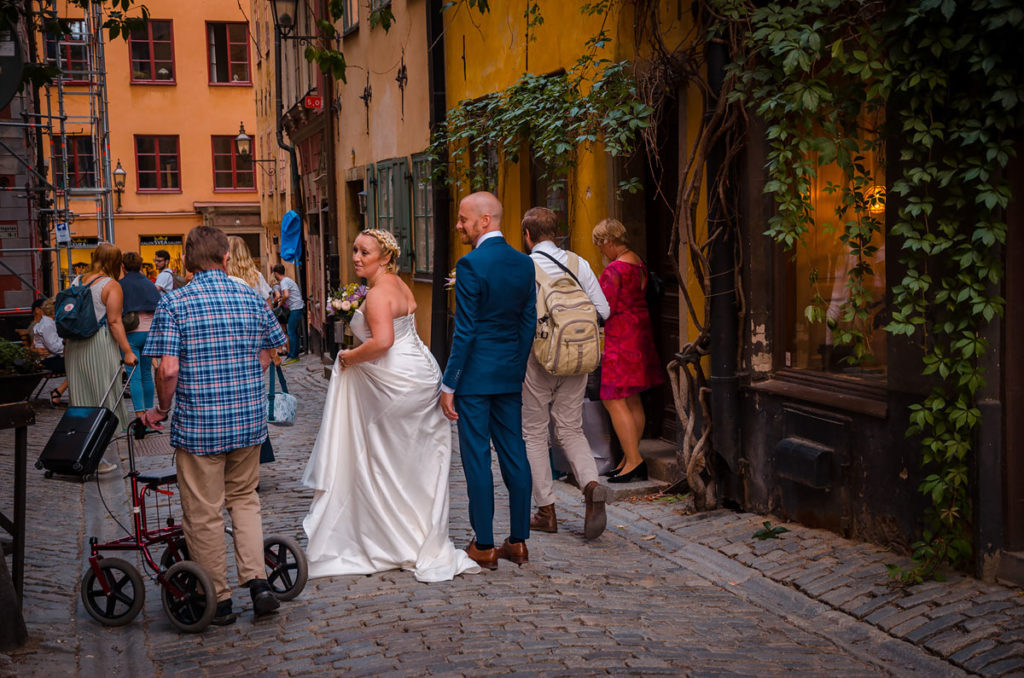 Södermalm Island
Södermalm is tagged as the Brooklyn of Sweden because it is full of hipsters, with plaid shirts, skinny jeans and beards listening to alternative music and eating artisanal food in their hole-in-the-wall apartment in gentrifying neighborhoods. For some reason, young Swedes love Brooklyn culture (Brooklyn Brewery's second-biggest market is Sweden). As a result, Södermalm has swarms of 20 and 30-somethings, vintage boutiques, music venues, restaurants, cafe and bars. Here Khadija and her niece Hanna who grew up in Sweden were walking through the Södermalm bustling crowd.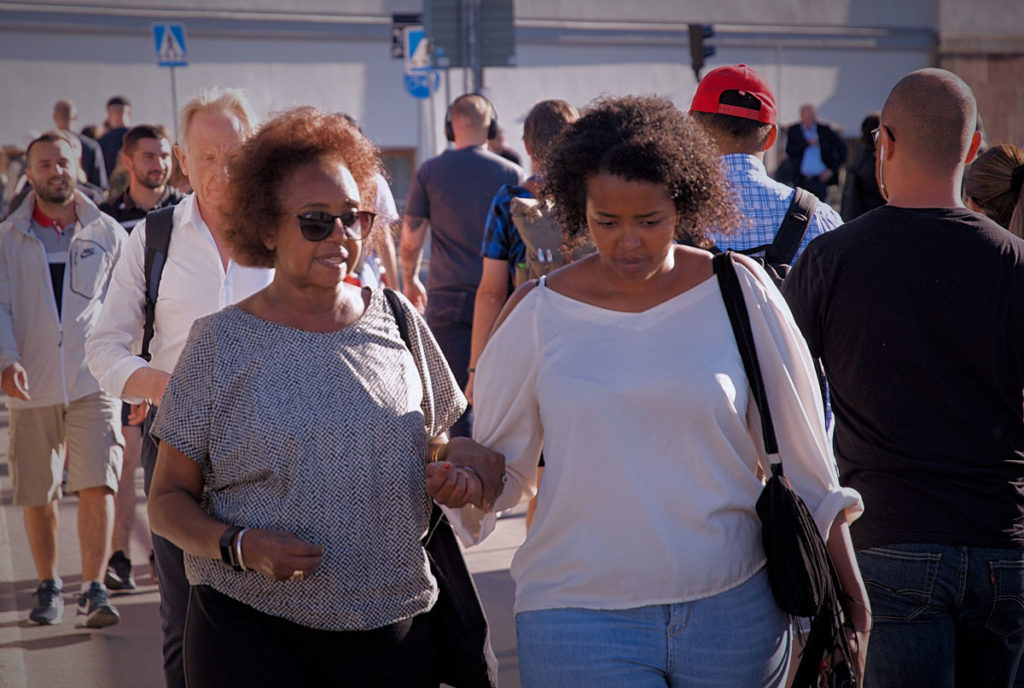 Södermalm had street art scattered around including this huge mural by Brazilian twins Otavio and Gustavo Pandolfo. They are known as Os Gemeos and started their careers in 1987. The piece was massive and colorful, with many small details that kept people discovering new things every time they looked at it. It was finished in 2017.
Sweden's growing ethnic diversity exists comfortably in Södermalm. Sweden in 1975 adopted a policy of supporting the cultures of ethnic minorities. Now over 10% of the country's population is foreign-born including those from southern and eastern Europe and more recently Syrians, Afghans, Iraqis, Iranians, Somalis, and Eritreans.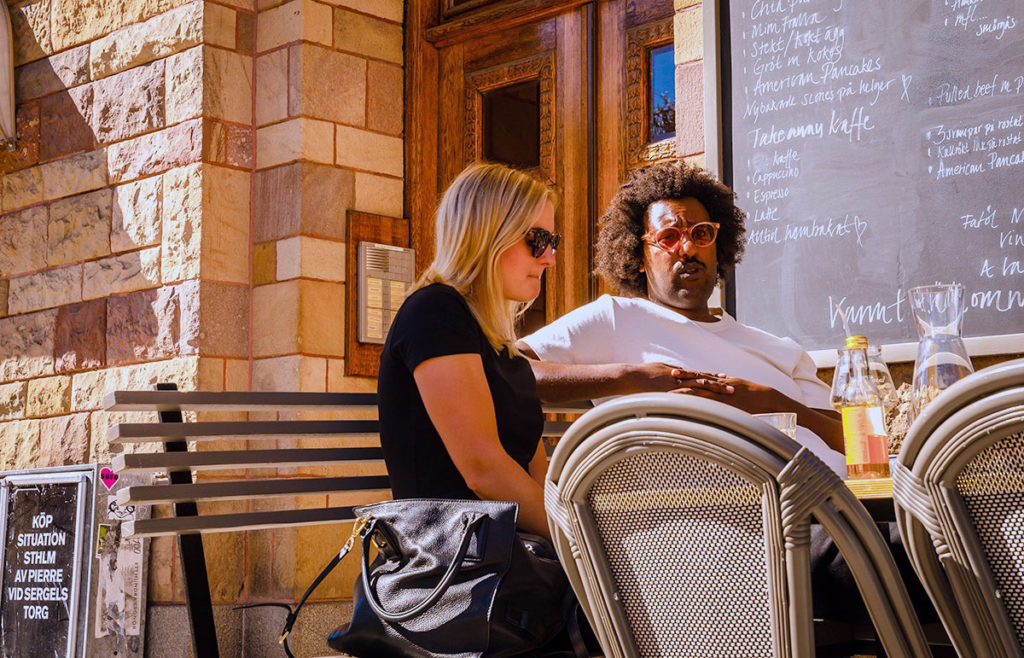 Immigration is a major issue in Sweden political discourse. Some immigrant neighborhoods have not assimilated as planned, with higher unemployment and crime rates. In 2015 a record-breaking 162,877 asylum seekers entered Sweden, the highest per capita number in Europe. In response to dissension to the liberal immigration policy, the Swedish government restricted its asylum and reunification law, a major shift for a country that has long welcomed asylum seekers. Even though immigration dropped dramatically because of the new law, the nationalist, anti-immigration Sweden Democrats received 17% of the vote in the September 2018 elections. The party was formed in 1988 and never received more than 4% of the vote, the level needed to be represented in the Riksdag, until 2010.
As photography is a passion of mine, we went to Fotografiska. This photography museum is internationally renowned and amazingly has branches in London and New York. While there we saw an interesting exhibit of works by fashion-photographer Cathleen Naundorf.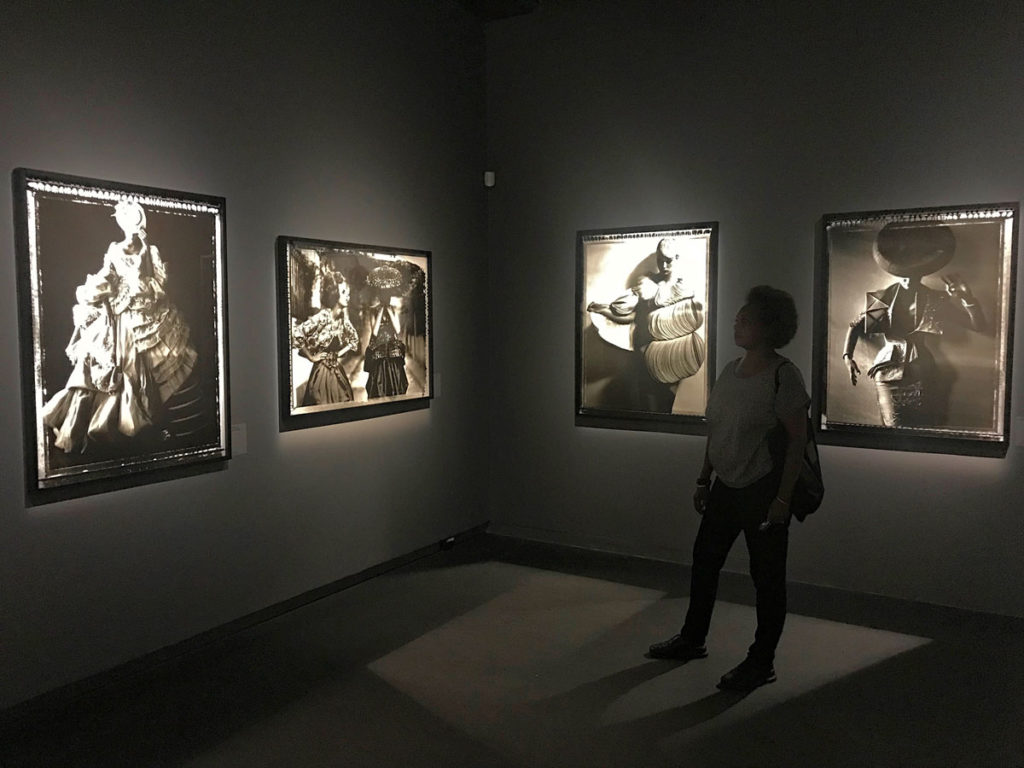 One of the main squares in Södermalm is Nytorget (New Square).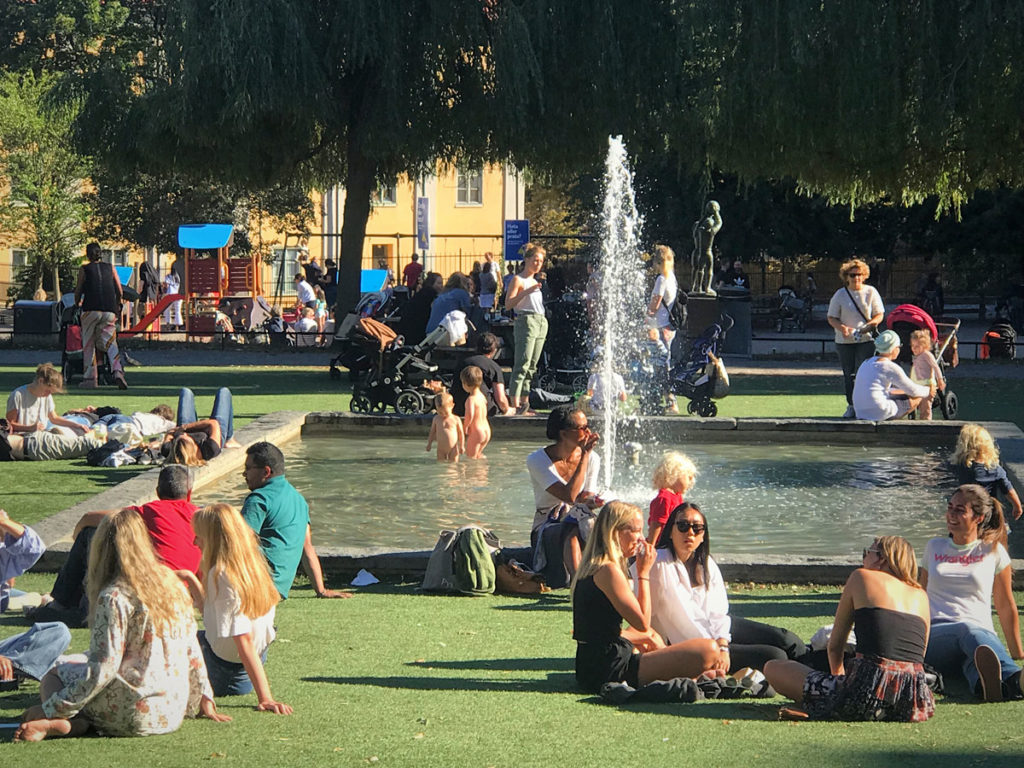 Since the 1600s, Nytorget has been a popular area. This was where Greta Garbo was born in 1905 and the setting of many Swedish plays and novels.
Close by is the Church of Mary Magdalene, the oldest church on Södermalm. The land where the church stands today has housed a church or chapel since the 1300s. Construction on the current church first started in the late 1500s.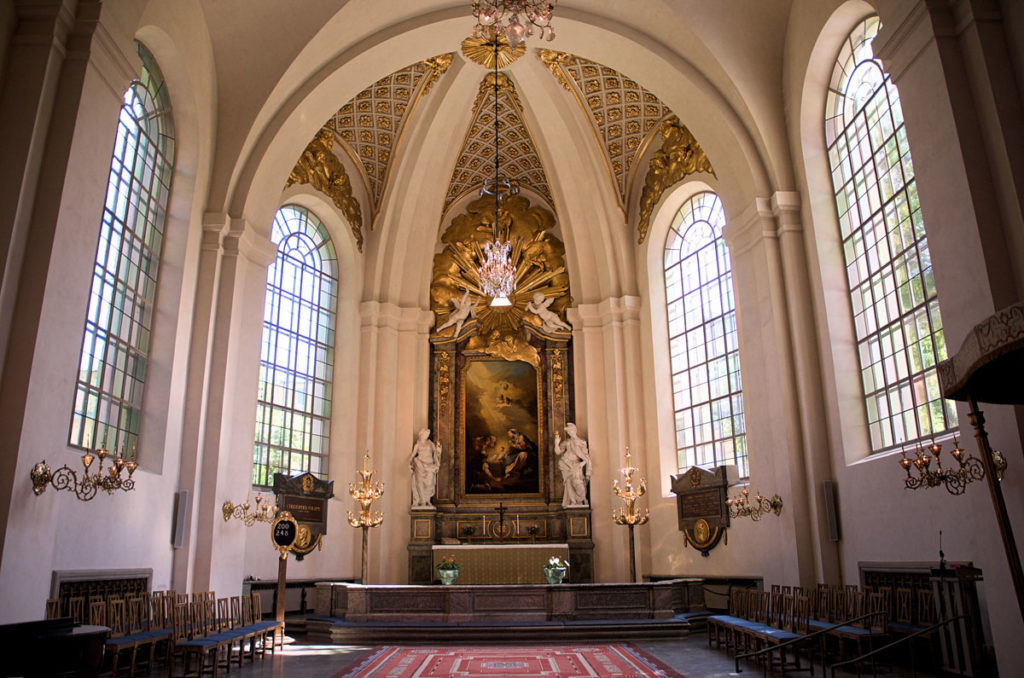 There were many notable Swedish poets and artists buried in the churchyard including Evert Taube (remember, there is a statue of him in Gamla Stan).
There were some residential areas where the housing stock is predominately from the 1700s, situated on steep, curved cobblestone-streets.
Here we strolled through the area with Britta and her twin sister Kerstin.
A notable building, we saw in the area was Katarina Church.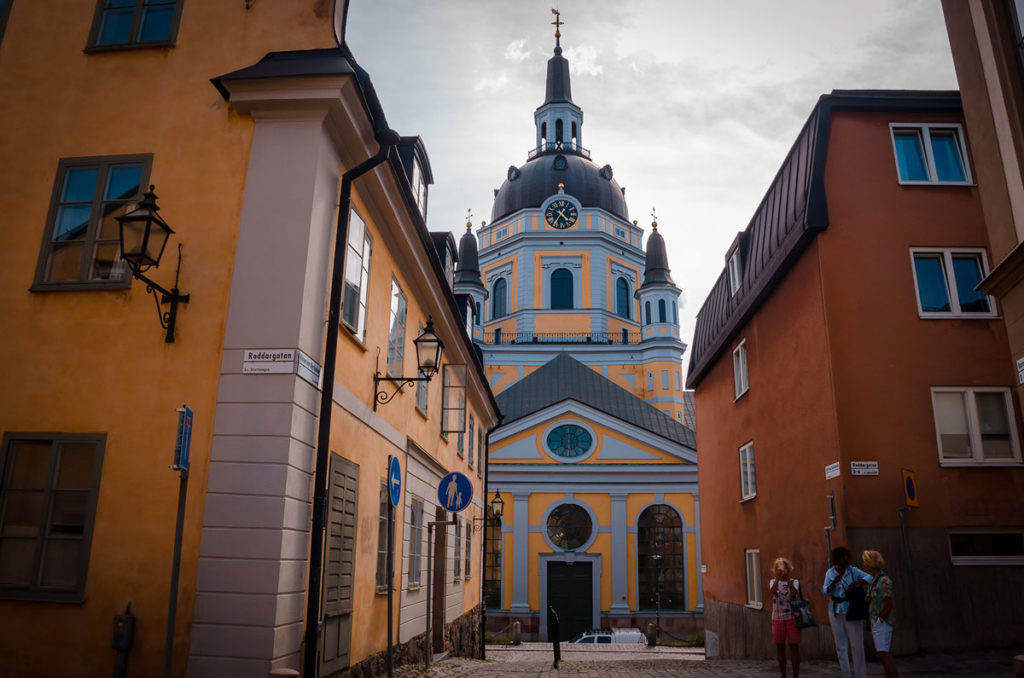 The original building was constructed in the second half of the 1600s. In 1723, it burned to the ground, but rebuilding started soon afterwards. In 1990, the church burned down again, with only some external walls standing. It was rebuilt in the Swedish baroque style (baroque is typically highly decorative and detailed; this relatively modest exterior must meet these criteria in this culture). It had a sandstone base, brick walls, a dome sitting on an octagon base with four clocks and a wooden cupola with a golden cross.
While we walked from dawn to dusk, we found local cafes for lattes and cappuccinos.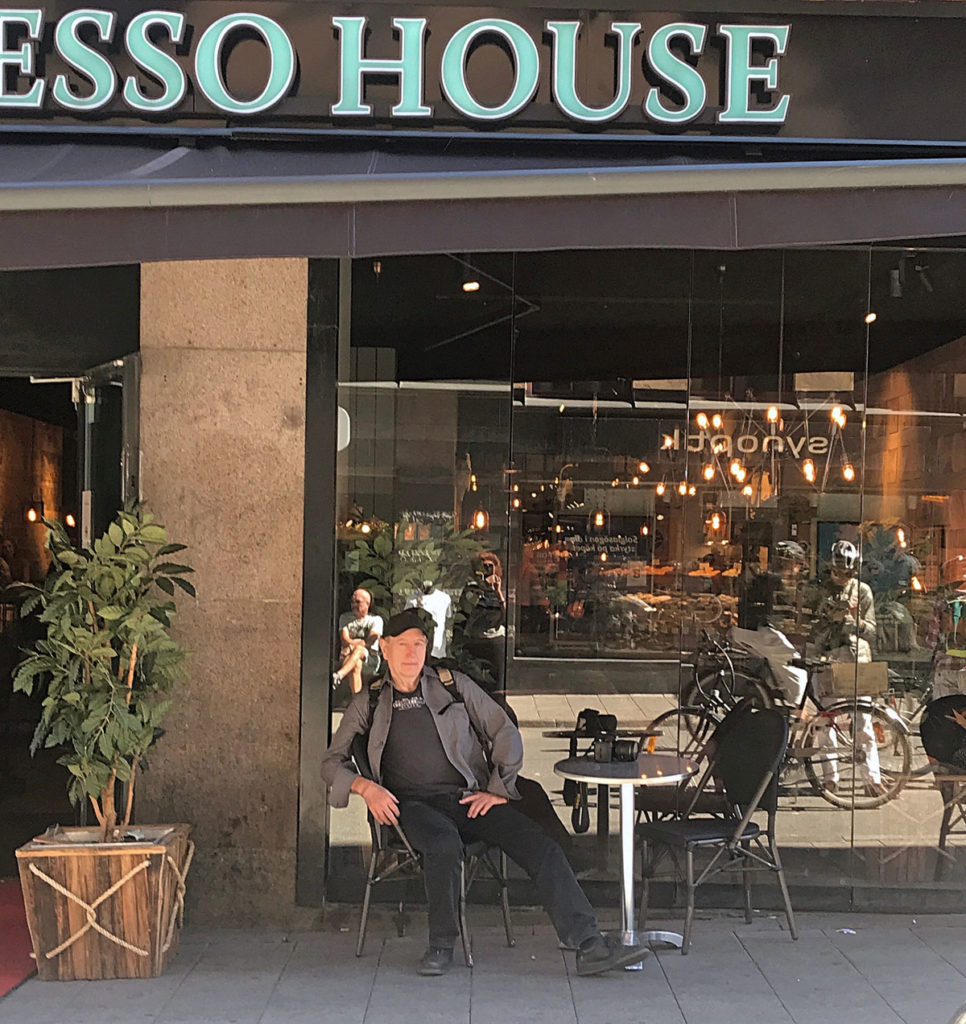 Millesgarden
Millesgården, the residence and studio for Carl Milles, is a park-museum situated on a high cliff overlooking a channel with the mainland. We had to take a bus there, but this was a small effort to go this can't-miss attraction. Milles (1875 to 1955) was world-famous for his bronze statues, sitting often on pedestals and columns…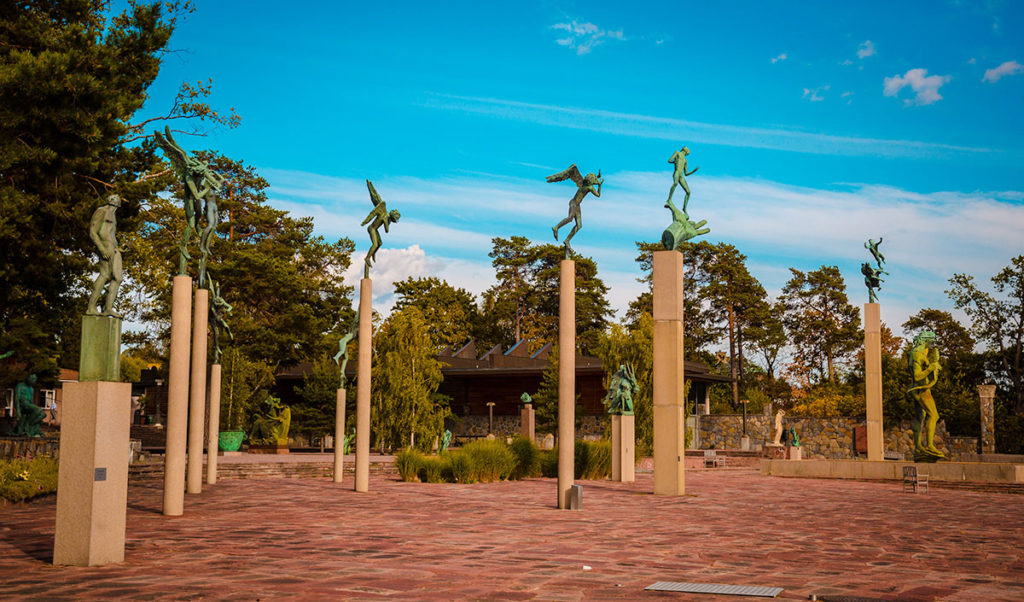 …involving water themes, such as this one of Poseidon…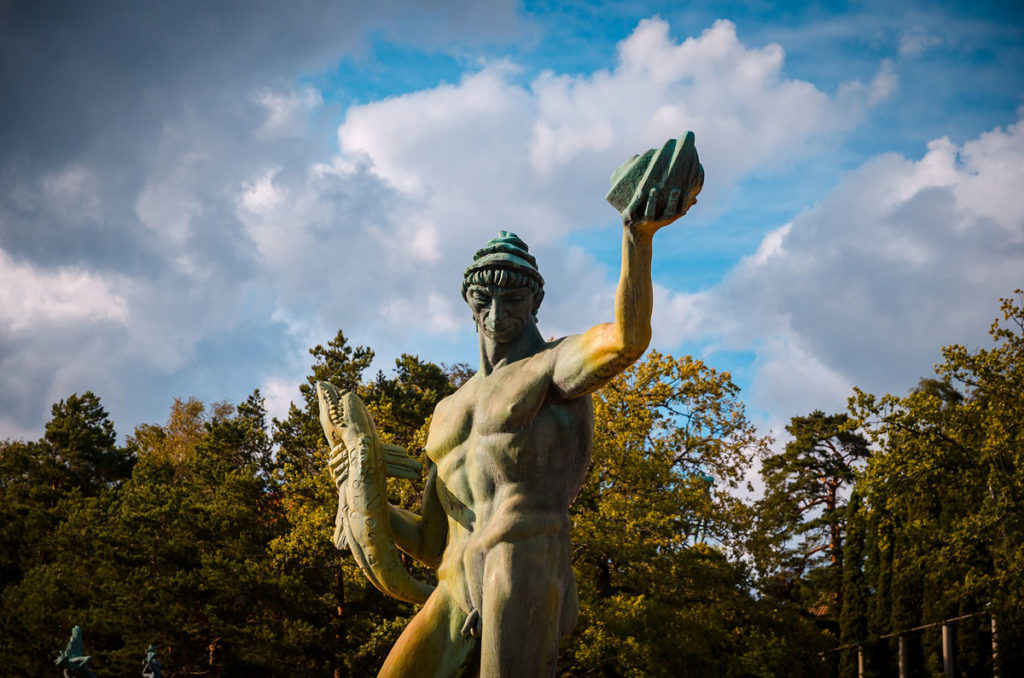 …having religious subjects, like this priest…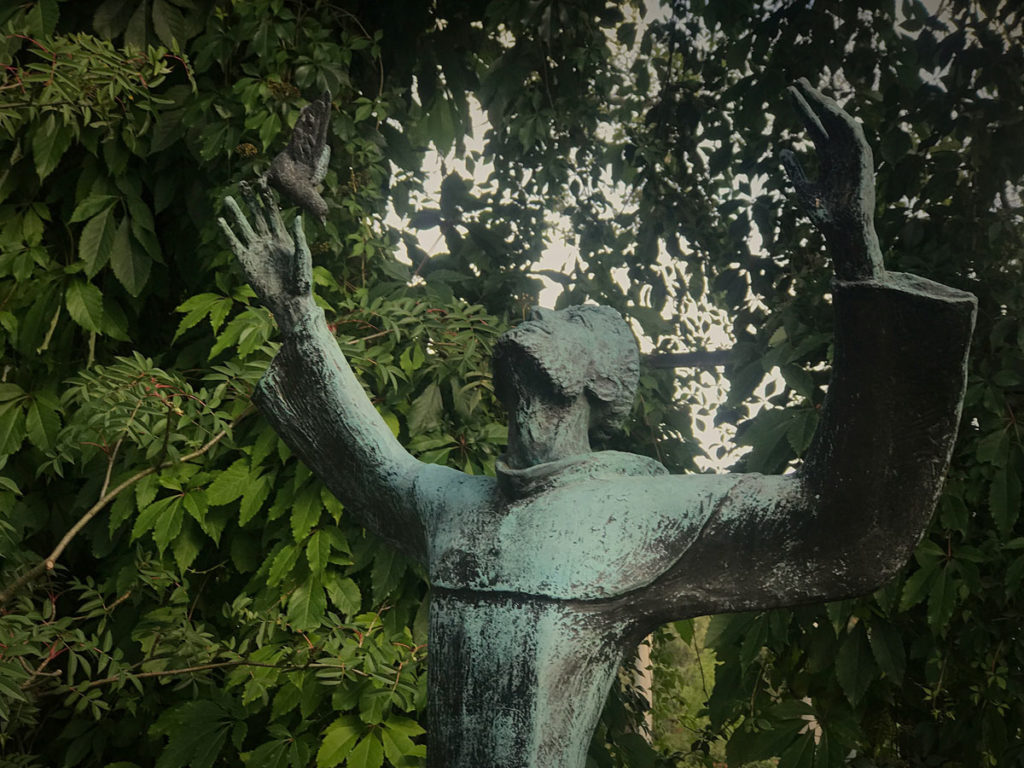 …and interpreting Swedish folk tales, for example, this man searching for his grandson who had been kidnapped by monks.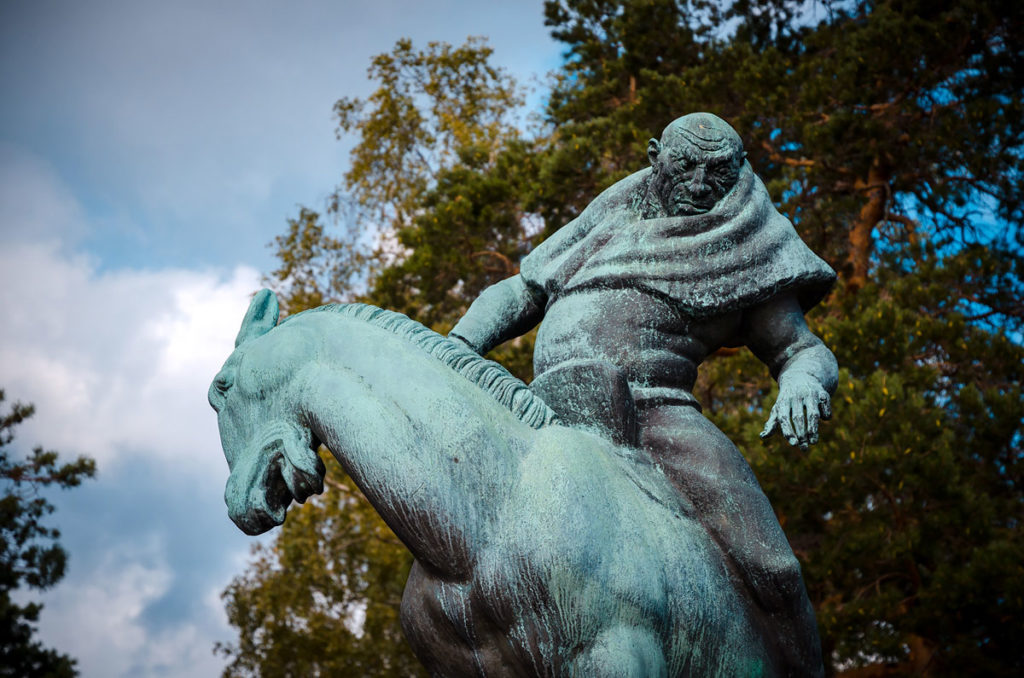 He studied and worked in Paris and Munich from 1897 to 1906 and was influenced by French sculptor Auguste Rodin and medieval art. He lived in Bloomfield Hills, Michigan for 20 years starting in 1931 and eventually became a US citizen.
Milles' statues first were worked in clay, in order to be casted into bronze. We especially liked the molds in his studio.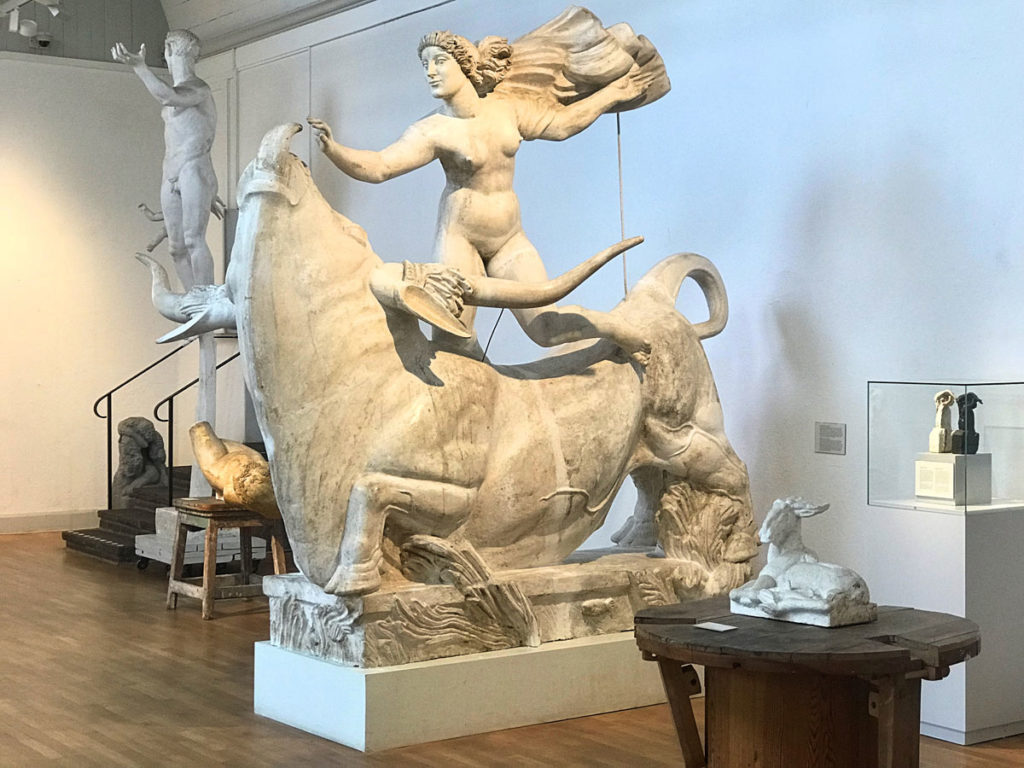 It would be difficult, but if I had to pick my favorite, it would be Man and Pegasus, the winged stallion from Greek mythology.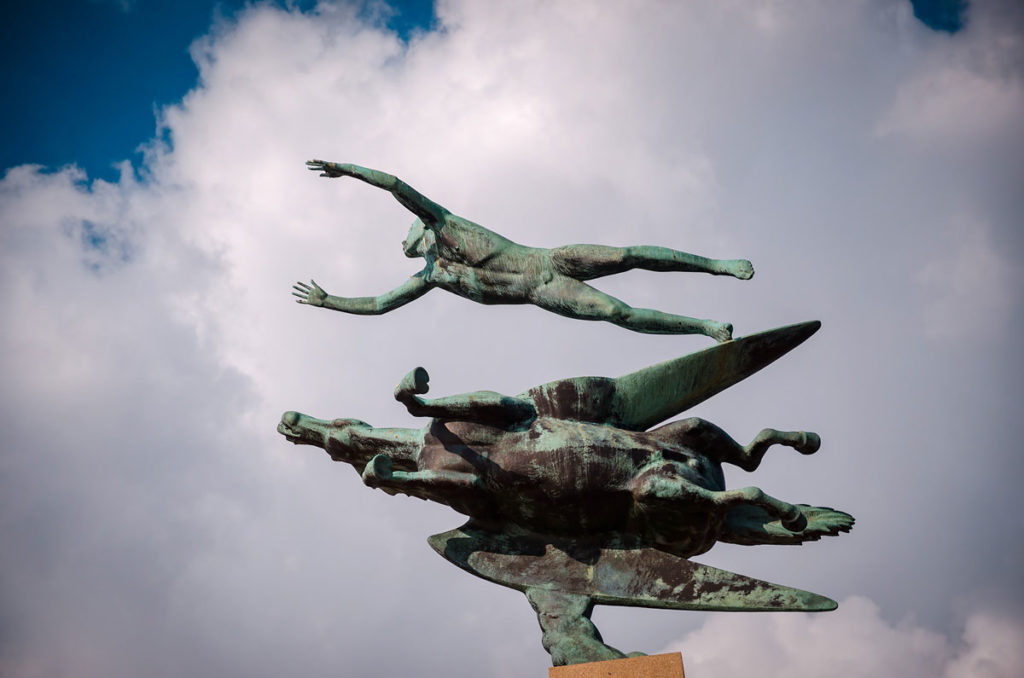 We were impressed by the indoor section of the museum showcasing Milles' sizable collection of sculptures and art pieces, including from ancient Rome and the Italian Renaissance.
Crayfish Party
We were fortunate to attend a crayfish party held in August, called Kraftskiva. This tradition developed because Sweden has restricted crayfish harvesting since the early 1900s to the late summer. As a result, this was the best time of the year to feast on this crustacean. Britta hosted the dinner for Kerstin and husband Bjorn, their friend Krishina and us. While consuming the crayfish, we leaned a couple of things. First, it is considered customary to suck the juice out of the crayfish before shelling it. Second, people wear small, party hats with elastic to keep them on (a common sight in kindergarten birthday parties back home).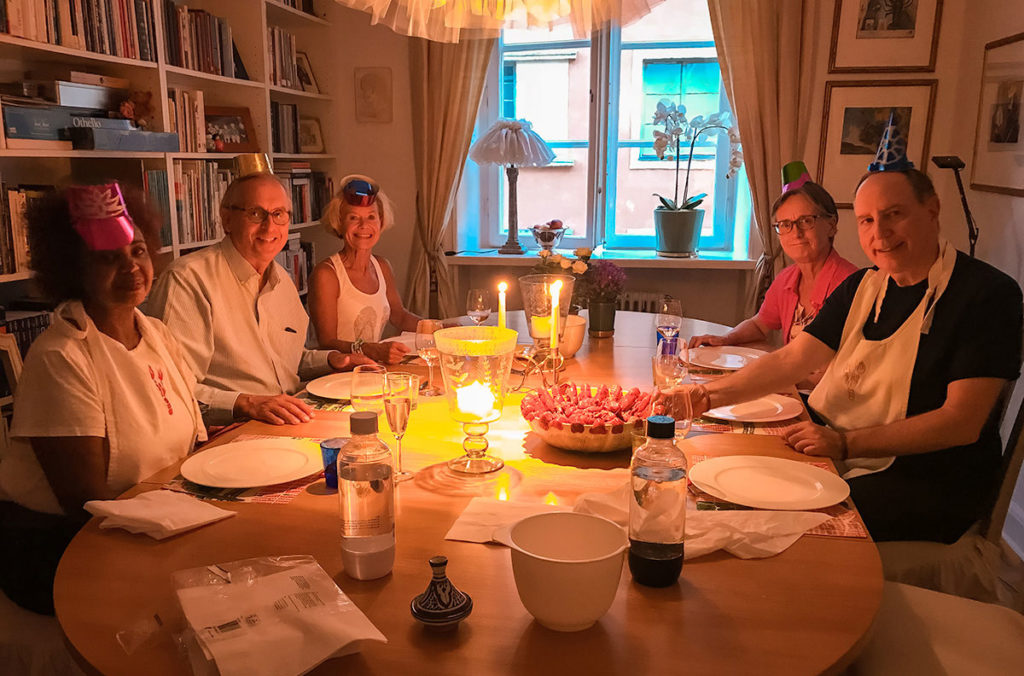 How I Met the Prime Minister
We spent four full days in Sweden, but one of those we drove to Norrtalje, 80 kilometers (50 miles) from Stockholm to visit the family of Khadija. When we were going through the town's main park, we noticed a rally. We realized it was for the Social Democratic Party, which has garnered the most votes in every election since 1917.
Always taking advantage of an opportunity to experience something new, I asked to stop the car so I could check it out. Samsam, Khadija's niece, and I sprang into action and joined the crowd. Samsam first arranged a picture with some of the party members.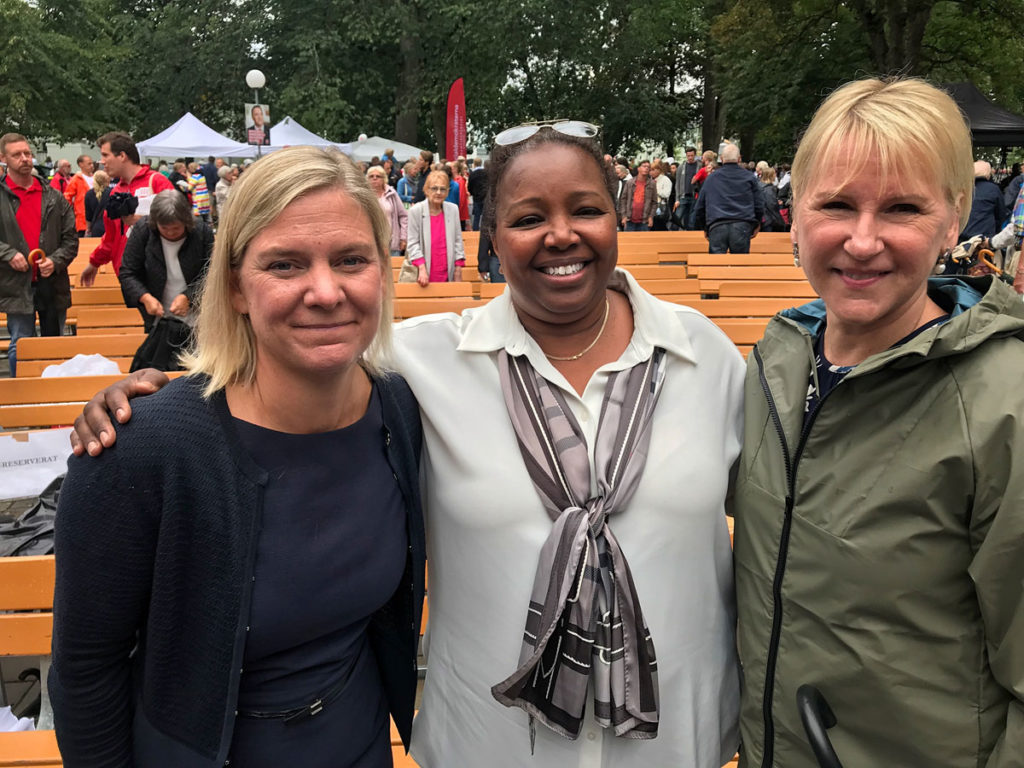 It was toward the end of the event, when lo and behold we saw Prime Minister, Stefan Löfven shaking hands in the crowd. Then she and I posed for a picture with him and I nabbed a few shots of him.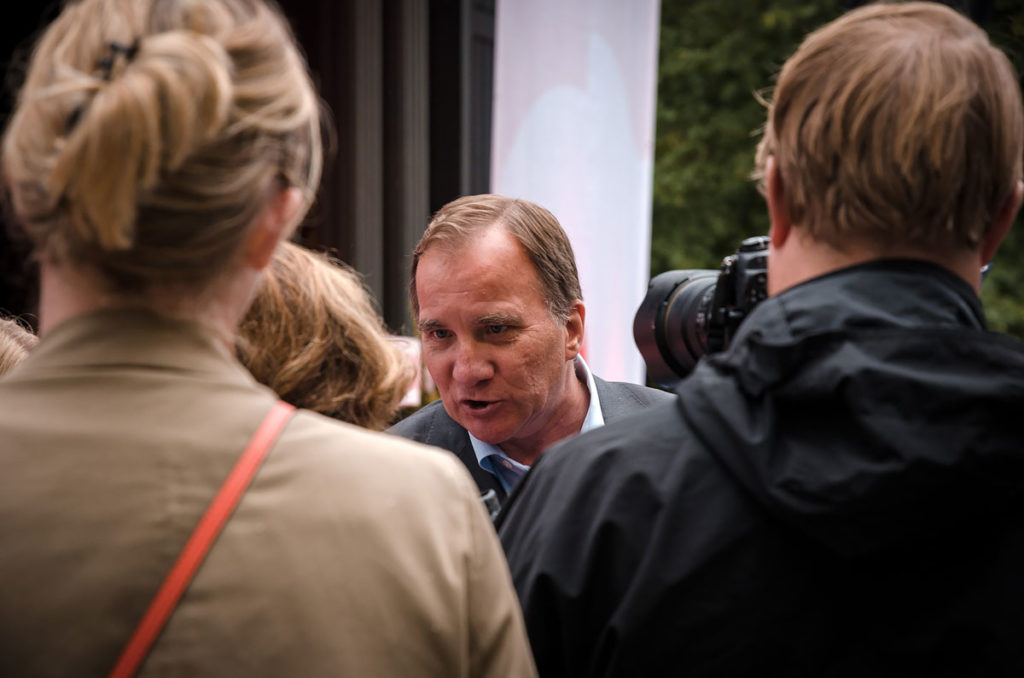 While in Sweden, I learned the legal period to the campaign is about a month before voting day. This compares to non-stop presidential campaigning in the US, which exhausts the electorate and make the process seem like a never-ending horse race. In the end, I watched the hand-clapping finale.
It reminded me of a collegiate pep rally. It had an old-time, wholesome feel. Then I thought of how political discourse has deteriorated in the US where rallies have chants of locking up the political opponent and threatening the press covering the event.
The elections were held on Sept. 9, 2018. Voter turnout was a sky-high 87%. Löfven's party won 28.3% percent, its lowest level since 1911. The far-right, anti-immigration Sweden Democrats won 17.5%, less than anticipated but their highest ever. Following the elections, Löfven lost a vote of no-confidence on Sept. 25, forcing a parliamentary vote on a new government. His government remained in power until the new one was formed. Next, there was a vote for the Moderate Party leader Ulf Kristersson to form a government on Nov. 9, but he lost. On Dec. 14, there was another vote for Löfven, but he lost once more. Löfven was finally re-elected as Prime Minister on Jan 18, 2019, after the Social Democrats struck an agreement with the Greens, the Liberals, and the Centre Party and after the Left Party agreed to abstain from voting against Löfven. This arrangement was a result of these parties ensuring the Sweden Democrats party was not in a government coalition.
Final Thoughts
We were lucky to be there while it was warm and sunny, which is often not the case. We had a good rhythm of visiting tourist attractions and in between resting in cafes, restaurants, parks and public spaces. It would take at least a week to explore Stockholm to my satisfaction. As we had about half that time, we could not fit in additional tours of museums and palaces, visits to the southern islands and exploration of artistic Metro stations. So, we have many things to do when we return.
Our next destination was Norway, to Oslo and the coast above the Arctic Circle.