When we made plans to see Uluru months ahead of our visit, we were surprised that the hotels were nearly sold out. Soon we realized why. The Australian Government had set a date when climbing Uluru would no longer be allowed. This was in response to the indigenous Anangu people who believe the mountain is sacred.
When we arrived, there was a steady rush of people scrambling up the steep monolith.
From one angle, we saw a single-file line of them pulling themselves up by a stretch of a chain.
There were signs asking people not to climb (I did not see them), but people persisted because they thought it was okay based on the arrangement between the Government and the Anangu still allowed it. Or they did not agree with the ban. From observing this, I learned the use of land claimed by Aboriginal people was a hotly debated topic in Australia. In fact, the rock band Midnight Oil wrote a popular song in 1987 called "Beds are Burning," protesting the removal of the Pintupi people from their desert homeland.
"The time has come to say fair's fair
To pay the rent, to pay our share
The time has come, a fact's a fact
It belongs to them, let's give it back."
Now Uluru dominates the landscape, solitary, without human intrusion.
This is one more example that travel broadens one's perspective of the world.
Why We Travelled to the Red Centre
In September and October 2019, my wife Khadija and I, along with our friends Peter and Caitlin, spent 18 days in Australia. We made sure that part of it would be in the Red Centre, an exceptional area in the Northern Territory of Australia. We wanted to see the famous desert landscape and learn about Aboriginal culture, one of the world's oldest.
Travel Itinerary for the Red Centre
The Red Centre covers a large area of Australia's Northern Territory spanning about 550,000 sq. km (200,000 sq. mi). The only city, Alice Springs, is small with a population of 25,000 and about 1500 km (about 900 mi) from the nearest major cities, being Darwin to the north and Adelaide to the south. It is around a three-hour flight from Sydney, Melbourne, and Brisbane in the east.
We flew from Sydney to Alice Springs and rented an SUV from Thrifty. We drove the loop called the Red Centre Way or the Mereenie Loop, which encompasses many of the significant sites.
We arrived there on September 29 and left October 3, spending a full four days. We didn't want to go later, as it becomes a frying pan in mid-October. Even though it was not the hottest time of the year, it was plenty hot. We found that we could hike only early in the morning or late in the afternoon, as the temperatures were too high in the midday (around 30º C / 86º F). Because we kept out of the sun during the midday hours, we couldn't visit Uluru and the Kata Tjuta "domes" in one day. On the day we drove back to Alice Springs, we squeezed in a couple early morning hours to drive towards Kata Tjuta and take a few photos from a distance. We needed another day to explore it and regret we didn't.
A few hardy souls walk on the Larapinta Trail, which covers 223 km (139 mi) from Alice Springs west to Mount Sonder, one of the territory's highest mountains. We did not have time to consider this, but we met two guys at Standley Chasm who were walking it. They told us it was very challenging because of the heat and sun.
Is the Red Centre Safe?
The Red Centre is located in a very remote region of Australia. There is hardly any crime experienced by tourists. What you really need to think about is Mother Nature and take walking shoes, a wide-brim hat, sunscreen, insect repellent, and especially an insect head net, as swarms of them can be unbelievably aggressive in spots.
Alice Springs
Our 9:25am flight in Sydney was delayed until 12:30pm, so by the time we arrived, rented an SUV and drove to Alice Springs it was after 5pm, and most shops and attractions were closed. We made the most of it and walked around the Todd Pedestrian Mall. Most of the city's restaurants, bars, Aboriginal art galleries, tourist shops, and fashion boutiques are here.
In the mall were indigenous people selling their paintings. We spoke to this woman who lived in a nearby neighborhood of Alice Springs.
Little did we know, this was the only time we engaged directly with indigenous people except for those working in resorts.
A great place for specialty coffee and pastries is the Wicked Kneads. Lone Dingo is an excellent outfitter where we bought a few things. For dinner, we went to the Epilogue Lounge and Rooftop Bar. Later that night, we returned and listened to an Afro-Beat band with a kora player and plenty of percussion. The crowd was mostly young, local folks.
We wanted to go to the Alice Springs Reptile House, a privately-owned facility that is home to over 100 reptiles but couldn't because of our late arrival.
We stayed at the Mercure Alice Springs Resort, which was a good place for a night and less than a ten-minute drive to the Todd Mall. The best part of being there for me was hearing the CD "Didgeridoo Beats," music of Andrew Langford playing in the reception area. This chilled world-music features the didgeridoo, which is a wind instrument developed by Aboriginal peoples of this area about 1,000 years ago.
The next morning before we started our road trip, we went to a grocery store and bought water, fruits, nuts, and snacks, as there are few places to buy these on the Red Centre Way.
Standley Chasm
Our first stop was the Standley Chasm or Angkerle Atwatye to the local indigenous, a slot gorge that cuts through solid quartzite stones in West MacDonnell National Park.
This narrow chasm offers a superb display of colors as the sun passes through the sky. The best time to photograph is midday when the sunlight can illuminate the whole gorge (which is unusual, typically early morning or late afternoon is best).
It is privately-owned by the Angkerle Aboriginal Corporation. It's a place of great significance and a protected cultural site to its traditional land-owners.
Ellery Creek Big Hole
The biggest and deepest waterhole in Central Australia, the Ellery Creek Big Hole, is a popular camping and swimming destination for tourists. It cuts through a gorge in the mountain range and is surrounded by massive red cliffs.
This site was formed through thousands of years of accumulated floods.
Ochre Pits
For many generations, the Ochre Pits has served as a mineral mine and an essential part of the culture and everyday life of the indigenous people of the area. Even today, they make dye from the stone for paintings and ceremonial body and weapon decorations. It has a rich abundance of mica and quartzite producing white, yellow, red, orange, and brown dyes.
Due to the cultural significance of the pits, visitors are prohibited from removing any ochre.
Redbank Gorge
The Redbank Gorge is nestled at the base of Mt. Sonder with a wide range of rare plants and animal species. After driving several minutes on a dirt road to the entry point, Peter and I hiked to the gorge. Even though it was a short distance, it took us an hour one-way because of the many boulders we had to climb over. We did it just before sunset, so the red in the rocks were not glowing in the sunlight, but pretty nevertheless.
When hiking back, we saw kangaroos in the distance. We were unable to get any usable photos of them in the low light because they were too far away and blended into the rocks. It seems they come out when it cools down.
On our drive back, we saw a dingo, the wild dog of Australia.
Dingo attacks on humans are rare, but they can scratch or bite if they feel threatened. They are predators and can kill pet dogs.
Glen Helen Lodge
For the night, we stayed in the Glen Helen Lodge, the only hotel accommodation located within West MacDonnell National Park. The motel rooms were basic and had a slight sulfur smell from the borehole for water. It's the only place to stay in the area and offers decent food, sells gasoline, and has powered and unpowered campsites.
In the morning, we admired the surrounding cliffs on the Finke River.
Drive to Kings Canyon
The drive from Glen Helen Lodge to Kings Canyon took us about six hours, with photo stops. Much of the road was unsealed. There was little traffic; probably a car passing us in either direction only every five to ten minutes.
Soon after leaving and swerving around cattle on the road, we saw a pack of wild camels on a hill.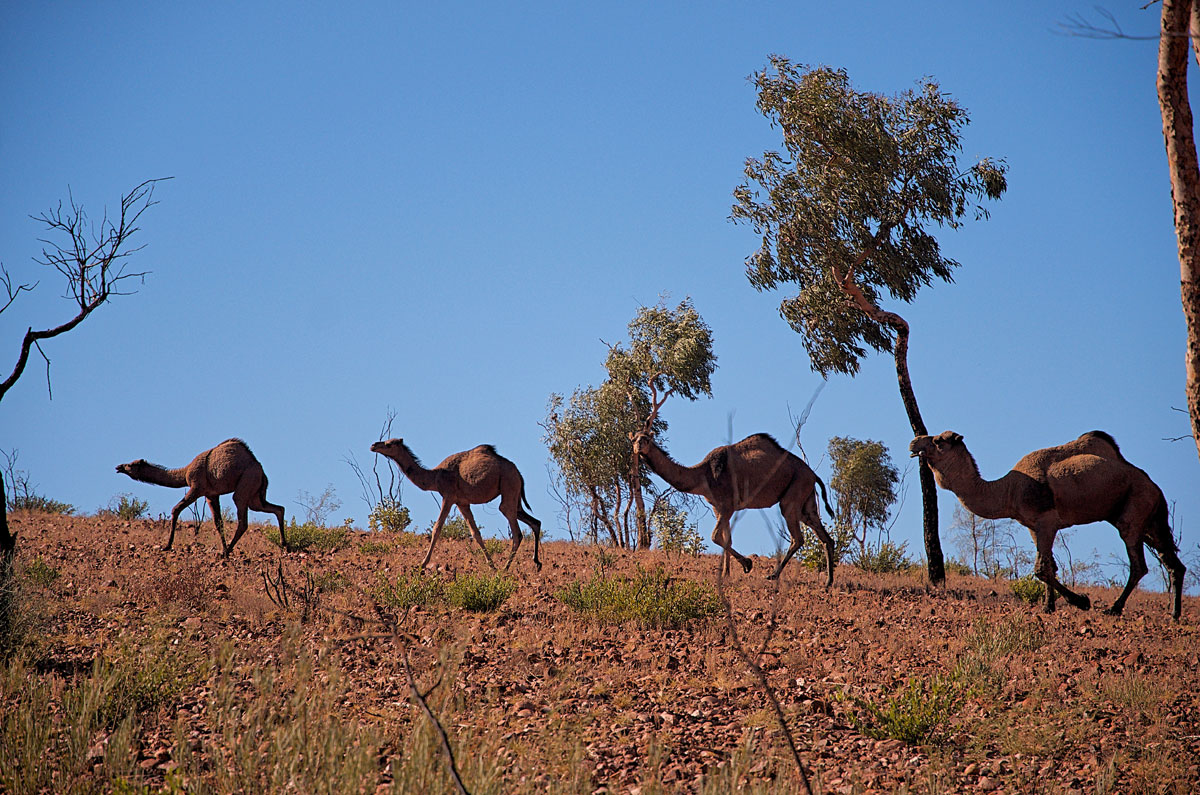 The British imported them from India and Afghanistan in the 19th century to help carry loads for construction. After trucks and cars became widespread, they were released into the wild, and now there are hundreds of thousands of wild ones.
Here and there we saw abandoned cars and kitchen appliances. Maybe they are outdoor art or possibly road markers. In any case, it's a tiny dose of "Mad Max."
I really liked the parts of the landscape with silver-white bushes contrasting with the red soil and blue sky.
Kings Canyon – Watarrka National Park
Watarrka National Park is a particularly scenic area with red-canyon after red-canyon stretching across the horizon. The best-known canyon is Kings Canyon which has cliffs over 100m (330 ft) above a palm forest.
The famous hike around the top of Kings Canyon, is the Canyon Rim Walk. Depending on the hiker's pace, the walk takes three to four hours, and it's best to start at sunrise when it is cooler. The 6 km (3.5 mi) trail can only be walked in a clockwise direction and has several places to rest and to appreciate the amazing desert scenery. The hard part is in the beginning when ascending to the rim.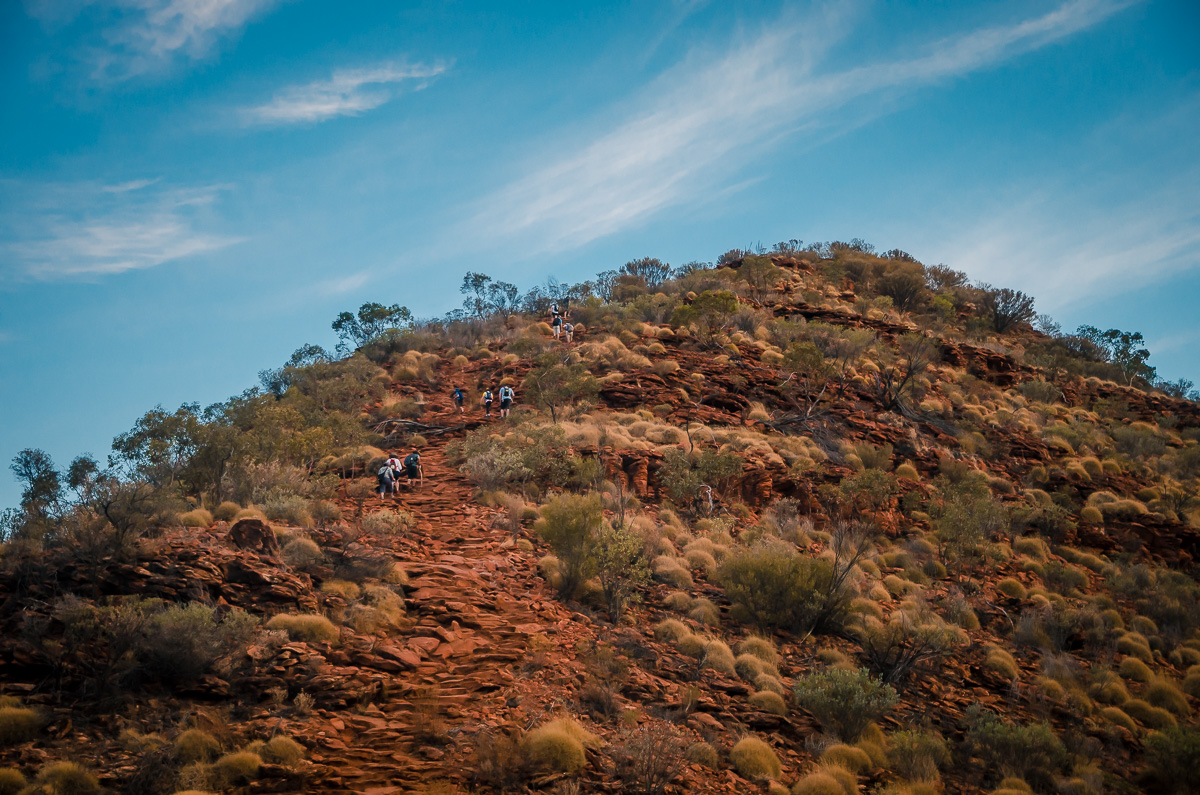 As Peter and I hiked, the beautiful scenery continued to unfold.
A fascinating aspect of the rim is the sand domes, nicknamed beehives. Tens of millions of years of wind and rain crafted a series of these domes.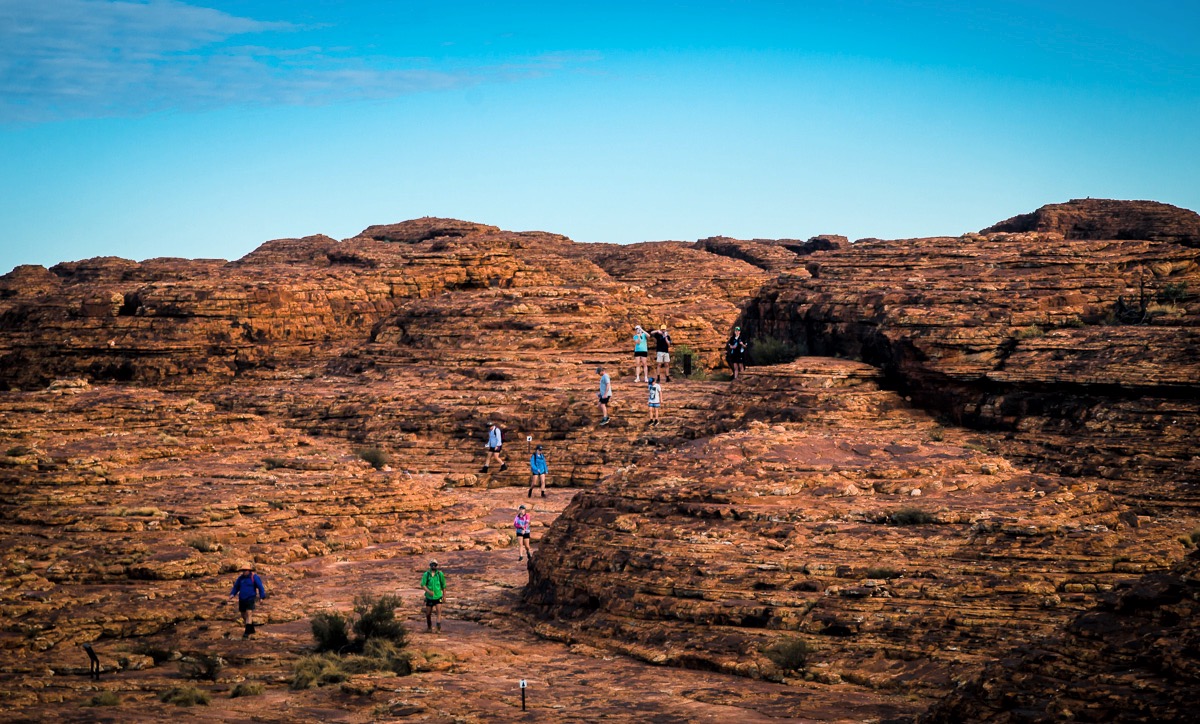 For those who prefer to avoid trudging up a mountain, there is the Kings Creek Walk. It is only 2.5 km (1.5 mi) roundtrip and a leisurely stroll on level ground.
A great feature of this walk is that it's shady and much cooler than the open desert, so it's easy to take your time and watch for wildlife and appreciate the trees, bushes, and grass. On the way in, I saw a spinifex pigeon on a drain by a fountain, probably looking to quench its thirst.
We stayed at the Kings Canyon Resort and Park, which has comfortable rooms. It was pricey, but there were few alternatives, and it's the closest to King Canyon. Its Outback BBQ and Grill is very popular with meats grilled to order and an extensive salad bar. The meat portions were huge (Khadija and I shared one order). We were entertained by a guitarist singing mostly 60s and 70s rock songs.
Mount Connor and Curtin Springs
Uluru is 325 km (200 miles) from Kings Canyon and takes about four hours to drive. While driving through this area, I wondered what the landscape would look like monochromatically, and here are a few interpretative photos.
While cruising on the highway, we saw a trotting wild horse, known as "brumbies" in Australia.
We were excited when we saw Uluru in the distance, as we must have been making better time than we thought. Then we realized we saw "Fool-uru," 80 km north of Uluru. The gigantic mesa is Mount Connor and has a similar geological age and formation as Uluru.
We stopped at Curtin Springs for gas and a break. Curtin Springs offers accommodations, down-home meals, groceries and shower facilities amid a vast cattle station (ranch).
Uluru – Ayers Rock
The rock star (pardon the pun) of the Red Centre is Uluru, formerly called Ayers Rock. It's a massive sandstone rock formation and the result of sands deposited from mountain erosions around 600 million years ago. We made it there an hour before sunset, which is the best time to photograph as the rock color is glowing orange-red, and the sky is usually dark blue.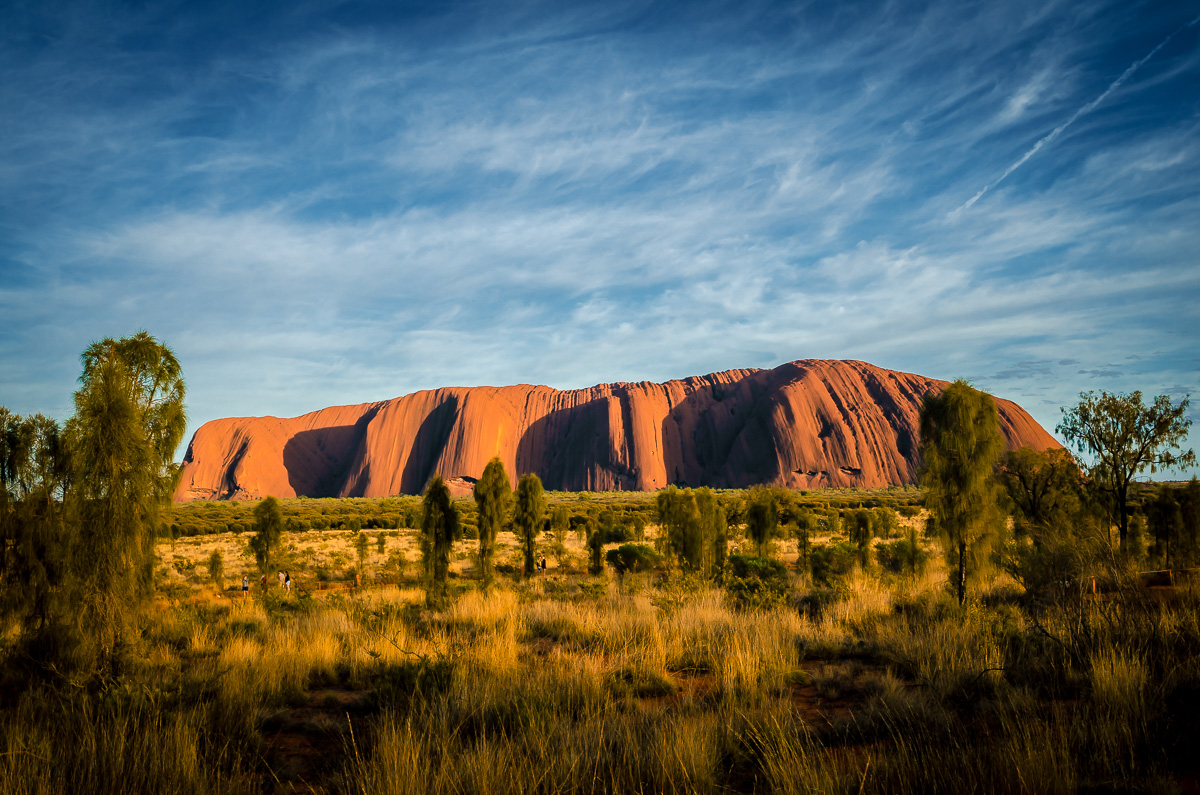 The indigenous Anangu people are believed to have been in the area for 10,000 years and consider Uluru as a sacred site. Uluru does not have a meaning but is a formal name. It is one of the two significant features of the Uluru-Kata Tjuta National Park, the other one is Kata Tjuta. Both are UNESCO World Heritage Sites.
We did the 10 km (6 mi) walk around the base of Uluru. It took us about three hours and was fascinating. At a distance, it seems relatively smooth, but close up, the surface is uneven with indentations, caves, and cracks. Many features are similar to known objects, such as the "tooth" cave opening.
We didn't, but it is a good idea to have a guide for at least part of the walk, to learn about the cultural sites and the geological history.
Kata Tjuta – The Olgas
In the same park, another iconic Australian landscape is Kata Tjuta, also known as the Olgas. It is a group of 36 dome-shaped rock formations, and Kata Tjuta appropriately means "many heads." The highest dome, Mount Olga, was named in honor of Queen Olga of Württemberg (a historical southern German state). Like Uluru, the Kata Tjuta is considered sacred by the Anangu people.
We had allocated one day to view Uluru and Kata Tjuta, but because we stayed inside during the hot midday, we did not have enough time to see both. In retrospect, we would have spent another day to hike through them. The day we left for Alice Springs, Khadija and I woke up before sunrise and drove there to admire them in the early morning light.
We stayed at the Ayers Rock Resort, which is the only place in the area. They have six interconnected hotels and apartment complexes, as well as tourist shops, restaurants, and cafes. Our place was the Desert Garden Hotel. They had a fine-dining restaurant, Arnguli Grill & Restaurant, where we celebrated Caitlin's birthday (imagine in such a memorable place as Uluru!).
The night before we left, we went to the Field of Light Uluru installation by artist Bruce Munro.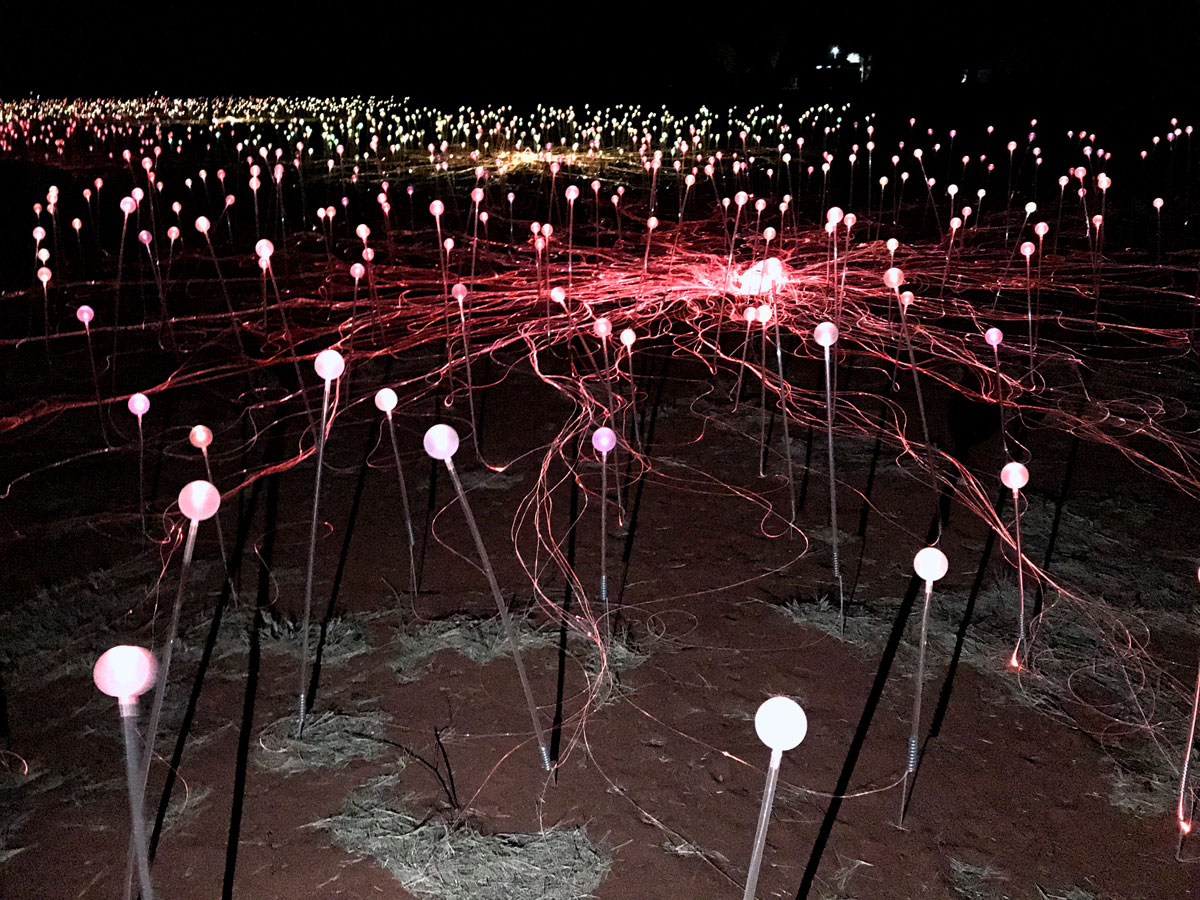 There are more than 50,000 solar-powered bulbs that shine throughout the night.
Final Thoughts
Khadija and I have travelled the world for decades, both to over 100 countries. Making it to Uluru was something we always wanted to do.
Well, we finally made it!