Part 1 – Overview
I have been quite fortunate in my life, having been on several African safaris in eastern and southern Africa. In the wild, I have seen elephants, lions, cougars, leopards, wild dogs, jackals, hyenas, hippos, giraffes, warthogs, buffalos, wildebeests, and several species of antelopes, lizards, frogs and birds. The one animal that had eluded me is the wild gorilla, especially the endangered highland (or mountain) ones in the rainforest of Uganda, Rwanda, and the Democratic Republic of the Congo (DRC). I was in south Uganda in 1992, but my schedule did not permit tracking. While I feel the bucket list meme is overused, seeing wild gorillas was something I always planned to do. I finally arranged it in August 2017. While there has been a very modest increase in the highland gorilla population, there are fewer than a thousand, which is
precariously low. The three countries have outstanding wildlife protection, but there is the risk of civil war in the Congo, poaching (for pet babies, trophies, supposed magical remedies and in traps set for other animals), communicable disease and land encroachment from farmers on the borders of the protected areas. By going, I supported the gorillas, parks and neighboring communities by bringing in highly desirable hard currency. However, I went primarily to observe this close cousin to humans in their natural environment.
Part 2 – Travel Essentials
Selecting a Tour Operator
The first decision is which country to go to. I initially was thinking of the DRC, as I had never been there and could combine it with climbing Mount Nyirangongo volcano, which has a lava lake in its caldera. I decided against it because of the seemingly never-ending political unrest flaring up (see the documentary "Virunga" to see how dangerous this can be) and there was a cholera outbreak in Goma, on the border of Rwanda and the main city in the area. Then I thought it would be easiest to go to Rwanda, but I learned the government recently increased the daily permit to $1,500 (in this post, $ refers to US Dollars), as opposed to $600 in Uganda. For that difference, it was worth the couple of extra hours to go to Uganda, which has about half of the highland gorilla population.
Online I found many tour operators, but I decided to use Gorilla Trek Africa based in Kampala, Uganda. It had several good references on Trip Advisor and other sites. The tour price was $1,935 (40% deposit and the rest a week before, wired in dollars) for:
One-day tracking permit
Transportation from Kigali (capital of Rwanda and the closest international airport is located) to Bwindi Impenetrable National Park in Uganda (approximately a five-hour drive, including forty-five minutes to cross the border),
meals (but not drinks beyond tea, coffee and fruit juices),
two nights in a relatively upscale lodge with a private cabin,
transportation inside the park to the briefing area and the beginning of the tracking trail.
I suppose you could arrange the trip yourself and save some money, but I am not sure how you can get the permit other than showing up at the park by 8am and requesting one. You could then make a hotel reservation for the night before, arrange for a driver in Rwanda and possibly another one in Uganda (or renting a car, but it would have to be a Land Cruiser or equivalent because of the rough dirt roads to the park in Uganda, plus the vehicle would have to be insured in both countries). After the tracking, which usually ends early afternoon, you could drive back to Kigali. The self-arranged option is more attractive the more persons you have and if everyone could deal with uncertainty (e.g. having to wait a day for a permit, getting lost, having to fix a flat tire, etc.). I had a set time-period for this trip, so a self-arranged itinerary was not an option. Besides, the tour operator guide provides a great deal of useful information, knows where he is going and can easily arrange changes in your schedule.
Visa
At the Nairobi airport, you can buy an East African visa for $100 which gives multiple-entry among Kenya, Rwanda and Uganda for 90 days. It does not cover entry from another country such as Ethiopia. I crossed these borders five times, so it was better than buying separate country visas ($50 for single entry, $100 for multiple entry).
There is a link to a Rwanda government site for the East African visa. It did not work for me and it would not have been helpful in my initial entry into Kenya. Supposedly, you provide passport and other information and it gives you a number which facilitates the issuing of the visa when you arrive in one of the three countries.
Vaccinations
Rwanda requires a yellow fever vaccination. I had one eight years ago which was recorded on my "yellow card" and the vaccination lasts ten years. Kenya does not have this requirement for US citizens, but checks if you enter from a "yellow fever" country. It is best to bring the yellow card wherever you go in the area, so you can avoid problems.
How to Get to Kigali
For a city of two million, Kigali has a small airport and no direct flights from Europe or Asia. I flew to Nairobi, Kenya which was my base for travel to several East African countries for three and half weeks. I bought a roundtrip ticket from New York City on KLM for $1,040. The first leg was on Air France to Paris, then Kenya Airlines to Nairobi (both airlines have same ownership as KLM and are Sky Team frequent flyer members). On the return, I took Kenya Airlines to Amsterdam, then KLM to New York.
From Nairobi, I flew Kenya Airlines to Kigali, with a runway stop in Bujambura, Burundi. That flight took approximately two and half hours and the returning one (direct to Nairobi) was one and half hours. Rwanda is one hour earlier than Kenya and Uganda. The cost was $310.
Lodging in Kigali
The day I arrived and the day I returned, I stayed in Five to Five Hotel. It is a fifteen-minute drive from the airport and has a shuttle bus to and from there. My room was clean with a queen-sized bed, hot water, working electrical outlets, hair dryer, extra toothpaste and toothbrush and good views. The price was $90 / night. There are comparable hotels closer to the city center, but I liked this location near the airport.
Currency and Credit Cards
During my trip, these were the approximate following exchange rates:
100 Kenya Shillings to $1.
770 Rwanda Francs to $1
3300 Uganda Shillings to $1
Credit cards are accepted at most hotels, many restaurants and some stores. Often when charging to a credit card, you have the option of charging in local currency or $. Since the credit card processor set the rate (not the vendor) and I was certain of the cost in my home currency, I often chose $. On the credit card receipt, I always highlight in pen the vendor name, currency, amount and date. This greatly helps when reviewing your credit card statement.
When buying small items, it is usually advantageous to use local currency, because you don't have worry about the vendor's exchange rate and they may not be able to accept a hard currency.
In all three countries, there are ATM's throughout. A few of them give an option of withdrawing in $.
Electrical Plugs
Kenya and Uganda use the "G" plug (thick, square, three-pronged). Rwanda uses the "C" plug (round, two-pronged), but in the Kigali hotel I could use G. I found taking two multi-adapters does the trick and allows for two batteries to be charged at once.
Safety
Nairobi is safe to walk down most streets during the busy hours, but be careful of someone taking your phone or wallet. It does not happen often, but best to be prepared. Kigali is the cleanest city in Africa (on par with counterparts in Switzerland and Japan). It is safe to walk in the places a tourist would go. Rural southern Uganda is safe, but it pays to be cautious and stick around the main road in the villages.
Part 3 – Tracking the Gorillas
Traveling from Kigali to Bwindi
The route from Kigalli follows Highways RN4 to RN8, crosses the Uganda border, then travels on mostly dirt roads to Bwindi Impenetrable National Park, Southern Sector, Rushaga Gate.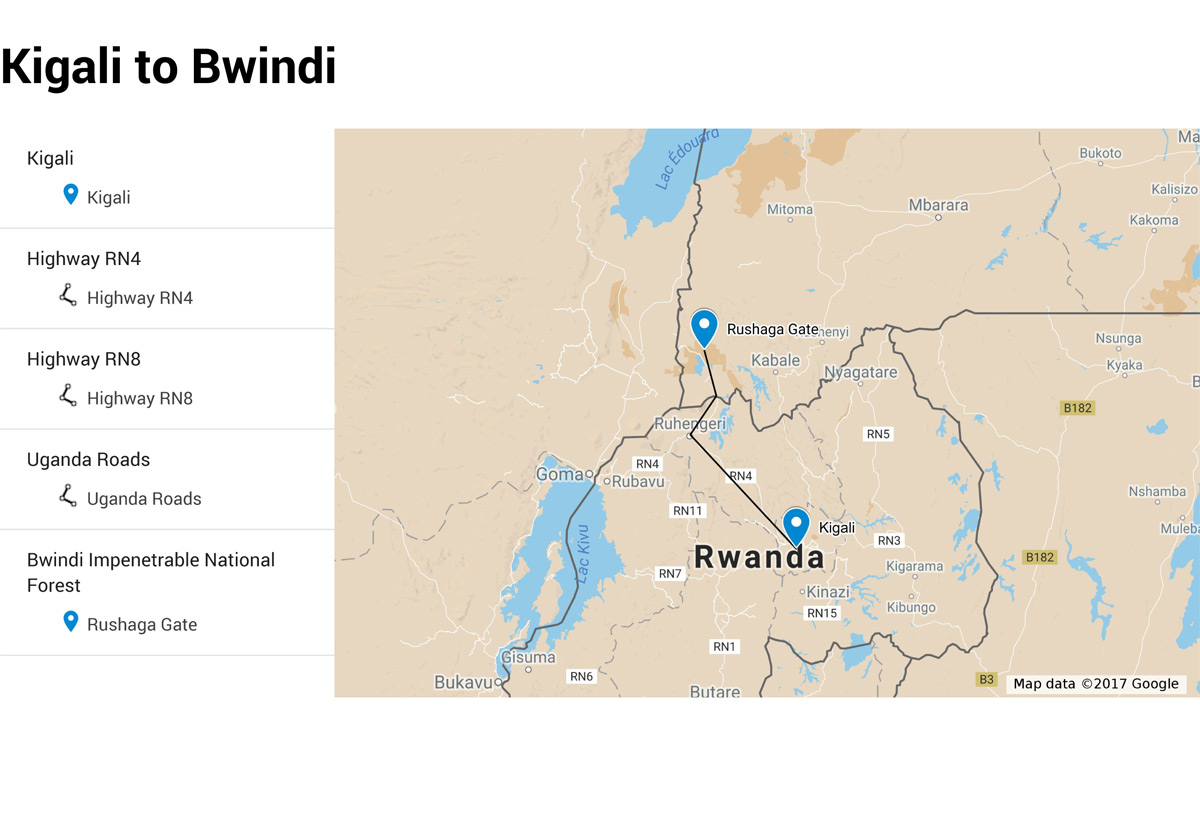 My tour operator guide, Asaph (pronounced "AS-af") met me at my hotel at 9am. It took about a half hour to drive outside the sprawling and hilly Kigali. The city's drivers actively switch lanes, especially the small taxi-motorcycle (called "motos") with helmeted drivers and passengers.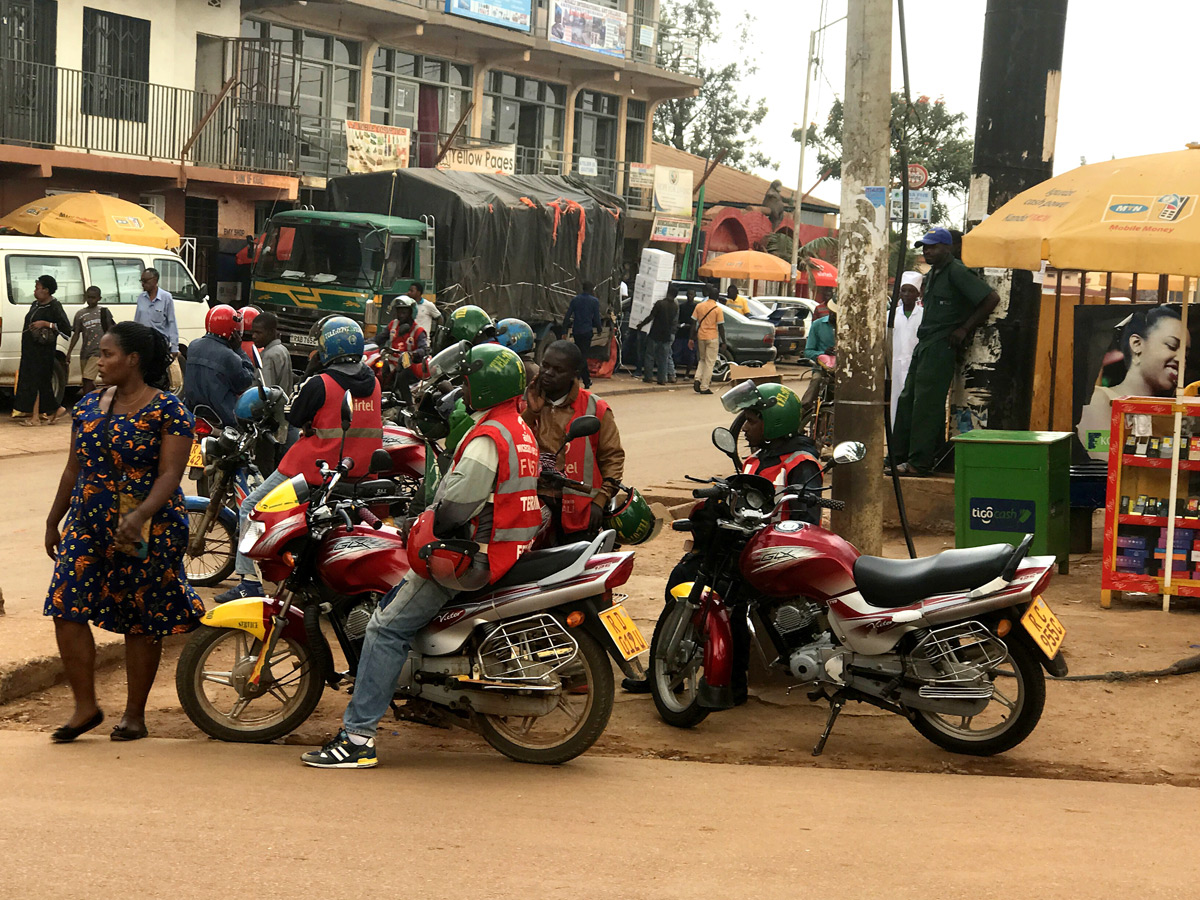 For the next three and half hours, we drove on well paved highway to the Uganda border with a stop for lunch. It was scenic with crops planted on terraces to the top of the high hills / small mountains; houses under construction made of brick, then covered with mud and possibly cement, women in colorful African dresses carrying sacks of vegetables and potatoes, large water containers; bags of items from the markets and boxes full of bottles or other items; ladies in green vests cleaning the side of the road; and carts and bicycles with several sacks of produce, long branches of trees and construction material.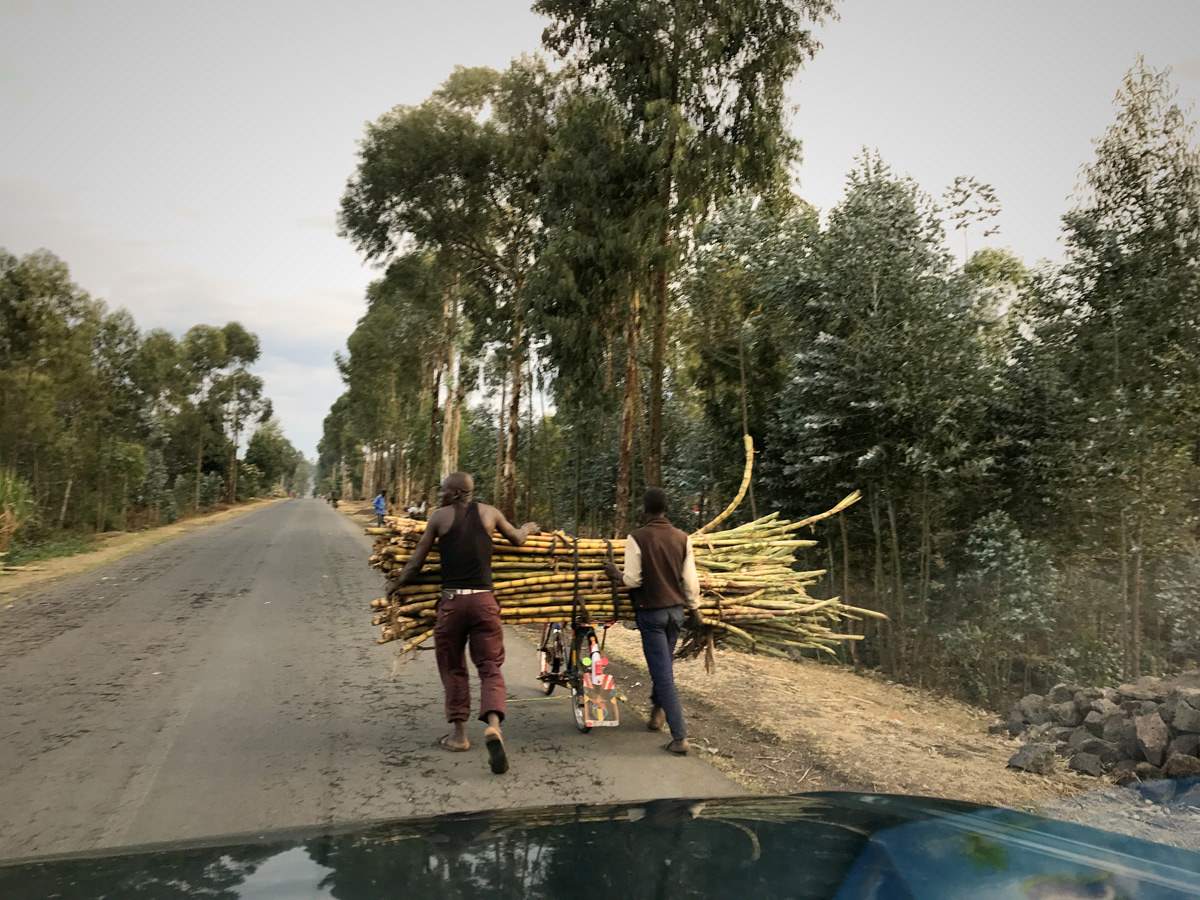 The border crossing took about 45 minutes, particularly as each side thoroughly inspects the vehicle. Approaching the border, we saw a series of volcanos that straddled the Rwanda, Uganda and the DRC. Once in Uganda, it was noticeable that it was not as clean (but not bad) and the motorcycle riders drove without helmets. We drove on a paved road for about a half-hour with numerous speed bumps, then turned onto a rough dirt road; at times with patches of embedded vertical rocks or huge masses of stone.
Within a half hour, we arrived at the Bwindi Jungle Lodge. There I had my own cabin with two twin beds with mosquito nets, a separate modern bathroom, dim lighting and a view of the long Lake Mulehe. At seven in the evening, I ate a dish with vegetable soup, an avocado appetizer, a chicken main dish and fruits for dessert. I lingered an hour after dinner in the dining / reception area to use the Wi-Fi, as it was not available in my cabin. This night was a little chilly. The cabins do not have heat, but the lodge provides a hot water bottle which is very effective in providing warmth.
Bwindi Impenetrable Park – Day 1
I arose at 4:30am and ate at 5:15am. We left at 5:30am in the dark, continued driving on the same dirt road, winding through valleys. After forty-five minutes, dawn was creeping in and we could see the mist wrapping around the peaks around us.
We soon arrived in the tiny village of Kisoro and saw a group of Mzungus ("white people" in Bantu) milling around the entrance to the park.
While standing next to a covered area with seating for maybe thirty people, I chatted with two brothers from Holland. Each weighed over 250 pounds and had blond, grey close-cut beards and thick black rimmed glasses. They were telling me of their adventures in Uganda, including Murchison Falls and a white rhino sanctuary. Augustine, one of the Wildlife Authority (UWA) guides, thanked the crowd for coming and supported the preservation of the gorillas. He said each party was accompanied by guards with guns, so they could scare away elephants if we ran into them. He told everyone to be sure to pull their socks over their pants to stop ants from getting in. He mentioned that porters could be hired and there were walking sticks available. He spoke about 30 minutes and we then were assigned to a guide. My group had eight persons, the others were five Brits (three in early twenties and a couple at least in their late sixties) and an Indian couple from Mumbai who were at least in their late fifties. I didn't hire a porter or use a walking stick, because I reasoned I was in good enough shape and only carrying camera equipment (others were carry extra clothes, bottles of water, box lunches and other items). Our guide was Augustine and we had two guards with guns; one in the front of the procession and one in the back. The UK folks and the Indian couple hired porters, as they went the day before and found them helpful.
I walked back to my vehicle and Asaph drove me through the village to a beginning of a trail. We started walking in single file on a narrow path on the side of a steep, terraced hill with potatoes and other plants.
We walked for fifteen minutes, passing children huddled up for warmth in the crisp morning air.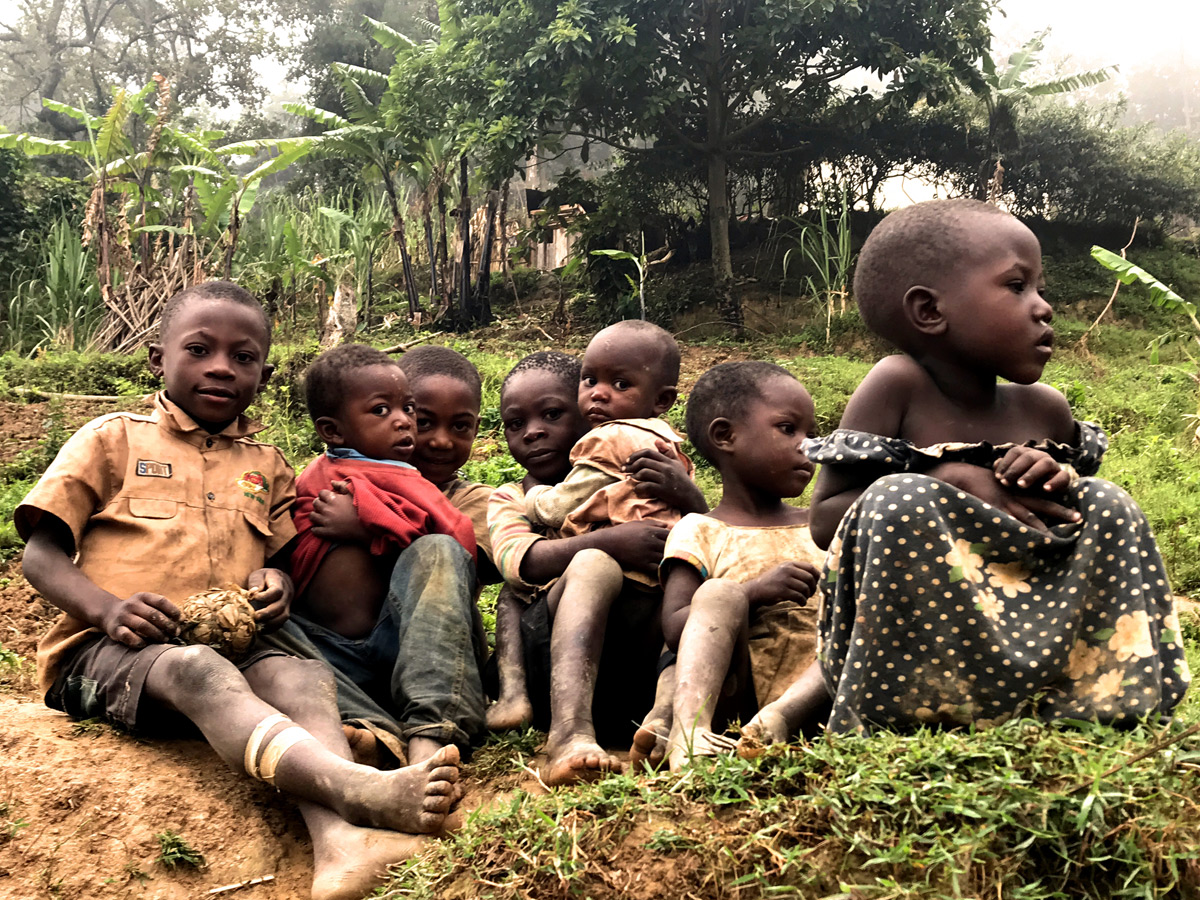 Stoic African women were carrying heavy sacks of something (potatoes?) on their heads, babies on their backs and tools and bags in their hands.
We reached the park boundary and continued the trail. I followed the guard named Eddie leading the group. Augustine was in the middle helping any who needed it.
The UWA had trackers who follow each gorilla group (which range from fewer than ten to more than twenty, with one silverback male as the leader) and note where they nest each night (they hardly sleep in the same place on consecutive nights). With that knowledge, they know where to start looking in the morning. We walked another thirty minutes with the trail becoming steeper. Then Eddie stopped and spotted a silverback ahead a little off the trail. We left the trail and followed Augustine, as he slashed trees and vines, while it started raining. Walking was not easy as it was steep, slick and not always apparent the best place to step. The sure-footed porters often lent a hand to help people from not slipping and falling. When we were near the gorillas, we discarded our walking sticks, as sometimes gorillas run when seeing them (thinking they are weapons).
We saw two young gorillas playing on the tree, periodically falling after branches broke from their weight. We spotted a silverback sitting under the foliage with his arm crossed over his chest. We walked for a few minutes and saw a female eating plant stems as gorillas are almost exclusively vegetarians and eat only certain plant species.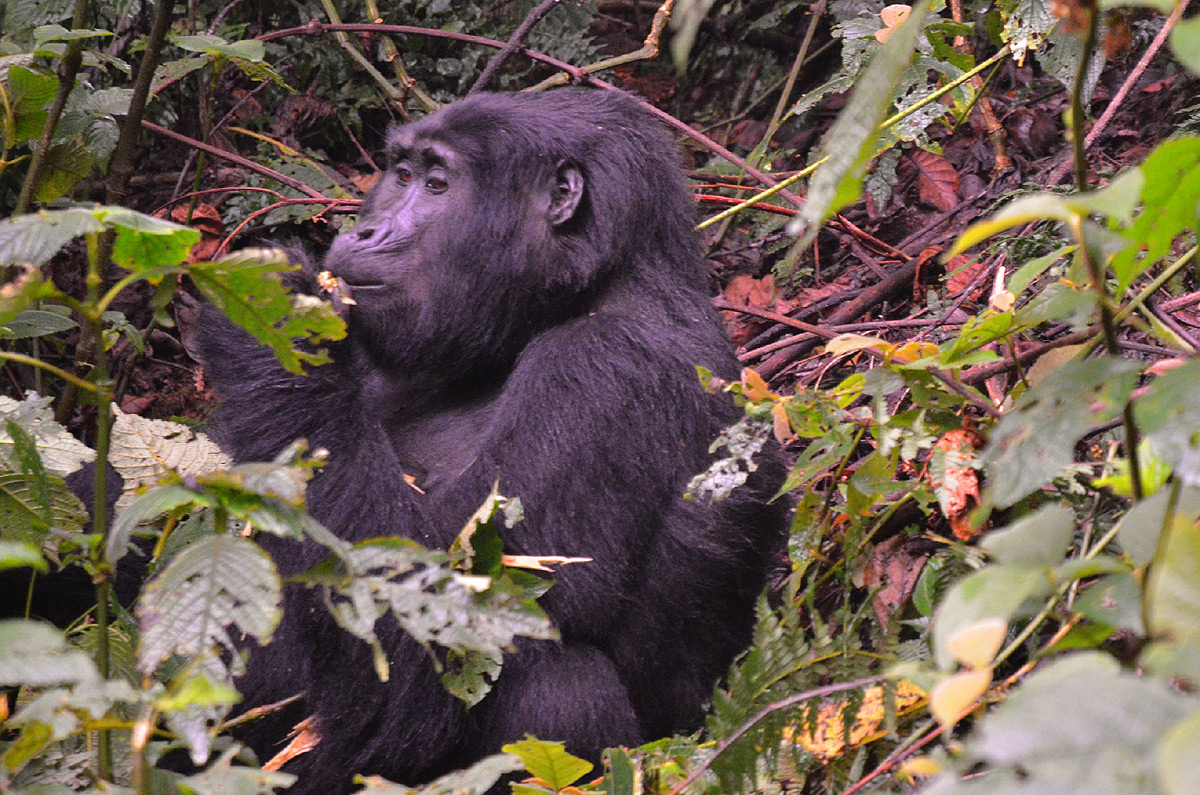 The UWA allows watching for only one hour. At the end of our time, a young gorilla went into the arms of the silverback. After a few minutes, they heard something and ran off on all fours with surprising speed.
As our hour was up, we started the trek back. We tipped the three trackers (I gave $15), as they do not return with tracking party. Since it had been raining for a while, it was slippery going down. Once we were out of the park, Eddie pointed out a group of houses where Batwa (Pygmies) now live, having been relocated from the forest. When our hike was completed, we were given certificates from the UWA that we had successfully tracked a gorilla group, with the same name as the silverback leader. My group was named Mishaya (meaning jaw). Before I departed, I gave the guides / guards $20 which they shared.
Asaph picked me up and drove to a new hotel, Gorilla Safari Lodge, because the Bwindi Lodge was full tonight. I preferred this place, as it was close to the park entrance. At arrival, a large and fit woman named Christina picked up my luggage. She placed my suitcase on her head and carried it down outside stairs on a steep hill to my cabin. She returned to the lobby / dining and applied lotion to each of my hands and massage them.
Bwindi Impenetrable Park – Day 2
Throughout the night, I contemplated my experience. It was a special thing seeing the gorillas in the wild. However, there wasn't nearly as much action as I had seen on some YouTube videos, because gorillas don't tend to move in the rain. I also felt I had some decent pictures, but there was nothing exceptional because I hardly had a clear view of a gorilla with sufficient light. During breakfast, I saw a picture of a gorilla on the wall and noted the sharp focus of the very human-like eyes. At that point, I decided to see if I could go again. Asaph quickly drove to the park and arranged for me to go again by paying another $600 for the daily tracking fee.
Asaph came back for me and I quickly checked out of the lodge. At the park, I was met by my guide, Obed, and guard, Ronald. Obed informed me that the park will allow me to go tracking today, but I would be by myself since all the others had left. I also decided to use a porter to carry my backpack of camera equipment and a walking stick. As this was not planned the night before, Obed had to call the trackers to look for another Gorilla group. He had to use a cell phone, as all the radio phones were being used. Under these circumstances, it was not as easy to find the gorillas as the day before. About half of the time, we were off trail walking a more direct route to where they thought the gorillas may be. It was also very slippery.
While walking, Ronald told me the previous day that a German man weighing over 120 kilos (265 pounds) required a stretcher to be carried out of the park, which the UWA charges about $300 for. In this case, there were twenty porters who, in shifts of four, carried the man. It took several hours of exertion to bring him out of the forest. Just before they were out, they ran into an elephant, placed him on the ground and scattered. Luckily, the guards maneuvered the elephants away. When I told Asaph the story, he revealed that the man was one of the Dutch brothers I had met the previous day (no doubt the one with the bad knee).
After a couple of hours, we finally found a group of gorillas. I first saw two young gorillas playing in the trees. It was like the day before, but much less foliage and the sun shining.
I watched for ten minutes, as it was so entertaining.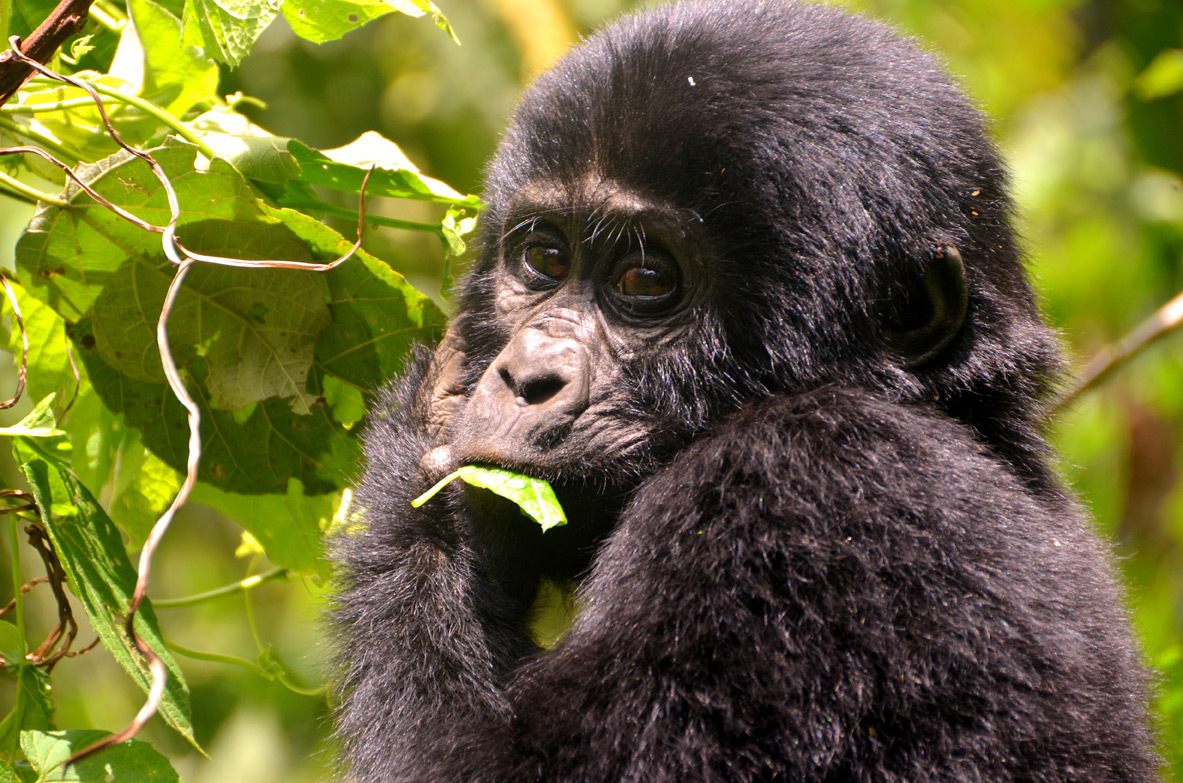 I moved a few steps and saw the silverback leader resting on his back under the bushes. Nearby there was another silverback being groomed by a female. Through brush, I barely saw a third silverback. As I divided my attention among the gorillas, a previously unseen baby walked by me. Then the silverback who was obscured ran by me on all fours. Obed pulled me away as he said this one likes to kick. For the next fifteen-minutes I alternated between watching a silverback sitting in the rain and a female resting in the bush.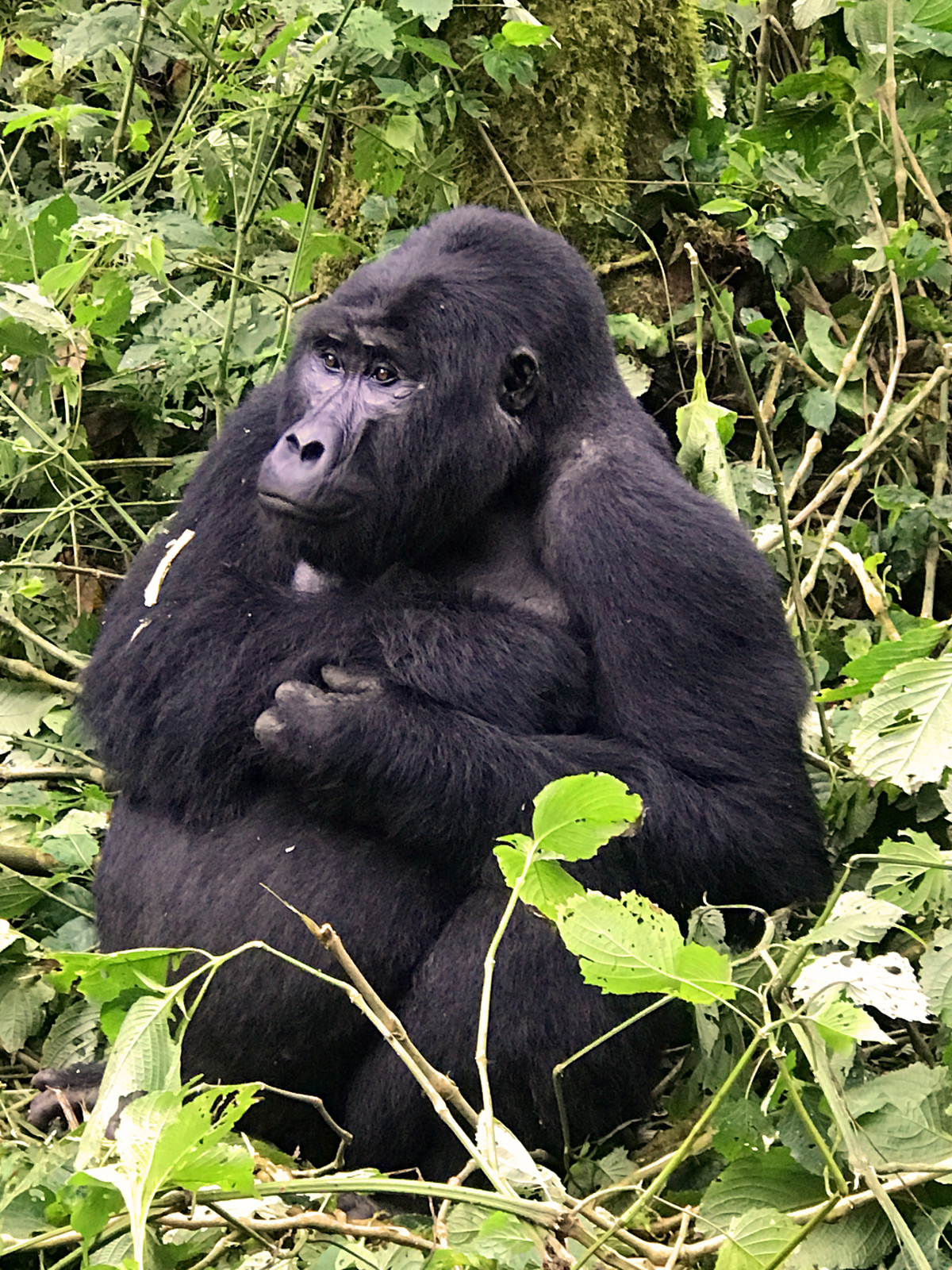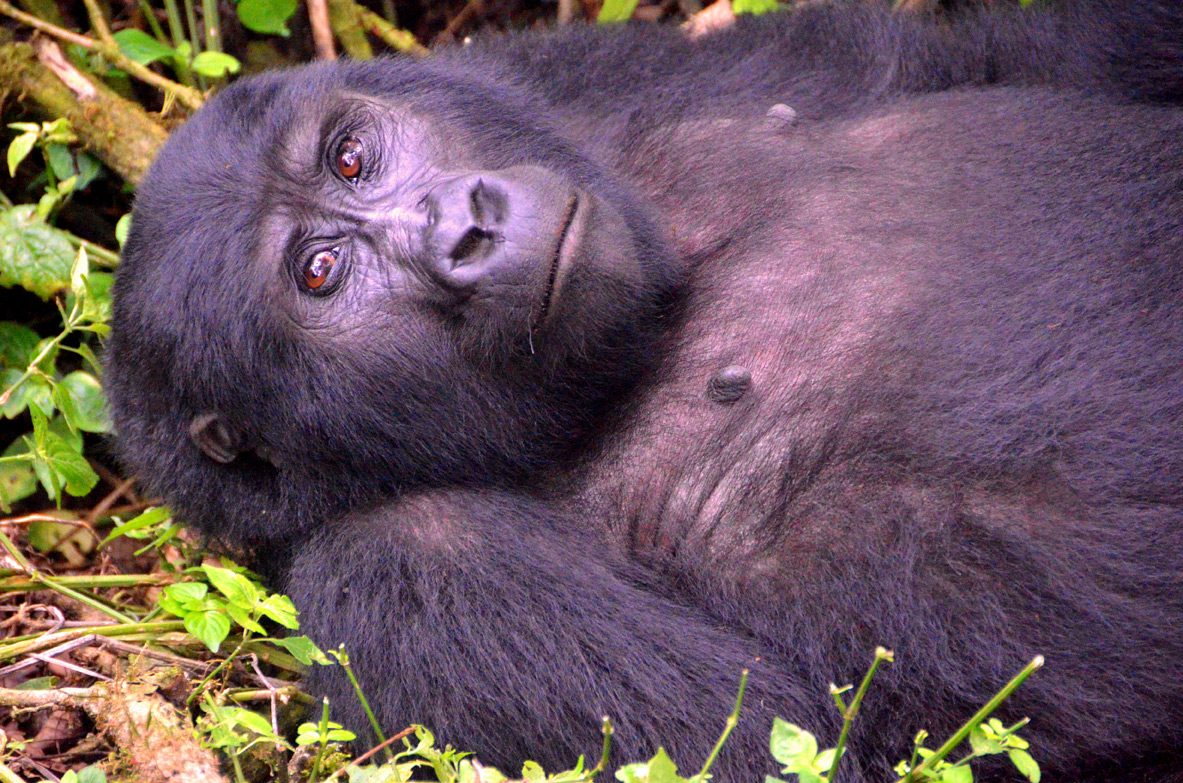 It started to rain hard and our hour was almost over. I felt completely satisfied about my experience, especially watching the gorillas' social interaction and eating habits.
Later when I reviewed the photos, I was happy with the results.
Part 4 – Gorilla Information
The following information is a summary from the websites of the World Wildlife, Live Science, Wikipedia and a few others.
Gorillas are the largest primate and share over 98% of same DNA with humans; only chimpanzees and bonobos have higher amounts. Their eyes and hands are particularly human-like. Gorillas display many human-like behaviors and emotions, such as laughter and sadness.
Gorilla beringei is one of the two species and is found only in East Africa. There are two subspecies. The highland or mountain gorilla (Gorilla beringei beringei) lives in the adjoining volcanic mountainous areas of eastern DRC, southern Rwanda and northern Rwanda. There are only 800 to 1000 left and none in zoos. The eastern lowland or Grauer's gorilla (Gorilla beringei graueri) lives in disconnected patches of southeastern DRC. There are fewer than 4,000 with 24 in zoos. Twenty years prior there were an estimated 17,000.
Gorilla gorilla is the other species and is found only in West Africa. There are two subspecies. The western lowland gorilla (Gorilla gorilla gorilla) lives in the rainforest in Nigeria, Cameroon, Central African Republic, Equatorial Guinea, Gabon, Republic of Congo, DRC and Angola. There is no reliable census, but it is estimated there are around 100,000 with 4,000 in zoos. The Cross-River gorilla (Gorilla gorilla diehli) lives in bordering areas of Nigeria and Cameroon. There are only an estimated 200 and one female in a zoo. This subspecies was the last to be identified in 1904.
All gorillas are similar, but mountain gorillas tend to have longer hair and weigh more. Adult gorillas stand four to six feet high and weigh 150 to 400 pounds. Gorillas are mainly vegetarians. Western lowland gorilla's diet is two-thirds fruit. The rest is leaves, seeds, stems, except for 3% with termites and caterpillars. Eastern lowland and mountain gorillas' diets are over 95% plants and a few fruits (hardly any in high altitudes) and a small percentage of ants, snails, and grubs. Gorillas spend a large part of their day eating. A silverback eats about sixty-five pounds daily, a female forty pounds.
Gorillas live in family groups of usually five to ten, but sometimes two to more than fifty. They occupy a territory up to sixteen square miles. They are led by a dominant male, who holds his position for years, known as a silverback because of white hair on lower back and hips. Females become sexually mature around seven or eight years old but don't begin to breed until a couple of years later. Males mature at an older age. Once a female begins to breed, she'll likely give birth to only one baby every four to six years, and only three or four over her entire lifetime. In 2010, the United Nations reported that they may disappear from large parts of the Congo Basin by the mid-2020s because of the low reproduction rate and shrinking habitat.
Gorillas are nomadic and usually travel a quarter to a half mile daily. They build nests to sleep in each night. Wildlife experts usually count nests to estimate the population. Most often, gorillas construct nests on the ground, but sometimes in trees. Of note, all apes build nests for comfort and warmth.
Part 5 – Gorilla Photography
The goal of gorilla tracking photography is showing their behavior and anatomical features. It is especially desirable to have photos with sharp focus on the eyes, which are very similar to humans. While you may be able to take decent pictures with your phone camera, top quality ones would require a single lens reflex camera or something comparable.
Be sure to have camera bags that can get wet and still protect the cameras. It is highly advisable to wear a rain jacket, which can also protect the camera bag. If it's raining hard, which happens often, it is useful to have a poncho for more protection and helps keep your pants drier. Gloves with openings for part of the fingers allow you to manipulate the camera and have protection when grabbing branches and vines when walking. The rest of this section is technical, so skip if not interested.
A telescopic lens is imperative, as you cannot get too close to the gorillas. I had a 200mm, partial frame digital lens, equivalent to 300mm in film photography. This was sufficient to get close ups. I shot using shutter priority of 1/250 of a second. I probably would have had unacceptable focus if I shot at a slower speed because of the length of the lens. I used single point focus, not matrix or center-weighted, to focus on their eyes.
Often there is low light because of the forest canopy and the cloudy skies, so it is necessary to increase the ISO in those situations. I shot at 200 ASA (the lower the ASA, the better the tonal reproduction and colors) as this was the lowest I thought the brightest ambient light would allow. However, I set the camera to increase the ASA if there was insufficient light. Under no circumstances use flash photography, so not to disturb the gorillas.
Part 6 – Touring Kigali
Overview
Kigali is a sprawling city of hills (and Rwanda is a country of a thousand hills) of two-million inhabitants.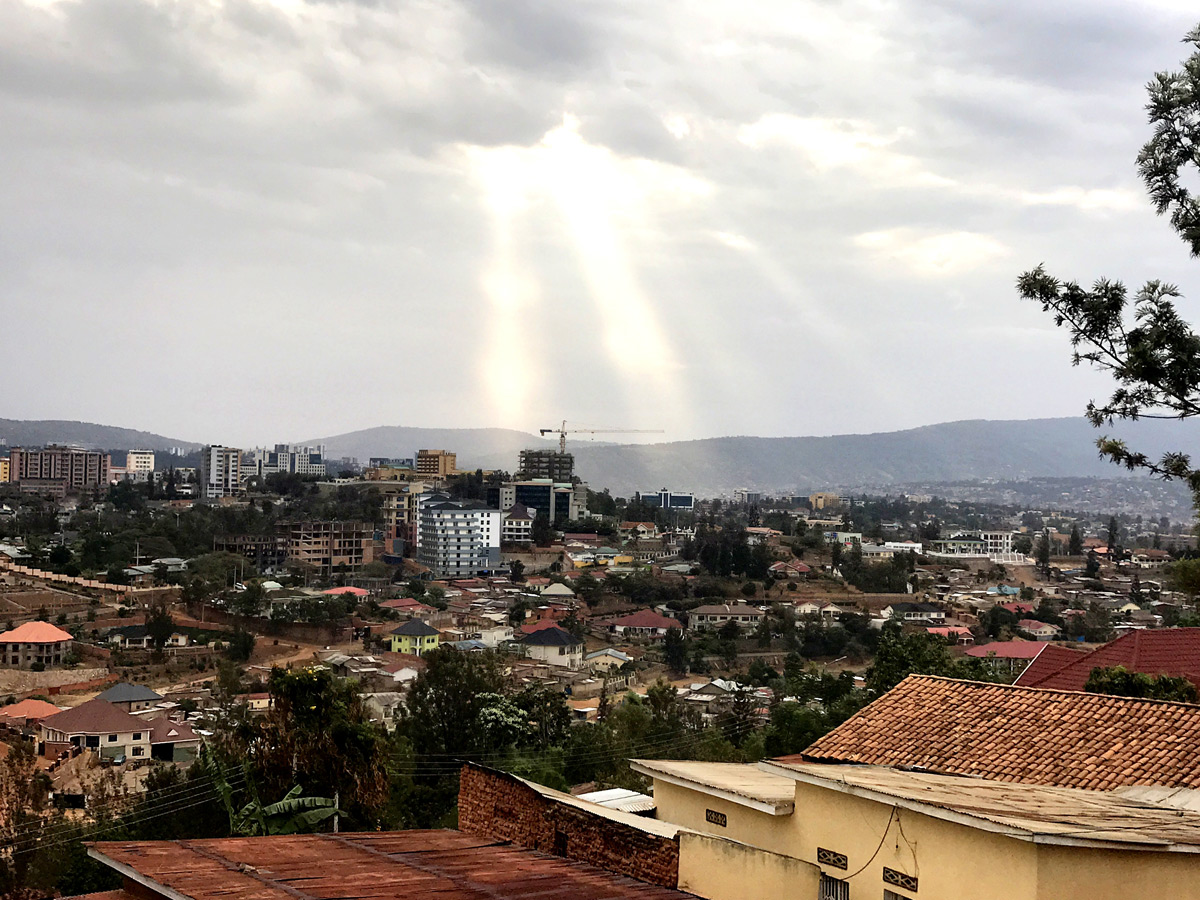 There have been several modern buildings erected in the last decade with more in construction. There are relatively few tourist sites and the distances between them are too far to walk. A tourist must take a taxi or moto to get around. Long taxi rides cost between RF6,000 to RF10,000+. There are no meters, so the driver specifies the price at the end and you can negotiate some if you think it is too high.
The local language is Kinyarwanda, of the Bantu group. Many people speak French and a fair number English, especially in the hospitality sector and some retail stores.
On the first night I arrived, I asked the hotel desk for a restaurant where locals eat. He recommended Heaven, which was almost a 30-minute drive. It was perched on a hill, close to the hotel featured in "Hotel Rwanda", with large, covered outdoor seating. There were few diners there, but they were white tourists. It turned out the restaurant served good food at prices cheaper than New York (with service I paid $26 for soup, juice and the main dish), but it was not a local haunt. In the future, I need to ask locals where they eat to find a non-touristy restaurant.
The taxi driver who drove me back to the hotel was named Furaha ("happy" in Swahili).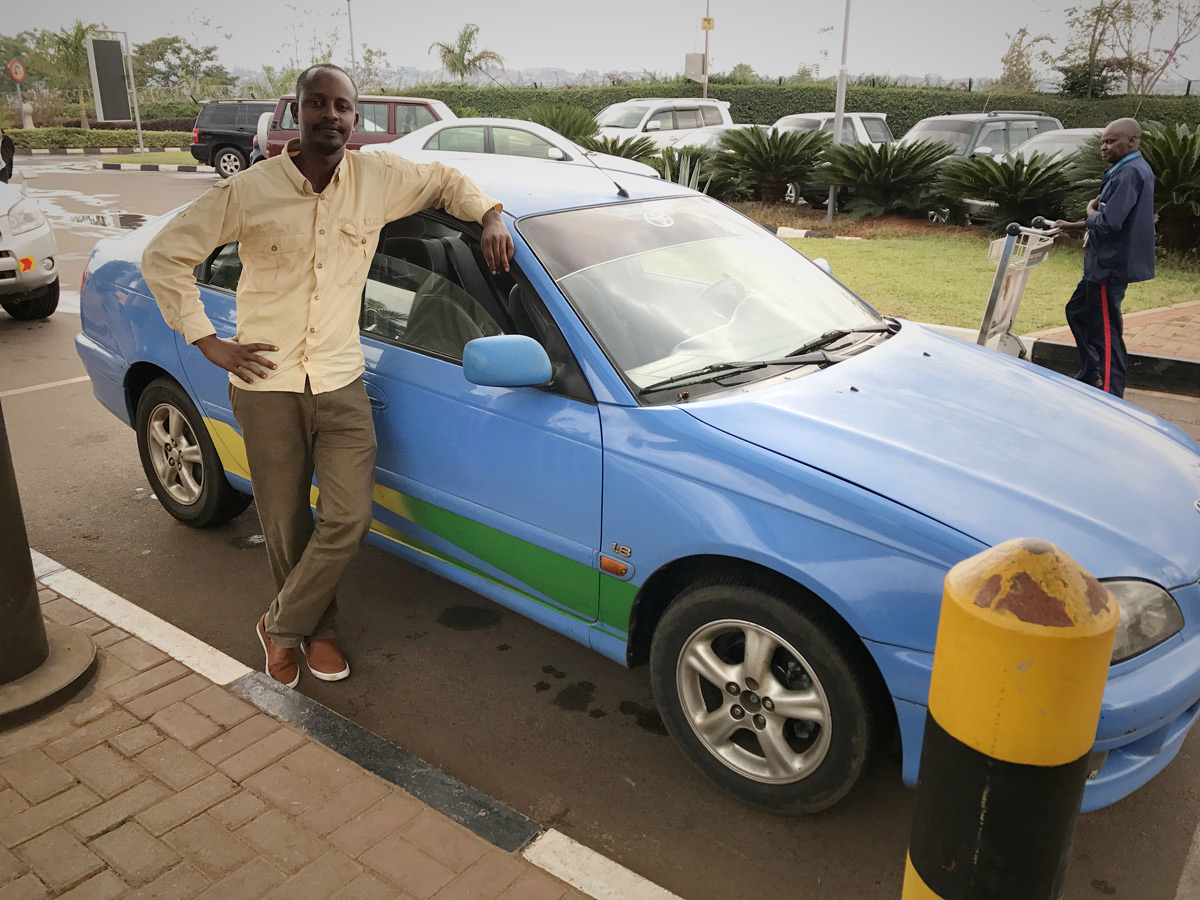 His grandparents left Rwanda in 1959, because of ethnic violence. After the 1994 genocide, they returned with his parents who now live on a farm in the northeast part of the country. Most of his nine siblings live in Kigali. We agreed he will give me a tour of the city when I return from Uganda from 8am to 2pm and drop me off at the airport for a fee of $50.
It turned out the tour included driving by the center city commercial market; a new domed convention center; a hill of newly-built "McMansion" homes; another hill of low-income, small houses; and a huge, park-like, traffic round-about bordered by several government buildings. These helped in gaining an understanding of the city, but not for a stop. There were two places which merit a visit: the Kigali Genocide Memorial and the Kimironko Market.
Kigali Genocide Memorial
This is the main tourist site in the city and an incredibly important educational institution.
I received a map with numbers indicating exhibits and a phone which provides a narrative for each exhibit after punching in the corresponding number. The memorial essentially had two parts, a museum and park of mass graves.
The museum provided the history of Rwanda during the colonial period, independence and after-independence including the genocide. The museum tour began with a short film of the stories of some survivors who lost most of their families. Then I walked through many exhibits, including a room with skulls of those killed and pictures of children who were murdered. I only viewed the historical exhibits, as the others were too gruesome and emotional for me. There was also a section of the genocides of Armenians in Turkey, Bosnians in the former Yugoslavia, Jews in the Holocaust, Cambodians during the Pol Pot regime and other lesser known ones. While the overall theme was horrific and depressing, the important point was that the Rwandan society recognizes what happened and has learned from the experience to build a better society.
The second part is several garden areas where the remains of 250,000 were interned in mass graves covered by large rectangles of concrete. The landscaping was beautiful and carefully maintained.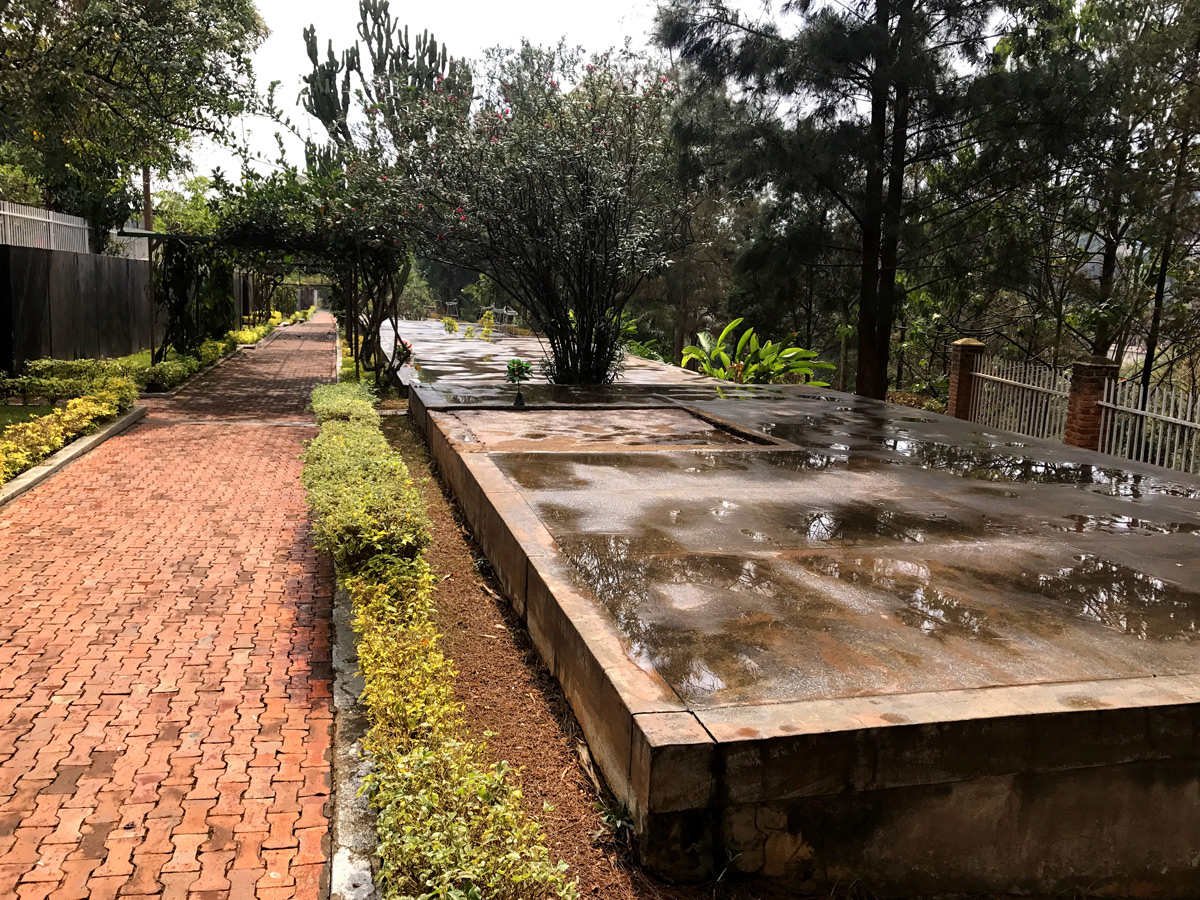 It is best to go early, especially on the weekend, as large bus tours and many independent visitors come later.
Kimironko Market
The Kimironko Market is located next the main bus station in the neighborhood of Remera. It is mostly a large open building with hundreds of stalls and tables selling vegetables, fruits, beans, flours, live poultry, fish, clothing, shoes, hardware and tourist souvenirs.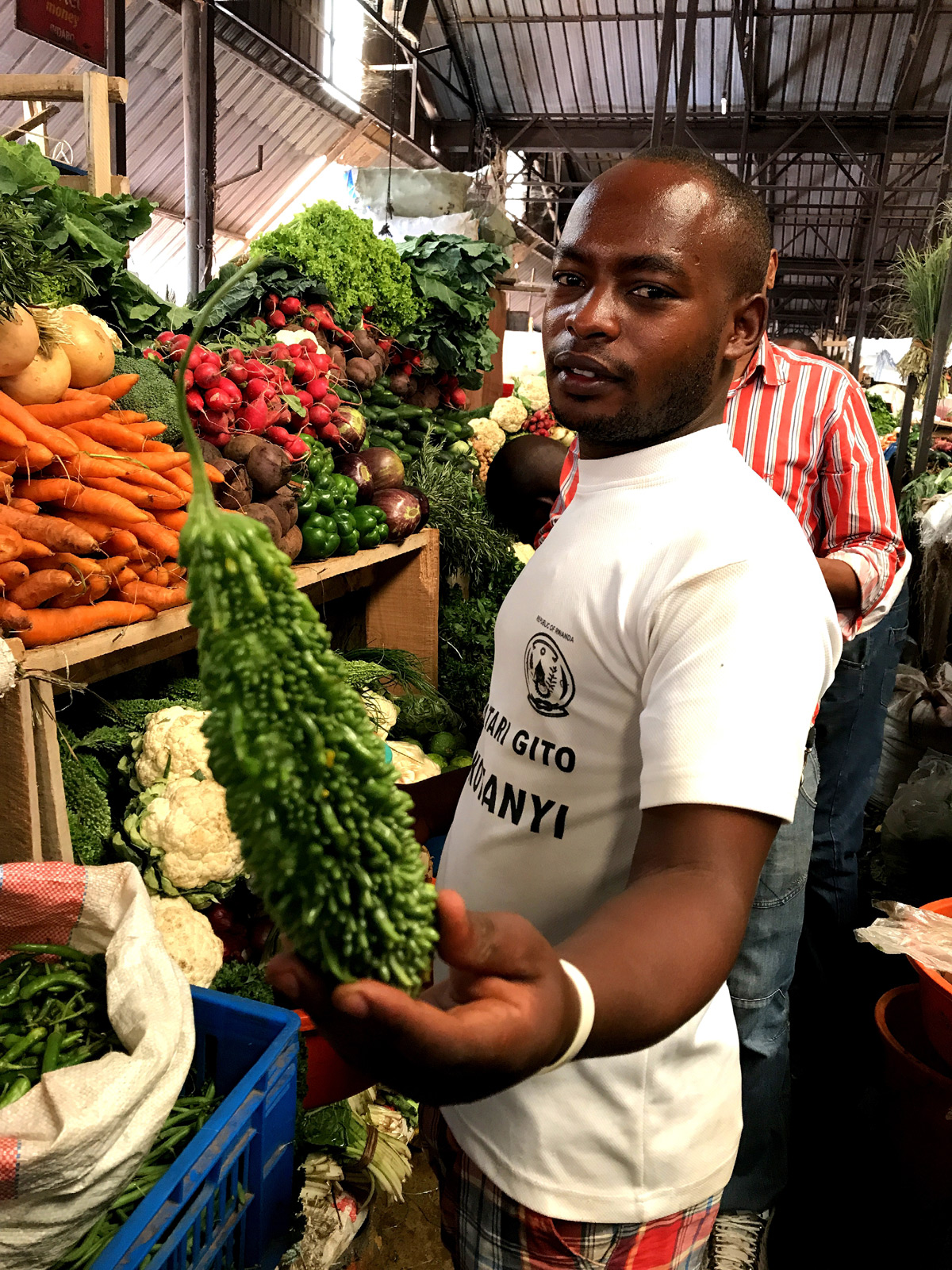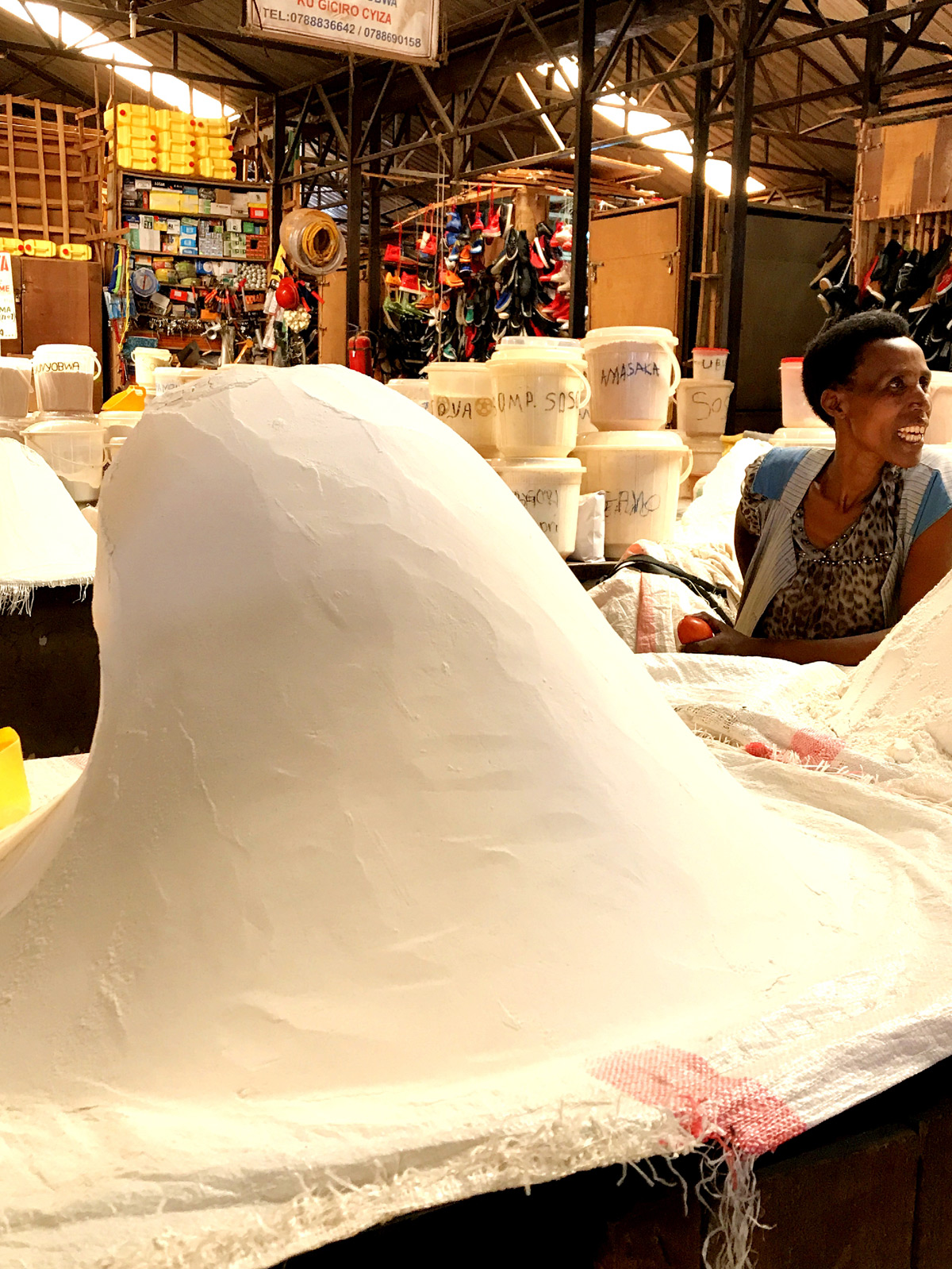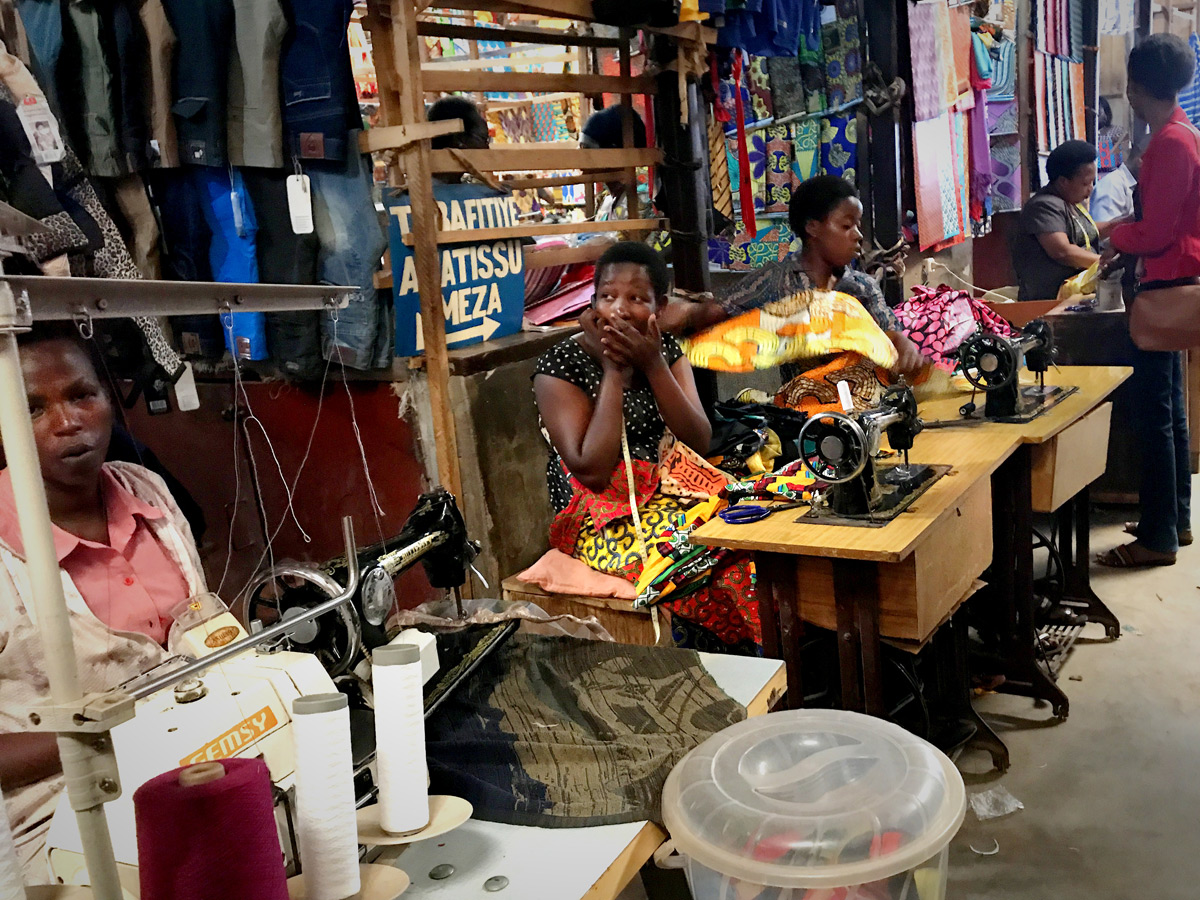 It was fun to walk around and easy to spend an hour there. I found out that second-hand clothes, mainly from the US and Europe, are sold at a premium because the government had banned their import and there was a dwindling supply. I am no economic libertarian, but this struck me as excessive social engineering. I wanted to buy some almonds, as they are good to nibble on if you have long stretches between meals. But I learned there were no nuts sold (except peanuts which are legumes). If you want almonds, cashews and the like, you must go to a grocery store.
Kigali International Airport
Furaha took me to the airport two hours before the flight, which is necessary as the security is extensive. They stopped all vehicles and required that all luggage be removed and put on the ground so that dogs can sniff, apparently for drugs and explosives. Upon entering the airport, everyone was required to go through metal detectors. Finally, passengers had to go through another metal detector at their gate before boarding the plane.
Part 7 – Selected Rwanda History
The history before, during and after the Genocide is confusing for most people. The following is a summary which may be helpful.
Rwanda was initially colonized by Germans in 1890. After the defeat of Germany in World War I, the Belgians became the new overlords. They emphasized the difference between mostly cattle-raising Tutsis in the north and farming Hutus in the south. While this dichotomy existed before colonization, it was not nearly as important. Eventually the Belgians tried to distinguish the differences based on anthropomorphic difference and required tribe identity on national ID cards. The Belgians co-opted the Tutsis, who were 15% of the population (the rest are Hutu, except for 1% Pygmy (Batwa)), to be in the leading positions. This caused enormous resentment by Hutus. When Rwanda became independent in 1961, the Belgian officer in charge, Guillaume Logiest, engineered a representative government which Hutus ruled. The eventual dictator, Major General Juvenal Habyarimana, a Hutu who overthrew the first President, Gregoire Kayibanda. fomented ethnic tensions. There were periodic attacks on Tutsis, which made some relocate to neighboring countries for safety. He ominously trained para-military Hutu units in the techniques of mass killing.
In Uganda, Rwanda Tutsis became militarized, some being part of the Ugandan military which eventually ousted Idi Amin. They formed the Rwanda Patriotic Front (RPF) that advocated allowing Rwanda Tutsis to return home. In October 1990, the RPF invaded Rwanda from Uganda. French troops stopped their progress and a ceasefire ensued.
In Rwanda, the military lasted until 1978, when a new constitution was approved in a referendum. Habyarimana was "elected" as president as the only candidate. He was re-elected in single-candidate elections in 1983 and 1988.
In 1994 Habyarimana was in a private plane that was shot down in Kigali, killing him, the President of Burundi and others. This triggered the Hutus extreme reaction of mass slaughter, including neighbors killing neighbors and colleagues killing their fellow workers. The international community did nothing to stop the senseless killing. The French eventually set up a safe zone in the southwest, but it mostly functioned as an escape route for the genocide perpetrators into neighboring countries. The RPF intervened and the killing spree was essentially stopped after 100 days.
The leader of the RPF, Paul Kagame, became the de facto head of Rwanda. Initially he held the dual roles of Vice President and Minister of Defense, while Pasteur Bizimungu, a Hutu was appointed president. In 2000, Bizimungu resigned from the presidency as where was mostly a figurehead. Kagame became acting president until a permanent successor was chosen. Under the transitional constitution, Kagame was elected president by government ministers and the national assembly. In 2003, a new constitution was approved with direct election of the president to seven-year terms.
He has ruled since then, being re-elected twice more, but with heavy handed suppression of opposition. While he is authoritarian, he has worked to rebuild the country economically and heal the wounds from the genocide by trying to eliminate the tribal distinctions and forging a Rwandan-only identity.
Part 8 – Final Thoughts
I greatly enjoyed my experience. Seeing gorillas in the wild, bothering no one and eating only plants, made me questioned what species is more civilized. I was surprised to see the silverbacks were not as tall as the average man, but powerfully built with broad forearms and large bellies.
No doubt, this was an expensive trip, but it is well worth it if you can afford it. I recommend going for at least two days, as you will gain greater insight in gorilla behavior. This would entail another costly daily permit and tips, but you have already allocated the time and effort to get there and paid for the transportation and lodging costs.