Idaho may be one of least well-known states even though it's an outdoor paradise. It reminds me of Colorado when I lived there as a child. Then I could go almost anywhere in the mountains, anytime of the year, and it wasn't crowded. I don't know how long it's going to last in Idaho, but for now it's a real treat to experience.
My friend Mike and I spent a week in Idaho as part of a 16-day, 3000-mile Rocky Mountain Road Trip. Our visit just touched the surface of what the state offers. You can spend many months exploring its many mountain ranges, rivers, lakes, waterfalls and other natural wonders.
Anytime is good to visit someplace in Idaho as it has a diverse climate. Most places, except high altitudes in the mountains, can be very hot in the summer and quite cold in the winter. The best months depend on the activity you want to do.
We started our trip crossing from Montana on US 2, not far from the Canadian border.
Generally, you travel north and south in the northern part of the state, as it narrows and culminates in a sideways panhandle. In the southern part, where much is high desert and relatively flat, travel tends to be east and west. The map below indicates where we went, which certainly didn't include all the top attractions of the state.
When we were in Yellowstone National Park, we visited the nearby Upper and Lower Mesa Falls in Idaho. You can get information on them here.
Coeur d'Alene and Spokane, Washington
We traveled through mostly forested land to the city of Coeur d'Alene. In English, it means "heart of the awl." An awl is a pointed tool used to pierce leather. The name was given to the Native Americans living there by French trappers and traders, who bought leather from them. On the way we passed by Ruby Ridge, where in 1992 federal law enforcement sought to apprehend a fugitive named Randy Weaver. No one knew it then but this was the beginning of the American militia movement.
We decided to sleep in Spokane, only a half-hour drive from Coeur d"Alene. This is the largest city in the region with a population over 200,000. I wanted to check it out because I'd never been there. It had attractive, middle-income and affluent neighborhoods and a sizable downtown with some streets filled with homeless camps. We stayed by the campus of Gonzaga University, whose basketball team made it to the last NCAA finals. The area had a number of restaurants and bars and we had cappuccinos in Hatch beaker + burr in the Saranac Commons.
In the morning we drove to Coeur d'Alene Lake, going east on Interstate 90 and turning south on Highway 97. The Lake stretches about 25 mi / 40 km with some scenic overlooks. However, much of the 135 mi / 220 km shoreline is private property with houses and condos.
Next to the lake is the smooth asphalt Trail of the Coeur d'Alenes, which runs 75 mi / 120 km over a former Union Pacific Railroad route. It's used by cyclists, skaters, walkers, skiers, snowshoers and naturalists. The lake is a great spot for boating, fishing and water sports.
After hanging out at Coeur d'Alene Lake for a few hours, we eventually made it to Highway 3, then south on US 95 for a pretty drive to Potlatch Junction. Then we proceeded south to Moscow, where the main campus of the University of Idaho is located. This is a good place to take a break. We ate a late, tasty lunch at the Mad Greek and had cappuccino across the street at the crowded Bucer's Coffeehouse & Pub. The most interesting thing about the city was the huge silos in the middle.
We continued south on US 95 to Lewiston, where the elevation dramatically drops about a mile, from 8,500 ft / 2600 m to 3,300 ft /1000 m. Around 9pm, we rolled into Grangeville, where we spent the night.
White Bird & Hells Canyon
The next morning we drove a few minutes to White Bird and stopped at Killgore Adventures to see if there were rafting or jet boat opportunities for the day. No luck, but we saw their off-road vehicles on a trailer and found they were available. We rented a new Polaris UTV (utility task vehicle with side-by-side seating, as opposed to an ATV, all-terrain vehicle, with straddled seats like a motorcycle) and headed to Hells Canyon. For over 15 miles / 25 km, we were on a dirt road with ranches and farms on each side. We saw grazing horses…
and even charming mailboxes.
After an hour of driving, we arrived at Snake River, the border of Idaho and Oregon, the heart of the Hells Canyon National Recreation Area.
From there we located trails being reclaimed by nature and leading to remote abandoned cabins.
We didn't know it, but we kept passing over the line for the Pacific and Mountain time zones. It's something you should keep in mind if you have a schedule to keep and looking at your phone.
We could've spent all day doing this, but we had to be in Boise by nightfall, so after a couple of hours we returned the UTV to Killgore. Here we spoke to Les, who co-owns the company with his son Kurt.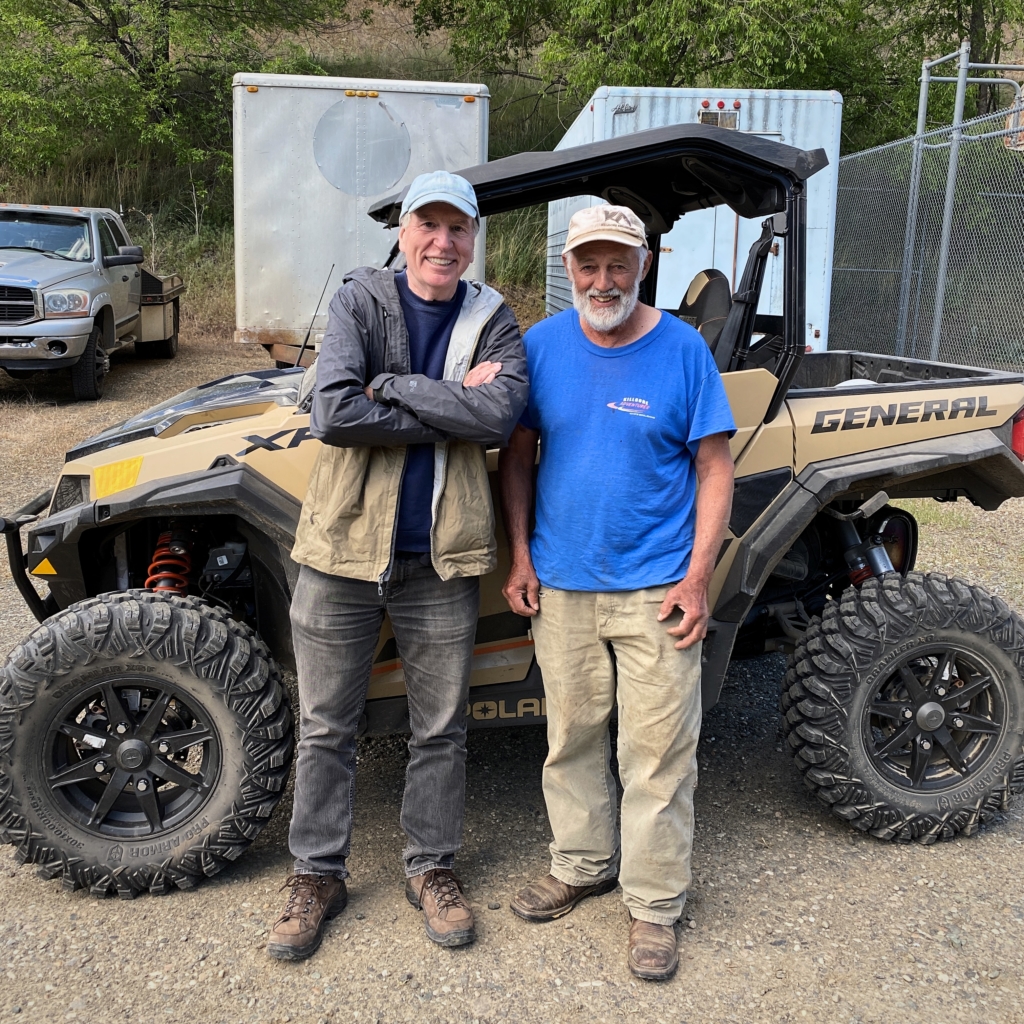 His family has lived here for 130 years. His wife passed away a few years ago and the land and business have been distributed among their children.
Leaving White Bird around 4pm, we continued on US 95 going through Riggins, a base for outdoor activities, and eventually went south on US 55. We got gas and food in McCall, another popular destination to explore the area, and continued south. Around 8pm, we arrived in Boise and went to the home of our friends, David and Meagan. David is a lifelong resident of Boise and Meagan has lived there for over 30 years. They are outdoor enthusiasts and excellent guides for the following four days.
Boise is one of the most livable cities in the US. It's not crowded and has the cultural amenities of good restaurants, cafes and music venues. Its many parks include the 25 mi / 40 km Boise River Greenbelt which follows the Boise River through the heart of the city. David, Meagan, Mike and I spent a couple of hours biking it.
David and Meagan knew good spots to observe the abundant birdlife and take breaks.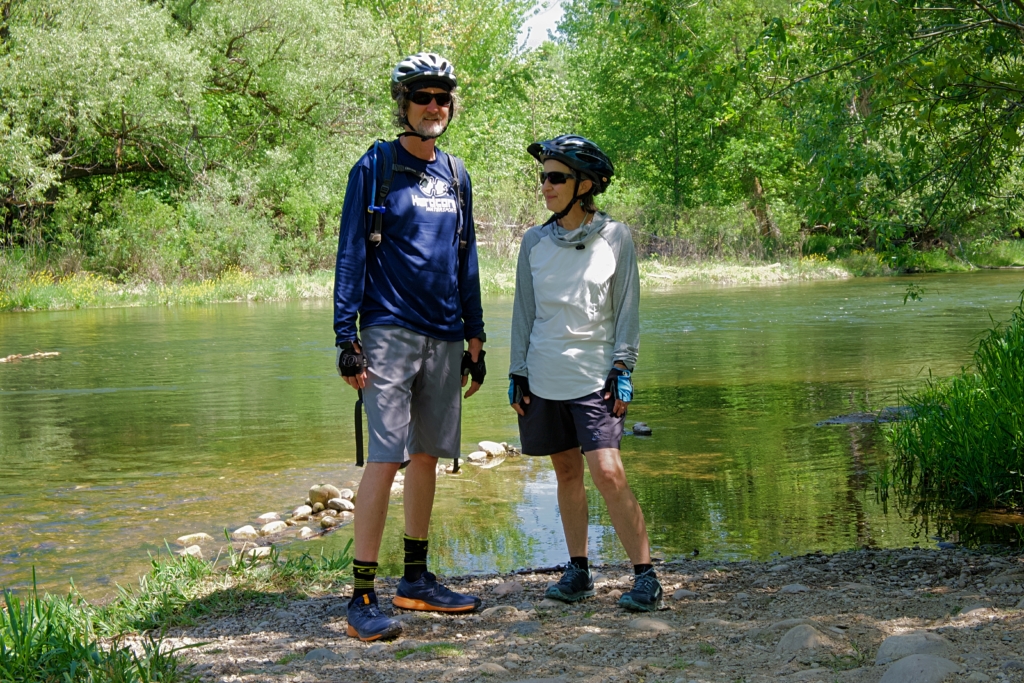 Boise is over 300 miles from the ocean, so I was surprised when we saw surfers in the city.
Boise Whitewater Park (formerly known as the 36th Street Wave) is one of the first adjustable river waves in the world (the width of the water passage can be changed). The park was originally made for kayakers, but surfers discovered it works for them.
There's an Old West look to Boise, including the Boise Union Pacific Depot, which was built in 1925 in a Spanish Colonial Revival style.
I don't know why but Amtrack stopped running through here in 1997 and it's now a public space owned by the City. It's on a hill with a good view of the capitol building…
and the foothills surrounding the city.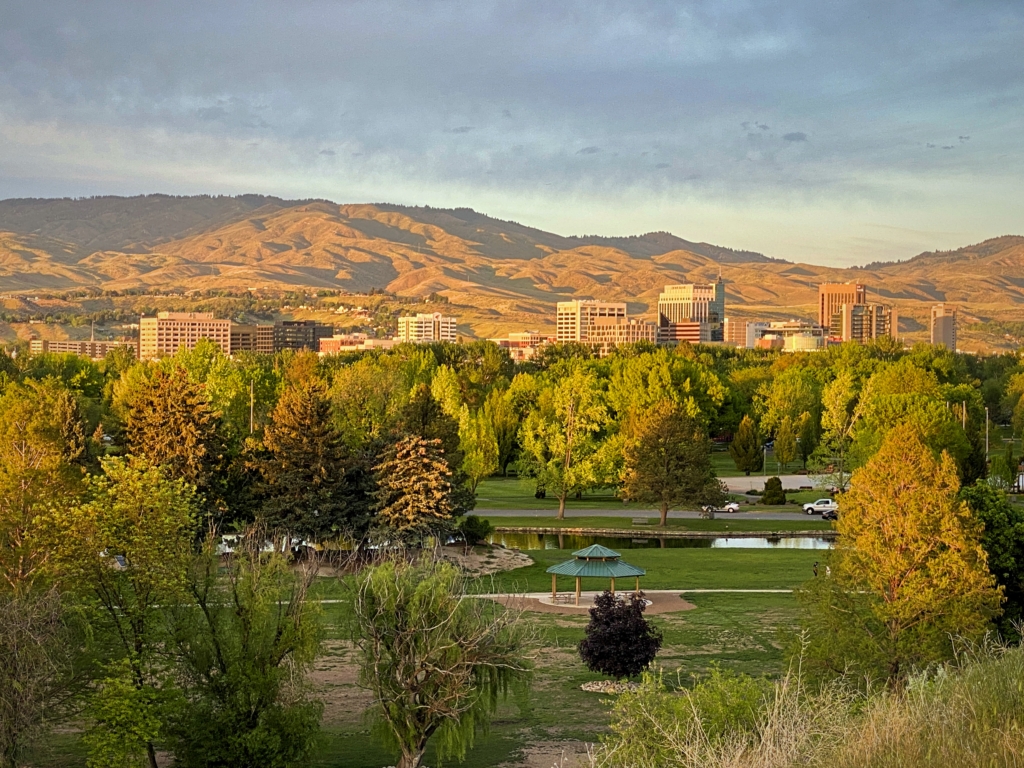 So, the recreational opportunities such as biking and hiking do not stop at the city limits.
An unexpected treat was finding Freak Alley with its outdoor murals and public art located in downtown Boise.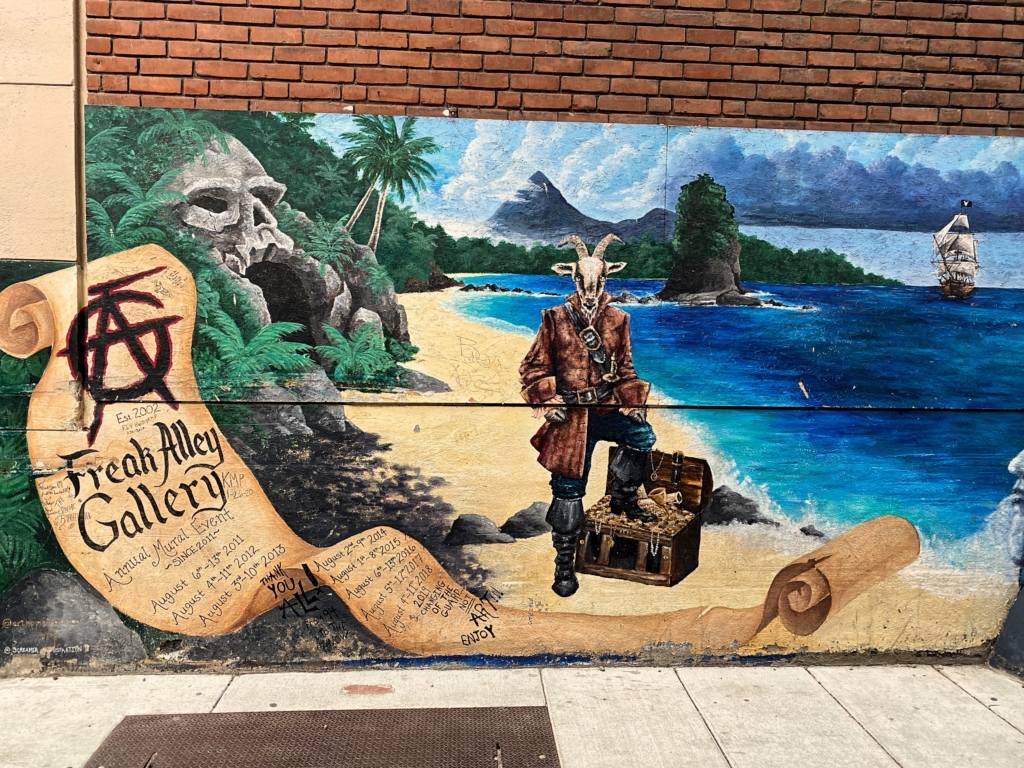 Here David and I were surrounded by a large skull, fantasy characters and unidentifiable humanoids.
My favorite mural was this one with a sea goddess and her trident.
There are quite a few good places to eat in Boise. We had non-traditional, upscale tacos and other Mexican dishes at Madre with Meagan, David, his daughter Amelia and her boyfriend Matt.
While there, I discovered that people of Basque descent started emigrating to the Boise area in the 1800s and now have a sizable community and many cultural institutions. You should try out at least one of the Basque restaurants. We went to Txikiteo and had tapas while sitting outside. The restaurant also had plates and charcuterie boards on the menu.
Lowman & Kirkham Hot Springs
After two full days in Boise, the minimum I recommend for a visitor, we went east to the Sawtooth Mountains. Taking Highway 21, our first stop was Haven Hot Springs. This spa, hotel, restaurant and gas station is in Lowman, population 42. There we relaxed in naturally heated pools of different temperatures.
Here I met Richard, a Boise artist who works with wood, is inspired by light and air and hasn't cut his hair or beard in 11 years.
A few minutes-drive east are the popular Kirkham Hot Springs, off the road and down a staircase on the South Fork of the Payette River.
This mountain village with less than 100 permanent residents is a terrific base to explore the Sawtooth Mountain Ranges. The outdoor recreation includes hiking, camping, biking, mountain climbing, fishing, rafting, skiing, snowmobiling and snowshoeing. For photographers, it offers amazing landscapes such as a view of the Sawtooth Mountains and Salmon River during sunset.
Pioneer Park is another spot of good views of the Sawtooth Range. It has a path around the park which provides a variety of photographic angles and some log cabins from early non-indigenous settlers.
The best breakfast we had in our whole 16-day, 3000-mile Rocky Mountain Road Trip was at the Stanley Baking Co. & Café with delicious pastries, hearty egg dishes and a whole complement of specialty coffees. It was worth the fifteen-minutes we had to wait to order and then be seated.
On Highway 75, it's about an hour drive to Sun Valley & Ketchum, adjacent municipalities. On the way, we took a break at the Bethine and Frank Church Overlook, formerly the Galena Summit Overlook. Frank Church was a former US senator representing Idaho and ran for the Democratic presidential nomination in 1976.
Sun Valley is a tiny but famous town, known for the ultra-rich staying there and skiing (in league with Aspen CO, Jackson WY, Park City UT and Whitefish MT), as well as for its annual film festival. It's surrounded by five mountain ranges (Sawtooth, Pioneer, Boulder, Smokey and White Cloud) and home to the Hemingway Memorial.
Hemmingway visited this area for many years starting in 1939. He moved to Sun Valley / Ketchum in 1959 and lived there until his death in 1961. The memorial of this Nobel laureate in Literature and quintessential American writer was dedicated in 1966. It's a granite column with a bronze bust of his head on top. Note the inscription at the bottom of the memorial.
His death was self-inflicted, the same fate as with his brother, sister, and father. His instrument of suicide was a shotgun. His grave is about two miles away in Ketchum where he is buried with his fourth and last wife, Mary Welsh Hemingway. She was a journalist and died in 1986 in New York City.
Ketchum is a city and has more restaurants, coffee shops and stores than Sun Valley.
At Java on Fourth, Mike and I each had one-for-the-road (coffee, not alcohol) with David and Meagan and thanked them for their hospitality. They drove back to Boise and we went south on Highway 75 to US 20.
Craters of the Moon National Monument & Preserve
We decided to skip Shoshone Waterfalls, an hour south on Highway 75 from US 20. Normally it wouldn't be something to miss, but we only had two days to return to Denver and we decided instead to stop at Craters of the Moon National Monument, west on US 20.
This reserve is a region of volcanic cones, craters, and lava flows which were active only 2,000 years ago, a blink of an eye geologically. It has a superficial resemblance to the moon, but with sage brush, shrubs and a few brittle trees. In the summer, wildflowers are everywhere.
In 1969, Apollo astronauts actually visited the preserve as part of their preparation for going to the moon. The reserve is large (475 sq mi / 1,225 sq km) but most visitors only go on a seven-mile loop where every designated point is worth a stop.
I particularly liked climbing to the Inferno Cinder Cone viewpoint.
At the windy top, there are far reaching views of the park and mountain ranges
Leaving Craters of the Moon, we went east on US 20, combined with US 26 some of the way. In Arco (the largest city in Butte County with approximately 1,000 people), we saw this mountain with numbers prominently painted on it.
In 1920, students at Butte County High decided to paint their graduation year on the mountain. The next year's class liked the idea and added a "21" to the previous year's "20". The tradition continues on. They also put the pictures of graduated students on lamp posts. The high school has a little over 200 students from grades 9 to 12.
Thirty miles east from Arco is Atomic City (population 29). It was called "Midway" until 1950, as it's halfway between the towns of Blackfoot and Arco. It was home of the Experimental Breeder Reactor I, the world's first electricity-generating nuclear power plant.
We continued east on US 26 to Blackfoot and caught Interstate 15 to Utah. We stayed overnight in Provo and the next day drove to Denver.
It won't last forever but now the state is sparsely populated and easy to find remote places with few others. It's hard to overstate how wonderful the outdoor beauty and recreational opportunities are in Idaho!
Next stop: Grand Junction, CO!