One morning, before sunrise, we arrived in Beng Mealea, 65 kilometers (40 miles) from Siem Reap, Cambodia and in the Angkor Archaeological Park. As we walked towards large ruins without another soul around, I felt like a Spanish missionary exploring the jungles of Southeast Asia when Columbus was sailing to the New World. In our wanderings we found fallen walls and scattered rock strangled by huge tree roots and covered by dense vegetation.
On some walls there were elaborate reliefs of praying and standing women or goddesses in pediments above doorways.
Every turn there was something amazing such as complicated window columns or a wall-inscriptions in characters we did not recognize. It is hard to believe this is possible to witness in solitude, but it is.
Angkor
Angkor Wat, in Cambodia, is one of those places that is on every world traveler's bucket list and for good reason. The name refers to the magnificent Angkor Temple (i.e. Wat). It also is commonly used interchangeably, but imprecisely, with the Angkor Archaeological Park (also called Angkor or the Park) which holds a vast architectural legacy from the 9th century to the 15th century of the great Khmer Empire. Khmer is the national name of the Cambodian people and language. Angkor was the capital city for most of this period.
The Park's main temple area is about six kilometers (four miles) from Siem Reap and additionally includes scattered monuments and structures in a 400-square kilometer (155 square mile) area. Many of the monuments are surrounded by wet or dry moats and the remains of protective walls.

The buildings in the Park were constructed mostly in the 11th and 12th centuries. Most were in honor of the Hindu god Vishnu. At the end of the 12th century, the Khmer Empire transitioned to Buddhism. Many of the Hindu statues were moved in order to highlight statues and reliefs of Buddha and bodhisattvas. There was a brief return to Hinduism in the middle of the 13th century, followed by a return to Buddhism. As a result, the monuments are a fascinating mixture of artistic and architectural styles.
Our Story
My wife Khadija and I just spent three weeks traveling in Myanmar with our friends Peter and Caitlin. We separated in Bagan. They went to rest on a Thai beach before returning to New York. We flew to Siem Reap. While switching planes in Bangkok, we joined up with our friend Mike who was making his first trip to South Asia. After Siem Reap, we travelled to Luang Prabang, Laos, then to Northern Vietnam.
Siem Reap
Siem Reap is located on the shores of the Tonle Sap Lake, the largest freshwater reserve Southeast Asia. It is about ten kilometers (six miles) from the Angkor Park. This is where almost every visitor stays when visiting Angkor.
The name of the city literally means "Siamese Defeated", referring to the victory of the Khmer Empire over the army of the Thai kingdom in the 17th century. Only 20 years ago, Siem Reap was a provincial town with few facilities, many unpaved roads and little in the way of nightlife. There were a couple of large hotels and a handful of budget guesthouses. Tuk-tuks (three-wheeled motorized vehicles) and taxis were non-existent. Bicycles and small motorcycles were the main modes of transportation. Because of the stability (so far) of post-Khmer Rouge Cambodia and the increase in tourism to Angkor Wat, there are now ample lodging options and a panoply of restaurants and bars.
A common strategy is to visit the monuments in the early morning and late afternoon when it is cooler, the light is better and there are fewer tourists. In the middle of the day, have lunch and take a nap, read or swim in the hotel. At night, have a good meal at a local restaurant. Then if you have the interest and energy, check out the hopping, all-night party scene.
Mike and I walked to the multi-block Angkor Night Market (for clothing, souvenirs, food, massages, etc.). Within this multi-block area, we found Pub Street, which resembled a college town bar-strip on a weekend.
We then went to the Hard Rock Cafe across the river where a local band was playing Rage Against the Machine and the Beastie Boys covers. We subsequently went to a hotel bar owned by an Irish fellow which was filled with a group of young women and men from the UK who were in the middle of a multiday drinking spree. One of the women took off her top in the spirit of the party and jumped into the hotel pool. Later we walked the streets after midnight and saw opportunities for prostitution and illegal substance purchases. All of this was mildly fun for me, but I came to examine and photograph the monuments and learn the history. Others came with a different focus.
Currency
Riel is the name of the Cambodian currency, though US dollars and Thai baht are accepted in many places. Small transactions are done in riel, though most hotels, restaurants, and shops set prices in dollars. When we were there, one US dollar equaled around 4,000 riel. Riel notes come in denominations from 50 through 100,000, through the red 500-riel note is the most commonly used. In this post, $ means US$.
Angkor Wat
Our first morning, we left the hotel at 4:30am. We took a car to the ticket center which is the only place to buy passes to the Park. The center was opened from 5am to 5.30pm every day. The ticket options were one-day pass at $ 37, three-day pass at $ 62 and seven-day pass at $ 72. The Park opened at 5:30am and closed at 6pm. We arrived at Angkor Wat about 6am, a half-hour before sunrise. The sun rises behind the front of the temple, so pictures at sunrise show a partial silhouette and usually are not dramatic. When we were there, no sun rays pierced the clouds, so it was not worth getting up early for. In the afternoon of the next day, we were able to photograph the massive temple in better light.
Through our hotel, we hired Kheng Yon, a Cambodia Department of Tourism licensed guide, for two days. He was an excellent guide and spoke English well. Before we entered Angkor Wat, he gave us the following overview:
I highly recommend him. He can be contacted at yonangkorwat@gmail or +855(012) 81 03 04.
Angkor Wat is a massive temple complex. It is the largest monument of the Angkor group and is also the best preserved. It is made up of a series of towers, galleries, chambers, porches, and courtyards.
The complex occupies an area of around two square kilometers (500 acres) with main access from a long causeway and moat. It would take a book to adequately describe Angkor Wat. Instead I will point out my favorite places.
There were many exotically dressed female reliefs with large busts and thin waists
The body shapes reminded me of the monuments in Khajuraho, India, though not nearly as erotic and with more Khmer-like faces. One thing in common with Khajuraho is the representation of the female vanity shown with a mirror.
There are numerous windows to frame photos of people, such as here with Khadija.
Most of stone is darkish gray in its current condition. In a few spots, we found splashes of color, as with these decorative shades on the ceiling.
Within the Gallery of Bas-Reliefs that surrounds the first level, there are about 1,200 square meters (13,000 square feet) of sandstone carvings that are so detailed that they give the effect of textured wallpaper. There are 8 sections, each devoted to a specific scene.
Ta Prohm (Tomb Raider Temple)
Ta Prohm was built as a Buddhist monastery in the 12th century at the height of the Khmer Empire but was eventually forgotten in the jungle and left to the forest. The temple was built without mortar, which allowed for silk-cotton and strangler fig trees to establish their roots between stones and grow throughout the complex.
When the structure was rediscovered in the 20th century, Ta Prohm was the most overgrown of the Angkor system and archaeologists and restorations have since worked to maintain that appearance of being overtaken by nature.
A feature of this monastery is the female reliefs which are throughout.
This monastery was made world famous by the Tomb Raider movie which had a scene with Lara Croft in front of these windows.
Other highlights, the large trees on top of the structure.
Ta Prohm is such a visual overload, it is easy to overlook extremely interesting small items, such as this Buddha almost completely enveloped by a tree.
Bridge to Angkor Thom
Angkor Thom (translated as Great City) is a squared walled area surrounded by an 8-meter (about 25 foot) high wall and 100-meter (about 330-foot) moat. Angkor Thom was the King's residence for a few hundred years with the temple area in the center.
It has several interesting buildings (including the astonishing Bayon temple (discussed below) and pyramidal structures with far-reaching views, such as the Baphuon Temple.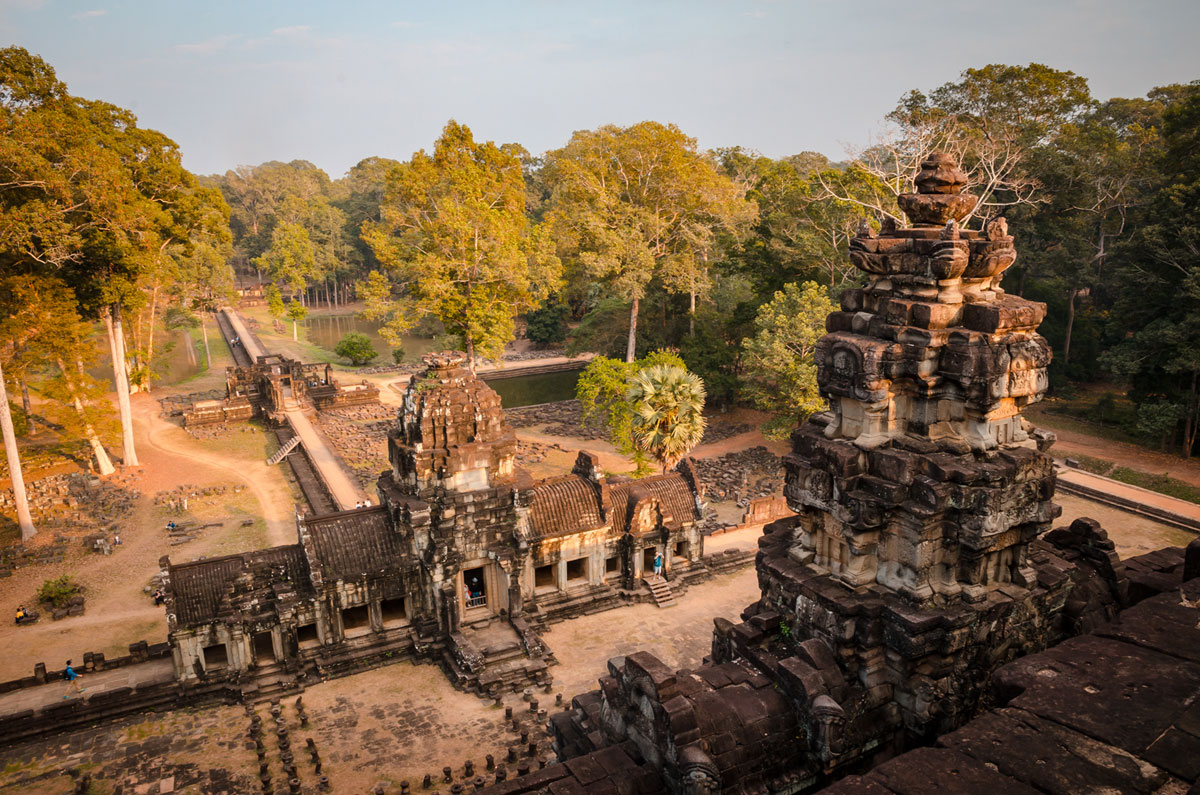 Mythical figures guard this site on the bridges over the moat. The South Bridge is the most intact. On the left are gods and on the right are demons.
Some of the original heads of the statues are in the Angkor Conservatory in Siem Reap and have since been replaced by exact replicas which continue guarding the site.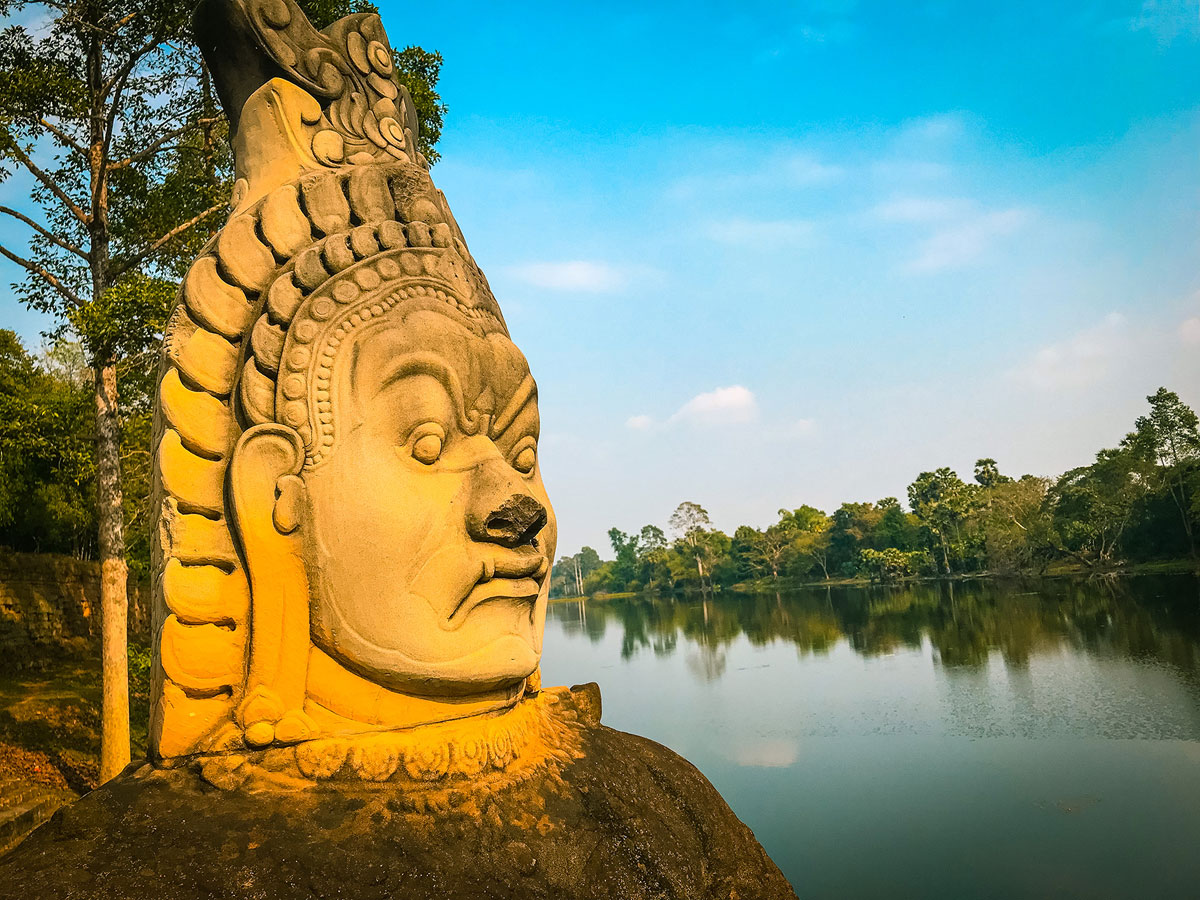 One of the fun things to do on the bridge is to watch the local motorcycle traffic go through the south entrance. They often have to wait before going through the narrow gate opening. It is a very good place for photography of locals.
Bayon (Face Temple)
If I were limited to one monument to go to in Angkor, Bayon Temple is the one. There are three levels, the first two are square and filled with the best bas-reliefs we saw in Angkor, including this flexible fellow entertaining a crowd.
There are many depicting battles, including this was with an elephant.
On top of the square area is a circular level with incredible towers with faces. Their visual impact is beyond words.
The top level also has several elaborate doorways to stone chambers.
Not surprisingly, the temple is said to be a symbolic link between heaven and earth.
Preah Khan
One of the largest complexes in the Angkor system is Preah Khan, a temple of successive rectangular galleries, which seem like a vast maze.
This temple receives fewer tourists than the other complexes like Ta Prohm, though it is compelling in its own right. It is next to a pond and some free-standing statues (most have been removed for safe-keeping).
The connecting corridors visually frame permanent and temporary features, such as this offering.
In one chamber was an old man selling small items.
I bought an orange wrist string from him, which I still wear. It probably has helped me in my extremely good-fortuned life.
Beng Mealea
The Beng Mealea temple is one of the most mysterious temples of Angkor, built to the same floor plan as Angkor Wat. However, this temple has been consumed by the jungle and barely cut back. Except for safety measures, it has not been reconstructed.
The monuments in the main Angkor Park are full of tourists, including bused group tours which are the bane of the independent traveler. Beng Mealea is the opposite. We arrived before 8am (after an hour-drive in a car from Siem Reap) and for the first half-hour we were the only people in the ruins. Perhaps we were lucky, but only a few more people came while we were here.
The history and use of Beng Mealea is completely unknown, as no texts have been found about it. We found the surviving walls and buildings were similar others in Angkor, but more enigmatic because of limited restoration.
The temple was built from blue sandstone and carved with many decorations and eclectic legends such as those of Vishnu, Shiva, and Buddha.
While there, I reflected upon the experience of walking through the rubble.
Roulos
Roulos is the ancient center of a Khmer civilizations known as Hariharalaya and is made up of three temples. Hariharalaya means "the abode of Harihara"—Harihara being a Hindu deity that is half Shiva and half Vishnu. The Roulos temples extend over two miles and date from the late 9th century. The building and design of these temples are combined to indicate the beginning of the classical Khmer art. This style is often thought of by some art historians as the most beautiful period of Khmer art.
They are 16 kilometers (10 miles) from Siem Reap. There are three sites open to visitors: Preah Ko, Bakong and Lolei. We visited two of them on the same morning after exploring Beng Mealea.
Preah Ko contains six brick towers arranged in two rows on a low platform. King Indravarman I constructed the site in 879 AD to commemorate his ancestors. The three in the front row were for paternal ancestors and the back three were for maternal ancestors. Three statues of Nandi, the bull, associated with the Hindu god Shiva, stand in front of the temple platform, which is appropriate because Preah Ko means "Sacred Bull". Three sets of steps to the platform are guarded by lions.
Bakong is the first of the large "mountain" temples in Angkor.
Next to it is an active Buddhist monastery. Inside is a large Buddha surrounded by neon light decoration. While in Myanmar the previous month, we constantly saw this application of neon designs, giving a heighten presence to the Buddha, but also a disco effect.
While hanging out at Bakong, we listened to Cambodia pop music emanating from loudspeakers. The music was slightly psychedelic and an inspiration for the fantastic Khmer-American band Dengue Fever.
While leaving, we saw these four adorable boys jumping onto one bicycle.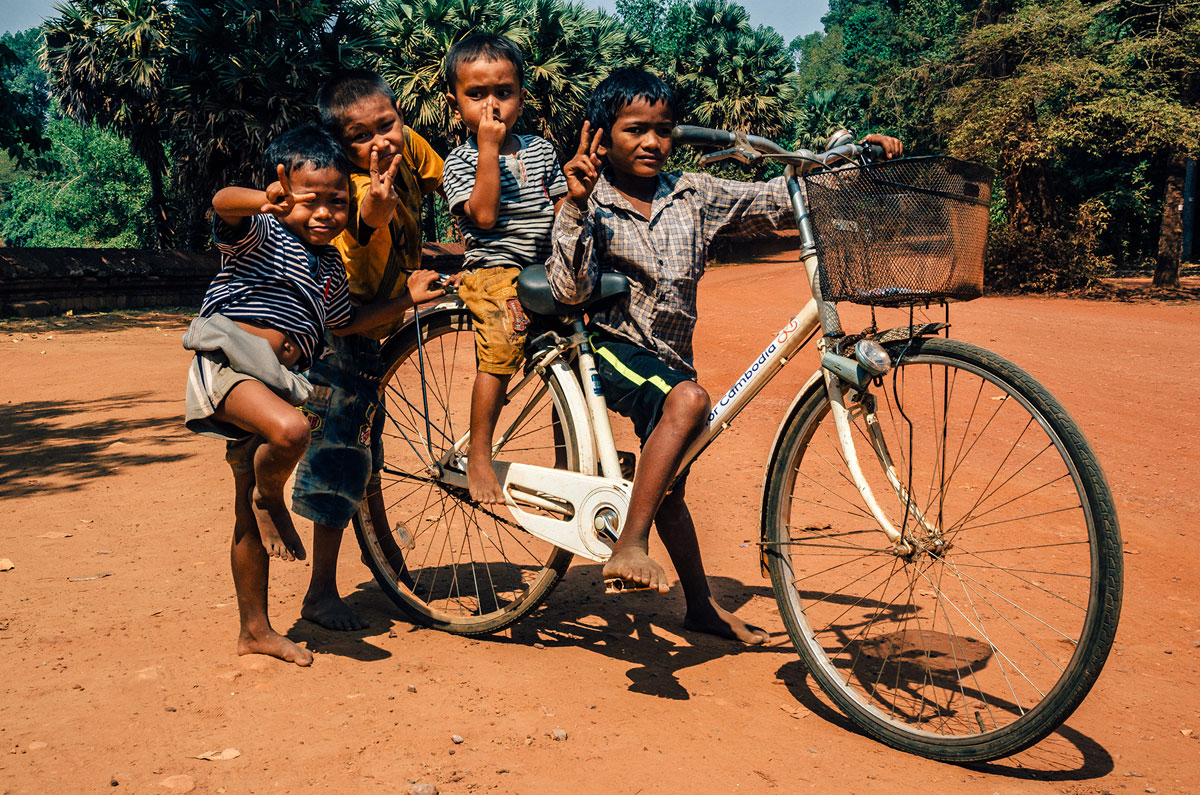 Phare Circus
The Phare Circus is called Cambodia's most innovative social enterprise model, with all the profits from ticketing, refreshments, merchandise, and private performance sales all going towards supporting free education and professional arts training. For more information, go to https://pharecircus.org/
No one should miss this! Phare integrates dance, theatre, and original live music with cutting edge circus arts to tell Cambodian stories from history, folklore, and modern society.
The show was approximately 1 hour followed by the opportunity to interact with the artists afterward, which I took advantage of.
The one-hour show started at 5:00 PM and 8:00 PM.
Dr, Fish
For a whacky experience, I submerged my feet in a water tank at Dr. Fish where hundreds of tiny fish chewed dead skin off my feet. I doubt the medicinal benefit, but I never knew my feet could be so attractive, at least to another species.
Dr. Fish is on several corners in the Night Market and elsewhere in Cambodia and in other Asian countries.
Psar Leu (High Market)
A bit south of the city center, is Psar Leu, the High Market. Sitting on National Highway 6, the High Market isn't generally visited by tourists, so the prices tend to be half of those seen elsewhere. There are few souvenirs but has more authentic goods and clothes for sale. Khadija and I went to see the energy of the vendors, particularly those selling food. We started on the inside where mostly clothes and household goods are sold but came across the pork butcher.
Outside there were stall on both sides of narrow dirt paths full of local shoppers and motorcycles struggling through the crowd.
While most Cambodians are at least nominal Buddhists, at the market there were several stalls with Muslims.
Lodging
We stayed at the Rambutan Hotel which is located across the river from the Night Market. Our room had two floors with a TV, desk and couch on the bottom and the bed and bath on the top.
There was a courtyard with a small pool and wall gardens. We paid $68 / night for a room. We were quite satisfied because it was convenient, had a wide selection in the breakfast menu and the desk staff were always polite and helpful. They can be contacted at [email protected].
Restaurants and Cuisine
We ate at a Cambodia restaurant every night. All of them were not expensive by New York standards and provided tasty food. However, none particularly stood out
Cambodia cuisine consists of a series of dishes that contrast in flavors, textures, and temperatures. Rice is a staple in Cambodia and is part of every meal. There are around 2,000 varieties of rice indigenous to Cambodia that have been developed over the centuries. Freshwater fish, abundant in the country, is also a popular part of a Cambodian meal. This cuisine shares similarities and influences with dishes from Thailand and Vietnam, as well as China and France from their influences in Cambodian history.
Transportation
For independent travelers, the two most common ways to Angkor Park is hiring a tuk tuk or renting a bicycle.
We met someone who rented a bicycle who had a problem in the Park and could not ride it back. If you rent a bicycle or a car, get an emergency phone number from them.
Photography
It would be ideal to have a tripod to photograph the monuments. However, there are so many tourists that it is awkward to use it. An exception are monuments not visited as much by the tourist, especially at Beng Mealea and the Roulos Temples. A tripod allows for longer exposures (using smaller apertures, i.e. higher F-stops) which provides greater depth of field (both the foreground and background being in focus). However, if leaves and vines are blowing in the wind, these will be blurry during a long exposure which may be required in low light situations.
In my SLR camera, I always shoot with RAW files which have three times the data than a JPEG. However, the initial look of the photos in bleached out and not sharp in focus. As a result, they need to be enhanced by a software application. However, with enhancement, terrific pictures can result.
Most people will use their phones which produces JPEG files and pictures usually in focus. The results can be quite good and no enhancement is needed.
Final Thoughts
If you have the time and enough money, go to Angkor. You will not regret it.