I grew up in Colorado and have visited most of the major national parks and monuments, but for some reason never made it to Dinosaur National Monument in northwest Colorado and northeast Utah. Well, I finally did on the first stop of a 16-day, 3000-mile Rocky Mountain Road Trip. As the name implies, it's known for its dinosaur fossils and has provided many to museums across the country, including allosaurus, diplodocus, and stegosaurus. It's also a terrific place to camp and hike.
The monument is big (330 sq mi/ 850 sq km) and the roads hardly intersect. So you need to have a good idea of where you're going or you can spend hours needlessly driving around. Here's a map of the main sites.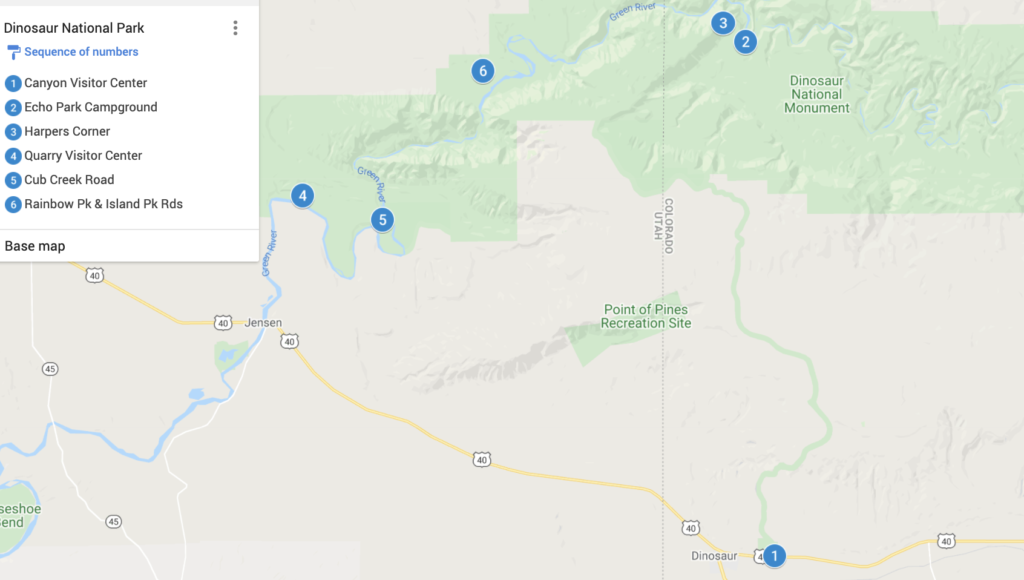 If you enter at the Canyon Visitor Center by Dinosaur, CO, you can drive to the magnificent Echo Park Campsite and the Harpers Corner Scenic Overlook.
If you enter from Jensen, Utah, you can visit the Quarry Visitor Center, Cub Creek Road with stops for petroglyphs and the scenic unpaved Rainbow Park & Island Roads.
My friend Mike and I did all of these except the Rainbow Park & Island Roads, which required an equivalent of a full day. If so desired, you can spend days in this dry, hot wilderness. Another option is rafting the Green River through the monument.
We drove into Echo Park an hour before sunset from the visitor entrance by Dinosaur, CO. It took about an hour to drive 38 miles, the last 13 on a twisty, often steep, dirt road. RV's cannot pass on the dirt road and really only 4-wheel-drive trucks should attempt it. On the way, we passed a number of interesting rock formations.
We got there about half-hour before total darkness. All 17 sites with picnic tables are on a first-come, first serve basis and luckily there was one available to us. There's also one group site (for 9 to 25 people) which needs to be reserved on Recreation.gov. The campground allows fires and has outdoor restroom facilities with vault toilets and running water. The cost is $10 per site when water is available and is paid using an envelope that's dropped into a central box.
We didn't build a fire and ate food from our cooler. We had just bought a tent and had to figure out how to assemble it in the dark, which took 45 minutes (about twice the normal time).
When we woke the next morning, we realized what a magnificent site this was at the bottom of a huge cliff.
A short walk away, the Green River and Yampa River meet in a picturesque gorge.
Returning on the Echo Park Road, we stop at Whispering Cave
Our next stop was the remains of the Rial Chew Ranch with structures that existed from 1900 to 1949.
There's a house, cabin, wagon and several storage buildings. It was a good location for the pioneers as there was water, hillsides for winter grazing and timber for building. In the corral, there's a wooden structure to drain the blood from slaughtered animals.
The family eventually sent their children to Jensen, UT to attend school while still occupying the ranch until the early 1970s.
We returned to Harpers Corner Road, turned left towards US 40 to go to Quarry Exhibit Hall. We didn't know if we had turned right and driven a few miles, we would be at Harpers Corner Scenic Overlook. Don't make this mistake!
While it's common knowledge that dinosaurs roamed the earth, I still look at their fossils with amazement. Dinosaurs dominated this part of the earth during the Jurassic Period (200 million to 145 million years ago). In 1909, paleontologist Earl Douglass found an incredible number of fossils embedded in a rock formation that was once a sandbar on the edge of a large river. Many carcasses stuck on the sandbar and eventually turned to rock. Fortunately, Douglass and others carefully managed the extractions of the fossils and shipped them to museums across the country.
The Quarry Exhibit Hall is a unique venue with a wall of over 1,500 bones from several species, embedded in their original positions.
It's easy to see the large fossils, but it's interesting to scan the area and see the details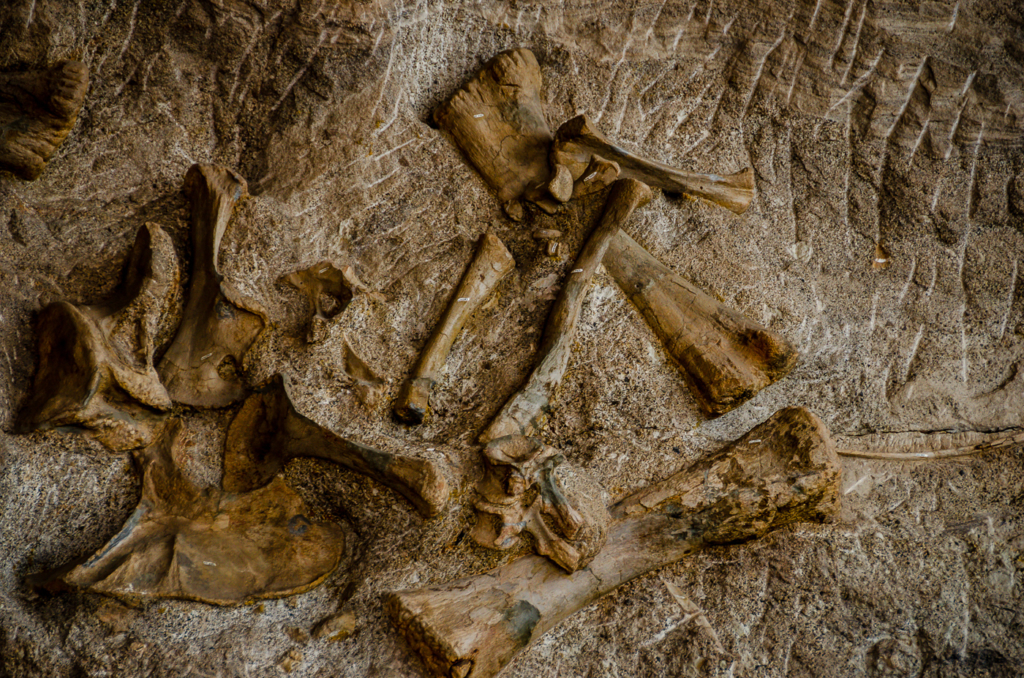 Across from the fossil wall are informative displays including this Allosaurus reconstruction.
The Quarry Exhibit Hall teaches and entertains visitors of all ages.
Cub Creek Road Petroglyphs
Starting about nine miles from the Quarry Exhibit Hall, there's the Tour of the Tilted Rocks with stops pointing out easily identifiable petroglyphs.
The petroglyphs were made by the Fremont people, who lived in the area 700 to 2,000 years ago. The non-indigenous name is from the Fremont River, named after American explorer John Charles Frémont.
There are other sites of petroglyphs but these are the most accessible.
Traveling To Dinosaur National Monument from Denver
Mike and I took about 7 hours to drive from Denver to the monument. On the way, we stopped in some fun places. They were on US 40, which we entered from Interstate 70 by Empire.
When I was growing up in Denver, I frequently heard that Fraser, CO had the coldest temperature in the country (excluding Alaska). The small town of over 1,000 wanted to be known as the "Icebox of the Nation" but International Falls, MN was able to trademark the name. In any case, I always wanted to see it. During our stop the weather was not cold and we got our caffeine fix at Rocky Mountain Roastery Cafe and bought supplies at Murdochs. On the way out, we saw a table at a restaurant with a lot of brightly colored hair. It turned out to be a pre-wedding party.
In Kremmling, we saw a Cobra AH-1F helicopter in front of the high school. We realized it actually was in Veteran Memorial Park.
But the displays did not stop there, as we saw a series of metallic art on both sides of the street, including this one of a pharaoh.
We then passed over the Continental Divide at Berthoud Pass.
We continued on US 40, seeing slews of ATV's crossing a variety of trails, the ski slopes of Steamboat Springs and eventually a mostly flat landscape with grazing cattle.
Final Thoughts on Dinosaur National Monument
The wealth of Dinosaur fossils in the monument exceeded my expectations. However, I was surprised how impressive Echo Park was and how many petroglyphs there were. It's certainly worth a visit!
Next stop: the Grand Tetons!