Overview
During a day of walking around Hispaw (pronounced See-Paw), we stopped to take a quick video where I speculated what our trek in the nearby mountains would be like.
It turned out my prediction was accurate but didn't do justice to the richness of the people and the landscape we encountered. In the mountains around Hsipaw lie many villages and tribes, most of which have their own languages, dialects, and customs. Myanmar is known as the "real land of smiles" and that was shown through the hospitality and kindness of the people in and around the mountains who warmly accept us. Generally, there is very little currency used within the tribes themselves and the currency that is used is for outside trade for the most part. The hill villages rely on the farmlands in the surrounding areas, the men and women working the fields and the care of livestock for food, trade, and other goods. The federal and local governments are relatively separate from these villages (and always in conflict on who owns surrounding land and who has ultimate authority). Each village establishes its own government, education, and trade systems.
For these treks, it's necessary to use a local guide company, as they secure and pay the villages for the right to walk through them and arrange homestays and meals. We used Northern Shan State Trek (www.northernshanstatetrek.com) which is run by our guide Mitch and his father. The company is also called Firefly and is known for having extremely knowledgeable guides with great relationships with the people in each village. I heartily recommend them to fellow trekkers.
We met Mitch as soon as we entered Hsipaw and discussed what to bring, the provided transportation, and the itinerary for the hike. We changed from three days and two nights to two days and one night, as we felt this would be enough to gain the experience and not tax us physical. Mitch was fluent in each local dialect and knew several people in the villages we visited. We found the food plentiful, delicious and authentic. The mattresses were clean and fairly comfortable in the homestays, though on the floor. The bathrooms were outside without plumbing and were part of the experience.
For an overview on Myanmar, see https://exploringed.com/myanmar-part-1-overview-yangon/ https://exploringed.com/myanmar-part-1-overview-yangon/
Transportation of Starting Point
The next day Peter, Caitlin, Khadija and I had an early breakfast at our hotel, Kumudra Hill – Mountain View, checked out and put our luggage into storage. Around 8 am, we met Mitch (our guide) and loaded our backpacks into a three-wheeled taxi, which was a motorcycle welded to a covered, flat-bed trailer with no windows and two benches. Our driver was Zaw Lwin Phyo (highly recommended, phone 09-264171830 or 09-960519388).
Zaw took us up a misty and intermittently-raining road to O Mu, a town on hilly agricultural land.
We stopped and unloaded at a general store.
While there, we had tea in the back of the store and took advantage of the outhouse. By the end of our stop here, the mist had gone and it was sunny and moderately warm.
Trekking Through the Fields and Forest
With our backpacks and cameras, we started walking through cultivated fields, many flowering.
After about a half-hour of walking, we came upon a forested area which was cooler and without farmland and houses.
The trail sloped down until we encountered a river which we had to carefully cross on slick boulders. Mitch helped Caitlin cross with Peter protecting the rear.
Walking Through the Mountains
From there, we ascended up the first of many small mountains. We passed through small villages where there were children running around and mothers tending to their babies.
We periodically encountered huge trees.
n the village of Pan Kam, we stopped in a store / restaurant / home for lunch around 2:30pm.
After lunch, we sat outside in the village and mingled among the locals.
At this point, Caitlin was suffering from foot blisters and Peter decided to hire motor bikes to get them to the next village, Ten Sun, where we would sleep.
Khadija and I continued walking out of Pan Kam, while the sun was receding in the sky and trash and possibly unusable crop components were being burned.
Khadija and I spent the next two hours walking up and down a steep road to Ten Sun as the sun was sitting.
Finally, we arrived at our homestay where we washed up and had a dinner of vegetables, noodles and various meats with some tea. We then retired upstairs to sleep on our floor mattresses, but unlike our homestay in the Inle Lake trek, each couple had separate rooms. While we were happy about our upgrade, it was offset by the walk in the middle of the night to the outhouse. We had to walk down inside and outside stairs in the dark (I used my cell phone light). We didn't have a cow greeting us either (see Part 3). Once business outside was taken care of, we could marvel at the view of the Milky Way across the sky.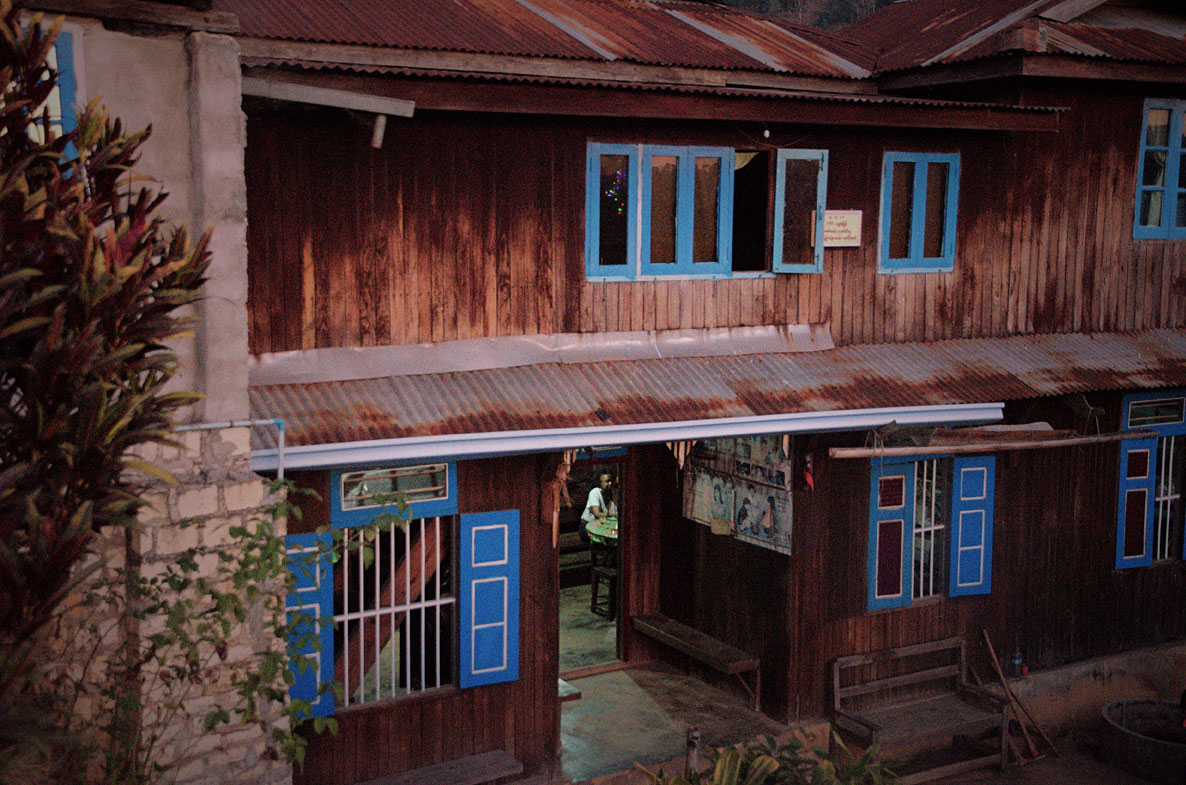 Myanmar Federalism
In the morning, we had a long discussion with Mitch about the ethnic groups in the area. While the Burmese (Bamar) are about two-thirds of the country's population of almost fifty-five million and dominate the national government, this area is populated mostly by other ethnic groups; each living in separate villages with different traditional dress and languages.
The largest group is the Shans who migrated from China centuries ago and, as you may guess, are the largest ethnic group in the Shan State, but share it with over thirty other ethnic minorities. They are also the second largest ethnic group in Myanmar with about 9% of the population. They are a majority of the population in the town of Hsipaw.
The villages we went to were mostly Palaung, which is our guide Mitch's heritage. The Palaung are Mon–Khmer ethnic minority found in this part of Myanmar, the Yunnan Province of China and Northern Thailand. They have a population of at least 200,000 in Myanmar. Mitch had a video on his phone of the Palaung army which is part of the Palaung State Liberation Front (PSLF). PSLF was formed in 1963 and has battled, in varying intensities, the national government on and off since then. In his video, they looked like a well-funded, highly trained army. I suspect in armed conflict, they operate mostly as a guerrilla group, which is effective in mountainous areas. Mitch explained that many other ethnic groups throughout the country also have military wings.
It was wild trekking through these mountains, because of the on-going dispute between the national government and many of the ethnic groups (all sides being armed). So, when you see soldiers in military fatigues, it is not clear what army they belong to. All countries have disputes on the degree of federalism between states and the national government, but Myanmar is an extreme case based on my experiences traveling the world..
Ten Sun Village
Early in the morning, I wandered around the small village which was teeming with children (by the way, nowhere in this country that we visited was in danger of depopulation) and came upon four young boys with one being an extrovert who bemused the others.
Of course, the mothers keep an eye out on their children.
They have long cultivated tea in this mountainous area. This woman was spreading recently picked tea for drying.
Nearby I met a monk who showed me around the temple area even though we did not have a word in common.
When I returned, we ate our breakfast of scrambled eggs, noodles and vegetables.
After expressing our thanks to our hosts, we took a group photo (with a chicken) before we departed.
Then Mitch posed with the aforementioned chicken.
On our way out of town, we saw this gent smoke what I assume was tobacco through a big bong.
Second Day Trek
As we left the village, a soldier lifted a log gate which was balancing at the end of a stone to let us pass. Mitch later told us he was from the Shan State. About ten minutes later some women in military fatigues passed us. Who knows who they were affiliated with?
We walked through the mountains extensively planted with tea.
Mitch stopped in the next village at a Buddhist set of buildings and met a monk friend of his, who spent at least fifteen minutes carefully making us tea. Myanmar is arguably the most Buddhist country in the world. The monks and nuns do not live cloistered lives but are integrated into the community.
While walking by a school, we saw a teacher instructing children in a one-room classroom. In our Inle Lake trek, we saw a similar place where the children were reciting the English alphabet.
The children on this trek were adorable, as these three young boys.
After walking through the village, we saw a circle of women, probably earlier harvesting tea, having lunch.
Shortly afterwards we saw men taking a smoke and tea break.
They were brewing tea, somehow, in a tree stump with a wide-diameter bamboo shoot as a spout.
Of course, I did not turn down the offer for the tea in a bamboo shoot cup.
Continuing our walk, we found a cool, gnarly tree on the path.
The trek was now mostly descending from and winding around the mountains.
We crossed a stream with a covered bridge with benches on either side. Khadija took a well-deserved rest there.
We soon had lunch in the village of Man Loi. I don't remember much about it, except the view of the countryside through this window.
Around 3 pm, we reached the spread-out village of O Mu where we started the trek yesterday. On the outskirts, we saw a man with a machete at a fork in the road.
Khadija and I stopped and waited until Caitlin and Peter came along a little later. Caitlin deserved a medal for walking miles with blisters and not complaining.
We walked to the general store, where we had started, and celebrated with more hot tea. Then our driver, Zaw, took us to our hotel, Kumudra Hill – Mountain View in the late afternoon. We re-checked in, took long showers and went to eat at their restaurant with sweeping views of Hsipaw. Finally, we relaxed in their rooftop jacuzzi.
The next day, I spent a few early-morning hours taking pictures in Hsipaw. Then Zaw took us to the train station. Go to Part 6 to read about our train trip to Pyin oo Lin and the road to Mandalay.