Barcelona, Spain's second largest city and capital of Catalan, is considered a Top-5 destination in Europe and a Top-15 in the world. It has enviable restaurants, lively nightlife, long beaches, good public transportation, incredible architecture (particularly the work of Antoni Gaudí) and an artistic heritage that continues to evolve. It's easy to access by plane, train and car, as well as a common stop-off for Mediterranean cruises.
However, not so long ago, in the early 1970s it was mainly a cramped, shabby industrial port, though relatively prosperous. Then a series of events occurred that unleashed the city's creative spirit and planning expertise. In 1975, the dictator Franco died and soon afterwards Spain became a constitutional monarchy and autonomous communities were created, including Barcelona's Catalonia. Now Catalans have democratic freedoms and a much greater ability to manage themselves. In 1992, Barcelona hosted the Olympics and invested in the city's infrastructure, rather than constructing a few large sports venues which often turn into white elephants. Since then, Barcelona has never looked back and continues to attract millions to see its attractions and experience its vibes.
Barcelona is on the coast of northeastern Spain. It's 300 km / 190 mi from Valencia, 250 km / 150 mi from Toulouse and 500 km / 300 mi from Madrid. There are about 200 airports that have direct flights there.
After my wife Khadija and I went on a five-week drive through Eastern Europe, we flew to Barcelona in September 2021 to see our very good friend, Nuria. Khadija and she have known each other since they were United Nations tour guides in the 1980s.
Barcelona is safe in the areas tourists go, though you need to be aware of pickpockets. Here, as everywhere you travel, employ basic safety precautions and use common sense to avoid problems
Barcelona is fairly expensive, but less than London, Paris and Rome. With planning, you can keep costs manageable.
Where to Stay in Barcelona
We stayed with our friend Nuria, so we didn't have to find a hotel. There are many hotels throughout the city, of all price ranges. If you don't mind taking public transportation, cheaper alternatives are outside of the main tourist areas.
How to Get Around Barcelona
Here's a map of some of Barcelona's attractions.
We mostly walked, took the metro a few times a day and occasionally took the bus.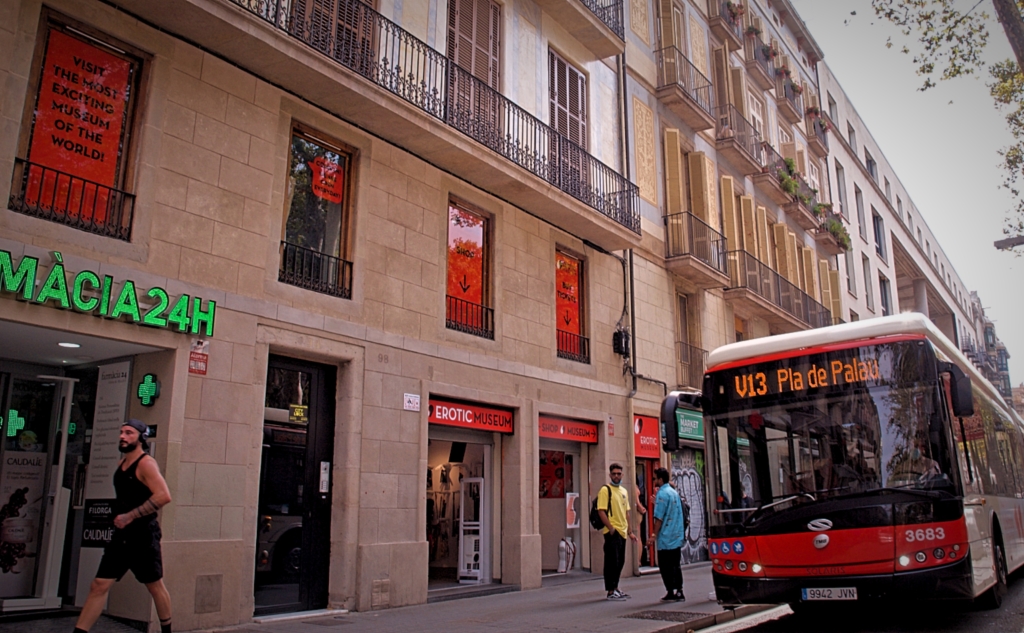 We bought a 10-ride pass good for trains, buses and trams in the central city (Zone 1) for €11.35, instead of paying €2.40 / ride. We didn't buy the 3-day unlimited pass for €23.80 because we correctly estimated we would not take more than 10 rides.
Barcelona has many free walking tours in English (though tips are expected). We took a tour of the Gothic Quarter with John, who was from New Zealand, but I didn't write down which company he was from.
He was easy to understand, personable and could answer all of the group's questions. This is a good way to see an area and not nearly as expensive as a personal tour.
Shared bikes for limited times and daily bike rentals are available. I personally found the city traffic and narrow streets not accommodating enough for my taste for biking, but others may have a different opinion.
Where to Eat in Barcelona
Barcelona has a wide variety of cafes and restaurants, some world famous. We had dinners prepared by friends, so we didn't partake in evening meals at restaurants. We went to a cafe called Brunells, a block from the Picasso Museum, which has wonderful pastries.
El Café de la Pedrera, in the famous Gaudí building, has sidewalk tables on the fashionable Passeig de Gracia Ave and is great for people watching.
What Languages to Use in Barcelona
Catalans still collectively remember that Franco prohibited their language, Catalan, to be spoken in public. They take great pride in their Romantic language, which is spoken by 9 million people in Catalonia, Valencia, the Balearic Isles, Andorra and a few places in France and Italy. You can communicate with virtually everyone in Barcelona in Spanish which is an official language. However, Catalans appreciate when you speak even a few words in Catalan. Having said this, many speak enough English for basic conversations, especially those dealing with tourists.
Interestingly, all education in Catalonia is in Catalan. As a result, some (especially outside of large cities) aren't fully proficient in Spanish.
Sagrada Familia is still unfinished after 140 years (2026 is the estimated completion date), yet it's the single most identifiable landmark in Barcelona and a UNESCO World Heritage Site.
It was designed by Antoni Gaudí, whose organic and inimitable Art Nouveau and Catalan Modernism style is inextricably associated with Barcelona. Volumes have been written about this sacred masterpiece, but just to note a few things that stood out to me.
The exterior of the Sagrada Familia has three facades that depict phases in the life of Jesus: nativity, passion and glory. The Nativity Facade was completed by Gaudí and the sculptures are lifelike and fit into the floral background.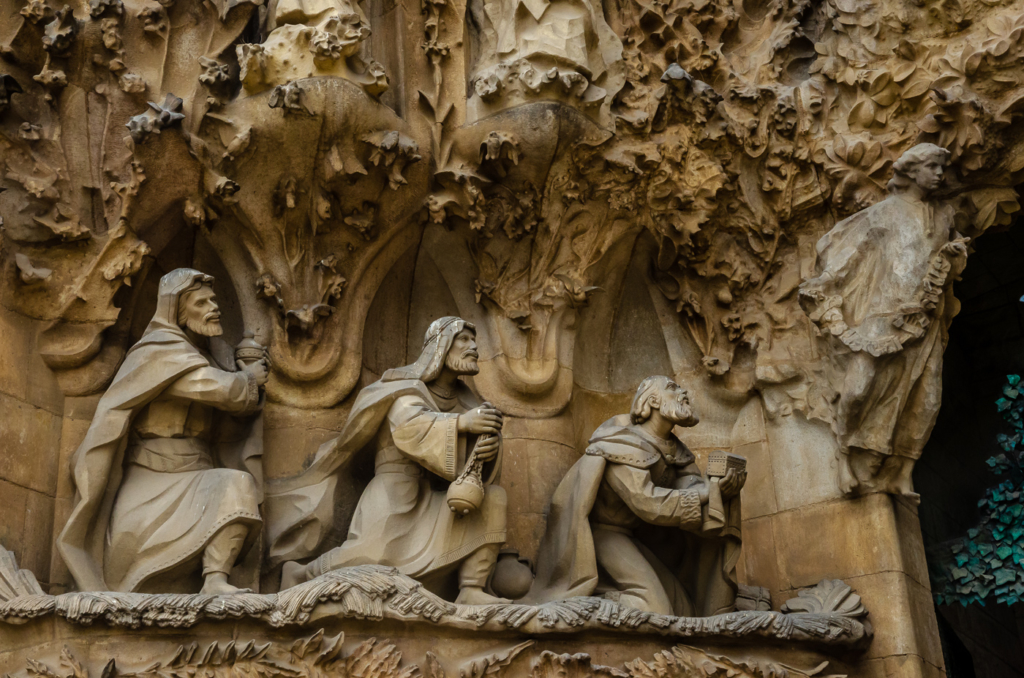 The other two facades were built after his death. On the Passion Facade, Josep Maria Subirachs' works are more geometric and abstract. Many critics felt this was too divergent from Gaudí's style and vision. Nevertheless, I found them striking.
Inside, the cross of Christ is dramatically suspended under a seven-sided canopy (i.e., baldachin) and seems to be frozen in midair.
The Gothic Quarter started as a Roman village and what remains of it, the Via Sepulcral Romana cemetery, has been preserved.
The area is a maze of narrow, winding, cobblestone streets from its medieval past.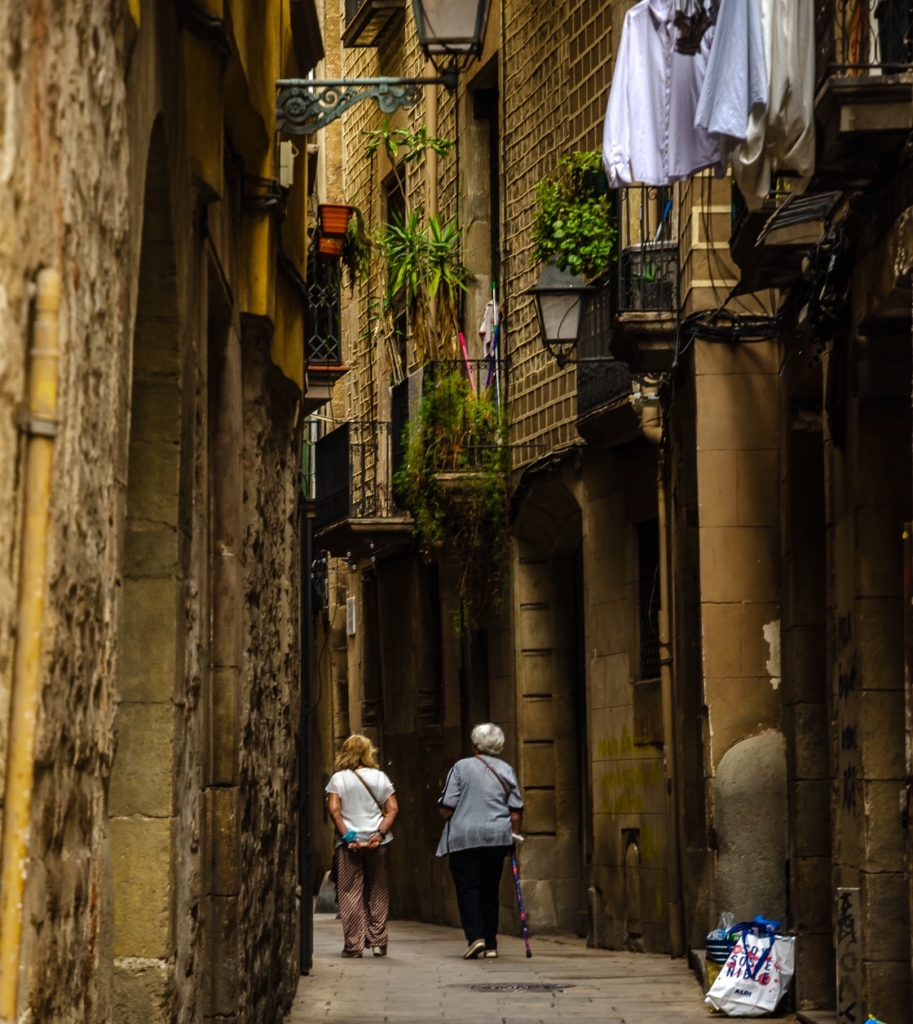 It's full of trendy bars, intriguing restaurants and interesting shops. It's so atmospheric, it's often used for photo and movie shoots.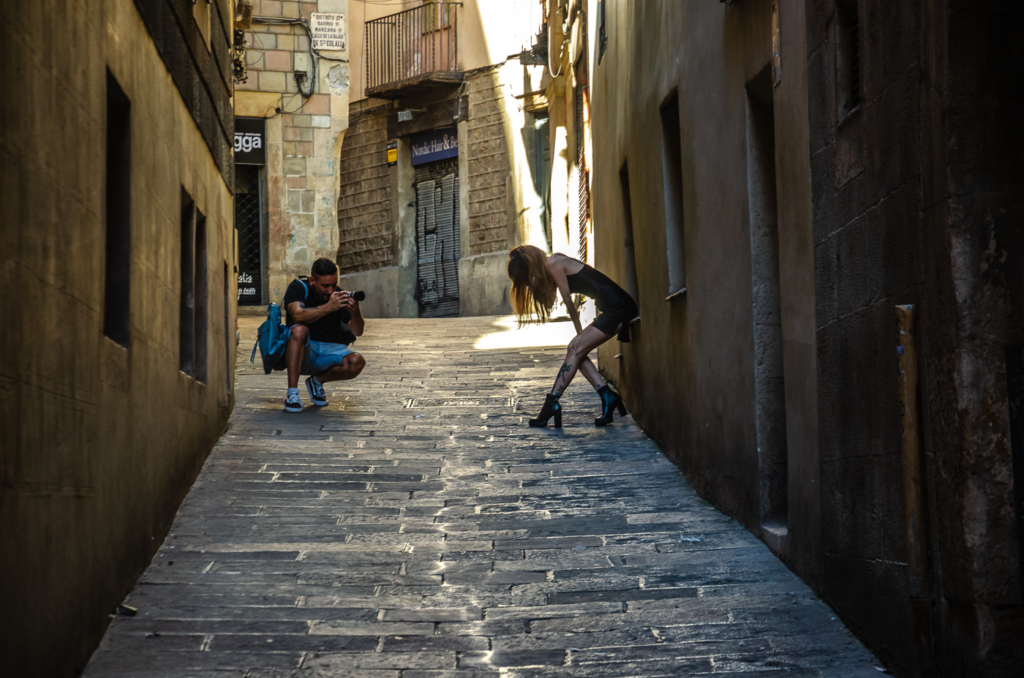 There are many peaceful squares (plaças) where you can stroll through or sit in an outdoor café. Some have water fountains and faucets which you can drink from.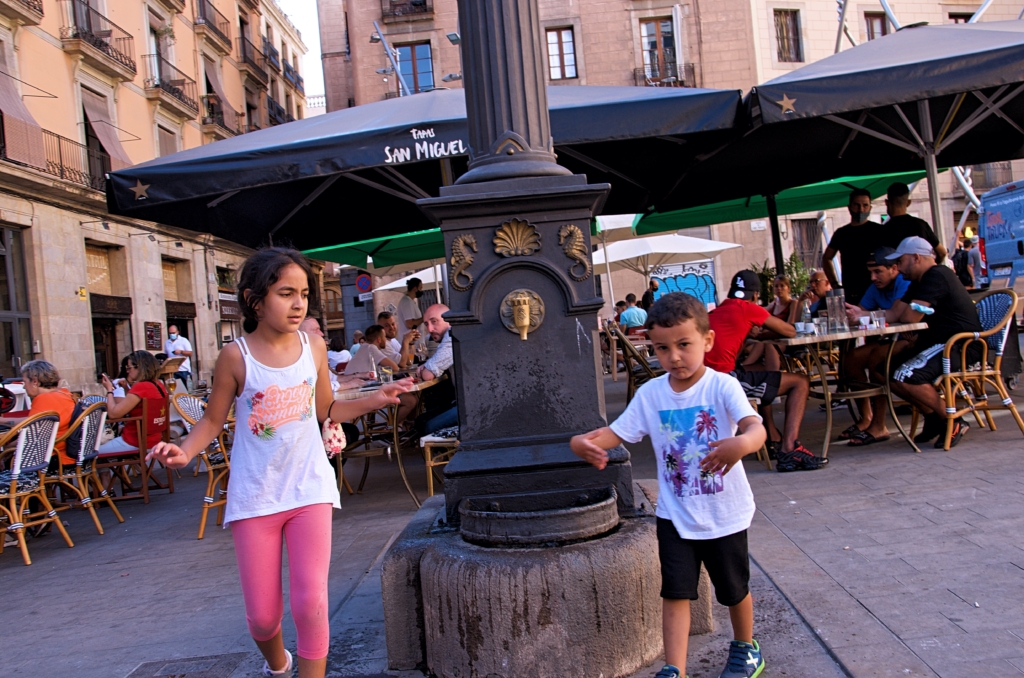 A cathedral is usually the most impressive church in a city. Even though the Cathedral of the Holy Cross and Saint Eulalia has an incredible gothic facade and is an amazing building, La Familia Sagrada overshadows it. However, there's one feature that is intriguing, especially to die-hard Star War fans. George Lucas visited Barcelona in the early 1970s and some people believe the city inspired costumes of some of his iconic characters. The best example is the Darth Vader face on the cathedral's rose windows above the wooden doors (may have to stare a little bit to see it).
Pablo Picasso, perhaps the greatest painter, or even artist, of the 20th century, lived to age 91 and produced an extraordinary amount of art. There's no other artist I know that has so many museums dedicated to him or holding substantial collections of his work. They include ones in Paris and Antibes, France; Malaga and Madrid, Spain; Cologne and Muster, Germany; and Lucerne, Switzerland. However, the Picasso Museum in Barcelona is special as he spent several formative years there.
He was born in Malaga, Spain in 1881. His father, a painter and an art professor, moved his family to Barcelona in 1885. Except for two years in Madrid, his son Pablo stayed there until 1905, when he moved to Paris. Unfortunately for Spain, he never came back to live there. In 1939, Franco became a dictator after the Spanish Civil War and Picasso swore never to return to Spain while Franco was in power. Picasso died in 1973 and Franco ruled until his death in 1975.
In 1899, Picasso frequently visited the Els Quatre Gats (The Four Cats) café in Barcelona's Gothic Quarter, where he met other artists and intellectuals. During this time, he discarded realistic paintings and entered his Blue Period, when he painted mostly in shades of blue. The people he painted were inspired by friends and denizens of Barcelona and this period is well represented in the museum. The collection is more or less chronological, so you can see the evolution of his work.
The museum's building is an impressive palace from the 15th century.
My favorite painting in the museum is The Harlequin, completed in 1917.
The harlequin character, a frequent subject of Picasso, is portrayed with a smallish head and large hands. The model was Léonide Massine, the first dancer in Serge Diaghilev's ballet company.
We were extremely fortunate to have our friend Nuria give us a tour. Her late husband's family, the Gaspars, had a long relationship with Picasso and his personal secretary Jaume Sabartés, whom they helped in the founding of the museum. The Sala Gaspar (Gaspar Gallery) became the most important center of distribution of Picasso's art in Spain. Today, Nuria owns and manages the Galeria Joan Gaspar, named after her late husband. The gallery has a huge collection of works by Picasso, Miró, Clavé and other notable artists. Below is Khadija with Nuria in her gallery.
It's highly recommended to buy tickets for the Picasso Museum online in advance, as the museum is very popular.
A caganer is a figurine, sometimes depicting a famous person, wearing the traditional Catalan red cap depicted in the act of defecation.
This sounded bizarre to me, but I learned the point is that everyone has the same needs, thus we are all human and equal. They are often used in nativity scenes and there are dedicated shops which sell them, mostly miniatures for shelves and tables.
Las Ramblas is a wide boulevard in the center city with ample walking paths in the middle and sides of the vehicular lanes. It's full of kiosks selling flowers and books, food carts offering tasty tidbits, portraitists with easels, motionless human statues and lively street musicians.
On the northern end is the Plaça de Catalunya, which is a popular meeting point and where several thoroughfares converge.
Through wrought-iron gates on Las Ramblas begins La Boqueria, an amazing food market.
Operating since 1836, it has a prodigious assortment of fruits and vegetables, prehistoric looking fish and swaying carcasses of red meat.
You can also buy flowers, wine and souvenirs.
On a later trip, Khadija and I were in a restaurant in Mbabane, the capital of Eswatini (formerly Swaziland) called Las Ramblas. I asked the waiter where the name came from. He began his reply that the original owner was from Barcelona and then I instantly made the connection.
Park Güell, another masterpiece by Antoni Gaudí and a UNESCO World Heritage Site, is a must-see destination. Situated on a hill, overlooking the city and the sea, it's an unbelievable park full of sprawling tiled structures and fairytale buildings, enjoyed by everyone.
Eusebi Güell, a rich Catalan entrepreneur, hired Gaudí to design it. Once completed, the park provided a calm place to relax, as well as a location to wander and admire the unbelievable architectural details
A favorite place of mine and many others is the Dragon Stairway.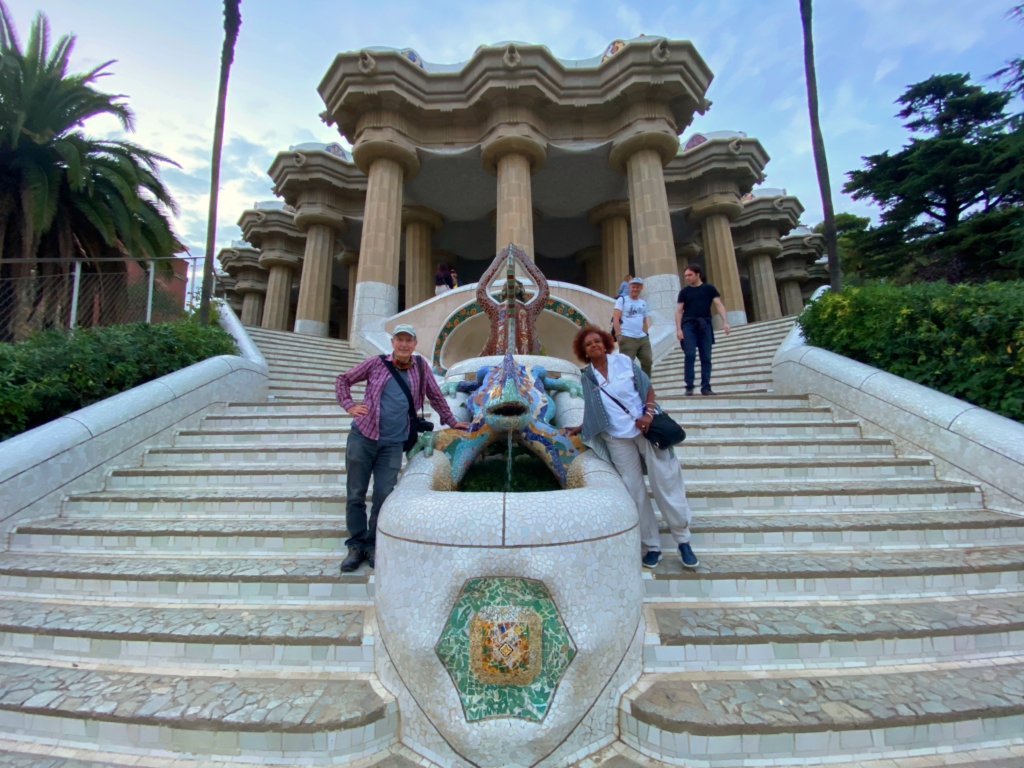 This ascension has it all, magnificent stairways leading to the Hypostyle Room with fluted columns, a decorative fountain with adjacent grottos and mystical creatures such as goblins and a dragon / salamander, the emblem of Catalonia.
Antoni Gaudí's influence on Barcelona is immense and indelible. Besides Sagrada Familia and Park Grüell, he designed another dozen buildings in the city. We tried to see them by walking and taking the metro but ran out of time. When I return, I will take a tour to see all of them, as each one is fascinating and has its own story. There are two, both on the Passeig de Gràcia, that I highly recommend seeing.
Gaudí designed Casa Batlló as a home for the wealthy Josep Batlló. His family lived in the lower two floors and the upper floors were rented out as apartments.
Some describe the building in anatomical terms, as the balconies resemble skulls and the pillars look like bones. The marine-hued, corrugated surface of the façade is made from stone, glass and ceramics. The effect is an unusual aquatic look in the middle of the city. On this so-called Block of Discord, there are also two other modernist buildings: Casa Lleò Morera and Casa Amatller.
Casa Milà has a Flintstones appearance, decades before the cartoon was created.
It was designed as a private residence for the original owner with apartments to rent. It was controversial for a number of reasons, including violating many building codes, including religious symbols in a time of anticlericalism and having such an unusual exterior. In fact, it was nicknamed La Pedrera (The Stone Quarry) by the public and it was not meant as a compliment. Like many Gaudí buildings, it was innovative in engineering, such as a self-supporting stone façade and an underground garage.
Poble Espanyol (Catalan for Spanish Village) is an open-air architectural museum, showcasing architectural styles from all corners of Spain. It was completed in 1929 for the Barcelona International Exhibition and was extremely popular long afterwards. Now it doesn't have the same buzz and has to compete with many other Barcelona attractions. In my opinion, it's definitely worth seeing its delineation of Spanish building styles over the centuries. The layout is of a medieval town in which each section has squares, shops, and restaurants.
If I lived in Barcelona, I would come here many times to study each style and era. For example, here's a representation of a house from Extremadura in the discrete Herrerian style from the 16th century
Within Poble Espanyol, there's the modern art collection of the Fran Daurel Foundation with works from Picasso, Dalí and Miró.
We needed another couple of days but in our next visit we will have to include the following attractions we missed.
The National Art Museum of Catalonia is known for its collection of Romanesque church paintings and for Catalan art.
As a typical American, I know very little about football (soccer) in Europe or elsewhere. That's why I had no idea that FC Barcelona Camp Nou Stadium was so popular. It has been the home of world-famous players including Diego Maradona, Ronaldo, and the currently active Lionel Messi. There's a tour to the dressing rooms, trophies, and other parts of the stadium
Barcelona has 5 km / 3 mi of sandy beaches and over 300 days of sunshine, so this is an option to chill out while experiencing the culture and cuisines of the city.
Barcelona is a terrific city for people watching. Initially, the crowds were my focus.
Then I was able to concentrate on individuals…
some saying goodbye radiates with emotion…
and let's not forget the young lovers.
Barcelona is definitely an amazing city, not just for its attractions but its people!