Introduction
For decades, Madagascar was on my bucket list. I had seen pictures of breathtaking mountain and forest landscapes. I was enthralled by the fact this island separated tens of millions of years ago from Africa and India and its flora and fauna evolved differently than the rest of the world. I pictured a giant Galapagos Islands but inhabited by a unique culture that was different from the rest of Africa.
Well, I finally made there and it more than lived up to expectations. I saw the awesome biodiversity including baobab trees…

…chameleons…
…fossas…
and of course, lemurs.
However, I was unaware of the features of the population, somewhere between Asian…
…and African.
Every day there, I learned a plethora of surprising facts about this fascinating and distinct country. It should be on the bucket-list of every adventurous, international traveler.
Planning a Madagascar Trip
In July 2019, my wife Khadija, our friend Gaynor and I spent 18 days in Madagascar, then a week in Mauritius.
Madagascar is big! It is the world's fourth-largest island and about the size of France.
Madagascar is also slow to travel in! – There are only a few highways and they have potholes, ruts, and long unpaved stretches. We had to share the road with pedestrians, livestock, wagons, buses and bush taxis (called taxibrousse). At night, there are few streetlights and drivers blind you with their bright lights. Distances may seem close but they take long to drive. A drive of only 160km (100 miles) can take five hours because of traffic and twisting roads.
Domestic air flights have a reputation for being late or canceling! There is a range of opinions on how bad they are. However, the rule-of-thumb is to make contingency plans in case a flight is canceled. For international flights in the capital Antananarivo (often shorten to Tana), there should be at least a one-day buffer or be within driving distance. Also, the flights are only between Tana and other cities, so they are of limited value in many situations.
It is impossible to adequately cover Madagascar in a week or two. To see all regions of Madagascar, it would take at least six weeks.
We made certain decisions to:
travel the southern half because it had more to offer for our tastes and we had only 18 days.
do a road trip because we did not want to depend on domestic flights.
let someone else do the driving to avoid stress.
use a local tour company for the trip as it saved days of planning and the additional cost was not much more.
We contracted Ramartour, a Malagsey tour organizer, to provide a driver, book hotels, arrange for park guides and pay fees and tolls. Joel, our Ramartour travel guide, planned a good route with many photo opportunities. Our excellent driver was Tahiana who can be reached right here. If you contact them, say Exploring Ed recommended you! As we paid one price, we do not know the cost of the driver, car and hotels. We paid only for food, drinks, tips, and souvenirs. Budget travelers could do a roughly comparable trip for considerably less if they used local transportation, stayed in modest hotels and had many more days than we did.
While we knew that travel would be slow, it was more than we anticipated and we felt rushed. If we did it again, we would take the same trip and add on at least five days. The following is our itinerary with suggestions for other travelers.
Madagascar Itinerary
Antananarivo to Andasibe
Location: Tana
Days Spent in Location: 2
Recommended Extra Days: 0
Comments and Tips: Fly into Tana and proceed to the hotel. While it is tempting to skip this traffic-clogged city, at least one day should be spent to see the Rova and Ambohimanga. Another day would be good to walk the streets, go to interesting galleries and restaurants and get a feel for the heart of the country. For avid street-photographers, a third day would be productive. The time in Tana can be split between the beginning and end of the trip depending on international flight schedules.
Location: Andasibe Park (#2 on map below) & Peyrieras Reserve
Days Spent in Location: 2
Recommended Extra Days: 0
Comments & Tips: Must go to hear the calls of the Indri Lemurs.
Ranomafana and Isalo National Parks
Location: Andasibe Park, through Tana, to Ansirabe
Days Spent in Location: 1
Recommended Extra Days: 1
Comments & Tips: Need to leave early in the morning for this journey. The aluminum foundry in Ambatolampy is definitely worth seeing. Spend a day In Ansirabe, a pleasant town with striking colonial buildings and interesting shops with local products.
Location: Ansirabe to Ranomafana Park
Days Spent in Location: 1
Recommended Extra Days: 0
Comments & Tips: Great scenery of terraced agricultural plots. The town of Ambositra has wood carving factories worth a visit. Night walk at Ranomafana Park.
Location: Ranomafana
Days Spent in Location: 1
Recommended Extra Days: 1
Comments & Tips: A full day in the park and lunch in the town. Spend an extra day hiking, spotting animals and learning about plant life.
Location: Ranomafana to Isolo Park
Days Spent in Location: 1
Recommended Extra Days: 0
Comments & Tips: The landscape becomes arid after crossing the mountains after Fianarantsoa. The scenery then is similar to the southwest United States. Stop in Ambalavao for lunch to see the silk and hand-made paper shops. Spend a few hours hiking in Anja Reserve. Two extra days can be spent taking the train from Fianarantsoa to the Indian Ocean for a truly authentic cultural experience.
Location: Isalo Park
Days Spent in Location: 1
Recommended Extra Days: 1
Comments & Tips: Many places to hike through canyons. Two days minimum to see different parts and rest from highway driving.
Location: Isalo Park to Ilaskaka
Days Spent in Location: 1/2 day
Recommended Extra Days: 0
Comments & Tips: Ilaskaka is a boomtown for sapphire mining. There are gem shops and workers panning for minerals on the side of the road.
Avenue of the Baobabs and Tsingy de Bemaraha National Park
Location: Ilaskaka to Toliara or Ifaty
Days Spent in Location: 1/2 day
Recommended Extra Days: 1
Comments & Tips: Lunch in Toliara as it has some very good restaurants. Check into a beach hotel in Toliara or nearby Ifaty and spend a day for water recreation and to rest. Most people fly back to Tana, then fly to Morondava because the roads are so rough, but they are very interesting to do if you have the stamina.
Location: Toliara to Kirendy Reserve
Days Spent in Location: 3
Recommended Extra Days: 1
Comments & Tips: Travel north next to the Mozambique Channel on an almost non-existent road. Stay around Andavadaoka to enjoy the beach and visit local villages and see women wearing face paste. Next day drive to Manja and stay in rudimentary but clean accommodations. The last day, drive to Kirendy Reserve for a nature night-walk, stopping at the Avenue of the Baobabs on the way.
Location: Kirendy Reserve to Tsingy de Bemaraha Park
Days Spent in Location: 2
Recommended Extra Days: 0
Comments & Tips: Take morning-walk in Kirendy Reserve, then drive to hotel by Tsingy de Bemaraha Park. The next day, go hiking and climbing in Tsingy de Bemaraha.
Location: Return to Tana
Days Spent in Location: 3
Recommended Extra Days: 0
Comments & Tips: Drive back and see Avenue of the Baobabs at sunset, then spend the night in Morondava. Drive the next day to Antsirabe and stay the night. The last day included a drive to Tana to catch a flight out. An alternative route is flying from Morondava to Tana.
This post involves Tana (#1), the Royal Hills of Ambohimanga (#2), the Peyrieras Reserve (#3), the Andasibe-Mantadia National Park (Andasibe Park or Andasibe – #4 on map) and Vakona Reserve (#5 on map).
A Brief History of Madagascar
Even though its unique flora and fauna is well known, it only has about 300,000 tourists annually. To put this in context, New York City has over 60 million.
Archeological evidence indicates that the island has been inhabited for only 2000 years. During the ninth and tenth century settlers, probably from Borneo, arrived and settled primarily in the central plains including where Tana is. Somewhat later, East Africans settled mostly in coastal areas. The modern Malagasy people and culture are a result of the mixing of these two groups. For example, the Malagasy language is a Malayo-Polynesian language, similar to some spoken in Borneo, with Bantu grammatical influences. Many names of places are long but are often compound words (e.g. for Ambohimanga, ambohi means "hill" and manga means "beautiful"). Translating each embedded word helped me remember and pronounce the names.
The Portuguese in 1500 were the first Europeans to see the island from a ship to India. A century later, they sent Christian missionaries and Britain and France established settlements that were upended by the late 1600s by native opposition. After that, the only Europeans there were pirates, including the infamous Captain Kidd.
In the 1600s to 1800s, regional kingdoms ruled the island with the last being the Merina family from the central plateau. During the 1800s, they controlled about two-thirds of the island and were supported financially by the British as a reward for stopping slavery, accepting British missionaries and receiving a British representative.
The French also maintained important contacts. In the colonial fervor of the era, they invaded the island in 1883. Eventually, Madagascar became a French protectorate, then a colony. After a nationalist movement for several decades, the country became independent in 1960. Because of France's long-time influence, French is the second language of the majority of the educated class. English is used by the hospitality industry and international business. English language movies and music are popular, especially in large cities.
Is Madagascar Safe?
We found traveling in Madagascar generally safe but we did not go in unfamiliar areas at night. A few tips for traveling safely in Madagascar:
Avoid places with few people.
If you feel uneasy, listen to your gut and go to a bright area where you see people
Keep your eyes open on hotel beaches even if there are security guards. Keep your valuables in the hotel or with you. Don't leave them on the beach while swimming.
Be aware that Madagascar is one of the poorest in the world, so there's an incentive for unscrupulous people to rob foreigners.
Antananarivo
We flew to the capital from Nairobi, where Joel of Ramartour picked us up and explained our itinerary. Our first impression was that Tana was very dark at night, with few street and shop lights. The next day, we met our superb driver, Tahiana, at the Grand Hotel Urban where we stayed for the night.
We recommend him for short or long drives. He is congenial, speaks English well and a careful driver. You can reach out to him via email at [email protected].
The hotel was comfortable with a good restaurant and bar. We liked the view from our room.
Antananarivo, or Tana for short, is the capital of Madagascar and has been the center of Malagasy power for three centuries. The metropolitan area has a population of approximately three million. Prominently Tana is on three ridges that intersect, so many of the city streets are on steep hills.
The city does not have many high-rise apartments but is densely populated.
Ramartour provided us a car and driver for Tana which was helpful as the streets are narrow, the traffic is awful and it is not easy to find places. Driving through the city, we saw never-ending food stands…
…and small businesses.
There are neighborhoods with high-end bakeries, restaurants, and shops. We went to the Isoraka area and browsed the art galleries and specialty stores, including this one selling wood busts and statues.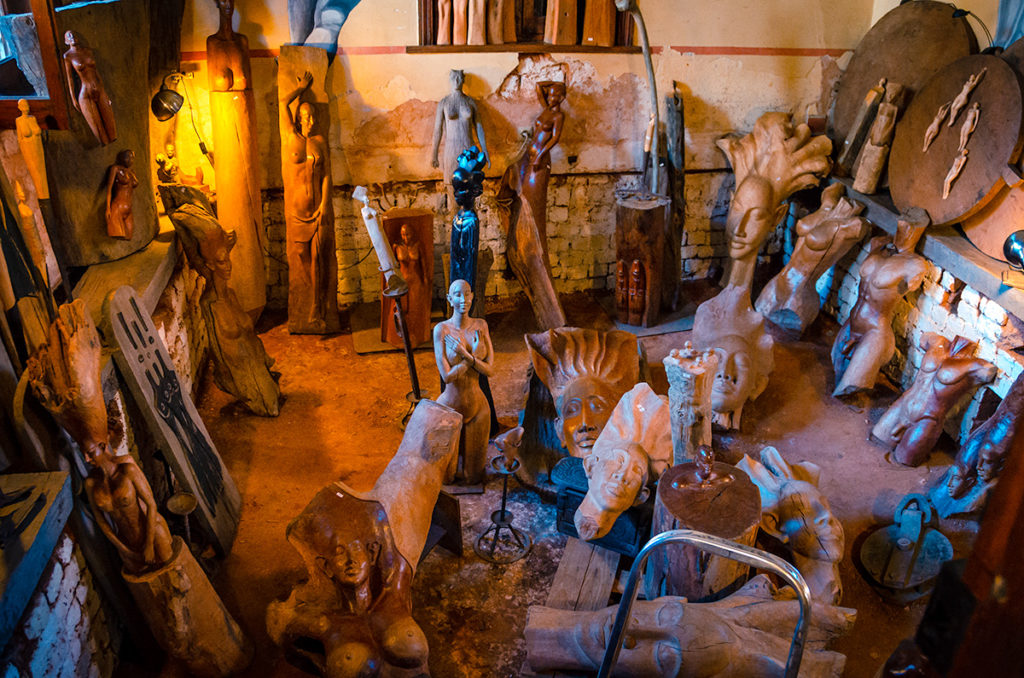 In Isoraka, there is the small, low-budget Museum of Art and Archeology. It has only three small, dusty rooms. It provides a concise overview of Malagasy culture and archeological digs. It has a sizable collection for a small space including objects used for magical purposes and funerary sculptures. I liked this statue of a woman carrying a jug of water on her head.
The museum is managed by the Institute of Civilization at the University of Antananarivo.
Not far from the international airport, we stopped at the Digue Market. It is a good place to buy inexpensive souvenirs, although we had to negotiate for every purchase. There are over 100 stalls. Few were selling anything that could not be found in another stall.
I bought a common-ceramic cup with Madagascar written on it and put it in my backpack. When I went through airport security, the screener confiscated it from me. I guess they figured it could be broken and used as a weapon, although this has never been a prohibited item anywhere else. I then realized it's a good idea to research what is allowed before packing. If the cup was in my check-in luggage, I would be using it today.
Rova of Antananarivo
This fortified palace complex is the number one attraction of the city and should not be missed. It has been the home of royalty since the 1600s. It stands strikingly on the highest hill visible throughout the city. It started out as a small wooden house and evolved into a huge complex. At the entrance, there is a triumphal gate with an eagle and phallus column.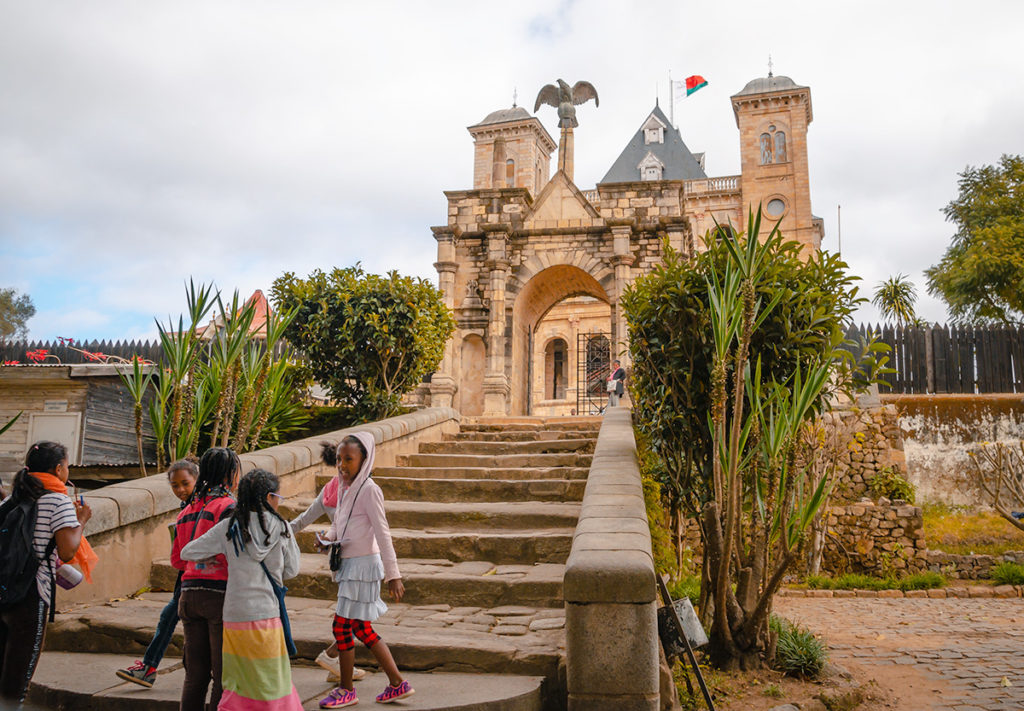 The capital of the Merina kingdom was moved to Antananarivo upon the city's capture in 1810. It remained so until they were overthrown by the French in 1896. The Manjakamiadana palace is the largest building in the complex. It was designed by a French engineer and a Scottish missionary later added stone to the exterior. We were there with a school tour.
There are other buildings in the complex including the royal tombs…
…and the stone Protestant chapel (Fiangonana).
UNESCO was far underway in approving the Rova complex as a World Heritage Site when a fire on November 6, 1995 caused massive destruction. It was later concluded that arson was the probable cause. Madagascar suffered a devastating culture loss and UNESCO never gave its coveted designation. The Manjakamiadana stone exterior remained intact, but the wooded interior vanished. Now the hollow building is a ghost of its former self.
An added treat was the far-reaching views of Tana.
Ambohimanga
Ambohimanga is the original capital of the Merina royal family. Even after the capital was transferred to Tana, it has continued to be an important cultural site. It is a UNESCO World Heritage Site. It is a 30 to 60-minute drive from Tana depending on traffic. It can be easily seen in a half-day and worth doing.
It is located in a small village with a cobblestone road leading to the complex on the top of a steep hill. After passing a small gateway, we paid for admission and for a local guide. In front of us was another rova, but much more modest than the one in Tana. It has high walls and a watchtower.
While not large, the complex has winding walkways among the buildings.
We were struck by how basic life was for the royal family. The residence of one king was a single room with a five-stone hearth, a bed frame on the floor and a loft bed. We were not allowed to take pictures inside. This style of a rectangular house with a very high and steeply sloped roof has similarities with traditional houses in parts of Borneo.
More modern was the English-style house of a Queen with 18th century furniture, charming but not regal. In the back were wooden houses where kings were originally buried, but subsequently moved to the Rova in Tana.
From one room, there was a good view of the adjacent hills and countryside.
We saw teachers leading children in an endearing singing and clapping exercise.
Peyrieras Reptile Reserve
Within Marozevo Village, an hour drive east of Tana on RN2, is the Peyrieras Reptile Reserve that houses many reptiles. We found it educational, as we were unable to see this diversity in the wild. Within the reserve are chameleons which can see almost 360 degrees because they have a wide-eye rotation and they can flip between monocular and binocular vision with either eye independently, or with both eyes together
It was interesting how slowly and quietly they move.
We also saw bats sleeping in a dark room…
…tiny orange frogs…
…coiled snakes…
…and crocodiles, geckos and lizards we could not identify.
Andasibe-Mantadia National Park
The Andasibe-Mantadia National Park is the combination of the Mantadia Forests and the Analamazoatra Reserve. It is east of the Peyrieras Reserve and takes at least two hours to drive on RN2 from there. This park is the most visited in Madagascar because it is close to Tana.
After we arrived at the Vakona Lodge where we would stay two nights. There are cabin-type lodges outside of the park but this is comfortable and convenient. After we checked in, we did a night walk as certain animals are nocturnal. We saw the silhouettes of lemurs in the far distance. The highlight was a sleeping chameleon that our guide illuminated with his flashlight.
The next day we put on ponchos for our walk, as it was raining most of the time.
This area is the home to the Indri lemurs, one of the largest living species (there were much larger ones but extinct). In the morning they were on the move and we had to hustle about an hour through the brush to get a good view of them high in the trees.
The incredible trait of Indri Lemurs is their call which can be heard throughout the forest. Their roars, hoots, grunts, wheezes, hums and other sounds carry up to 4km (2.5mi).
We could not have tracked these mobile lemurs without our great guide, Luke.
In the park, there is an information center which we spent almost an hour reading the informative displays.
Vakona Reserve
Our lodge has a private reserve, including Lemur Island, where we saw maybe twenty lemurs of at least three different species. The most visually dramatic was the red lemur.
The lemurs appeared to be healthy and well-fed.
The lemurs are totally acclimated to humans, so it easy to be close. Unlike in the wild where usually they are constantly moving or high up in trees, you can closely see their physical features. I marveled at their hands, which are not too different from ours with opposable thumbs (of course, we are both primates).
Wherever we walked, lemurs would follow us. Then they would try to jump on our shoulders. Many tourists enjoyed taking selfies with the lemurs and the guides encouraged them to do so, I did not like this domestication. There is a good likelihood that the animals are trained with unnatural incentives to act a way contrary to their normal behavior (I have no evidence this was the case here). I know we have zoos and reserves for research, species preservation, and educational purposes, but they should allow animals to live as natural of life as possible. What was going on here was not that.
When I returned home, I researched the issue and found that National Geographic dedicated the June 2019 issue to the detrimental effect of wildlife tourism on the animals, especially where they are performers or are handled by humans. This excludes safaris in parks where animals are watched from afar. In addition, I read that others had concerns about this reserve, such as they were eating an excessive amount of food, used treats to entice them to be by humans, which can be detrimental to the lemurs' health after long periods of time.
Vakona Reserve also keeps many species of orchids and other flora and other wildlife especially birds. They have a large area for native crocodiles, where I got a kick out of this sign.
While funny in itself, it is from alligators, not crocs who are the residents!
Final Thoughts
Tana is often skipped as a tourist destination. There is definitely at least a day of sight-seeing for anyone. We spent two days but I would have like to spend another day at least to walk in different neighborhoods to see the rhythm of daily life.
After our first few days, I knew that I was going to fill up my memory cards with photos of this amazing country. Photographers should especially try to come to Madagascar as every time I turned my head, I wanted to pick up my camera to forever remember the vibrant culture that surrounded me.
From Tana, we drove south on RN7, which is the subject of Madagascar – Part 2 – Southeast Madagascar.