Introduction
Madagascar has incredible biodiversity, few countries in the world rival it. This distinctiveness alone is enough to justify traveling there. However, that is not the whole story. It has a fascinating culture, mixing Asian and African elements. In addition, photographers are enthralled with the country's majestic and diverse landscapes.
One of the best ways to experience it is to travel on Route Nationale 7 (RN7). While on this road, we marveled at the terraced plots of crops,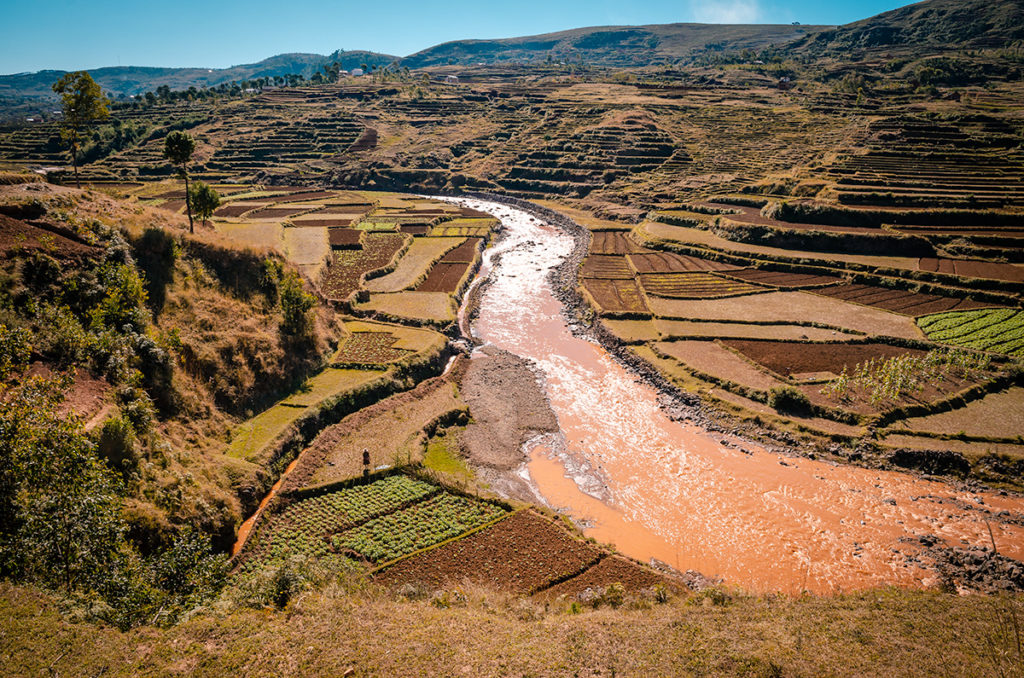 passed farmers in their wood wagons,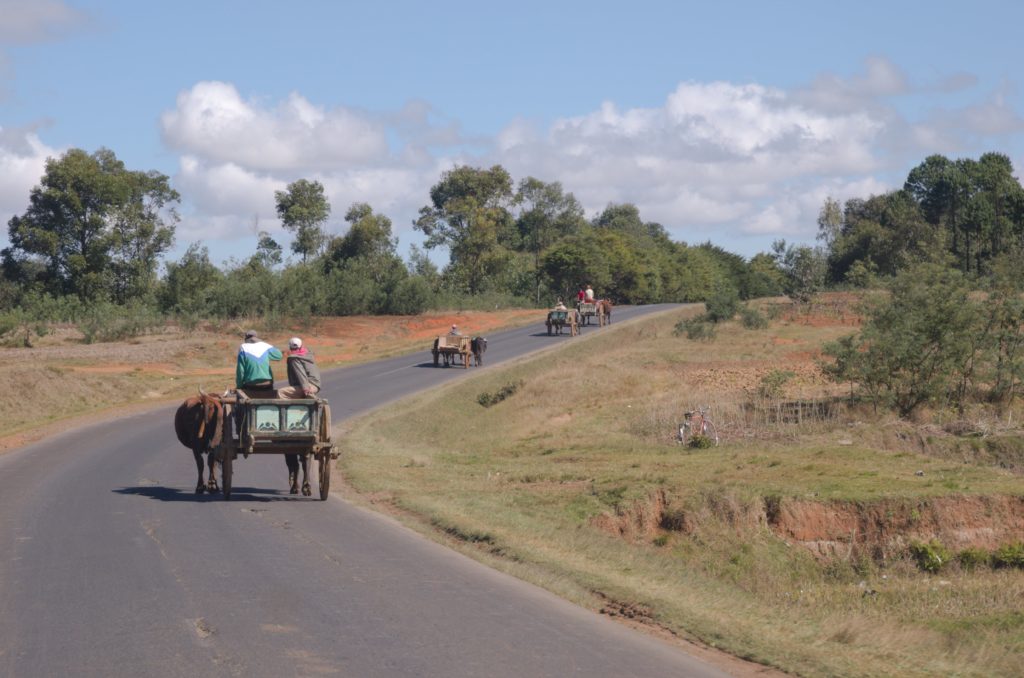 swerved around families walking on the road,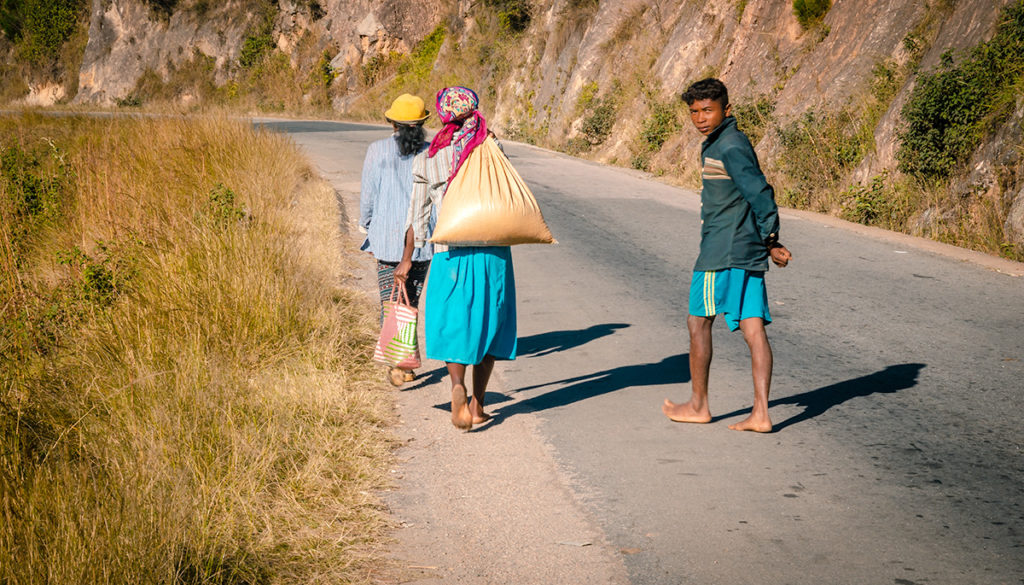 proceeded slowly through small towns with Zebus in the middle of the street,
stopped and photographed children,
and hiked in dramatic mountain ranges.
We were enchanted by the scenery and the people living there. We were fortunate to experience such a special place.
Our Madagascar Story
My wife Khadija, our friend Gaynor and I spent 18 days in Madagascar during July on one of the world's great road trips. This post covers our journey on RN7 from the capital Antananarivo (Tana for short) to the boomtown of Ilakaka.
Our Madagascar Road Trip From Antananarivo to Andasibe post is essential for would-be travelers to read, as it details our strategy for seeing as much of this huge country as our time permitted. It provides itinerary options, safety precautions, and historical information. We arranged this trip through Joel of Ramartours. Our excellent driver was Tahiana. Say Exploring Ed recommended you.
The tour paid for the car, driver, hotels and entrance fees. We used Lonely Planet's Madagascar Travel Guide which provided sufficient information for our purposes.
The map below shows two parks we hiked in (Ranomafana and Isalo) and a massive mountain range we passed in the car (Andringitra). The rest are cities and towns which were definitely worth stopping at.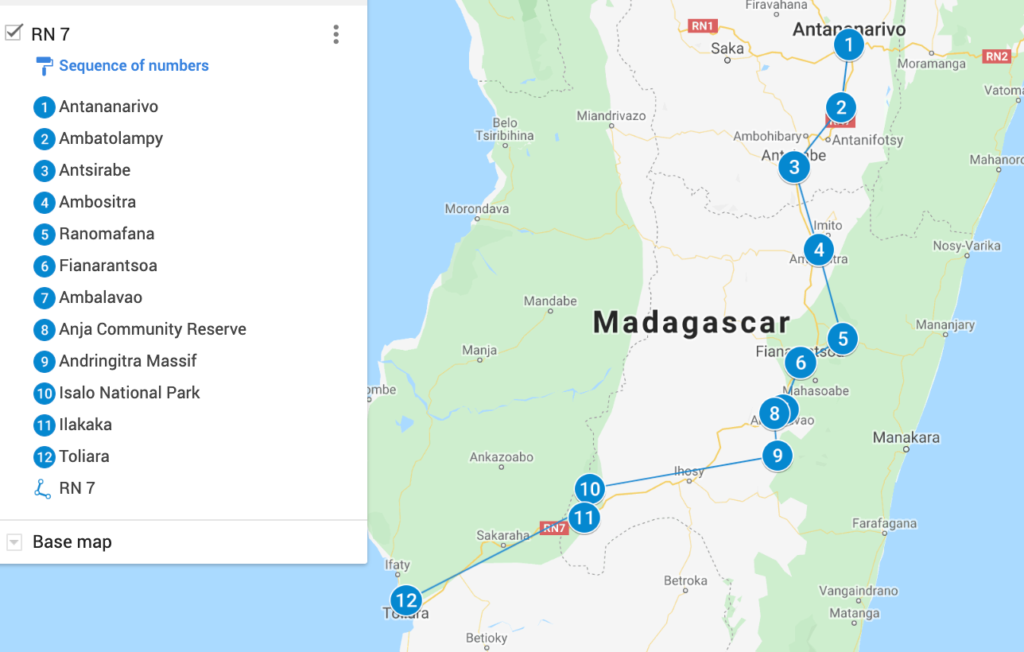 RN7 is one of the best roads in Madagascar, but it has potholes and every type of pedestrian and vehicular traffic, so it is much slower than highways in developed countries. We spent six and a half days on this leg of our loop-road trip. In retrospect we would have spent an extra day each in Ranomafana and Isalo to see more animal and plant life, hike on scenic trails and rest from driving.
Is Madagascar RN7 Safe?
This may be the most traveled road in the country. During the day, it is definitely safe. At night in cities and towns, it is not dangerous but it is advisable to take reasonable precautions. It is best to keep your eyes open, travel in a group and take taxis or drive.
Photography in Madagascar
Generally, Malagasy people do not mind having their photos taken and often like it. Sometimes they will ask for money, which is not unusual in a poor country. I usually gave them something when asked. However, when workers were showing how products are being made in a shop factory, I usually did not give them anything with a few exceptions. My reasoning was they are promoting the goods of the shop where I often bought something, which contributed to their employment.
There are never-ending people shots in this country.
The best strategy, as in most places, is to find a good place with a background you like and wait as locals pass.
The landscape varies as you drive through the country. If you can afford the time, it is best not to be in a rush and stop as often as possible to capture the awesome diversity.
For animal photography, take the longest lens you can carry and handhold. For instance, lemurs are usually high in trees which requires a lot of magnification to frame them. It is best to have a non-cell phone camera with attachable lenses. A cell phone digitizes when zooming, resulting in lower quality images. For nearby small animals, insects, and plants, I recommend using a long lens in order not to disturb the subject and shoot with a low depth-of-field to make a pleasant, blurred background. Contact me if you would like more explanation.
Leaving Antananarivo
Just outside of the bustling and crowded Tana, the landscape quickly turns into agricultural plots. In the photo below, farmers were preparing rice fields for the next planting.
As we progressed, we witnessed long stretches of terraced crops making striking geometric patterns.
Ambatolampy
Ambatolampy is the first place for the RN7 traveler to stop. It is a small town known for recycled aluminum foundries. We watched the process for ten minutes to see how combining fine-grained sand found in this region with red-hot aluminum results in souvenirs, pots, and utensils.
This non-automated process is very dangerous for the barefooted workers. Go to this article in Mada Magazine for more information on the process. In this demonstration, a tip for the workers is expected and warranted.
The town also has a small market which is worth checking out. We particularly noticed the shop with ground and sectional meat sitting in the open air.
Antsirabe
The next stop was Antsirabe which may be the most pleasant city in Madagascar. It is the third-largest city in the country and located on a high plateau (about 1500 m / 5,000 ft) producing a cool climate. While full of energy like all of Madagascar, it feels like a resort compared to Tana. The city was founded in 1872 by a Norwegian missionary. Under French colonial rule became a regional capital.
The mixing of architectural styles, popular in the early 20th century, is on display throughout the city. The building I liked the most was the symmetrical, stone and cement train station. It has six arches of equal size and a huge one in the middle under an ornate clock tower.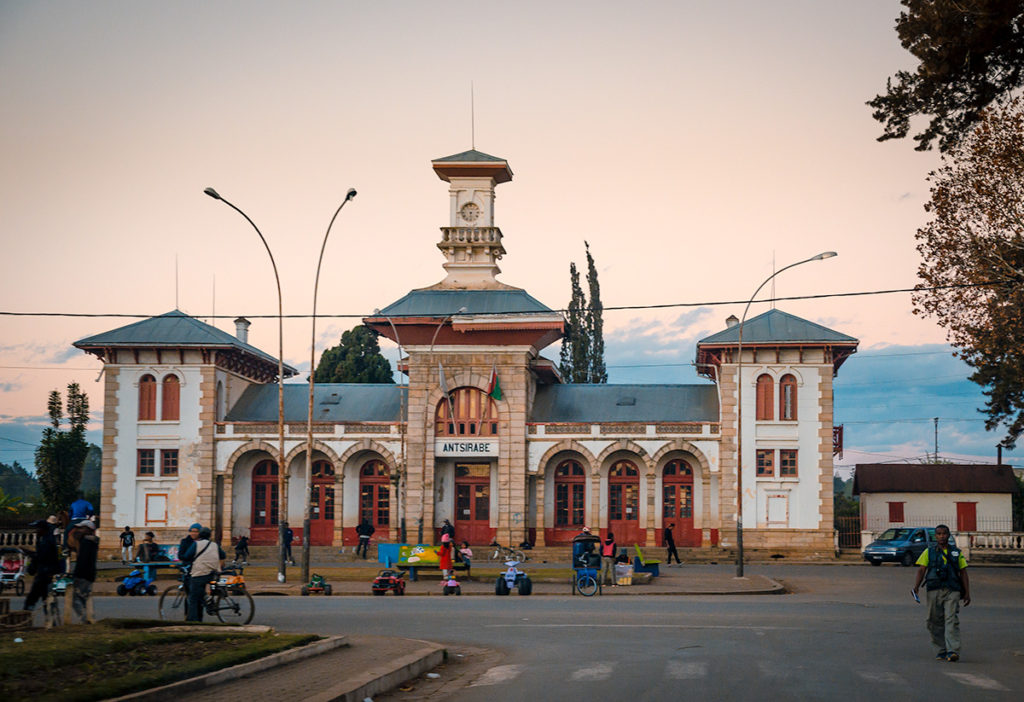 It is no longer used, as passenger trains were discontinued over 20 years ago, and shows some serious deterioration both outside and inside. It is locked but we peeked inside and could imagine French settlers walking through the station to begin holiday vacations. Today, there are hawkers outside, some aggressive, marketing their goods to tourists. Close to the train station is a large monolithic monument displaying symbols for each of the country's 18 tribes. When we passed it was too dark to get a good photograph.
The French-built, Roman Catholic Notre Dame de la Salette Cathedral was constructed in the early 20th century. It was basking in the light of the late afternoon when we passed it.
The translated name of Antsirabe means "city of salt", reflecting the many hot springs in the area. There are six spas in the city including one in the Hôtel des Thermes (Thermal Hotel). The hotel has a magnificent façade with an elegant, fenced driveway to the entrance.
All we saw of the interior was the check-in area but we were told that it needs intensive updating. We walked to one of the six spas next to it. There was a series of small rooms with bathtubs that could be filled with lukewarm spring water. We did not see any showers or places to put possessions.
Antsirabe has many workshops, mostly located on dirt roads off the main streets, that are worth spending a few hours in. Each one gives a short demonstration of how their products are made. Unlike most parts of the world, strong-arm sales tactics are not employed afterward.
Chez Mamy Miniatures makes its objects from recycled materials including many local transportation vehicles.
Next door was a shop selling batik fabrics and wall hangings, which is a process the Malagasy share with South Asians through common ancestors. This video shows how wax is applied to keep a design in a different color from the rest of the fabric.
Atelier Corne de Zebu is a workshop that creates objects and art from zebu horns. We bought a few soap dishes. I liked this zebu head with the polished, decorative horns hanging on the wall.
The city is known for its colorful, non-motorized rickshaws (pousse-pousse). Khadija posed next to one.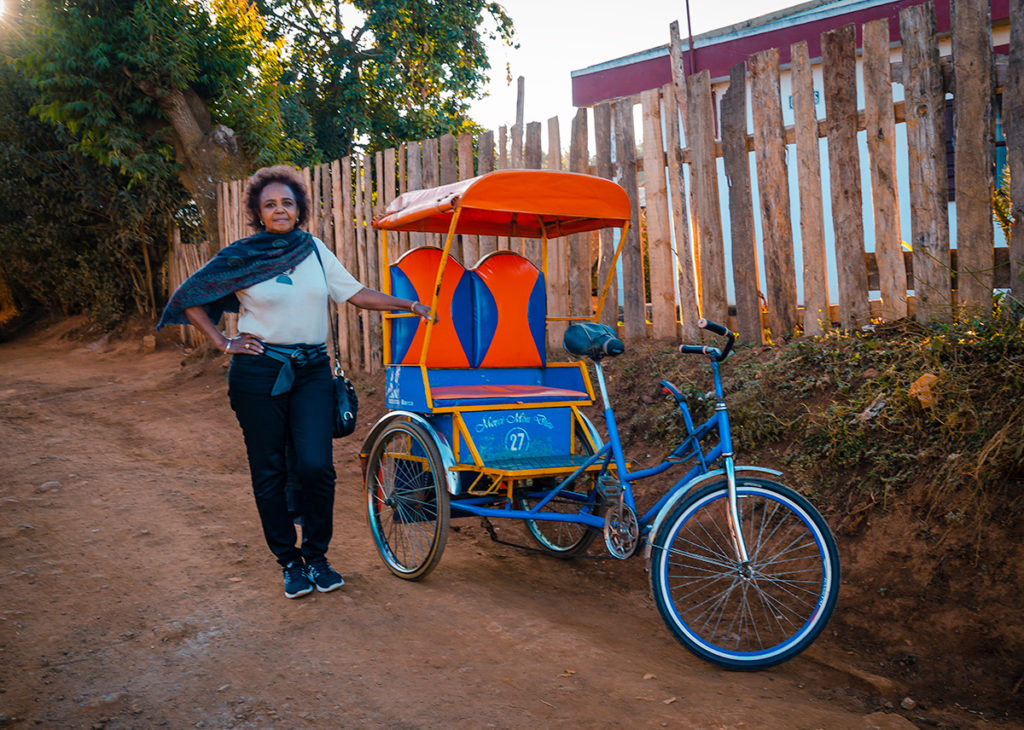 We stayed two nights, first after leaving Tana and then when returning on the way back to the capital. The Royal Palace Hotel on RN7 was comfortable and reminded me of a typical Best Western hotel in the U.S. It has a swimming pool and a picture of the Aga Khan at the check-in desk. We ate both nights at an excellent restaurant called Chez Jenny which has tasty Malagasy and international dishes. We spent the equivalent of a half-day touring the city. We certainly could have spent another day if we were not trying to see so much of the country and had limited time. We would have gone to a nearby lake, more artisan shops, and the Sabotsy Market which is a rough equivalent of a Middle Eastern souk.
Ambositra
Our next stop was the town of Ambositra which is famous for wood carvings. On the way there, we saw farmers making bricks after extracting clay from their fields after harvesting.
They put the clay into brick molds, let it dry and then stack and bake it.
Like most visitors, we stopped for a few hours on the way and went to one of the many wood factories and shops throughout the town.
Nearby, there were traditional dancers either practicing or performing in a plaza.
Video 3 Traditional Dancers IMG_8334
Alt Text: Madagascar Traditional Dancers
We stopped for coffee at the Grand Hotel, where Tahiana and I posed with the outside carvings.
Southeast of the city is the Zafinaniry Villages where visitors can stay in very basic homestays and explore rural parts of the region. Soatanana Village, 40 km (24 miles) from Ambositra, is known for its silk weaving. We did not go there, but later saw the process in Ambalavao.
Ranomafana
Ranomafana (Hot Water) is a town known for its thermal springs. Like Antsirabe, it became a popular holiday getaway for the French during colonial days. The town has dramatically expanded lodging options since the Ranomafana National Park was created in 1991. This protected rain forest has been critical in preserving many endangered species.
We stayed two nights in the Centrest Sejour in a bungalow situated on a hill beautifully landscaped with local flowers and trees.
Both nights we walked to see the abundant nocturnal life, such as this frog…
and baby chameleon.
We walked for a half-day through the park. Our guide was Gaetan, who knew the area like the back of his hand.
Near the entrance, we passed the small interpretation center to a bridge over the Namorona River where all trails begin.
It took a few hours, but eventually, we had obstructed views of lemurs high in the foliage. We had to wait another day to easily see them in the Anja Reserve. We did see a variety of exotic reptiles including the tiny dragon-looking one.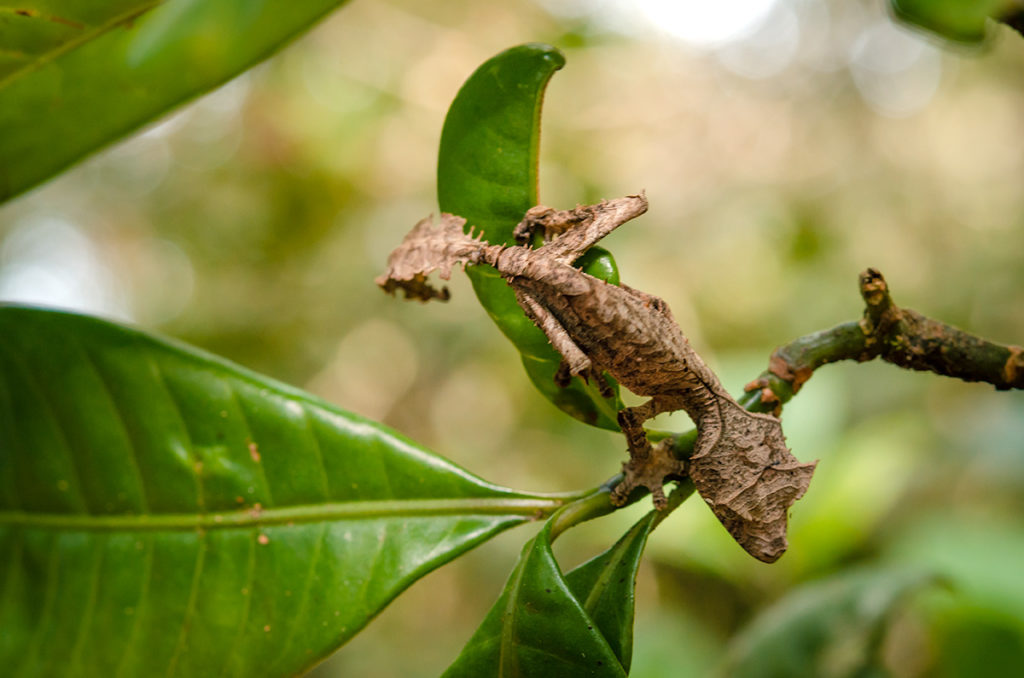 Another interesting animal spotting was the Ringtail Mongoose.
We had a long lunch in the town of Ranomafana where we bought spices from the pictured young ladies.
We must have grossly overpaid them, as they quit working and apparently went home.
The town was perfect to sit in and watch daily life, from a woman carrying a huge basket of produce on her head…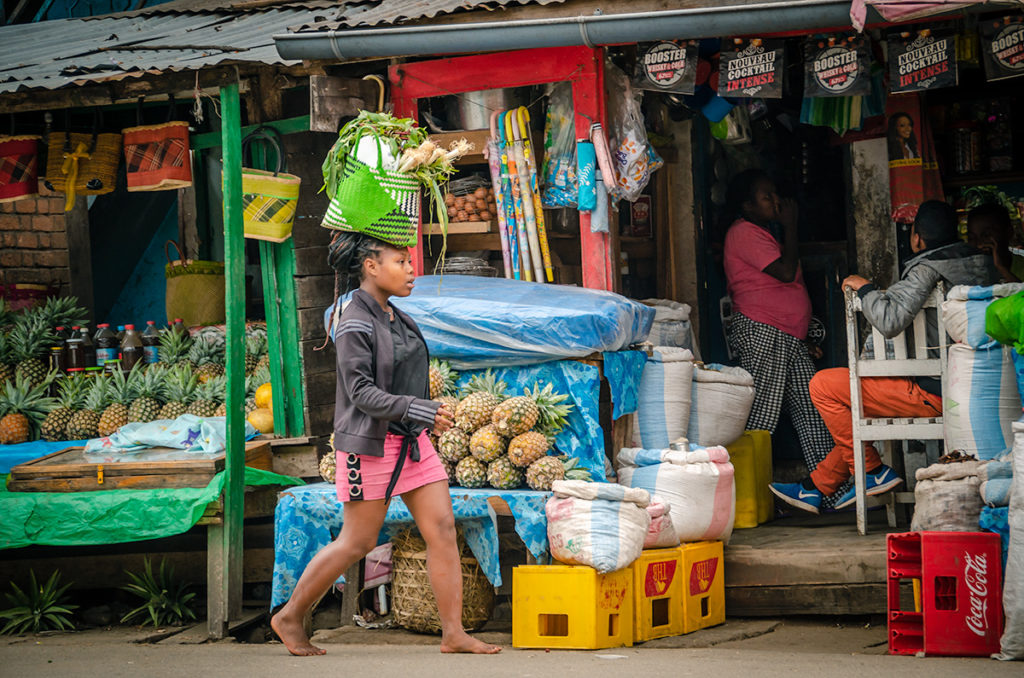 …to children playing with old tires.
We ate breakfast and one dinner at the hotel. Our last night, we had a satisfying light dinner at Le Grenat Hotel and Restaurant, charmingly located in a bungalow. Almost all of the diners were tourists.
If we had more time in our ambitious schedule, we would have spent another day in the park, as we surely would have seen many other creatures, plants, and scenic views.
Fianarantsoa
Fianarantsoa was our inadvertently our next stop. We were stuck in traffic for over an hour in the country's fourth-largest city. It is surrounded by hills and a smaller version of Tana. While stopping or advancing slowly, we were able to observe Malagasy street life, including a man transporting turkeys with his carrying pole…
…a man strumming his guitar…
…and a well-dressed woman with her alert young child in her arms.
Travelers typically stay overnight in this city as a central point to visit the region and not to spend a lot of time in it. One interesting two-day diversion is the Fianarantsoa-Cote Est (FCE) train which goes to the Indian Ocean coast. For most people, it would quickly become monotonous but for others, it would be fascinating stopping at the many stations and watching the passengers, as well as taking in the scenery of green hills, waterfalls, and bridges.
It was striking after crossing the mountains south of Fianarantsoa, we saw the landscape changed from a cool, high plateau with sections of rainforest to an arid land with smaller and fewer trees and bushes. The further south we went, the landscape became increasingly drier and rockier.
Ambalavao
We stopped in Ambalavao for a much-needed lunch at Aux Bougainvillees, sitting outside under a roofed terrace. Next door is a small operation called Fabrique de Papier Antaimoro which makes traditional flower-embedded paper made from the bark of wild mulberry trees.
The rough-textured, hand-made paper can be purchased as decorative sheets, cards, and folders. This is definitely worth considering If you want to buy a unique gift or use artistic stationery.
The Antaimoro people, who live mostly east of Ambalavao are descendants of Arabs and Swahili coastal people. They brought their paper production techniques when they settled in Madagascar. They were Muslim when they first arrived but the religion mostly died out over the generations, but many Antaimoro still follow certain Islamic practices such as not eating pork. This is another example of the cultural diversity of Madagascar.
Ambalavao is also well known for its silk products from Madagascar silkworms, sometimes called "wild silk" because it is coarser than types made in China. We stopped at the Soalandy shop and were given a 15-minute description of the process starting with gathering the cocoons
and continuing with weaving on the looms.
In the end, the woven silk is made into wonderful clothes and covers for beds and tables.
Outside the shop were two young boys holding a baby. They exemplified the widespread poverty in Madagascar and the grace of the people.
Anja Reserve
Anja is both a nature reserve and a town dedicated to nature preservation. It is about a half-hour drive south of Ambalavao on RN7. The park was founded in 1999 to stop deforestation and share tourism revenue with the local people. It is easily recognizable by its mountain-sized boulders.
In all of Madagascar, this was our best place to observe ring-tailed lemurs.
While there, we saw a number of timeless tableaus:
We spent around two hours there, which would be the minimum time.
Andringitra Mountain Range
To the southeast of RN7, we saw the massive Andringitra Mountain Range, a dramatic granite landscape of high mountains and escarpments.
It has the highest climbable mountains in Madagascar and several trekking trails.
While on this part of RN7, we saw shepherds and their herds of zebus in the golden light of the late afternoon.
Zebus, easily recognizable by the humps on their backs, are everywhere in Madagascar. They originated in South Asia and have been introduced to Africa and South America because they live easily in hot climates and are resistant to many common diseases. Both male and female zebus have horns. The Malagasy use them to plow, draw wagons, produce milk and provide meat, leather, and items made from their horns.
Isalo National Park
Isalo National Park is a can't miss destination in Madagascar and is known for its hiking trails, waterfalls, and canyons. We spent one-day hiking there but would have enjoyed another.
It is most famous for its dramatic, red stone canyons, which would not be out-of-place in Arizona.
We saw a White Sifaka Lemur resting at eye-level in a tree. They are known as "hopping lemurs" because of the way they propel themselves on the ground.
While the jaw-dropping landscapes are everywhere, there were many smaller things that were very interesting, such as the elephant foot plant…
…and these bizarre, stringy, white animals which could be mistaken for flowers on a tree.
On our hike through the canyons, our guide pointed out a cave with rocks covering it and explained that is a family tomb. In Madagascar, the ritual of famadihana is practiced where corpses of relatives are removed from their resting places, cleaned, re-dressed and reinterned.
This ritual reunites the living with their ancestors and is based on the belief that the dead only leave this world after full decomposition. Extended families usually celebrate this once every seven years. This practice is similar to one practiced by the Torajans people in Sulawesi, Indonesia and is another indication of the cultural linkage between Madagascar and South Asia. Visitors can sometimes join a famadihana ceremony if pre-arranged. During our time in the country, there were none in the locations we were in.
We stayed two nights in the Isalo Rock Lodge. The hotel is luxurious by Madagascar standards and all rooms have magnificent views of mountains.
We ate dinner there both nights and enjoyed the variety of the menu and the ability to order things not on it. What impressed me the most was the music in the restaurant. The first night was classic American jazz and blues and the second night was Latin music from all around the world.
Ilakaka
Ilakaka, a half-hour drive south of Isalo, was an area inhabited by few people. Everything changed in 1998 when huge sapphire deposits were discovered. Now there may be more than 60,000 people there, mostly working directly or indirectly in precious stones, from mining to retail.
Tours to mining operations were not on our itinerary. In retrospect, I would have included it. We did see many people on the side of RN7 panning the waters for residue of already processed minerals.
Within the town and surrounding area, we went to one of the many gem shops and Gaynor bought a few pieces of jewelry.
Final Thoughts
From Isalo, some tourists drive back to Tana. Others drive to Tulear on the Mozambique Channel where RN7 ends, then fly to Tana. We drove to Tulear to start the next leg of our road trip. Go to my Madagascar Road Trip To Avenue of the Baobabs and Tsingy de Bemaraha National Park post to read about the exciting and interesting time we had there.
If someone wanted to trek often, they could spend at least two weeks instead of the little-less-than a week we did on the RN 7 segment.
While traveling through the destinations on this route, I found everyday fascinating. After I came home and starting writing about the trip, I realized that the hype about Madagascar being a must-go place is perhaps even underrated.